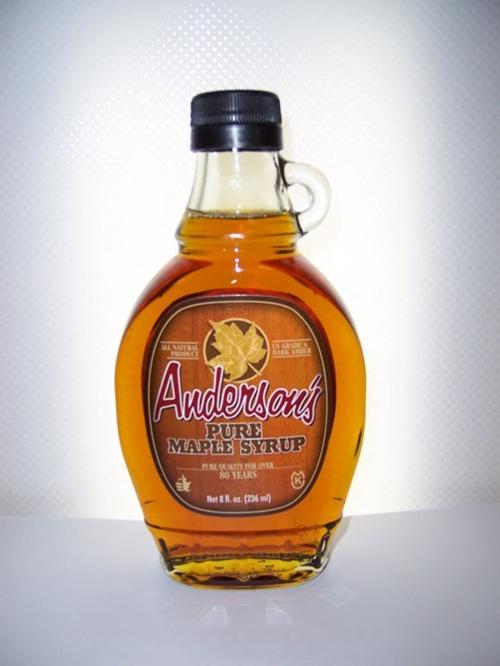 Don't just hug a tree, adopt one — a sugar maple in Wisconsin's North Woods.
Anderson's Pure Maple Syrup in Cumberland can make it happen, with its new Adopt-A-Maple program. Participants will get a personalized certificate and a gift box that includes a bottle of sweet Wisconsin maple syrup.
Perhaps best of all, adopters will earn visiting privileges to their very own sugar maple. They can stop by to see where the tree grows, said Steve Anderson, third-generation owner of Anderson's, and GPS coordinates will direct them to the exact tree they have adopted.
Promoting Wisconsin's maple syrup industry is the primary motivation for the Adopt-A-Maple program, Anderson said.
"The idea behind it was to get the word out that there is maple syrup made in Wisconsin," he said. "We want people to understand and realize that Wisconsin is the fourth-largest producing state for maple syrup."
The three states ahead of Wisconsin for U.S. syrup production are in the Northeast: Vermont, Maine and New York, in that order, Anderson said. Canada is the world's largest maple syrup producer, with the U.S. second.
"We're the same latitude as they are in the East (where syrup is produced) and the same as they are in Canada, too," Anderson said of his company's sugar bush. "Canada actually makes 75-80 percent of the world's syrup. About 15-20 percent comes from the U.S."
National production varies yearly, he added, depending on the harvest. According to Statistics Canada, Canada — mostly Quebec — produced a little more than 9 million gallons of maple syrup, a record, in 2009.
But while Wisconsin's maple syrup might not account for as much of the overall production total, its quality ranks high, Anderson said, partly because of state guidelines.
"In many ways our syrups are better than Vermont," he said. "We have tougher state regulations. Some states don't even have licensing requirements. In production, it's about making sure everything is clean — it's food service, after all. There also are regulations related to packaging."
Depending on weather, maple syrup season starts in late February or early March and continues through April. This year, Anderson's finished its tapping operations the first weekend of March and began the sap collection process.
"In this particular woods, we have about 2,400 taps," Anderson said of his 80-acre parcel, adding that most trees are single-tap. "We should be somewhere between 40,000 and 50,000 gallons of sap."
That gets boiled down to make the syrup. "It takes roughly 35-40 gallons of sap to make a gallon of syrup," he said.
With its harvest, Anderson's is maple syrup production on a small scale. The company's handful of employees include Steve Anderson and his father, Norman, who ran the business before him. Anderson's, which also deals in equipment used for syrup harvest and production, was started in the 1930s when Norman's father, Paul Anderson, turned his syrup-making hobby into a business.
In recognition of the company's long commitment to the syrup industry, Norman Anderson was inducted last May into the International Maple Syrup Hall of Fame in Croghan, N.Y. And it was Norman who helped to come up with the idea for the Adopt-a-Maple program.
"Dad and I talked about it, and it sounded like a good way to get the word out," Steve Anderson said. "We took 15 orders in the first two weeks. About the first of April, we'll start looking to send out what is supposed to be in the kit."
Anderson's is getting help with the program from a group of local students. Seventh- and eighth-grade science students from Island City Research Academy, a charter school in Cumberland, will take care of plotting the GPS coordinates for each maple tree that is adopted. The students will take photos of the trees and make them available on the Internet. They also plan to study the trees, including examining possible effects of climate change on state syrup production.
"I was in the woods marking trees myself," Anderson said. "I'm glad to have the students do that now."
That's because Anderson is just a little busy right now with the height of syrup season. But he said visitors are still welcome anytime, though he will have more time to talk come summer.
"If they're here, we'd be happy to show them around," he said.
And he plans to send off a few e-mails during the year to those in the Adopt-a-Maple program, keeping them up-to-date on what's going on in the woods.
"We'll have one maybe to talk about production. We can tell people about the harvest," he said. "Later on, we will notify them about fall colors. We can say, 'Hey, come on up and take a look.'"
Details: There are two levels in the Anderson's Maple Syrup Adopt-a-Maple program. For $52, a kit includes a pancake mold in the shape of a maple leaf, an 8 oz. pancake miz, a bag of maple nut popcorn and a 16 oz. bottle of Anderson's maple syrup. Trees also can be adopted without the kit for $7. A certificate of adoption comes with both levels, and an $8 shipping and handling fee applies.
Getting there: Visitors are welcome at Anderson's, 2391 40th St., in Cumberland. Anderson's store is open weekdays year-round from 8 a.m. to 4 p.m. During maple syrup season, it also is open on Saturdays, 8 a.m. to 2 p.m.
Information: Maple syrup and other products can be ordered online at http://andersonmaplesyrup.com. For more about Anderson's, check the Web site or call 715-822-8512.
Closer to home: In Monona, the Aldo Leopold Nature Center, 300 Femrite Drive, celebrates Maple Syrup Fest on Sunday, March 28, 1-3 p.m. Visitors can see the entire syrup-making process, from tapping trees to collecting and boiling sap, and can taste the fresh syrup. Admission is $7 per person or $25 per family; registration is recommended by calling 221-4038 or checking online at www.naturenet.com/alnc/index.html (click "Upcoming Events").