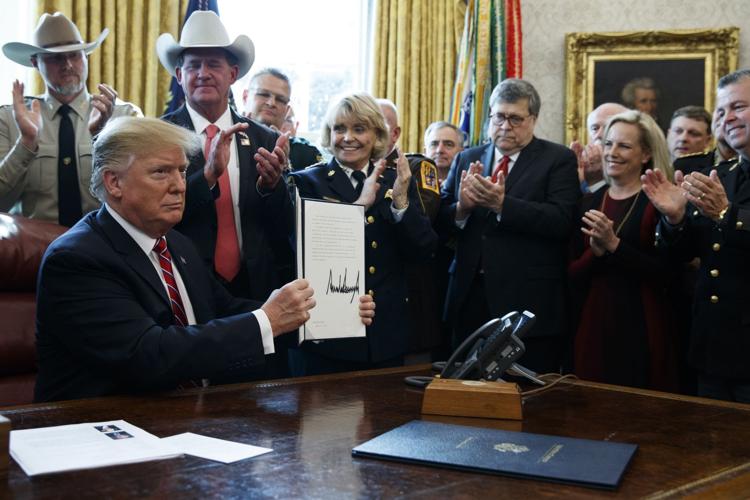 TRUMP: "Since 1976, presidents have declared 59 national emergencies. ... The only emergency Congress voted to revoke was the one to protect our own country. So, think of that: With all of the national emergencies, this was the one they don't want to do. And this is the one, perhaps, they should most do." — Oval Office remarks Friday after vetoing the congressional resolution seeking to strike down his declaration of a border emergency.
THE FACTS: His declaration was not the only one designed to protect the country.
President Barack Obama declared an emergency in 2009 to protect the nation from the swine flu, which had killed more than 1,000 people and spread to 46 states before he took that step. The H1N1 flu strain was linked to more than 274,000 hospitalizations and 12,000 deaths in the U.S. between April 2009 and April 2010.
It enabled the activation of emergency plans, such as moving emergency rooms offsite to keep those infected with the virus away from other emergency room patients, and it had Republican support. Unlike Trump's order, it was not designed to free up money that Congress had already refused to spend.
Most national emergencies declared by presidents have been narrowly drawn, designed to protect U.S. interests in foreign countries, often in response to crises breaking abroad.
---
TRUMP on border security: "We're apprehending record numbers of people." — drug-trafficking meeting Wednesday.
THE FACTS: One major record has been broken — the number of migrant families arrested for crossing into the U.S. illegally. Other records have not.
More than 76,000 migrants crossed the U.S.-Mexico border last month, more than double the number from the same period last year. Most were families coming in increasingly large groups.
Overall numbers of Border Patrol arrests were the highest in 12 years, but not the highest ever.
The annual numbers are far from a record. About 400,000 people were arrested for crossing the border illegally in the last budget year, just one-quarter of the 1.6 million in 2000. That is the record.