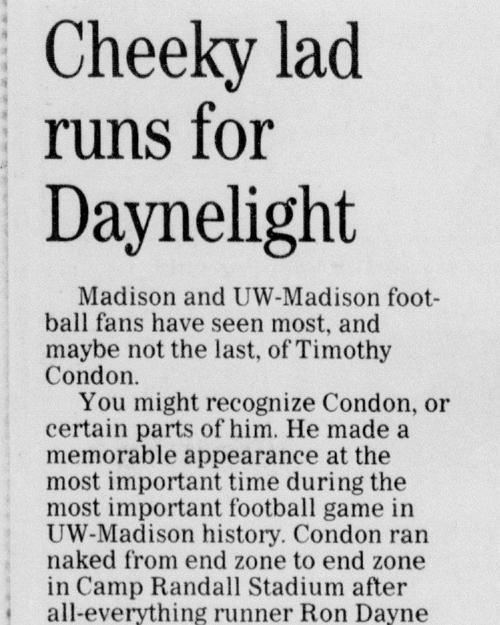 Madison and UW-Madison football fans have seen most, and maybe not the last, of Timothy Condon.
You might recognize Condon, or certain parts of him. He made a memorable appearance at the most important time during the most important football game in UW-Madison history. Condon ran naked from end zone to end zone in Camp Randall Stadium after all-everything runner Ron Dayne broke the national rushing record in the game against Iowa.
More than 79,000 people first watched Dayne run, then watched Condon run. Iowa couldn't cover Condon, either.
Actually, Condon was not completely naked.
Though university police reported he was wearing a hat or cap and tennis shoes, Condon said he was wearing a red bandanna on his head and a pair of Nikes on his feet. Painted on Condon's body was the number 33 (Dayne's number) and "Insane Dayne" in red and white body paint.
At the start of an interview Tuesday, Condon said he wanted everyone to know that his 100-yard streak was not meant to be disrespectful of Dayne or his accomplishments.
"I have been informed by police that there may be academic implications to my actions," said Condon, clearly concerned about the threat.
"By that I mean there is a possibility of getting kicked out of school. I didn't do it in any way to be disrespectful. I am a huge Badger fan, and I just wanted to add something extra to the moment," he said.
Condon, a sophomore from Jefferson, said he is a journalism major. He has also appeared in at least one comedy improvisation contest in the past year, "but that was just a spur-of-the-moment thing."
Unlike the streak, which was planned.
He had been talking about it with his friends for a month.
"I've always been one who likes to push things a little further. I knew (Ron Dayne) was going to break the record," he said. When a streaker was arrested at the game, "my friends knew it was me."
Before the game, one of those friends, Brian Seidel, helped him with the paint. He wore a brown trench coat, the bandana, the Nikes and a pair of red shorts. ("We talked about the implications of not wearing Reeboks," the university's official shoe sponsor, said Condon.)
He made his way from row 60 to the playing field twice.
"I thought he was going to break the record on the drive before, but he didn't," said Condon, who then returned to his seat, only to hustle down to the field again on the next Badger possession.
"I had no trouble walking down, no one paid any attention to me," he said.
When Dayne broke the record, Condon was ready to run.
He slipped out of the trench coat and his shorts and made the dash.
"I figured I would be pursued, but there was nothing. I got to the 50-yard line and realized no one was chasing me, and I found that odd," he said.
At about the 20-yard line, Condon struck a pose, imitating the sculpture of a football player on the Heisman Trophy.
"The cops found it kind of odd that I wasn't intoxicated," said Condon.
"The cops treated me fine. They didn't seem too humored. I knew it was going to happen, so I just stood there with my hands behind my back."
Naked, with his hands behind his back.
He was charged with unlawful entry to the playing field, lewd and lascivious behavior, and disorderly conduct. He was taken to the Dane County jail and bailed out by his friends. He may make a court appearance as early as today, and he said his friends are trying to raise money to pay the fines. The total may exceed $800, way beyond the sort of money Condon makes as a part-time production assistant for WHA, Madison's public television outlet.
Condon said his parents "are OK with behavior like this, as long as I don't hurt anybody. It's all in good fun."
He said most of the people he has talked to were not offended by the stunt, though "a few older people may have found it disrespectful."
"I didn't talk to Ron Dayne, but I saw his mother on television and she seem ed to be amused," he said.
He said he has not streaked before. ("Though I have been known to get naked here and there. I'm pretty comfortable with my body; I think it's a thing of beauty.") He is vaguely aw are of the history of streaking on the Madison campus, a history that dates to 1972.
"I do plan on going to the Rose Bowl, but I don't think I would do something like this again."
The UW-Madison Police Department has a videotape of Condon making his hind end-zone to hind end-zone run.
"He ran naked across the field at 3:48 p.m., from the northwest end, up the center of the field to the south end, underneath the goal posts," said Lt. Brian Bridges.
Police covered Condon's (normally) private parts with a garbage bag, recovered his trench coat and shorts and escorted him to the stadium's processing room.
"He did not appear to be intoxicated, did not smell bad and didn't stumble," said Bridges.
The only editorial comment from Bridges about the run was "for something that disruptive, it went reasonably well."
Be the first to know
Get local news delivered to your inbox!