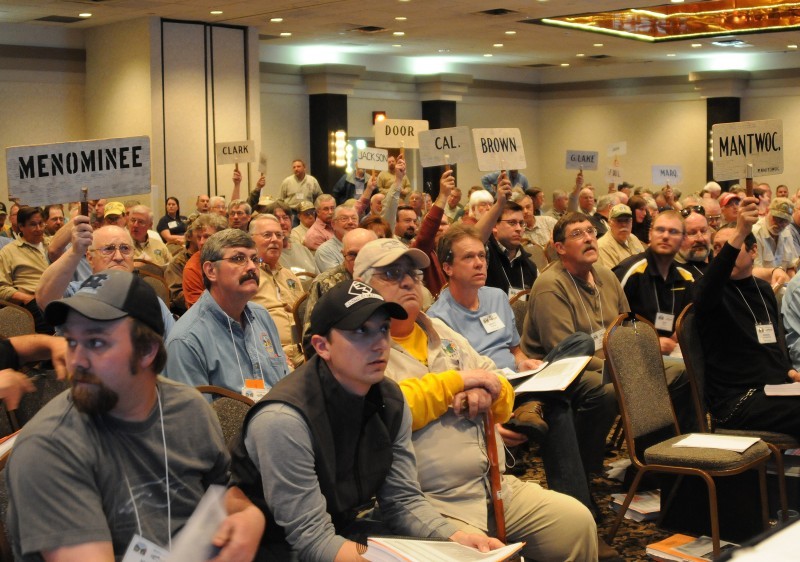 MANITOWOC – Gov. Scott Walker's reform of Wisconsin's administrative-rules process remains a raw wound one year later for the 360-member Wisconsin Conservation Congress, lay advisers to the Department of Natural Resources' seven-citizen governing board.
That was evident May 10 to 12 at the WCC's annual statewide convention. During its wrap-up session last Saturday, the Congress overwhelmingly supported efforts to exempt itself of Act 21 and restore Wisconsin's former rule-making process for hunting, fishing and trapping regulations.
And the day before, immediately after Gov. Walker agreed to take questions after his annual remarks, Chairman Mike Hayes of Clark County pointedly asked him to "unhandcuff" the Congress from Act 21. Walker replied, "Whether there is a way to more actively involve the Congress, that's something we can certainly look at and work on in the future."
When the Legislature passed Act 21 in June 2011, it imposed an 18-step process that increases legislative oversight and requires proposed rules to twice pass the governor's review. Proposed rules also require economic-impact studies, and take one to three years to navigate Act 21's procedural gauntlet.
WCC delegates have seethed and squabbled since. Many consider Act 21 a gut-shot to the Congress's nearly 80-year-old body. By law and tradition, administrative rules for fishing, hunting and trapping were the Congress' domain. Citizens reviewed and voted on proposed rules each April at joint DNR-WCC hearings in Wisconsin's 72 counties. Proposals usually died without WCC approval.
But because Act 21's process is so long and repetitive, it coerces citizens to take fish and game ideas straight to legislators, who can enact rules with little public review or DNR input.
And because typical WCC delegates are red-plaid conservatives, some feel Walker betrayed them.
Mark Noll, a lifelong Republican and longtime WCC delegate from Buffalo County, remains wary, but concedes Walker seems receptive to revising Act 21.
"He (Walker) left the door open, so the possibility is there," Noll said. "But he stuck it to the sportsmen of this state, and I think he realizes it. We should have jumped all over this issue last year, but it hasn't died. It's not going away."
Noll was one of several WCC delegates who persuaded colleagues at 55 of the state's 72 conservation hearings April 9 to offer a resolution asking the Congress to work with the DNR, governor and Legislature to free it from Act 21.
The resolution passed in all 55 counties, 2,283 to 299, an 88-12 majority. In fact, no voter opposed it in nine counties, while only one opposed it in seven counties. "I just wish we had reached all 72 counties," Noll said.
WCC delegates at the statewide convention passed the resolution unanimously May 12. "It whistled right through," Noll said. "Everyone knows this needs to get done."
Congress Chairman Rob Bohmann has refused to confront Gov. Walker over Act 21, but said the resolution and convention vote were the "proper way to handle it, whether you agree with it or not."
"We're hoping we can work with the Legislature and governor to make some changes after the recall election (June 5)," Bohmann said.
Bohmann reviewed and discussed drafts of the resolution with its principal author, former DNR Secretary George Meyer, but didn't help distribute it to county hearings. "George was behind that," he said.
Meyer, now executive director of the Wisconsin Wildlife Federation, said the resolution required close collaboration between the WWF and WCC. Helping him and Noll were Congress delegates Marc Schultz, La Crosse County; Dave Hraychuck, Polk County; Mike Riggle, Taylor County; and Ralph Fritsch, Oconto County. Fritsch also serves as chairman of the WWF's wildlife committee.
Meyer said strong WCC backing will be vital in exempting the Congress from Act 21.
"The votes show strong grassroots interest in returning to the former system," Meyer said. "It was important to show legislators statewide support so they can't claim their constituents differ from voters elsewhere. This issue has sympathetic legislators on both sides of the aisle, but they need to know the Congress's leaders want this."
For their part, Congress chieftains must remember they represent their counties and this 78-year-old institution, not individual governors. Eighteen governors have come and gone since the WCC's birth in 1934. Congress members must ensure it survives No. 19, too.
Gov. Walker is big enough to respect such obligations.
Contact Patrick Durkin, a free-lance writer who covers outdoors recreation for the Wisconsin State Journal, at patrickdurkin@charter.net or write to him at 721 Wesley St., Waupaca, WI 54981.
Be the first to know
Get local news delivered to your inbox!