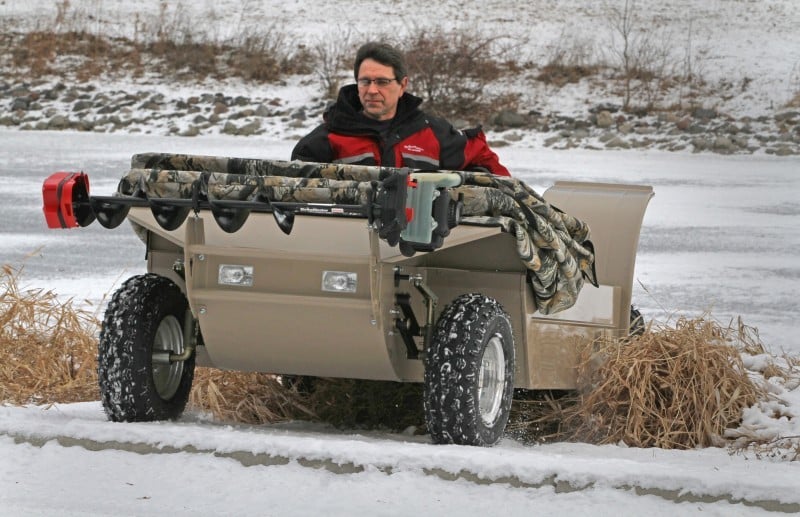 MINNEAPOLIS -- If timing is everything, perhaps Tom Roering's time is now.
More than a decade ago — as if prophetically — Roering envisioned building a whiz-bang, go-anywhere ice-fishing vehicle that could help winter anglers find fish, come strong ice or weak.
The contraption he dreamed up not only would tote winter anglers across frozen lakes, it would save them if ice gave way, exposing the deadly pools of frigid water that each year claim lives.
"It was 1998 when I first had the idea," Roering said.
Fast-forward to Jan. 8, 2012, when the high temperature in the Twin Cities is expected to approach 40 degrees.
Ditto the following two days
As a result of the warm weather, throughout Minnesota this winter, stuff is falling through lakes that by rights should be frozen stiff.
Enter Roering's dream-come-reality, the Wilcraft (the first three letters stand for Water, Ice and Land).
"You can travel just about anywhere in it, and raise it up and down with the flick of a couple of switches, so on lakes in winter it's easy to set down on the ice for fishing," Roering said.
"And if you ever do break through, the Wilcraft floats and can extract itself from the water back onto safe ice."
This was the other day, and Roering was encouraging me to jump into one of his inventions and drive it onto a lake.
And if I dumped it through the ice?
Resembling a big, rectangular sled, the Wilcraft is powered by a rear-mounted Briggs & Stratton engine that sparked to life easily when I turned a key.
Instead of a steering wheel or handle bars, the machine is guided by a joy stick. Pushing it forward and back turns the vehicle left and right.
A hand grip on the stick twists like a motorcycle throttle, revving the engine. The Wilcraft's tranny has two speeds forward and one reverse.
Off I went, easily guiding the machine through a series of maneuvers on the lake ice.
Behind me, in a separate Wilcraft, Roering similarly tooled onto the lake, then intentionally headed for ice under a nearby bridge that was only an inch thick.
Because the Wilcraft's rear balloon tires displace weight over such a wide area, the thin ice nearly supported the entire vehicle ...
Calmly, Roering positioned the Wilcraft's rear wheels near the ice edge, lifted the rear of the machine with its hydraulic leveler, and threw the tranny in reverse.
Equipped with studs, the back tires spun, crumbled weak ice, and spun again, soon pulling Roering and his dream machine to safety.
"Of course the goal always is not to break through," he said. "I designed it to be an ice fishing machine first and foremost, and that's what it excels at. Two guys on a lake moving from spot to spot, using the hydraulic lifts to lower the body of the machine to the ice and pulling the canvas cover up for warmth. That's what it's made for."
With a 600-pound load capacity, the Wilcraft is built for two anglers and their gear. An auger can be attached to its front end for transport, and the floor has fishing holes that are sealed while the vehicle is in motion.
"The best fishing of winter is always just after first ice forms and before the ice goes out in spring," Roering said. "My dream was to build a machine that made being on the ice at those times possible."
In spring, Roering sometimes backs a Wilcraft into open water along a lakeshore, motors (or push-poles) the "craft" to the lake's remaining ice, then backs onto the ice before driving to a likely panfishing hotspot.
Roering settled on the vehicle's size, engine, hydraulics and overall design only after a lot of trial and error.
His first sale was in 2006. Now he and a small crew assemble the machines in North St. Paul.
Not yet brisk, sales are nevertheless solid. Roering's near-term goal is to sell 300 Wilcrafts a year. Base price is about $9,700 -- not chicken feed, but not out of line, either, compared to some of the fancy wheel houses seen on frozen lakes these days.
"We believe an untapped market for us is search-and-rescue," Roering said. "We haven't really had time to push that yet, but we believe the vehicles can fill an important niche there."
Meanwhile, Roering wishes everyone a pleasant, productive — and unusually warm — winter.