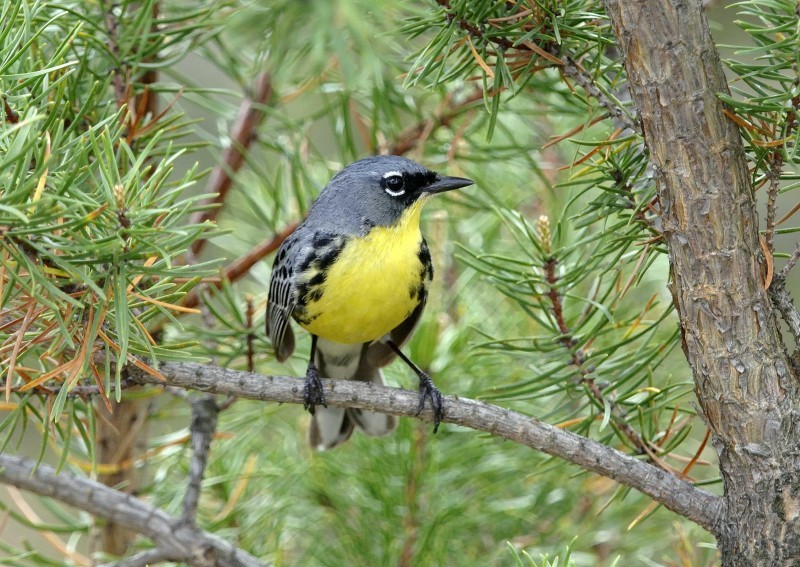 MARINETTE COUNTY –- State and federal bird experts are singing a happy tune this May as a growing number of Kirtland's warblers, a federally endangered songbird, alight in the jack pine forests of Wisconsin and get ready to build their nests.
"More birds are present in Wisconsin than we've ever recorded before and they're expanding their habitat," said Kim Grveles, a Department of Natural Resources avian ecologist. "They moved into habitat next to the main breeding site, which we see as a good sign that the population can expand by having more habitat available for breeding."
Also, a Kirtland's warbler sighted in Marinette County last week has been confirmed as one that was banded at the same site in the previous year, the first documented return to a Marinette site.
"That shows site fidelity and now all we need is for a female to come along," Grveles said.
DNR officials say it's all great news for a species that until 1995 was found almost exclusively in the northern Lower Peninsula of Michigan and was struggling to recover from a steep decline in populations in the 1960s and 1970s due to habitat loss and trouble from the brown-headed cowbirds.
The Kirtland's warbler was placed on the federal endangered species list about 40 years ago, when its population dropped to about 300 birds. Populations have now recovered to about 3,600 birds.
DNR is now proposing to add the species to the state endangered species list because its numbers, while growing in Wisconsin, are still very small.
Starting in the late 1990s, the protections and efforts made under that federal law enabled the Kirtland's warbler to start expanding its breeding territory to Wisconsin, Michigan's Upper Peninsula and Ontario. The warblers have been observed in several counties in Wisconsin, and nests have been confirmed in Adams and Marinette counties.
To help increase Kirtland's warblers in Wisconsin, DNR, the U.S. Fish & Wildlife Service and other partners now conduct annual surveys in seven counties to listen and look for the birds, monitor nests in Adams County where breeding sites have been found, and set traps to keep cowbirds away from the warblers' nests. Cowbirds lay their eggs in the nests of songbirds including Kirtland's warblers. The warblers are unable to recognize cowbird eggs or chicks as different from their own young.
Cowbirds hatch earlier, are larger, and more aggressive at begging for food than warbler chicks, which results in the Kirtland's warbler parents raising a cowbird or two at the peril of their own brood.
The partners also are working to maintain and expand the mix of 5- to 20-year-old jack pine trees and barrens necessary by planting the tree species. Historically, such habitat depended on fire, Grveles said.
You have free articles remaining.
More information on the bird, restoration efforts and how to get involved can be found on DNR's featured Kirtland's warbler page as part of its Celebrating 40 years of protecting Wisconsin's natural heritage. Go to http://dnr.wi.gov and search for "ER 40."
Such efforts are coming home to roost in 2012 -- as more than 20 volunteers search for Kirtland's warblers in the jack pines of seven Wisconsin counties from May 15 to June 15.
On May 11, 2012, the first day of surveying, volunteer monitors confirmed the presence of at least four male Kirtland's warblers at the Adams County nesting site. At least three birds had bands on their legs, indicating and demonstrating what Grveles called, "site fidelity" – the ability of a bird to return to its nesting territory.
On May 15, volunteer Daryl Christensen was surveying young pine habitat in Adams County and reported that as many as 30 males were present at that site, including quite a few that were unbanded.
"Twenty years ago, I saw my first (and I thought perhaps, my last) Kirtland's warbler in a vast pine stand in Mio, Michigan," said Christensen, a Montello resident. "Little did I know then, that one day I would be surrounded by singing Kirtland's warblers less than an hour from my home in central Wisconsin. After all, it isn't every day that you get to be serenaded by a federally-endangered species at 6 o'clock in the morning."
On May 16, volunteer Jack Swelstad found the Marinette male with the colorband, and the next day, Swelstad heard Kirtland's warblers singing at two other sites. Weekly updates are posted on the U.S. Fish & Wildlife website.
"We're very lucky we've got such skilled people doing the surveys," Grveles said. "It's very challenging work -– following a little warbler that doesn't sit still for very long and trying to read the bands on its legs."
Christensen, for example, has been doing bird surveys for DNR, the U.S. Fish & Wildlife Service, International Crane Foundation and Wisconsin Society for Ornithology for four decades.
He and other volunteers are trying to get GPS readings to find out the approximate location of the territories of the birds that do not yet have bands. In coming weeks, DNR and USFWS staff and volunteers will set "mist nets" near the birds' territory, run recordings of the female birds, and hope to draw amorous males into the nets where they will be quickly banded, their information recorded, and then released.
DNR, USFWS and USDA wildlife specialists have been setting cowbird traps at the Adams County nesting site since April 23. They have captured 160 cowbirds and will continue operating the nets through late June. The warblers will have nested and their young hatched and fledged around that time, adding to the growing population of a bird that measures just 5½ inches long and weighs under a half ounce.
"I've been interested in birds all my life and have worked on many projects in the past 40 years," Christensen said. "I volunteer because there is a need to learn as much as we can about these birds while at the same time, establishing an alternate population away from the Mio, Mich., colony in case a disaster would hit that area. And there is a need right now to save money and our biolgists and ecologists are stretched pretty thin for time and dollars, so I'm glad I can help out."