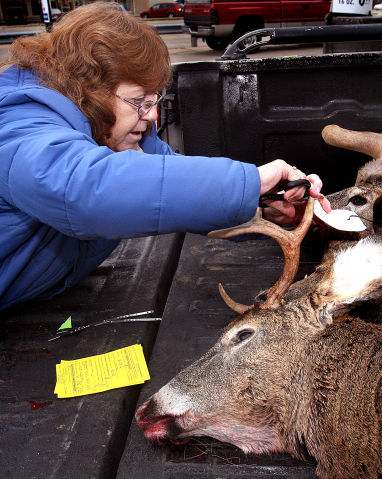 For the past 161 years, hundreds of thousands of Wisconsin residents have dug the blaze orange clothing out of the closet, the attic or the garage, cleaned their guns, then packed the truck with a few days worth of supplies and headed out to the woods.
For many, it is a ritual as powerful and meaningful as the holidays.
What else would spark songs about deer camp, tall tales about white-tails and have retailers drooling over the period leading up to — and through — the nine-day deer season?
This year, the 162nd season, packs more of the same. Wisconsin Department of Natural Resource officials believe the number of licenses sold for the gun-deer season, which begins Saturday and runs through Dec. 1, will be very similar to 2012, when hunters purchased 633,460 licenses.
As of Wednesday afternoon, 412,866 gun-deer licenses had been sold, which is 6,852 more than at this point last year.
"We are about on par with last year with license sales," said Keith Warnke, DNR shooting sports coordinator. "We expect to be about the same as last year as far as total licenses sold, or within a percent or two, and that is good.
"Last year we had slight increases in the number of people participating. That is good news after several years of sliding license sales."
Many local businesses that sell gun-deer licenses will see a last-minute rush, especially on Friday, said Scott Storandt, owner of Neshonoc Sports in West Salem.
"Friday afternoon and Friday night are crazy with license sales. We'll have more than 250 people buy licenses that day. We will have a line all the way out the back of the building," Storandt said. "We have one person that just keeps taking the licenses and one person collects the money.
"We will sell $7,000 or more worth of licenses. This, and opening weekend of fishing, are the biggest times of the year for us."
This year, there are a number of financial incentives for longtime hunters as well as first-time hunters. In fact, first-time hunters can buy a resident license for $5, which is $19 less than the regular license fee. Also, by recruiting first-time hunters, longtime hunters can get a reduced rate on their license the following year.
It's all part of a plan to get more first-time hunters out in the woods and keep what was a $1.4 billion industry in Wisconsin last year going strong. As the core age of hunters grows older, recruiting new hunters is critical to sustain the level of licenses sold — and revenue generated.
It's pretty easy, too, as all of the information is on the DNR's website (wis.dnr.gov). And, as you will find out, you don't need to have a hunter's safety training certificate if you accompany a licensed hunter.
"Recruitment is pretty important to the state of Wisconsin as it has a $1.4 billion (economic) impact. The economic impact is heavily skewed toward rural regions," Warnke said. "It is part of the fabric of our life in Wisconsin. Hunting has also been a longtime source for food (for Wisconsin families)."
The first-time buyer program started last year, Warnke said, as part of the legislature signed by the governor. Unless that law is changed, the DNR has the "availability and responsibility" to issue discounted licenses into the future.
There are many regions of the state that depend heavily on the impact of the nine-day gun-deer season, including Black River Falls, where nearly all of the 500 available hotel room beds are full for the opening, and closing weekends, of the season.
"The economic impact for Jackson County is huge. We have nearly 200,000 acres of public land, and 120,000 of that is county land that is open to the public. Another 62,000 is state land," said Barb Brower, executive director of the Black River Falls Chamber of Commerce.
"We can take in people that don't have their own hunting land as they can hunt this public land. And many of the citizens that live in this area are hunters. This is a big hunting community where landowners and their families, along with friends that come in, are hunters."
Brower said that hunting parties and deer hunters in general have changed their habits some over the years. In the 1970s and '80s, for example, she said many hunters stayed for the duration of the nine-day hunt. Now, many hunters will come in for the opening and closing weekends of the nine-day season, but not hunt during the week.
Still, it's big business for area hotels, restaurants, bars, gas stations and convenience stores.
"It is a very, very strong period for us. Not only do the hunters help the economic impact, they bring their families as well and there is shopping that goes along with that."
Be the first to know
Get local news delivered to your inbox!