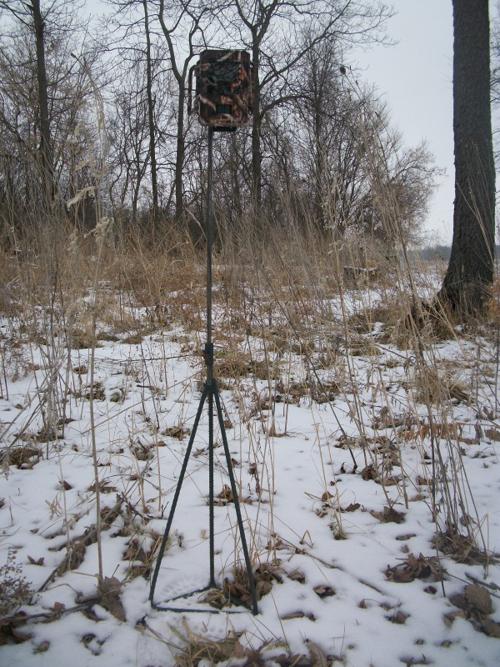 Five years ago, Jesse Hurley was a deer hunter who loved to scout locations.
He also liked to get a good look of what he hoped to shoot -- ahead of time.
The Cottage Grove man was like so many hunters who climbed trees, if necessary, to mount a trail camera in hopes of getting a sneak peek at potential prey.
He just didn't like the hassle.
"I had become tired and frustrated of trying to set up trail cameras the traditional way," Hurley said last week. "At the time, there was nothing on the market. So with the help of a friend, the first Stic-n-Pic was born.
"Although the first designs were very simple, I remember thinking 'With the number of trail cameras being sold, why isn't anyone producing a stand for them.' "
Having worked on the product -- it's a stand to which you mount the trail camera that in turn sticks securely in the ground, allowing the user to place the camera anywhere along or near a trail -- the past few years, Hurley recently decided to unveil it.
To that end, the Stic-n-Pic sold out at the Iowa Deer and Turkey Expo and at The recent Big Buck Classic in Wisconsin Dells.
The steel product features an adjustable camera height of 26 inches to 46 inches, a rotating shaft that swivels 360 degrees and a camera mount that can be adjusted up or down.
"The feedback from the novice camera user to the experienced user thus far has been very positive," Hurley said.
Hurley, who markets the product with his wife Sarah, will have a booth at the Madison Deer and Turkey Expo April 1 to 3 at the Alliant Energy Center. He also showed the Stic-n-Pic last weekend at the Illinois Deer and Turkey Expo.
"The people that use trail cameras regularly really appreciate how the Stic-n-Pic simplifies the set up process," said Jesse Hurley, who owns and operates Masterpiece Exteriors, Inc., a Madison-area remodeling company. "Wildlife viewers, researchers and birdwatchers now have a valuable tool and are no longer limited to trees for trail camera placement."
For his part, getting busy on the business end of hunting hasn't left Jesse Hurley much time for hunting, but the tradeoff has been worth it, he says.
"This means I don't get to do as much hunting as I used to, but I do manage to get out with the bow quit a few times a year," said Jesse Hurley, who with Sarah has three children -- Maggie, 5; Dane, 4; and Jay, 2. "Thanks to the Stic-n-Pic, I had my best year ever and harvested a great buck on Halloween morning."
For more on the product, track down the Hurleys at their booth at the Madison Deer and Turkey Expo or visit http://www.SticNPic.com.
2011 Wisconsin Deer and Turkey Expo
What: In its 27th year, the 2011 Wisconsin Deer and Turkey Expo is the largest show of its kind in the Midwest. Organizers expect attendance of about 28,000.
When: The three-day Expo, which includes visits to locations in Illinois, Michigan and Ohio, runs from 2 p.m. to 9 p.m. on Friday, April 1; 9 a.m. to 7 p.m. on Saturday, April 2; and 9 a.m. to 4 p.m. on Sunday, April 3.
Where: The Alliant Energy Center, 1919 Alliant Energy Center Way. The Center is along the Beltline off Rimrock Road or John Nolen Drive in Madison, Wis.
Admission: $12/one-day adult ($10 w/coupon); $20/two-day adult ($18 w/coupon); $11/one-day military ($9 w/coupon); $18/two-day military ($16 w/coupon); $9 for hunter education graduates ages 12 to 18 who show proof of course completion (otherwise $12); $4/youth ages 6 to 11; children 5 and younger get in free. First-year hunters who have passed hunter education between Jan. 1, 2010 and March 31, 2011, and proof of completion are admitted free. On Friday Family Night, all youth ages 11 and younger are free with an admission-paying adult. Parking is $5.50 per day. A $2 admission discount coupon is available at http://www.deerinfo.com.
Contact John Nolan, Outdoors editor of the Wisconsin State Journal, at jnolan@madison.com or 608-252-6168.