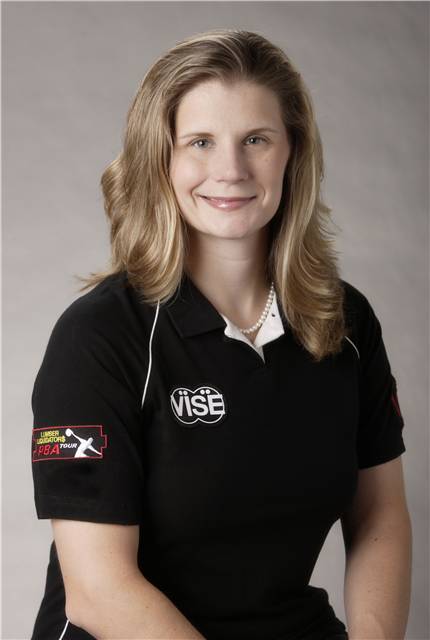 One of my favorite sayings is that the pins don't know the bowler's plumbing.
In other words, bowling is pretty much gender neutral, or at least is far closer to that than any other sporting competition that involves physical activity.
Perhaps more accurately, it's the sport that depends the least on "maleness" -- things typically thought of as male attributes such as brute strength, height, power, speed, etc.
Except on certain lane conditions where power and ball speed bring an advantage, bowling championships go to the player that best combines attributes like hand-eye coordination, finesse, physical repetition, brains, and mental/emotional control.
Because of that, bowling's history is filled with great champions of small stature such as Dick and Pete Weber, Marshall Holman and Norm Duke.
Until Sunday, when Kelly Kulick defeated two great champions -- the second a certain Hall of Famer -- to win not just a PBA tournament, but THE PBA tournament: the Tournament of Champions.
Actually, the opportunity was not there until the PBA changed ownership at the start of this century and those men opened the PBA to women after the demise of women's pro bowling -- something I've been banging the drum for for more than a decade as a way for PBA to stand out among sports.
It will be interesting to see how the major media treat Kulick's win. Hello, SportsCenter. Hello, Oprah Winfrey.
Pro golfers Annika Sorenstam and Michelle Wie received a ridiculous amount of publicity for what amounted to ceremonial appearances in PGA Tour events — a woman truly has no chance of winning a PGA Tour event as "maleness" is a far greater factor in that sport. That applies even more so to professional tennis, the other major individual sport.
Liz Johnson nearly pulled off Kulick's feat in 2005 when she finished second in a PBA Tour tournament.
In 2006, Kulick became the first woman to earn an exemption on the PBA Tour by finishing sixth in the PBA Tour Trials. But the best finished she could manage was 22nd and she lost her exemption.
Her win in the TOC Sunday at Red Rock Lanes in Las Vegas earned her an exemption for the next two seasons.
Kulick earned a TOC berth by winning the PBA Women's World Championship, the first PBA women's major tournament, last September.
Kulick is no stranger to performing well in major tournaments, having won the 2007 United States Bowling Congress Queens and the 2003 U.S. Women's Open, in addition to the PBA Women's World Championship.
You have free articles remaining.
After No. 3 qualifier Mika Koivuniemi dispatched No. 4 qualifier Rhino Page, Kulick was strong in the clutch, striking out in the 10th frame to lock out "Major Mika" and winning 227-223.
Then against top seed and future Hall of Famer Chris Barnes, Kulick started with four strikes as Barnes had an open and three marks to take a hefty lead.
She shook off a pocket 7-10 split in the fifth frame and resumed striking while Barnes could not double until the match was decided.
Kulick clinched the match sitting on the bench, waiting to bowl her 10th frame, brining tears to her eyes and a smile to her face.
She then got up and doubled in the 10th to finish with 265 to Barnes' 195.
Barnes, the 2007-08 PBA Player of the Year and 2005 U.S. Open and 2006 TOC winner, smiled appreciatively as he suffered his second loss in three years a TOC title match.
The PBA news release on Kulick's win, with quotes, is here.
I was on Tour for two years, competed in the 1994 TOC and know exactly what Kulick accomplished. Trust me, it's an awesome feat whatever your gender.
I've only met Kulick a handful of times and barely know her but I found myself pulling for her Sunday like she was one of my best friends.
Here's hoping she gets a heavy burden of media work and handles it as well as she handled the TOC.