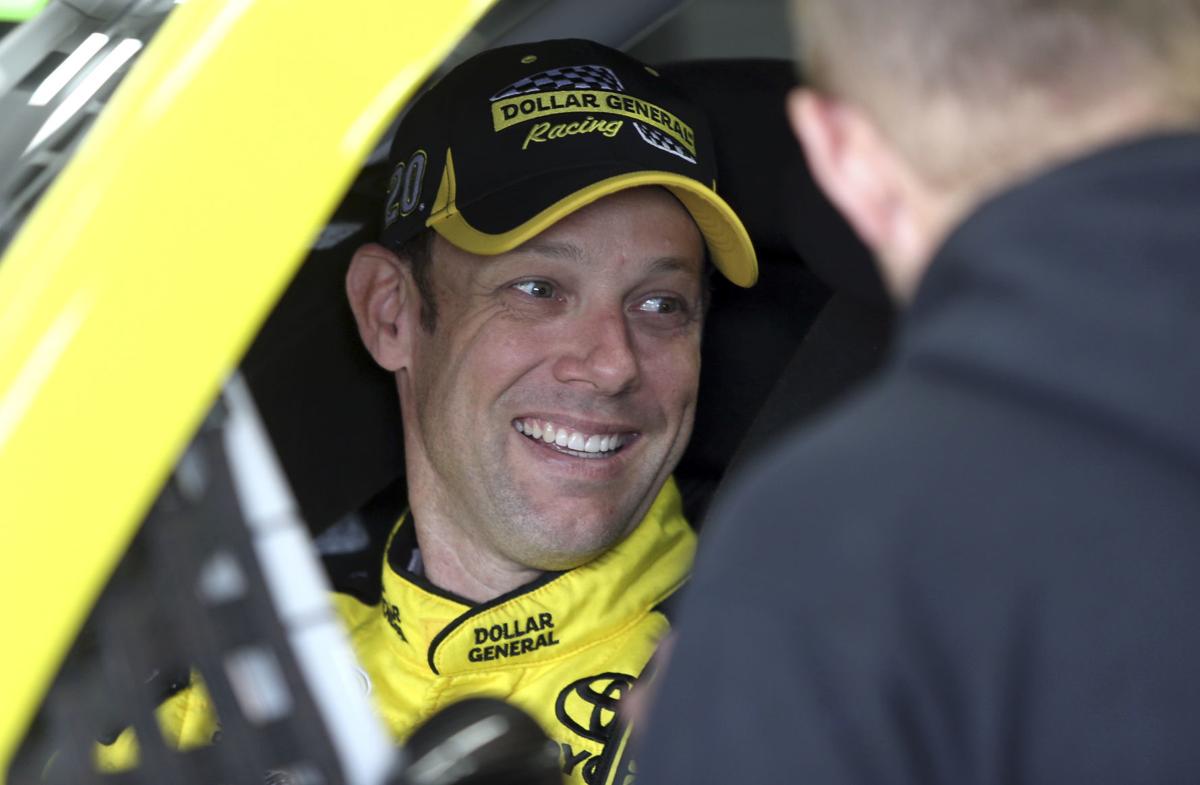 Cambridge native Matt Kenseth has embraced a chaotic and loving household in North Carolina with wife, Katie, and four young daughters, who range in age from 10 to almost 2.
Kenseth, who stepped away from full-time racing at the NASCAR Cup Series level in 2017, says family life has its enjoyable challenges.
"Some days it's just keeping everyone alive and getting on to the next day," he joked. "Every day is an adventure. We have a good time and the girls keep us on our toes."
Kenseth, 47, ran on a part-time basis for Roush-Fenway Racing last year but hasn't competed in any NASCAR events this season. The 2003 Cup champion collected 39 Cup victories in 18 full-time seasons, including a pair of Daytona 500 wins.
Kenseth slotted in a couple of short-track events on his schedule this summer — partnering with longtime friend Joe Wood, who has built late models for Kenseth for years at Sun Prairie-based Pathfinder Chassis.
"It really aligned well with being home for an extra 140 days, more than I'm typically home any other year," Kenseth said. "Obviously, I have a lot more time and it gives me the opportunity to do more things that are more on the fun scale.
"Madison being my home track, it's one that I wanted to go back to for sure."
Kenseth will return to Madison International Speedway on Friday for the first time in five years to compete in the Howie Lettow 100 for the ARCA Midwest Tour Series.
Kenseth has won his last two events (2010 and '14) at the half-mile asphalt oval in the town of Rutland, and six of his 11 races at MIS since 2003.
He passed Travis Sauter with nine laps to go in the 2014 race and held off Sauter, who won 10 straight events at MIS over a two-year period in 2012 and '13.
Kenseth said he aims to be much more competitive on Friday.
You have free articles remaining.
"We were fortunate, I think the leader had a flat or something, and we won the last one," he said. "We didn't run quite as good, so I'm looking forward to going back there."
Kenseth is fresh off an exciting win last month in front of a standing-room only crowd in the 40th Slinger Nationals at Slinger Speedway. Kenseth passed Seymour native Ty Majeski in the fourth turn on the final lap to claim his eighth Slinger National title.
Majeski, a former University of Wisconsin engineering student, is expected to run on Friday in the Howie Lettow 100 at MIS.
Kenseth said he has fond childhood memories of being a fan in the stands at Dells Raceway Park, Jefferson Speedway and the now-defunct Columbus 151 Speedway.
Sam Bartus built a quarter-mile oval in 1963 and named it Capital Superspeedway. Bartus replaced the oval with a one-mile track in 1969. Wayne Erickson bought Capital Superspeedway in 1992, and changed the name to Madison International Speedway.
All the area short-tracks ran limited late models, except for the one in the town of Rutland, which had super late models.
Kenseth has never forgotten the sights and sounds of his very first trip to the venue formerly known as Capital Superspeedway. The sounds of the cars were an immediate draw. The field in that particular race included Mark Martin and Wisconsin natives Dick Trickle and Rich Bickle Jr.
"I remember just getting out of the car and hearing the sound, and was just awed,'' Kenseth said. "I had never been to a track that big, and I couldn't wait to get in the gate and watch the races. Man, I thought it was the coolest thing ever. I felt like I was at Daytona or something."
As a driver, Kenseth — the 1994 MIS track champion — had his share of good and bad times at the track, and said the oval had its challenges during his short-track career.
"Once we got running good there, had a few really good years," Kenseth said. "It's always good to come back. It's a fast track. If you can get your car to do what you want to do, there's always a certain technique around there. If you get your car to do certain things, you can be really successful."
Kenseth said there are certain aspects he misses with full-time work. Notably absent are the people and teammates in NASCAR who he enjoyed working with in his career. But he can do without the grind involved with living in motor homes or hotels during the season, and the downtime associated with race weekends.
The last few months have been busy ones for the Kenseth clan. They spent a few weeks visiting with Katie's family in Wisconsin, and spent a huge chunk of time at the beach. They also spent time in Florida with Matt's son, Ross, and his family.
"It's probably the greatest summer I can remember," Matt Kenseth said. "Katie and I have traveled with the kids and spent a lot of time with them, been to different places, and just kind of enjoyed it."