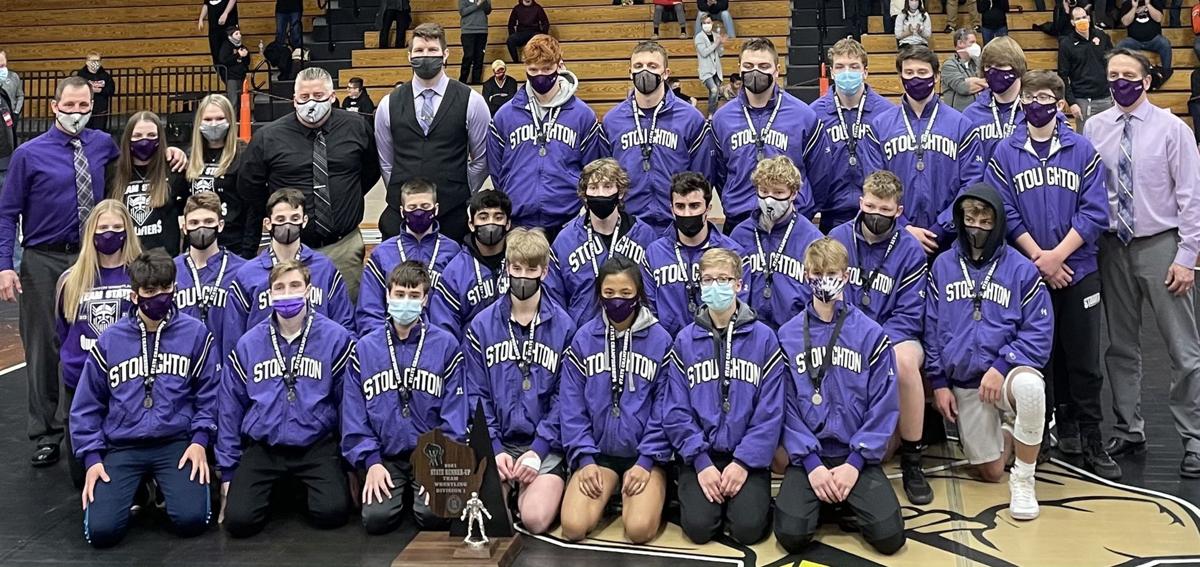 KAUKAUNA — A strategic switch was all top-ranked Kaukauna needed to end Stoughton's three-year reign as WIAA Division 1 state team wrestling champions.
A deeper Kaukauna squad used some lineup shuffles to build a 38-26 victory over the Vikings in the championship match, the third of the day for both teams.
Galloping Ghosts coach Jeff Matczak bumped up lighter wrestlers into the 195- and 285-pound categories, putting talented opponents into classes Stoughton's Rudy Detweiler and Griffin Empey were looking to win big.
Detweiler and Empey still won those matches, but only by decisions, denying Stoughton bonus points and allowing Kaukauna's depth to prevail.
"Our guys were still wrestling state-caliber kids," Stoughton co-coach Dan Spilde said, "but we knew they had the depth to get the right matchups."
It was the seventh consecutive year Kaukauna and Stoughton had met at team state. The Vikings had beaten the Galloping Ghosts three years running in the semifinals during their three-year championship reign. In turn, Kaukauna won three straight title matches against Stoughton from 2015 to 2017.
"It's one of the great rivalries out there," Kaukauna coach Jeff Matczak said. "An epic moment."
The score was tight early. When Chance Suddeth pulled off a 7-2 overtime victory at 120, the Vikings were ahead 18-17.The Galloping Ghosts then got a pin at 126 and — just like last week in an individual state final — Kaukauna senior Jager Eisch beat Stoughton two-time state champ Nicolar Rivera, a junior, 3-1 at 132.
Eisch's win gave Kaukauna a 26-18 lead, and Stoughton never recovered.
Brooks Empey, who won a repeat 220-pound championship at individual state last week, won twice by pin and once by disqualification. Three other Stoughton wrestlers earned runner-up finishes last week and delivered on Saturday: Luke Mechler (160) scored two pins and a technical fall, Rudy Detweiler (195) and Griffin Empey (285) each had two pins and a decision. Rivera won by pin and decision in his first two matches.
Spilde and co-coach Bob Empey were disappointed in the loss but were happy to have a chance given the COVID-19 pandemic. The Vikings often drove as far as an hour to hold practices and never had a home meet due to Dane County COVID-19 restrictions.
"All we wanted was an opportunity at a state title," Spilde said. "The kids jumped through a lot of hoops to get us this far."
Stoughton beat Slinger in a semifinal, 39-34, after opening a 35-13 lead, and opened the day with a 51-30 victory over Waterford behind six pins.
Waunakee, making its first-ever state trip, fell 60-18 to Kaukauna in the semifinal. The Galloping Ghosts started with an 18-0 lead and totaled eight pins in the 14 matches. The Warriors made the semifinals with a rollicking 40-32 victory over Marshfield, rallying from a 24-0 deficit with seven consecutive victories.
Waunakee coach Mark Natzke was still thrilled at how well the COVID-19 abbreviated season turned out.
"We had absolutely no certainty at all," he said. "All we could do is go out and battle."
At Adams-Friendship High School, Prairie du Chien (10-4) fell 40-31 to Amery (14-0) in the title match after a 45-27 semifinal victory over Winneconne. Bradyn Saint scored a pin for the Blackhawks in the next-to-last match at 182 pounds, but the Blackhawks had to forfeit the final weight, giving the victory to the Warriors (14-0). Prairie du Chien also got pins from Drake Ingham at 113, Rhett Koenig at 120 and Matt Rogge at 152.
At Wausau West High School, Mineral Point's Lucas Sullivan scored a 15-5 major-decision victory over Raymond LeMieux in the final match at 113 pounds to give the Pointers (8-0) a 33-32 victory over Coleman (8-2). It was the Pointers' fifth title since the advent of the team tournament and its first since 2002. The Cougars won three consecutive matches to take a 32-29 lead before Sullivan's win. Mineral Point also got pins from Tarrin Riley at 126, Nolan Springer at 170 and Mason Hughes at 182.