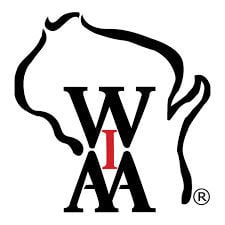 The WIAA announced Thursday that its Board of Control will discuss the membership's options for the rest of the spring sports season and for summertime regulations at its scheduled meeting Tuesday.
The WIAA's announcement came in response to Gov. Tony Evers on Thursday extending the state's "safer at home" order until May 26 due to concerns about the COVID-19 pandemic. The governor's order also closed public and private schools through the rest of the 2019-20 school year.
Evers' announcement came three weeks after he implemented the "safer at home" order that was scheduled to end April 24.
According to the WIAA's release from communications director Todd Clark: "In accordance with Gov. Evers' new directive, all interscholastic training, practices, scrimmages and contests remain suspended. The WIAA postponed all athletic participation following an executive order issued by the governor on Friday, March 13 that closed all public and private schools on March 18.
"The Executive Staff has discussed the best- and worst-case scenarios with the possibility schools may close for the remainder of the school year. Those will be reviewed with guidance from the Board of Control to determine the best course of action."
Tuesday's Board of Control meeting, which will be done by video conferencing, is expected to reach a decision to cancel the spring sports season or, less likely, to attempt to somehow salvage an abbreviated portion of it.
"I think today's announcement hits hard," Lakeside Lutheran activities director Todd Jahns wrote in an email. "While we all probably knew this was coming, there was always a faint hope that maybe something could be salvaged. Today's announcement takes away that hope. I feel especially bad for our seniors. They will never get this back."
The Big Eight Conference athletic directors had a virtual meeting already scheduled Thursday and announced that league competitions won't be held.
In a report from that meeting released by Madison Memorial athletic director Jeremy Schlitz, Big Eight athletic directors said: "When schools are closed or school facilities are closed, we will not hold practice, nor encourage students to group together or practice without a coach.
"We will not hold Big Eight Conference competitions this spring. We will support all schools in their local decisions and follow the guidance of the WIAA which has paused spring sports in accordance with the statewide school closure.
"As a conference we would encourage adoption of a standard summer contact date for all WIAA schools of June 1, 2020 at the latest to allow for consistent out (of) season contact dates across the state.
"For out-of-season sports, as with any "normal" offseason, programs for individual training or workouts may be shared — such as stretching, flexibility, and warm-up routines, strength and speed training, conditioning, and mental preparation/sport psychology resources — so long as it can be completed individually and follows normal WIAA Coaching Contact rules.
"The WIAA spring season practice start date has been reached for each sport and at this time coaches may continue to provide direct, virtual individual coaching (via GoogleClassroom, Hudl, Zoom, or other shared online spaces) to those student-athletes that have completed all eligibility requirements."
The Beloit school district earlier this week announced it had postponed all its events, including athletics, through May. Schlitz said Beloit Memorial, Janesville Craig and Janesville Parker weren't using virtual coaching.
Schlitz, who's also Madison school district athletic director, said in a phone interview he's been encouraged by the use of virtual coaching and that "engagement has been very, very high in many of our spring sports. We view it as a positive experience in this unique time." If the season is canceled, virtual coaching would end.
While Evers' order might not have been a surprise, Badger Conference athletic directors were saddened about Thursday's developments, according to Milton athletic director Brian Hammil, the Badger Conference athletic directors' president.
"The Badger Conference athletic directors understand and appreciate the reasons for the decision to close schools and cancel extra-curriculars for the remainder of the school year," Hammil wrote in a release.
"With that being said, we express our sadness for our student-athletes and coaches, especially the senior class of 2020, that won't have a chance to represent their schools again. We wish our seniors the best of luck moving forward, and know that they will do well in their future endeavors.
"The Badger Conference will continue to support all of our student-athletes and coaches through the end of the school year. We also want to reassure everyone that we will continue to communicate any updated information and plans as they are available.
"We hope everyone remains safe and healthy. We will be back stronger than ever, whenever the time is right."
Concerns about the coronavirus outbreak led to the WIAA announcing late on March 12 it was canceling the remaining two days of the girls basketball tournament and the rest of the boys basketball tournament, which completed sectional semifinals.
The spring sports season and state tournaments were suspended due to concerns about the coronavirus outbreak and no competitions had begun.
Postseason competition was scheduled to begin in late May, leading into the state tournaments in June.
Last Friday, the WIAA announced it wouldn't be allowed to use its usual University of Wisconsin locations if it did hold the state boys golf, softball and boys tennis tournaments.
With UW extending the cancellation of campus events through June 30, the possibility of holding the state tournaments at UW sites was eliminated. So, even if the WIAA was allowed to and decided to hold its spring tournaments, it would have to relocate at least three of them — and state tennis involves two weekends of tournaments: one for individuals and one for teams.
Concerned about COVID-19?
Sign up now to get the most recent coronavirus headlines and other important local and national news sent to your email inbox daily.