Alia Schlimgen doesn't remember her first volleyball experience.
She knows the story, however, and knows that her mom was right there with her. Amy Schlimgen, the current Sauk Prairie High School volleyball coach, was pregnant with Alia in 2004 while coaching Wisconsin Heights to one of four WIAA state tournament appearances.
Alia certainly doesn't remember that moment, but she has spent the rest of her life bonding with her mom over the sport they both love. Much of that bonding happened while Amy was coaching at Wisconsin Heights, where she compiled a 618-231 record in 24 years — winning 15 conference titles, 17 regional championships and the 2008 WIAA Division 3 state championship.
"I always remember going to her practices when I was around 10 or so and playing pepper with her and the players," Alia said of her first actual volleyball memories. "She would also always just give me little volleyballs to play with when I was really little."
"I bought her a Volley Lite ball as soon as I thought she could pass a volleyball, so probably around age 3," Amy said. "We would start with me tossing to her and she would pass the ball back to me. Then, we moved on to trying to pass the ball back and forth as many times as we could consecutively. We would keep track of how many we could pass in a row and try to beat our previous record."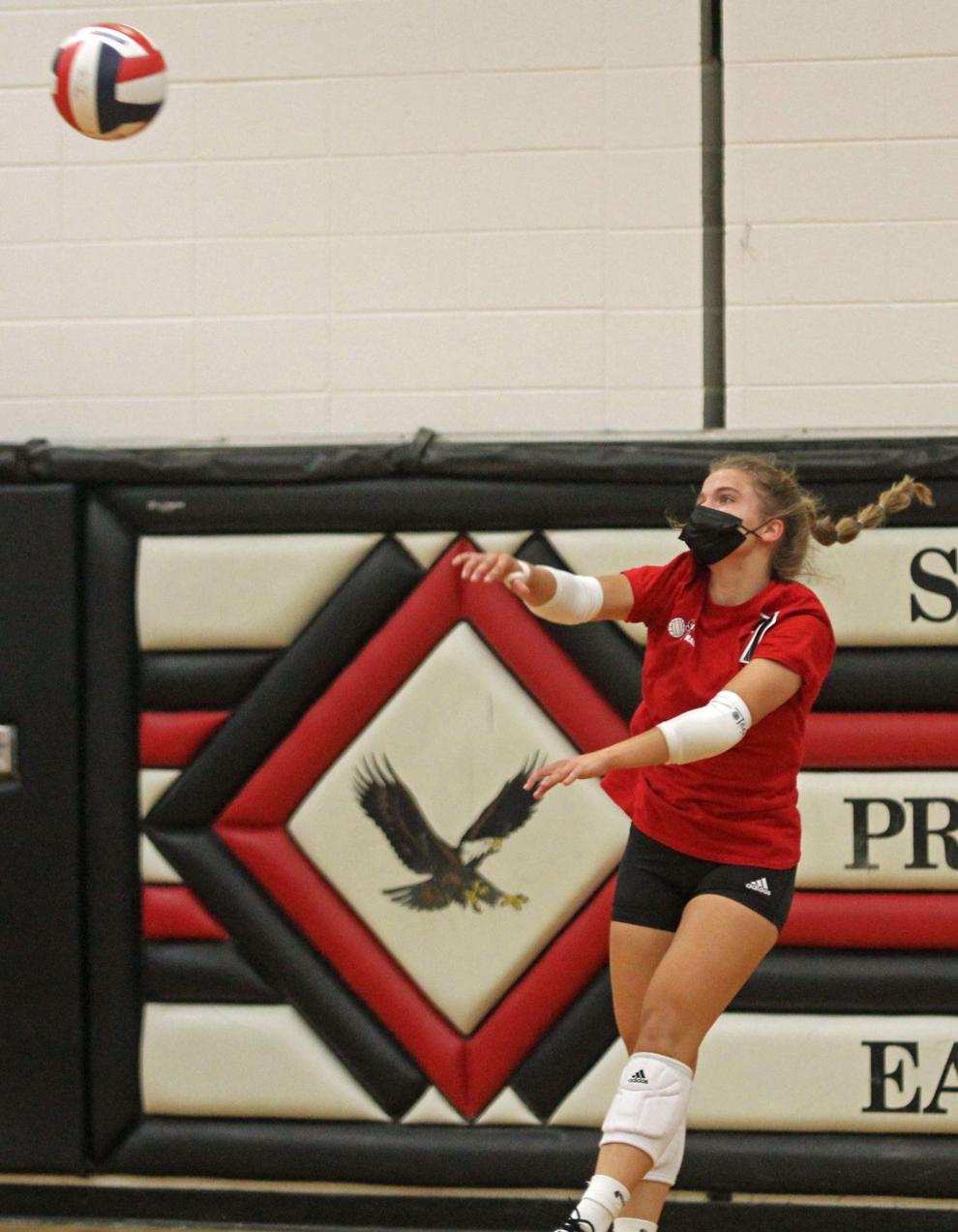 Now, Alia and Amy have Sauk Prairie (26-2, 7-0 Badger West) ranked second in Division 2 by the Wisconsin Volleyball Coaches Association heading into Tuesday's home match against third-ranked Madison Edgewood (22-5, 7-0). The teams are both unbeaten in conference play as they compete for the first title in the history of the Badger West.
As Alia — who, after all those passing drills as a youngster with Amy developed into a senior libero nearing 1,000 career kills — grew up in the Sauk Prairie School District, Amy got more involved with volleyball in their community. She officially became her daughter's coach in the winter of 2019, replacing Eleanor Engelby as Sauk Prairie's head coach.
"It was definitely a big factor," Amy, who will be looking for her 699th career win Tuesday night, said of how the possibility of coaching her daughter played into her decision to leave Wisconsin Heights for Sauk Prairie. "I didn't want to miss so many of her high school matches, but I did not want to quit coaching. So the timing was perfect, even though it was very bittersweet to leave Heights — where I had so many great memories and relationships."
New memories have developed quickly in two-plus years at Sauk Prairie, where Alia has enjoyed developing a new angle of the Schlimgen's mother-daughter relationship.
"Honestly, it's been great," Alia said. "It's nice to be able to have some time with her where she is my coach and not necessarily my mom. We surprisingly get along really well on the court, and it's really nice to have a comfort level with her so that if I am struggling she knows what to say to help me."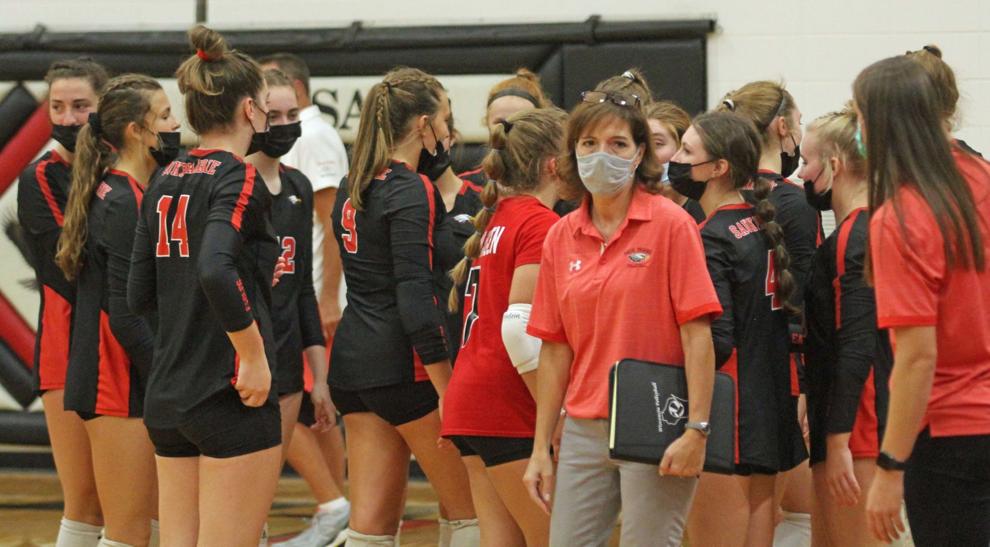 "It has actually been a dream come true," Amy said. "I was honestly worried at first about it. Even though it was a very rough year emotionally, I think that her observing me as a coach when she was out with her torn ACL for my first year at Sauk Prairie may have actually helped her and I in the long run.  She is a very coachable kid and is very determined to help make this team the best they can be by giving her all every day in practice. I don't think I could ask for more effort out of her. And she has actually listened to and executed my tips to her over the years."
The Eagles found success immediately under Amy, going 28-14 in a 2019 season that saw them pick up postseason wins over Portage and Edgewood before suffering a 3-1 loss (set scores: 25-20, 25-23, 16-25, 25-23) to McFarland in the Division 2 regional finals.
After another full offseason together, one that included Amy and Alia training twice a week in their basement, everything clicked in 2020. Sauk Prairie went 23-6 and got on a roll during a postseason run that started with a COVID-19 outbreak. Due to a close contact, Amy was forced to stream the regional games from the living room while Alia communicated between practice and the Schlimgen home, which also includes Alia's father, Paul, and two older brothers — Grant, 24, and Drew, 21.
The shorthanded Eagles played through the outbreak while playing up a division. They knocked off the reigning Division 1 state champion, Hartland Arrowhead, and runner-up, Oconomowoc, en route to making the second state tournament in program history.
"Absolute joy," Alia said. "When I think back, I think of how incredibly proud and inspired I am of that team. Sauk Prairie volleyball has grown so much as a program since I came to high school, and I am just so honored to be a part of this team and am excited to see where we can go this year."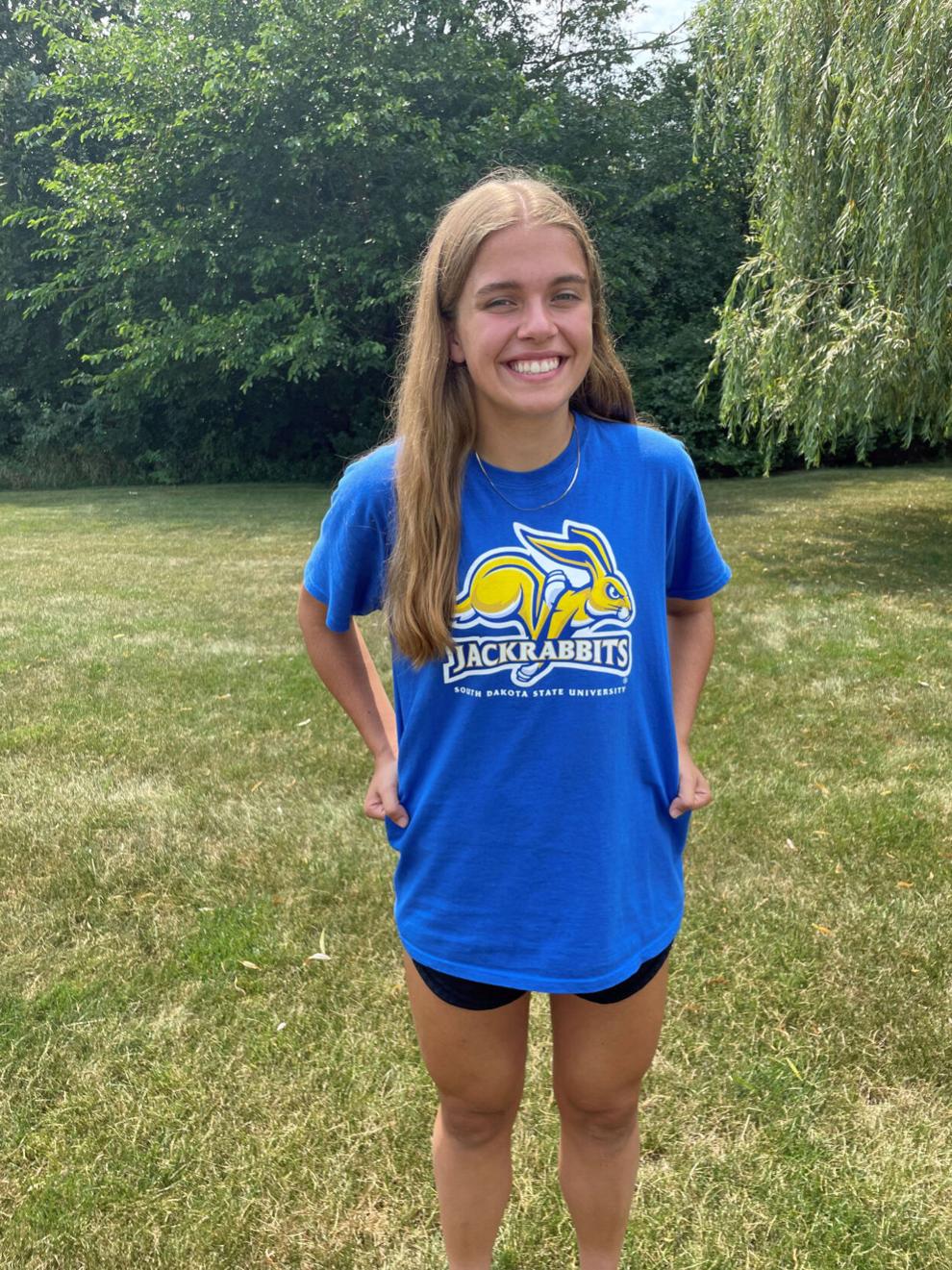 Still, the 2020 Eagles didn't accomplish all their goals in a season that ended with a 3-0 (set scores: 25-13, 25-11, 25-23) state-semifinal loss to eventual champion Sussex Hamilton. The success, combined with the season-ending loss, carried the Eagles through the offseason and helped them win every league and tournament they competed in this summer.
"I think the run to state made everyone really believe in the program," Alia said. "Everyone wants to be there. Everyone is willing to work hard so we can get back and achieve the goals we have set for ourselves. ... I think our performance during the summer really fired us up even more for the season."
"I think it really did," Amy said. "I am very impressed with their daily effort. They also are a very tight team. They love to see their teammates accomplish things and are genuinely excited for all of their teammates' achievements. They really help each other out a lot."
They've showed that chemistry and determination through the first month-plus of the 2021-22 school year. The Schlimgens have helped lead a deep Sauk Prairie team — which also features UW-Stevens Point commit Olivia Paukner and Wright State commit Aida Shadewald, a first-team all-state outside hitter last year who surpassed 1,000 career digs earlier this month — that has yet to lose a set in a non-invitational match this season.
A number of milestones are on the horizon, including Amy approaching 700 wins and Alia has 947 career digs, but asked what she wants to get out of her senior year, Alia responded with three words: "A gold ball."