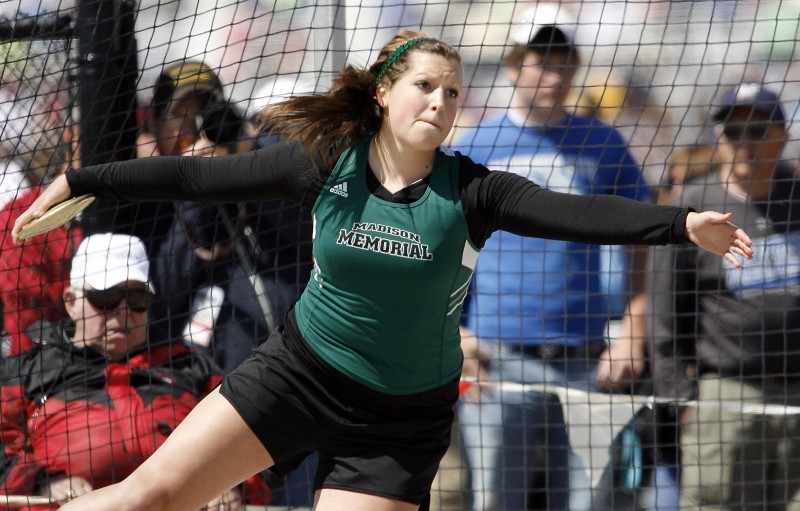 LA CROSSE — When Corinne Franz unleashed her winning throw in the Division 1 girls discus competition on Friday morning, the Madison Memorial junior admitted she was stunned.
"I wasn't expecting this. It's a great feeling. It feels amazing," Franz said of her throw of 137 feet, 4 inches on her final attempt at the state track and field meet at the Veterans Memorial Stadium.
Franz made it two girls state discus state champions in a row for the city, following Madison La Follette's Keke Burks, who won in the event last year.
Sharing the moment with Burks — who finished fifth (123-1) — made the title even more satisfying for Franz.
"I'm so ecstatic. It's an honor. I worked so hard over the offseason that it's so worth it," Franz said. "I'm so happy. I couldn't do it without Keke. I couldn't do it with my coach, Joe (Frontier)."
Franz said she will miss Burks, who has been a teammate on the Madison Throws Club the past three years and will compete at North Dakota next season.
"She pushes me and I think I push her. It just makes me do better," Franz said of Burks. "I couldn't do this without her."
Added Burks: "Without Corinne, I feel like I wouldn't be able to push myself. After her winning throw, I was thinking 'I have to throw further. I have to throw further.' It just didn't happen. I think I psyched myself out."
Monona Grove senior Theron Baumann earned his first state title in five attempts when he won the boys shot put.
All eyes are expected to be on his bid today when he will attempt to set a state record and win his first discus title. But on Friday, Baumann recorded a shot throw of 60-5 on his first attempt in preliminaries.
Baumann's throw of 60-9¼ on his final attempt secured his first state title. He placed fourth in the shot put as a sophomore and junior and ninth in the discus as a sophomore. He took fourth in the discus as a junior.
"It's exciting to win my first title but the weekend is just beginning," said Baumann, who will aim for Luke Sullivan's state record of 193-3 set in 1993 by the former Verona thrower who went on to compete at UCLA. "I think it's going to be a real fun time.
Janesville Craig senior Calvin Coleman capped a stellar day for area field performers when he won the boys long jump with a leap of 22-3½ on his first attempt in the finals.
Waunakee's Matt Williams was fifth (21-9) and Madison East's Tyrone Galvin, who was fourth a year ago, finished seventh (21-7).
Coleman, who was seeded 17th after sectionals, was in second place behind Brookfield East's Kyle Rohde after the preliminary round.
"Wow, I jumped and I got my finish down perfect," said Coleman, who plans to compete at UW-Platteville next year.
"Two weeks ago, I did not see myself winning state. I just wanted to go to state, do my best and see what happens."
Craig senior Tommy Meister wasn't able to defend his 800 title, finishing second. Earlier, he repeated his runner-up finish of a year ago in the 1,600.
"I knew it was going to happen after sectionals when we didn't get in the fast heat," said Meister, who won his 800 heat in 1 minute, 53.26 seconds but lost out to Brookfield East's Brad Johnson, who ran a 1:52.54 in winning the second heat.
"I knew I was just going to go out there and make a move as early as I could and just run away in the race and just go for time. A 1:53 alone I'm happy with that. That was a heck of a race for me."