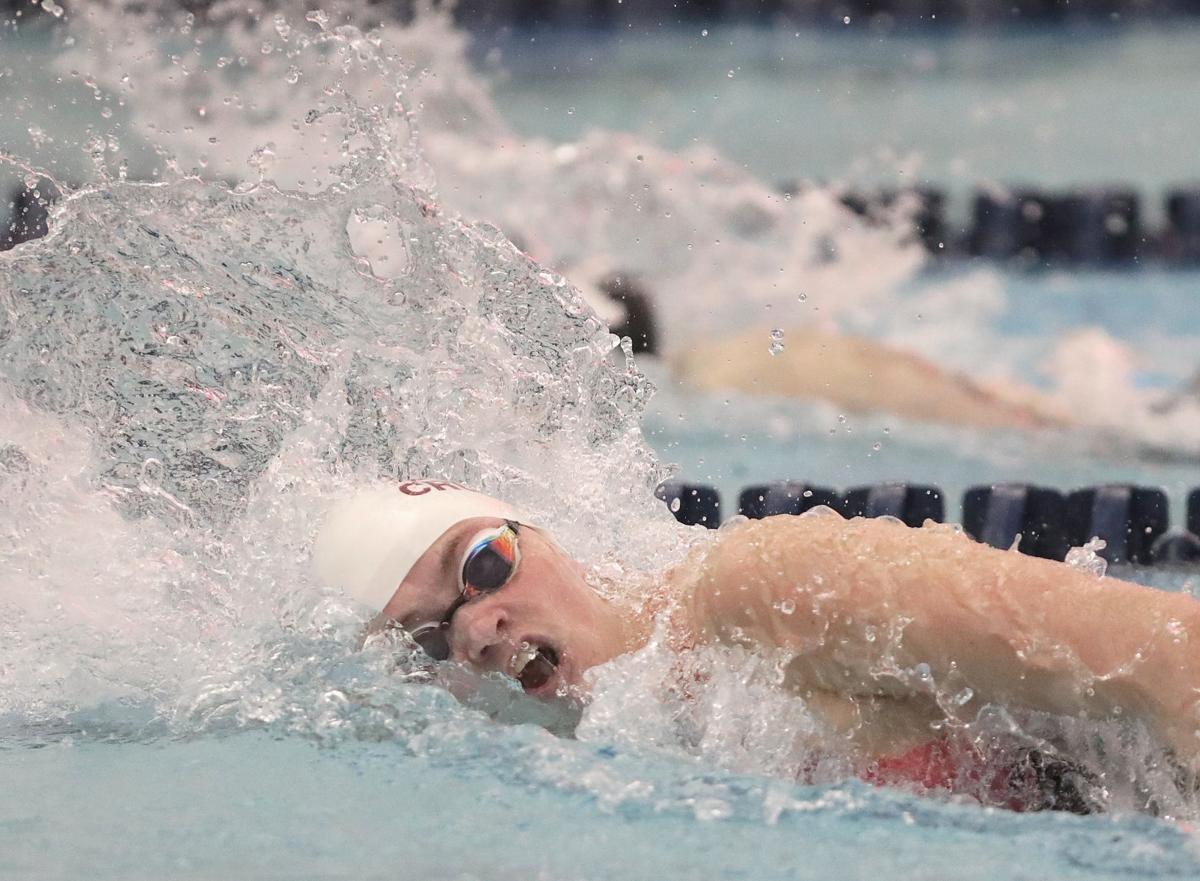 VERONA — Madison Edgewood won five consecutive WIAA Division 2 state championships in girls swimming and diving through the fall of 2019.
Winning those titles never grew old for Edgewood, which didn't compete last fall.
But the Crusaders have found that this alternate universe — the WIAA's alternate fall season in the spring, which was created as a COVID-19 accommodation — has been a unique and refreshing experience.
The Crusaders have competed against new Division 1 and Division 2 teams, taken the time to bond better and considered what makes them grateful, Edgewood coach Emily Schwabe said.
Oh, and, they remain extremely strong in the pool, which bodes well for the state meet April 6 at Waukesha South.
Edgewood — led by juniors Abby Reid and Anna teDuits and sophomore Izzy Enz — swept the relays while winning nine of the 11 swimming events at the five-team WIAA subsectional Tuesday night at the new Verona High School's Aquatic Center.
"There are benefits in shaking it up for our team and having a reset, and just focusing on more of those core values of getting closer, making sure we are really enjoying each other, being thankful for what we have," Schwabe said. "It is refreshing, going against new talent. … It's a cool opportunity for us. At the state meet, we are going to be able to showcase what our team is about at a different level."
Reid and Enz finished with four victories apiece. Reid won the 500-yard freestyle in 23.79 seconds and the 100 freestyle in :52.12 and was part of the Crusaders' victorious 200 medley and 200 freestyle relays.
"It's definitely been different with the shorter season," Reid said. "It's like a change of pace that we aren't really used to. It's definitely a different practice schedule and different safety precautions we have to focus on. But, overall, it's been a really positive, good experience, and I'm just happy we were able to make it happen."
Enz finished first in the 200 freestyle in 1 minute, 50.74 seconds and the 500 freestyle (4:57.55). She also was in the 200 freestyle relay (1:36.61) with Enz and sophomores Sophie Reed and Brynn Stacey and the winning 400 freestyle relay (3:30.61) with teDuits, sophomore Peyton Drexler and Stacey.
"I think it was really exciting," Enz said. "We came in with a lot of energy. I thought the whole team did a really good job carrying it on the entire meet. I think we did a really good job of setting ourselves up to do well at state."
University of Wisconsin recruit teDuits was the 100 backstroke winner (:55.96) and also was part of the winning 200 medley relay (1:46.70) with Reid, Drexler and Reed.
"It was super fun; I loved the experience with everybody," said teDuits, the Division 2 200 individual medley state champion in 2019. "(This season) has been a little different because we don't have the same competition and the same set of teams, but I think our team has been doing a really good job of just coming together."
Drexler claimed first in the 200 individual medley (2:04.11). Drexler is a former Verona/Mount Horeb swimmer.
Middleton earned the other two first places: senior Kaitlyn Peters in the 100 butterfly (:58.03) and sophomore Natalie Charles in the 100 breaststroke (1:06.24).
The winner in every event set a pool record.
The results from the Verona subsectional and Eau Claire North subsectional were combined late Tuesday to determine one sectional champion in each event(according to Verona/Mount Horeb coach Bill Wuerger and WIAA assistant director Tom Shafranski).
Edgewood wound up as the sectional champion among 10 teams with 421 points, followed by Middleton (375), Verona/Mount Horeb (308) and Waunakee (259) — teams that all competed in Verona.
Ten of the 11 swimming winners in Verona, except the breaststroke event, were sectional champions.
Event champions from the four sectionals automatically advanced to state. Then the next 12 fastest non-sectional champions in each individual and relay event from all the sectionals will advance to state.
"We've definitely been training really hard and I'm very excited to see all our hard work pay off in a week," Reid said.
Said teDuits: "We are going to go out and just see what we can do, have fun with it and what happens, happens."