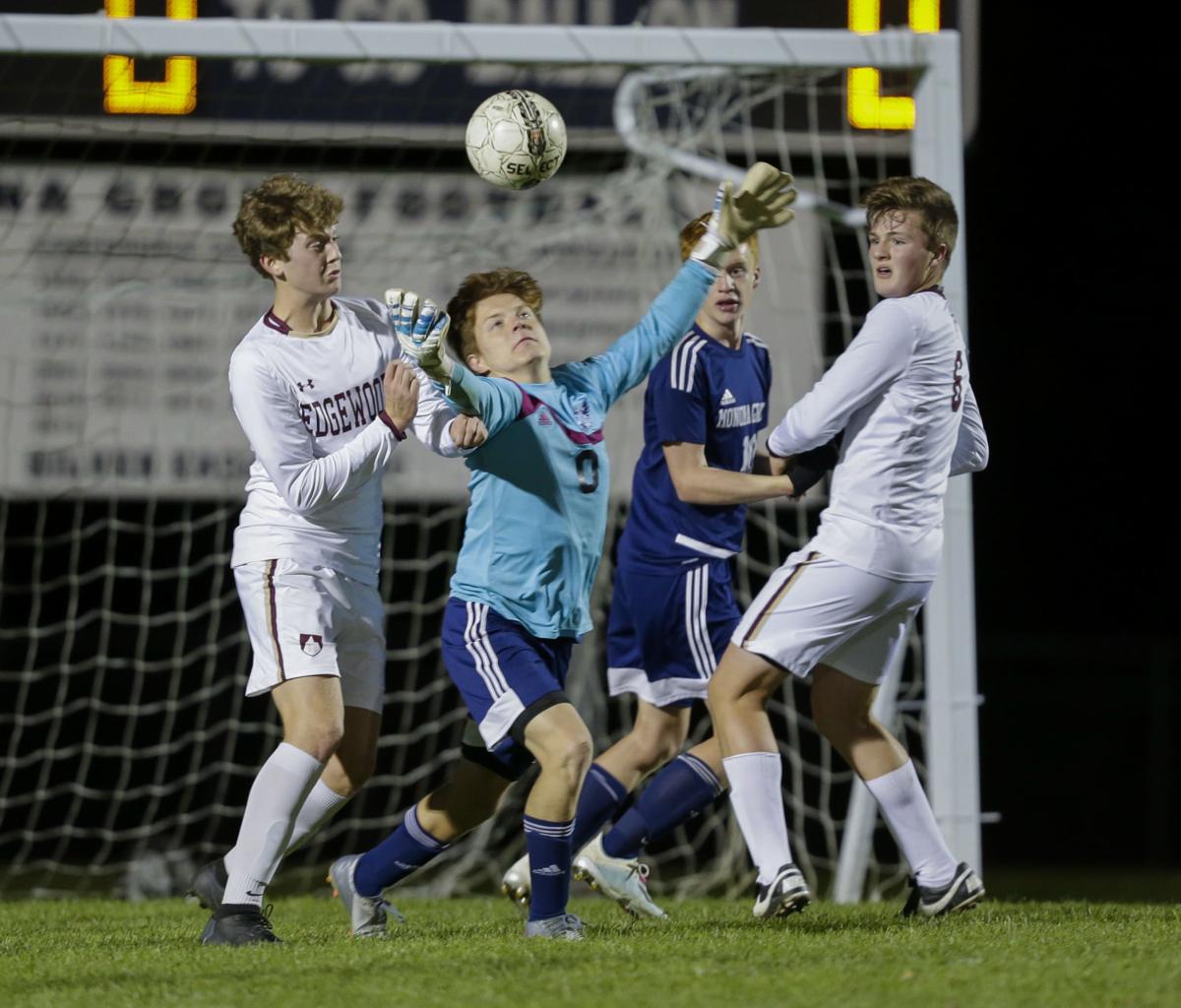 MONONA — Tuesday night's boys soccer match took on twice the significance for Monona Grove senior forward Isaac Becker and his father, coach Randy Becker.
It not only was Senior Night but also Parents' Night when host Monona Grove squared off with Madison Edgewood in a Badger South Conference game at Klement Stadium.
And that provided plenty of meaning for father and son during the 2-2 draw played in blustery conditions.
Isaac Becker, who had a goal and assist, savored playing one more time with teammates he's known since youth.
"It's the last regular-season game at home," he said. "It feels weird. I wish we could have won, but it was fun coming back from being down and making everyone happy."
Randy Becker said it was emotional thinking about Isaac's prep career winding down.
"I've coached him for a long time," Randy Becker said. "It is hard on him also being a coach's son. I know he works harder as a result. He sets an example. … It's going to be weird not having him around. In a lot of ways he will be missed next year."
Isaac Becker scored the equalizer from 6 yards out at the 49-minute, 22-second mark, cleaning up a shot by junior midfielder Ignacio Gatica.
"I just felt like we were back in the game, and we had more motivation, drive and momentum after that," Isaac Becker said.
That goal permitted Monona Grove (10-2-4 overall, 4-1-1 Badger South) to rally after Edgewood (6-9-2, 3-2-2) took a 2-1 lead into halftime.
"Tonight is a good representation of what we are capable of, against a very good team," Crusaders coach Chris Martinelli said.
Monona Grove, ranked 10th in Division 2 in the Wisconsin Soccer Coaches Association poll, opened the scoring when Becker delivered a corner-kick service to the right-front of the box and junior midfielder Exander Rains scored from point-blank range at 30:10.
The Crusaders answered 2:05 later on sophomore midfielder Jon Snell's goal.
A foul called on the Silver Eagles led to a penalty kick, which Crusaders senior defender and captain Nick Stacey converted for a 2-1 lead at 38:08.
"We can count on him — wherever, whenever," Martinelli said of Stacey.
You have free articles remaining.
Stacey said the outcome against Monona Grove was important for Edgewood.
"I think that was probably a big point in our season," Stacey said. "It brought our team together against a really good opponent."
Isaac Becker's long-range strike in the first two minutes of play ricocheted off the crossbar. His acrobatic bicycle kick attempt with 10 minutes remaining to play required a save by Crusaders junior goalkeeper Grant Merckx.
"He's just a smart, all-around player," Randy Becker said of Isaac, who missed five games earlier in the season due to injury. "He's very creative with the ball, a good finisher. … He works hard. That's what I appreciate — the work he does."
Ninth-ranked Oregon's victory over Watertown combined with Monona Grove's result Tuesday clinched the Badger South title for Oregon (6-0-0 in conference games), which won the WIAA Division 2 state title last year.
Monona Grove, which entered Tuesday's match in second place behind Oregon, finishes its conference season Thursday at Stoughton.
Edgewood, which completed its conference schedule Tuesday, has come on strong in the second half of the season after a 1-6 start. Martinelli said he was pleased his team could "take a quality team like Monona Grove" the distance.
"What we are happiest with is we weren't just absorbing pressure," Martinelli said. "We had to deal with a lot of pressure certainly. But we followed our tactical plan very well."
Edgewood received a seventh seed in the Division 3 playoffs and is set to host 10th-seeded West Salem in a regional semifinal Oct. 24.
Monona Grove earned a third seed in the WIAA Division 2 playoffs and is scheduled to host 14th-seeded Burlington in a regional semifinal Oct. 22.
The Silver Eagles' midfield play has been affected by injuries, including to junior Zachary Zielke and senior Jacob Munz, Randy Becker said.
"I'm very, very pleased (with the season) because we've had 10 games where we have not had our starting lineup," Randy Becker said. "It's been a struggle with all the injuries we've had all season. I'm very proud of that record — 10 wins, and only two losses."
First half: MG — Rains (Becker), 31:00; ME — Snell (Sprinkman), 33:00; Stacey, 39:00 (pk).
Second half: MG — Becker (Gatica), 50:00.
Shots on goal — ME 3; MG 7. Saves — ME (Merckx) 5; MG (Havertape 0, Kuhl 1) 1.