SUN PRAIRIE — Brian Kaminski stood off to the side, beaming with pride as he watched members of the Cardinal Leadership Team help out a fellow athlete in need Tuesday morning.
The 10 student-athletes that form the group were inspired by 21-year-old Sydney Schmidt's story as a wheelchair athlete. Last December they decided to raise over $5,000 to help her buy a custom-made wheelchair in order to live out her athletic goals, which include qualifying for the U.S. women's wheelchair basketball team.
"It was something I really took a backseat on and I let them get started on it," Kaminski, the Sun Prairie East football coach, said. "They set up the GoFundMe page. ... They went to talk to local businesses and people.
"We put it out on Twitter and it shows what a great community we have, and what great student-athletes we have here that are willing to give back to a great cause."
Schmidt volunteered with Adaptive Scholastic Athletic Program (ASAP), which visited Sun Prairie East High School in December to show students how they can play adaptive sports with wheelchairs. Kaminski talked with his leadership group about helping Schmidt and off they went.
Schmidt returned to Sun Prairie East on Tuesday for another demonstration, when she was presented with a check.
"It's super cool because a lot of us have dreamed of moments like this," junior Logan Gross, who plays football and runs track, said. "We want to be that guy people can come to for help if they absolutely need it.
"It's going to be super cool to know that we helped her achieve her dream."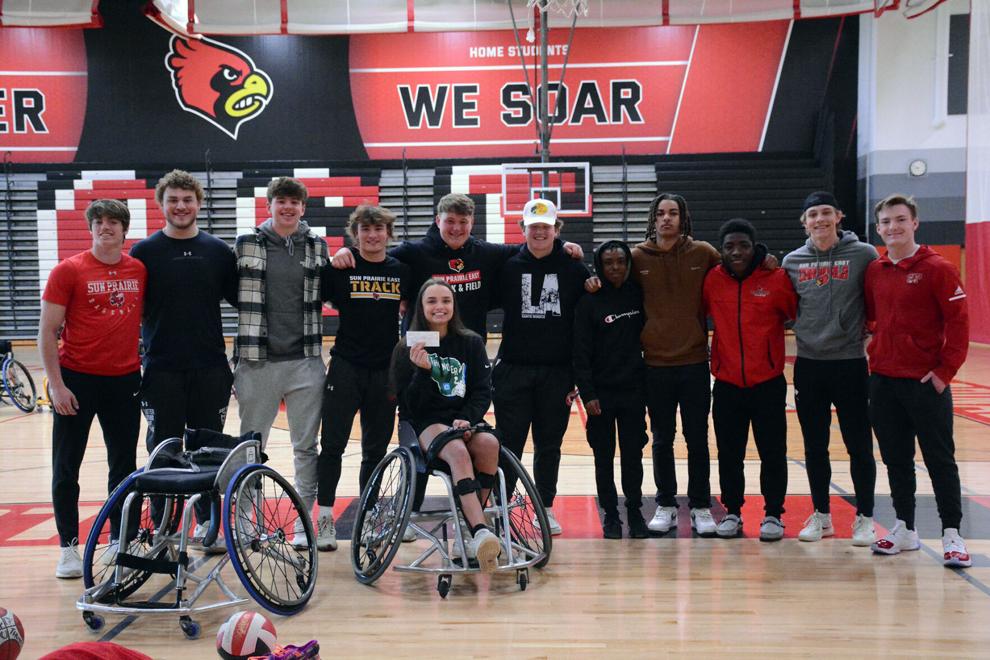 Blossoming star finds new competition
Schmidt was an active child in multiple sports growing up until her freshman year at Oak Creek High School in 2015.
She went from being a star basketball player with dreams of playing in college to noticing "extreme weakness and fatigue" in her legs, which became more apparent near the end of the year.
"It was that battle of honoring her symptoms, but not wanting to give up on everybody's dream," Schmidt's aunt, Stacy Bell, said. "It was really hard to accept this was no longer going to be part of her life. That really hit her hard."
Schmidt's life changed drastically. She tried to stay active, but her symptoms worsened to the point where she could not play sports and attended school online her final three years of high school.
"It was very difficult, even more so because we didn't exactly know what was going on," Schmidt said. "We couldn't exactly say, 'This is what's happening,' so people didn't really understand. There were rumors that I just didn't want to (play basketball) anymore or I wasn't trying as hard when, really, I just couldn't keep up."
Doctors don't know what's exactly wrong with her except that it's predominantly an autoimmune disease, which runs in her family, Schmidt said.
"We're still going through testing and it seems to be a pretty rare thing," she said.
She was bedridden for five years, she said, and wasn't leaving the house other than to go to the hospital once a week to get infusions, which seemed to help, but she was still weak. She said she received an injection once a week called Methotrexate to help her get out of bed.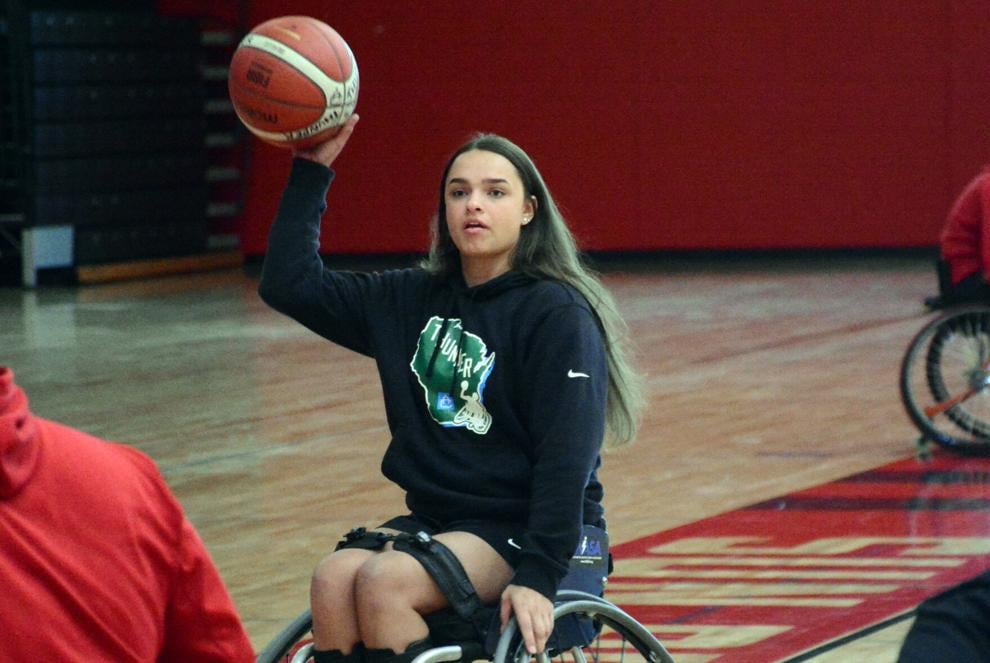 Her introduction to wheelchair tennis allowed her to use her stored competitiveness while learning a new sport.
"You could just see it in her face how just getting to use her body and getting to do a sport like tennis just ignited something," Bell said.
Discovering herself
Damian Buchman was diagnosed with childhood bone cancer and underwent 28 knee replacements and revisions since he was 13 years old. The 45-year-old founded The Ability Center in Wauwatosa, which aims to make the "community the most disability friendly in the nation by increasing independence for people with disabilities, discovering true passions, and changing the community's perception of disability."
Bell spent 20 years as an occupational therapist for the Milwaukee Public School System and her kids went to school in Wauwatosa with Buchman's children. Knowing what Buchman's organization could do for her niece, Bell called him for information, which is how she found out about open gyms and a 3-on-3 basketball leagues he runs.
"I think I played it up that I was probably more friends with him than what I was," Bell said. "I was probably a little deceptive to her because I just knew if she gave it a chance (she'd be happy). What I saw from her at that time with the tennis experience (changed her outlook on life)."
Because of her past as a star basketball player, Schmidt was against the idea of playing the sport in a wheelchair, which she uses for longer distances though she is ambulatory with crutches or braces assisting her.
But her mindset changed after meeting Buchman at an open gym.
"She was hooked from there," Buchman said. "She has been participating in every sport, every activity and every adaptive thing she can get her hands on and her athleticism into. She really rediscovered herself and busted out of her shell with all of these opportunities."
Finding her niche
Buchman was impressed with Schmidt's ability and asked her to be on his 3-on-3 basketball team. She's now in her third season and has joined her own teams since.
"She went from being in bed and feeling like that's the only place she feels she can be confined to doing everything from wheelchair and adaptive track, wheelchair lacrosse, sled hockey, wheelchair basketball (and) wheelchair tennis," Buchman said. "She's all over the place from just over the border of Illinois to all over Wisconsin. She's doing all the things with all the organizations she can get her hands on."
Buchman runs the ASAP program that Schmidt volunteers with. Her impact has been important.
"What's wonderful about Sydney is she brings a disability factor," Buchman said. "She brings a relevant youth factor that's close to the high schoolers' age and she's the only female we've ever had to have representation."
Buchman said Schmidt sets a great example on the court because "she doesn't go soft" on the students she plays with. It forces others to "level up their own game and their own competition, and their own belief in themselves and their abilities."
Said Schmidt: "It just changed my life so much that I felt like I had to. He's so selfless and has sacrificed so much for the program he's running. Seeing how much it's given me and the fact that I didn't know adaptive sports was a thing, I want to bring awareness to it and help other people, so they have the opportunity I was given."
Needing help
When Schmidt first started out at The Ability Center, she didn't have an athletic wheelchair. She was borrowing one of Buchman's and has since borrowed from another friend.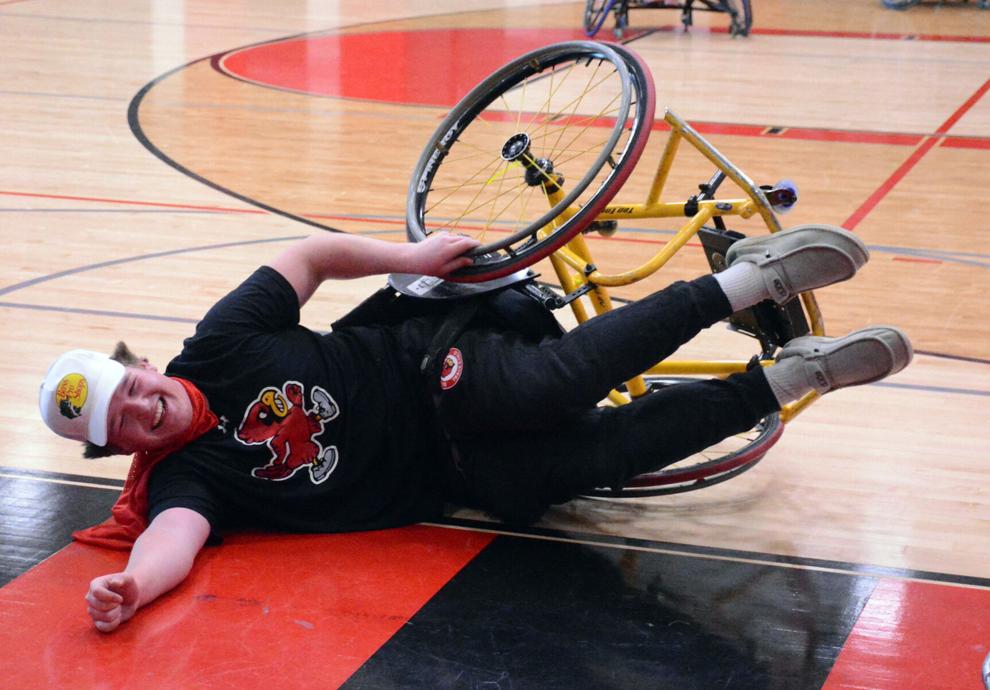 With Schmidt changing her outlook on life and goals, she's now interested in trying out for the under-25 USA women's wheelchair team. She said the application process to be selected as a tryout participant will begin in a couple of weeks.
"I think I definitely got a good chance at making the tryout part," she said. "I've been training with a lot of Paralympians that we have here. They've mentioned they really think it would be a good idea for me to try out."
To show the best of her ability, she needed her own custom-made athletic wheelchair, which usually cost thousands of dollars. The brand Schmidt was looking at was Top End, which cost around $5,000.
Knowing Schmidt's background and how she's regained a positive attitude since attending an open gym, the leadership group at Sun Prairie East was enthusiastic about lending a hand to a fellow athlete.
"Knowing that she couldn't do (able-bodied sports) anymore and having this opportunity we could give her to play again will help a lot for her," Gross said. "I know that would mean a lot to me if I was her."