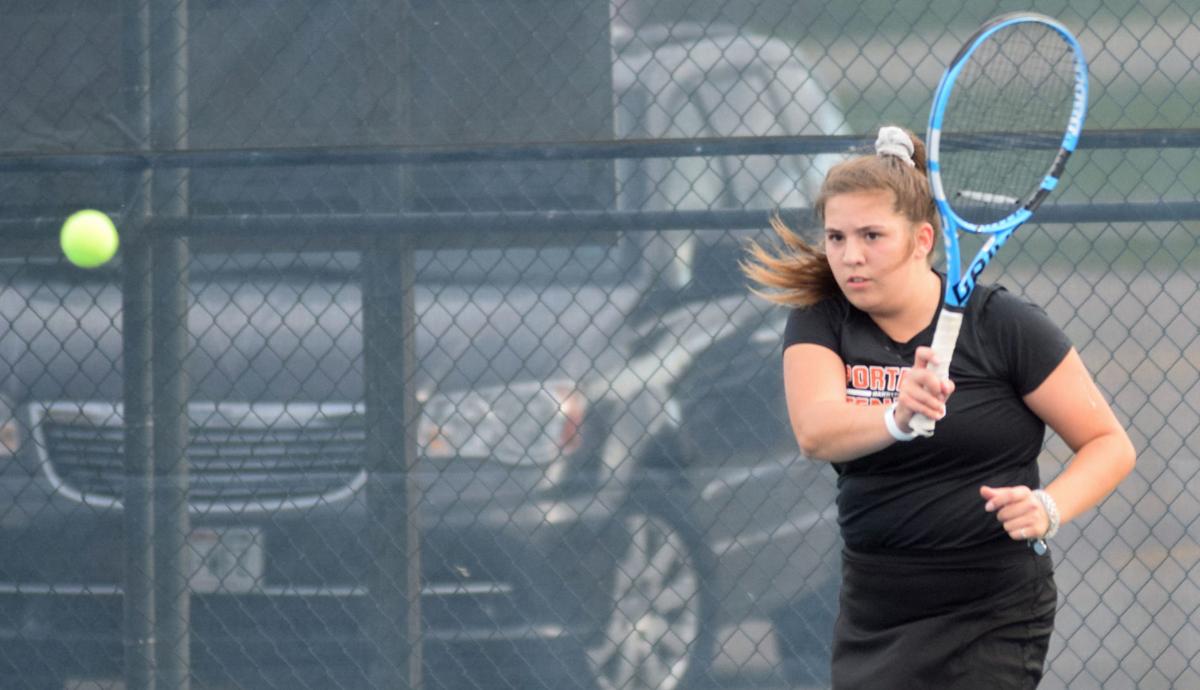 Here are highlights from Monday's prep action.
Stars of the night
Emily Hopp, Oregon: She led all golfers with a nine-hole score of 39 during the 177-201 victory over Baraboo. She was followed by Baraboo's Caroline Lewison (43) and Oregon's Delainey Halverson (44).
Audrianne Kieler, Cambridge: She had 15 digs against Deerfield in Cambridge's girls volleyball victory. Taylor Stenklyft led the team with 19 assists and Mayah Holzhueter had six kills.
From the box
Isabel Royal led all girls golfers in a Big Eight triangular with a score of 77 over 18 holes as Sun Prairie scored a 372-397-456 victory over Janesville Parker and Madison Memorial.
Victories from the No. 1 doubles team of Sadie Bartzen and Lexi Kohn and No. 2 singles player Anita Liu helped McFarland to a 6-1 win over Whitewater in girls tennis.
DeForest's Taryn Endres led all golfers with a score of 41, beating runner-up Natalie Kammer of Fort Atkinson by five shots, to lead DeForest to a 197-206 win.
Mount Horeb's Ella Fagar led all golfers in their girls dual meet against Portage with a score of 43, one shot ahead of Portage's Ella Denure and Elizabeth Fick. Mount Horeb won 186-216.
Middleton's Sonya Agapov defeated Madison West's Grace Qian in the No. 1 singles match. Middleton's No. 1 doubles team of Rose Ryan and Ashley Andler also won during the 6-1 win in girls tennis.
Ella Peotter provided the only victory for Oregon in a 6-1 girls tennis loss to Reedsburg, defeating Gabby Weis 6-2, 6-1 in the No. 1 singles match.
Conner Gage had a goal and two assists in Verona's 5-0 win over McFarland in boys soccer. His assists came in a three-minute span, leading to scores for Brian Vasquez and Jesse Ward.
Izzy Krueger defeated Monroe's Kylie Miller 6-4, 6-3 in the No.1 singles match, helping Portage to a 4-3 win in girls tennis.
High school sports scoreboard: Scores and results from Monday's action
Boys soccer
Boys soccer
Badger Northwest
Team;Overall;Division;Div. Points
Sauk Prairie;4-6-1;1-0-0;2
Portage/Poynette;4-4-2;0-1-0;0
Badger Southwest
Team;Overall;Division;Div. Points
Madison Edgewood;6-2-1;1-0-0;2
Mount Horeb;5-1-3;0-0-1;1
Badger Northeast
Team;Overall;Division;Div. Points
Badger Southeast
Team;Overall;Division;Div. Points
Fort Atkinson;3-1-1;1-0-0;2
Monona Grove;1-6-2;1-0-0;2
Big Eight
Team;Overall;Division;Div. Points
Madison Memorial;4-2-1;2-0-0;4
Madison West;3-3-1;1-0-1;3
Beloit Memorial;4-5-1;1-1-0;2
Sun Prairie;5-1-2;1-1-0;2
Janesville Craig;1-6-1;0-2-0;0
Janesville Parker;0-4-0;0-2-0;0
Madison La Follette;0-3-1;0-1-0;0
Madison East;0-5-0;0-1-0;0
Rock Valley
Team;Overall;Division;Div. Points
Big Foot/Williams Bay;5-3-1;1-0-0;2
East Troy/Palmyra Eagle;0-3-0;0-1-0;0
Capitol Conference
Team;Overall;Division;Div. Points
Sugar River;6-1-2;3-0-0;6
Lake Mills;10-0-1;2-0-0;4
Wisconsin Dells;5-0-0;2-0-0;4
Watertown Luther Prep;3-2-0;1-1-0;2
Wisconsin Heights/Barneveld;2-4-0;1-1-0;2
Lakeside Lutheran;6-1-1;0-1-0;0
Cambridge/Deerfield;1-5-0;0-1-0;0
Saturday's results
Madison West 2, Sauk Prairie 0
Madison Edgewood 4, Platteville/Lancaster 0
Mount Horeb 2, McFarland 0
Girls volleyball
Girls volleyball
Badger-East
Badger-West
Big Eight
Janesville Craig;14-2;2-0
Janesville Parker;2-8;1-1
Madison La Follette;2-2;1-1
Beloit Memorial;2-7-1;0-1-1
Rock Valley
Thursday's results
Fort Atkinson 3, DeForest 1 (21-25, 25-16, 25-20, 26-24)
Beaver Dam 3, Stoughton 0 (25-24, 25-18, 25-20)
Reedsburg 3, Monroe 0 (25-18, 25-14, 25-16)
Watertown 3, Monona Grove 1 (21-25, 25-20, 25-21, 25-21)
New Glarus 3, Marshall 0 (25-20, 25-20, 25-14)
Waterloo 3, Wisconsin Heights 0 (25-17, 25-18, 25-22)
Belleville 3, Cambridge 0 (25-18, 25-18, 25-18)
Watertown Luther Prep 3, Lakeside Lutheran 1 (9-25, 25-13, 25-23, 26-24)
Big Foot 3, Evansville 2 (20-25, 26-24, 23-25, 25-19, 15-7)
McFarland 3, Edgerton 1 (25-24, 25-21, 22-25, 25-17)
Girls tennis
Girls tennis
Saturday's results
Madison Memorial 4, Green Bay Southwest 3
Eau Claire Memorial 7, Madison Memorial 0
Eau Claire Memorial 4, Verona 3
Verona 4, Lake Geneva Badger 3
Ashwaubenon 4, Madison West 3 
Madison West 5, Green Bay Southwest 2
Girls golf
Girls golf
Baraboo 188, Edgewood 201