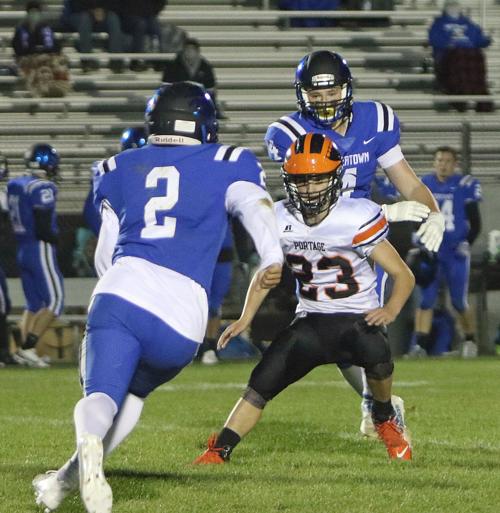 (All games 7 p.m. Friday)
AREA GAME OF THE WEEK
Watertown (2-1) at Lake Mills (2-1)
The Goslings have gotten the job done the last two weeks, bouncing back from an opening loss to Madison Edgewood by beating Portage and Sauk Prairie. A balanced rushing attack has keyed the offense, led by Dylan Sippel (181 yards), part-time quarterback Caleb Huff (168 yards, five touchdowns) and Taylor Walter (131 yards).
Lake Mills, which came up one drive short of catching Mineral Point in a wild Week 2 showdown (which Point won, 44-36), has outscored its other two opponents by a combined 78-7. Senior quarterback Adam Moen has thrown for 832 yards, completing 66.3 percent of his passes for seven touchdowns and four interceptions, and rushed for a team-best 186 yards and six scores. That's an average of 339 yards of offense per game, just from Moen.
AREA GAMES TO WATCH
Reedsburg (1-2) at Baraboo (2-1)
This series heads into its 133rd meeting, with the series tied so far, 63-63-6. ... Baraboo's perfect start was ruined last week by a 20-19 loss to Sussex Hamilton, in a game put together at the last minute due to COVID-19 issues with opposing teams. Junior Luna Larson threw for 133 yards and two scores and ran for 83 yards, pushing his season totals to 251 yards passing and 378 yards rushing. … Reedsburg gave up two fourth-quarter touchdowns in a 28-24 loss to Tomah last week. Miles Raupp has rushed for 261 yards and three TDs, and Bryant Yanke has passed for 209 yards and rushed for 242 more.
Sauk Prairie (0-3) at Portage (1-2)
Portage opened on a high note, taking a 13-7 overtime victory over Reedsburg, but fell behind late in a 31-26 loss to Watertown and was handled by Edgewood last week, 55-14. Junior Bazaldua has rushed for 234 yards and Gavin Thompson has thrown for 173 yards. … Sauk Prairie has struggled in its first three outings, falling to Baraboo, Reedsburg and Watertown, and has just three touchdowns on the year. Ethan Gibbs has thrown for 238 yards.
Marshall (3-0, 2-0) at Markesan (0-2, 0-1)
The Cardinals have been the talk of the Eastern Suburban Conference, hammering Tomahawk, two-time defending Capitol South champ Cambridge and Palmyra-Eagle by a combined score of 106-11. The defense has allowed 179 yards per game. Craig Ward has thrown for 338 yards and four touchdowns, with one interception, and the running game has gotten 417 yards from Bryce Frank and 160 from Matthew Motl. … Markesan has managed only two total touchdowns in losses to powerhouse foes Oshkosh Lourdes and Cambridge, despite allowing only 220 yards per game. The Hornets have attempted eight passes without completing any. Micah Kracht leads the rushing attack with 153 yards.
Madison Edgewood (2-1) at University School of Milwaukee (1-1)
Coach Jesse Norris and the Crusaders enjoyed a signature victory last week, handing the reins to sophomore backup quarterback Mason Folkers and watching him lead a 359-yard offensive attack in a 55-14 romp over Portage. Folkers, who replaced the injured Joe Hartlieb, has thrown for 199 yards and rushed for a team-best 98 yards. University School beat Somers Shoreland Lutheran last week, 27-7, after opening with a 30-7 loss to Hartland Lake Country Lutheran. Quarterback C.J. Boyd has rushed for 199 yards and thrown for 74 more.
Cambridge (2-1) at Randolph (3-0)
The Blue Jays, favorites in the Eastern Suburban Conference, needed a late touchdown run from quarterback Ezra Stein last week to beat Markesan, 7-6. Stein has rushed for 194 yards and passed for 201, and Trey Colts has added 199 yards rushing and leads the defense with 27 tackles. … Randolph has been a powerhouse, scoring 142 points and allowing only 28 in three victories and dispatching unbeaten Delafield St. John's NW last week, 52-0. Quarterback Brayden Haffele has thrown for 169 yards and rushed for 237 more, and Zach Paul has 452 yards rushing with seven touchdowns. The defense has allowed 93 yards per game.
Kewaskum (0-1) at Lakeside Lutheran (2-0)
Lakeside had to miss a showdown with Baraboo last week due to a COVID-19 situation, while Kewaskum suffered a lopsided loss to Lake Mills after sitting out the first two weeks due to county COVID-19 guidelines. The Warriors average 32 points and have given up only three touchdowns in their two victories. Nathan Chesterman has thrown for 120 yards and Micah Cody has 344 yards rushing and four scores. … Kewaskum scored early against Lake Mills but wound up losing, 48-7, and couldn't get much of anything working on offense or defense.
Racine Lutheran (3-0) at Watertown Luther Prep (1-2)
Racine Lutheran, the WIAA Division 6 state runner-up in 2018, has averaged 47 points per game while allowing only three touchdowns. Quarterback Camdin Jansen has thrown for 460 yards and seven touchdowns, and Isaiah Folsom (279 yards) and Nolan Kraus (248) have combined for 527 yards rushing and 10 scores. … Luther Prep rocked Horicon/Hustisford last week, 49-7, after opening with losses to Lake Mills and Lakeside Lutheran. Seven players scored touchdowns against Husticon, and on the season, Elijay Shevey has thrown for 225 yards and Jon Holtz has rushed for 169 yards.
Pardeeville (0-1, 0-1) at Waterloo (1-1, 1-0)
Pardeeville forfeited its last two games due to a COVID-19 issue, and hopes to return on Friday to resume Eastern Suburban Conference play. The Bulldogs' only game was a 45-24 loss to Cambridge three weeks ago. Devin Seth ran for 88 yards and Peter Freye ran for 51 yards and threw for 62 yards in that loss. … Waterloo lost last week to Cambria-Friesland, 20-12, after opening with a comeback victory over Palmyra-Eagle and taking last week off. Eugene Wolff and Jon Aguero lead the rushing attack behind quarterback Blake Huebner.
Richland Center (0-1, 0-0) at River Valley (2-1, 1-0)
Richland Center did not play either of the last two weeks, due to COVID-19 concerns. The Hornets, who lost their opener at Lancaster, 10-7, return to Southwest Wisconsin Conference play this week play after racking up 257 yards rushing against the Flying Arrows, 86 yards from Bryce Hillers and 85 from Konner Ellenson. … River Valley survived a wild fourth quarter last week to beat Lancaster, 31-28, after taking a 19-0 lead into the fourth quarter. Will Bailey threw for 125 yards and ran for 51 yards and three touchdowns, and Zach Gloudeman ran for 122 yards and two scores.
Get in the game with our Prep Sports Newsletter
Sent weekly directly to your inbox!