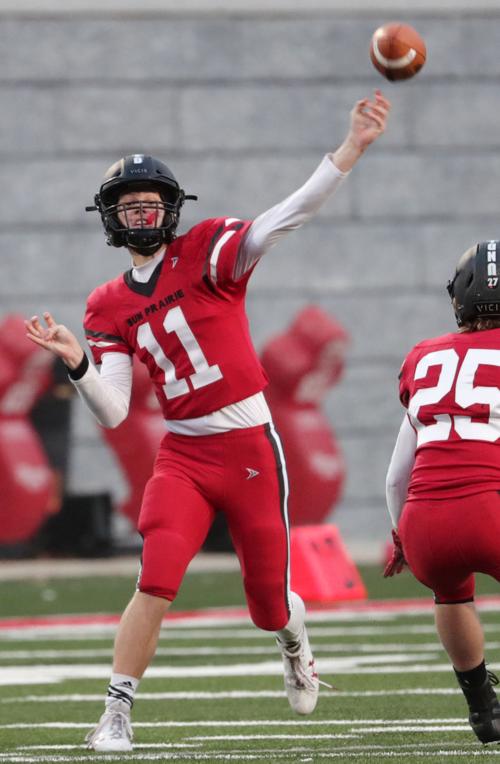 Game of the Week
Sun Prairie (2-0) at Middleton (2-0), 7 p.m. Friday
This battle of Cardinals is always one of the season's highlights, and with only four active teams in the Big Eight Conference this spring, there will be a previously unheard-of second regular-season meeting on April 30. Coach Brian Kaminski's team shut out Verona, 17-0, and beat Beloit Memorial 42-8, allowing averages of only 13 yards rushing and 69.5 yards passing per game. On the other hand, Sun Prairie has averaged 317.5 yards per game. Kolten Walters has rushed for 144 yards and quarterbacks Jerry Kaminski and Brady Stevens have combined for 304 yards passing and four scores. … Middleton has impressed early, beating Beloit and Verona by a combined 56-15. Coach Jason Pertzborn's team has given up an average of 196 yards per game, while producing 226 yards. Sawyer Pertzborn has thrown for 156 yards and two scores, and Elijah Gray has rushed for 191 yards and one TD. Nolan Dunn and Coleton Rogeberg lead the defense with 21 and 19 tackles, respectively.
Games to watch
Oregon (1-1) at DeForest (2-0), 7 p.m. Friday
Coach Dan Kissling's Panthers pummeled Janesville Craig last week, 41-0, after a tough 13-7 loss at Monona Grove to open the season. Teague Szudy, who ran for four touchdowns against Craig, has 160 yards rushing and a 12.3 per-carry average; Austin Saunders leads with 170 yards and a 10.0 average, with two TDs. Drew Kessenich has completed 60 percent of his passes for 159 yards. … DeForest, the 2019 Division 3 state champ, hopes to establish itself as one of the area's power programs under new coach Aaron Mack. The Norskies have so far beaten Janesville Craig and Janesville Parker by a combined score of 90-14. Mason Keyes has passed for 177 yards and two TDs so far, and Gabe Finley has amassed 280 yards rushing on a 10.4-yard average, with four scores.
Monona Grove (1-1) at Stoughton (1-1), 7 p.m. Friday
Coach Brandon Beckwith's Silver Eagles shot themselves in the foot during last week's 26-18 loss to Beaver Dam, losing four fumbles — each of which was converted into points by the Golden Beavers, including a pair of fourth-quarter touchdowns. Quarterback Casey Marron has completed 59.7 percent of his passes for 507 yards and three touchdowns, with Owen Croak catching 11 throws for 161 yards. Fabian Jackson has rushed for 177 yards and two scores. Tyler Dahlhauser leads the defense with 13 tackles, three for loss. … Stoughton pounded out a 42-7 win at Eau Claire North last week, after an opening 34-13 loss at Waunakee. Coach Jason Becker's Vikings have gotten 154 yards passing and 217 yards rushing from Jonah O'Connor.
Milton (1-1) at Janesville Parker (1-1), 7 p.m. Friday
Coach Rodney Wedig's Red Hawks bounced back from an opening loss against Fort Atkinson to beat Mount Horeb/Barneveld last week, 50-14. Evan Jordahl has rushed for 108 yards and thrown for 80 more to lead the offense. … Parker opened with a victory over Beaver Dam before falling against DeForest last week. Coach Clayton Kreger's Vikings have gotten 207 yards passing from Sam O'Leary.
Jefferson (2-0) at Monroe (2-0), 7 p.m. Friday
Coach Steve Gee's Eagles have been impressive so far, opening with a 36-16 win over East Troy and a 43-0 rout of Whitewater. Nate McKenzie has rushed for 151 yards and four touchdowns so far, averaging 13.7 yards per carry, and linebacker Ethan Dieckman has 17 tackles. … Monroe is off to a blazing start in its first year as a Rock Valley Conference member, shutting down McFarland, 22-6, and Evansville, 40-24. Coach Toby Golembiewski's Cheesemakers have racked up 426 yards per game, including 327.5 yards rushing per game, and allowed only 220.5 yards per game, only 40 of them on the ground. Tyler Matley has rushed for 252 yards and four TDs so far, and Trevor Rodebaugh has 250 yards rushing and two scores.
Edgerton (1-1) at Columbus (2-0), 7 p.m. Friday
New head coach Russ Lietz and the Crimson Tide started with a 32-11 loss at Lodi, but shut out Beloit Turner last week, 30-0. Quarterback Drew Hanson has thrown for 151 yards and two scores, Ethan Krause has totaled 88 yards rushing while co-leading the defense with 17 tackles, and Stoughton transfer Konner Knauf has 73 yards on seven catches. Jacob Holloway has 17 tackles and three sacks. … Columbus, playing in the Rock Valley on a one-time-only basis this spring, has stormed out of the gate, beating Beloit Turner 38-0 and Clinton 46-6. The Cardinals have given up only 151.5 yards per game while producing 370.5 yards per game, 229.5 of it on the ground. William Cotter has completed 65.8 percent of his passes for 282 yards and two scores, and Caden Brunell has rushed for 285 yards and seven TDs so far.
New Glarus/Monticello (2-0, 2-0) at Orfordville Parkview/Albany (1-1, 1-1), 7 p.m. Friday
Playing in a one-year-only league set up specifically for the spring season, coach Jeff Eichelkraut's Glarner Knights have so far soared past the Montello co-op, 47-6, and Poynette, 34-7. They've given up only 95 yards per game, though the offense has averaged 420.5 yards per game, including 317 yards per game through the air. Darris Schuett has completed 59.4 percent of his passes for 608 yards and seven TDs so car, with Nathan Streiff making 17 catches for 232 yards and two scores. Parkview/Albany lost its opener to Poynete, 34-6, before downing Deerfield last week, 32-16. Coach Robert Meyers' Vikings have gotten 231 yards rushing and three TDs from Korben Brown and 206 yards rushing from Charlie Vogt.
Wauwatosa Kingdom Prep (0-0) vs. West Madison Club (0-0) at Penn Park, 3 p.m. Friday
Kingdom Prep, a small Lutheran school playing an independent schedule, comes to Madison on Friday with a lineup of only 22 players that includes no seniors, six juniors, six sophomores and 10 freshmen. Kingdom Prep opened last week with a 50-6 loss to Gale-Ettrick-Trempealeau, giving up 50 first-half points. … The West Madison club team, led by Madison West coach Brad Murphy, opened practice with a 40-player roster featuring players from all four Madison public schools, with most of them coming from West. Several earned all-Big Eight mention after the 2019 season.