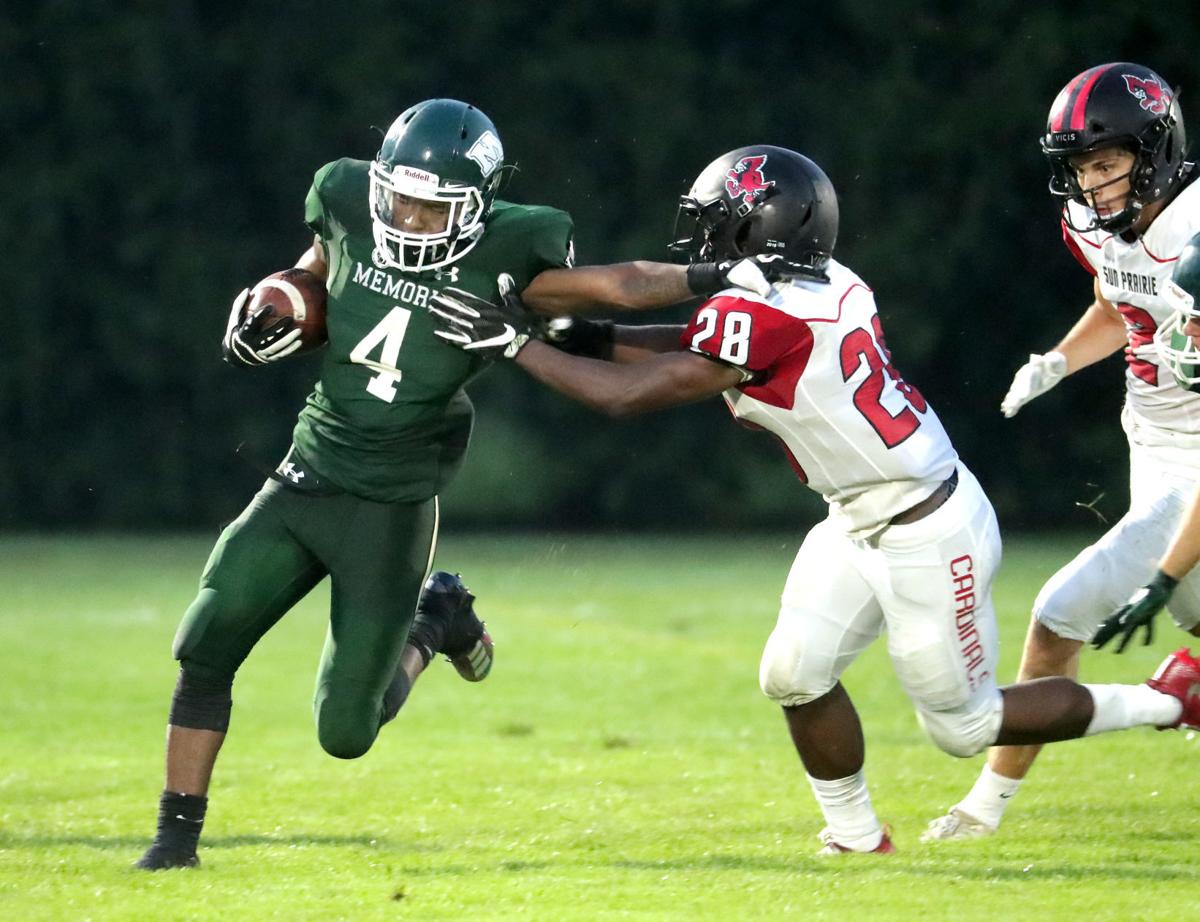 Games of the week
Madison Memorial at Sun Prairie, 7 p.m. Friday
Last year, in Michael Harris' first game as Memorial coach, the Spartans stunned the Big Eight-favorite Cardinals 32-26. Sun Prairie didn't lose another league game, and Memorial's later loss to Verona left the Cardinals and Spartans tied for the Big Eight title. This season opener also has the potential to send season-long reverberations through the Big Eight race. Memorial quarterback Jason Ceniti returns after rushing for two touchdowns and passing for 160 yards and two touchdowns against Sun Prairie last year. Also back is senior running back Kam Marshall (42 yards). The Cardinals will aim to produce more ground yardage than the 56 yards they were held to last year, and have an all-conference defensive back returning in senior Dominick Landphier. Sun Prairie also returns senior running back Nathan Schauer, who ran for 29 yards against Memorial last year.
Monona Grove at Waunakee, 7 p.m. Friday
Technically, this is just a non-conference game, as the eight teams apiece in the Badger North and Badger South spend the first two weeks of the season playing interdivisional crossover games. But this could prove to be a de facto conference championship game, featuring the area's most successful programs over the past 20 years. It's also a chance for revenge for Monona Grove, which suffered a 33-7 loss to the Warriors in the third round of the WIAA Division 2 playoffs last year. Waunakee won the North and fell to Brookfield Central in a state semifinal last year. Fifteen starters were lost to graduation, but history has proven that coach Pat Rice and his staff usually have replacements ready to go. Three all-conference players return on defense: lineman Gaje Hughes, linebacker Jeb Frey and back Lawson Ludwig. Monona Grove returns senior Brady Killerlain, a first-team all-conference running back (836 yards, nine touchdowns) who was held to 37 yards by Waunakee last year. Senior center Garrett Hanson also returns for the Silver Eagles.
Games to watch
Edgerton at McFarland, 7 p.m. Friday
You have free articles remaining.
When McFarland rolled to a 57-34 victory over Edgerton last year, little did the Spartans know what ramifications that victory would hold. Both teams won their final eight Rock Valley games, giving McFarland the conference title and leaving Edgerton in second place. So it's certain that the teams will know how big this year's opener could be, and how much offense it likely will take to win the day. McFarland returns senior All-Rock Valley receiver Nicholas Hall, who had 102 receiving yards and two TDs against Edgerton last year. The Crimson Tide's senior leaders are two-way all-conference returnee Reed Farrington on the offensive and defensive lines, and all-league linebacker Ben Wileman.
Madison La Follette at Madison West, 7 p.m. Friday
Coach Scott Swanson's Lancers are a dark horse in the Big Eight race, with a slew of seniors and many three-year starters. Back is quarterback Ben Probst (15 TD throws last year), top receiver Charlie Kunkel along with Dakovin Prather and Andrew Rajkovich, running back Jaylend Brown and five returning linemen led by all-conference left tackle Luke Vitale. West is regaining some stability in its program, now that Brad Murphy is in his fourth year as coach, and returns plenty of experience after 11 sophomores and two freshmen started last year. Quarterback Ezra Thompson is back from a knee injury, sending Will Gutenicht back to his regular tight end spot. Receiver Nazier Jones returns, as does last year's leading tackler, defensive back Matt McClain.
Watertown at Mount Horeb, 7 p.m. Friday
Both teams in this game are seen as potential conference champions, and both are quite likely to lead their respective leagues in passing offense. Many of the players who helped the Goslings account for averages of 313 yards and 26.5 points per game last season are back, led by senior quarterback Ethan Pauly (2,526 yards, 23 TDs, 19 interceptions) and receivers Kory Stas and Daniel Denault. Mount Horeb's player to watch is senior quarterback Ethan Post, who threw for 2,510 yards and 27 TDs last year.
Middleton at Madison East, 7 p.m. Friday, Breese Stevens Field
Jason Pertzborn embarks on his first year as the solo head coach of the Cardinals after sharing duties with outgoing coach Tim Simon last year. Running back Kallion Buckner returns after racking up more than 2,200 yards last year, and he'll run behind seniors Zac Mayhew, Luke McChrystal and Clay Craker. Air Force recruit Billy Johnson and Jake Wuebben (also one of the state's best punters) anchor the defensive line. East returns nine starters on both offense and defense, and third-year coach Jeremy Thornton believes his players better understand what it takes to compete in the rough-and-tumble Big Eight. Quarterback Phil Roh III, running back Devion Clay and wide receiver Jevan Boyton return.
Menomonie at Lake Mills, 7 p.m. Thursday
Coach Joe LaBuda's Menomonie team holds a statewide reputation as a respected program, and opened last season with a 33-7 home victory over Lake Mills en route to a 7-3 finish. The Mustangs return North Dakota recruit Andrew Fenton on the offensive line, along with top receiver Dylan Boecker. Eight starters return on defense, led by All-Big Rivers Conference defensive back Davis Barthen and impressive junior DB Devauntaye Parker. Lake Mills rebounded from last year's opener to finish second in the Capitol North at 5-1, but lost to Lodi in the first round of the playoffs. Back is quarterback Adam Moen (2,184 yards passing, 26 TD throws and 487 yards rushing last year) and receiver Hunter Buechel (42 catches, 684 yards, seven TDs).