SUN PRAIRIE — As a youth, Isaac Hamm had his heart set on playing running back.
And he was good at it — taking the handoff, breaking into the open and scoring touchdowns, then enjoying numerous celebrations with his teammates.
"When I was a kid, that's all I knew," Hamm said. "Take the ball and look pretty."
But then Hamm began to grow.
In turn, Sun Prairie football coach Brian Kaminski and defensive coordinator Tim Bass believed Hamm, who played running back and linebacker on JV as a freshman, and the Cardinals would be better served with him lined up as a defensive end starting his sophomore season.
Bass recalled some coaxing was necessary.
Hamm, now a 6-foot-6, 250-pound senior, acknowledged he wasn't keen about shifting solely to defense or putting his hand on the turf. After being the one with the ball, he said he wasn't comfortable tackling the player carrying it.
"I didn't want anything to do with it," Hamm said. "I was trying to be a 6-5, 6-6 running back. It was actually coach 'K' and coach Bass, especially coach Bass. He was the one who said, 'I think you are getting too tall to run the football. Let's try you on the defensive side.' And ever since then, it's been history."
History in the best of ways for Hamm, who now loves to hit and said the coaching he received and his own physical tools contributed to the seamless transition.
"It was a whole new concept, but once I got into the flow of things, clearly, it's working all right now," Hamm said.
The position switch led to Hamm's development into the state's top-ranked senior prospect on defense, according to Rivals.com, and a player who's received multiple offers to play college football entering the fall high school season, which begins for Sun Prairie with a non-conference game Aug. 20 at Hudson. This season, Hamm also is expected to play tight end.
"He's athletic, he's strong, he plays with a motor," Kaminski said. "He really is one of the best I've ever seen. There is no doubt about it. He's a special football player. I'm looking forward to seeing what he does this year and beyond."
Hamm narrowed his list in November to the University of Wisconsin, Penn State, Ohio State and Notre Dame, but other schools have kept calling during a recruiting process he said can be "very stressful."
Those remain his final four, said Hamm, a unanimous first-team selection on The Associated Press All-State team for the WIAA's alternate season in the spring and a first-team choice as a defensive lineman on the Wisconsin Football Coaches Association 2020-21 All-State team.
Hamm, who said he's taken official visits to UW and Louisville and would like to visit Ohio State and Penn State, said he plans to make his college decision right before Sun Prairie's first game or immediately after the season.
"His first couple steps are as fast as we've ever had here, as a defensive lineman," Bass said. "His explosion and his motor … He really only has one speed. We have to tell him to come down (in speed) a little bit (in practice). When you are that tall and that fast, it is a pretty good advantage for us."
The bookends of defensive ends Hamm and Sammy Smith, a senior last season, propelled a dominant defensive front for Sun Prairie, which finished 6-0 last spring and ranked second behind Fond du Lac among large-sized schools in the WisSports.net state coaches' poll.
"It was good when you had Sammy on one side and Isaac on the other and said, 'When you're moving away from one, you are running into the other,'" Kaminski said. "They both did a great job. Our front six last year was so good. It's tough to replace that, but if we just get our kids believing in the system and playing with effort, relentless effort, we'll be OK."
This season, Hamm will be complemented on defense by senior outside linebacker Addison Ostrenga, an Iowa football commit, and senior inside linebacker Davis Hamilton — three players who have played together since fourth or fifth grade, Bass said. Often, it was Ostrenga, then the quarterback, handing the ball to Hamm during those youth days, Hamm said.
"Isaac will demand double teams and triple teams and people will know where he is at," said Bass, who likes the Cardinals' defense to play fast and aggressively. "He's going to have to be ready for that and get used to the double teams and triple teams. Last spring, I think he surprised some people with how good he really was and how big and strong he is. There won't be any sneaking up on people."
Hamm understands the challenge ahead.
"There are going to be times when there are three dudes blocking me or four dudes blocking me," Hamm said. "So I'm looking to have as great of an individual year as possible, but, for me, I am trying to help my team win a ring.
"Last year, I think we had the best team in the state easily and we had the best defense in the state statistically. But I think we kind of got cheated out of a chance at a ring (because there was no postseason in the spring). So, that's what I want to do this season to make up for that."
Kaminski is calling this the Cardinals' "Last Dance Together" as one football team. That further fuels Hamm to make an impact in Sun Prairie's final season as one school — prior to the community having two schools, Sun Prairie East and West in 2022-23.
That's true no matter what position Hamm's playing.
"When I'm in my cleats, I'm a happy man," he said.
Big Eight football preview: Sun Prairie's Isaac Hamm among 10 players you need to know this season
Kamarion James-Ragland, sr., QB, Madison La Follette
Coach Scott Swanson and the Lancers will look to reload their diversified pro shotgun offense after quarterback Ben Probst led the passing game in 2019 (La Follette didn't play either season in 2020-21). James-Ragland is a top candidate to take over, and will have strong weapons at receiver and running back at his disposal.
Cole Hendrickson, sr., TE/DE, Madison Memorial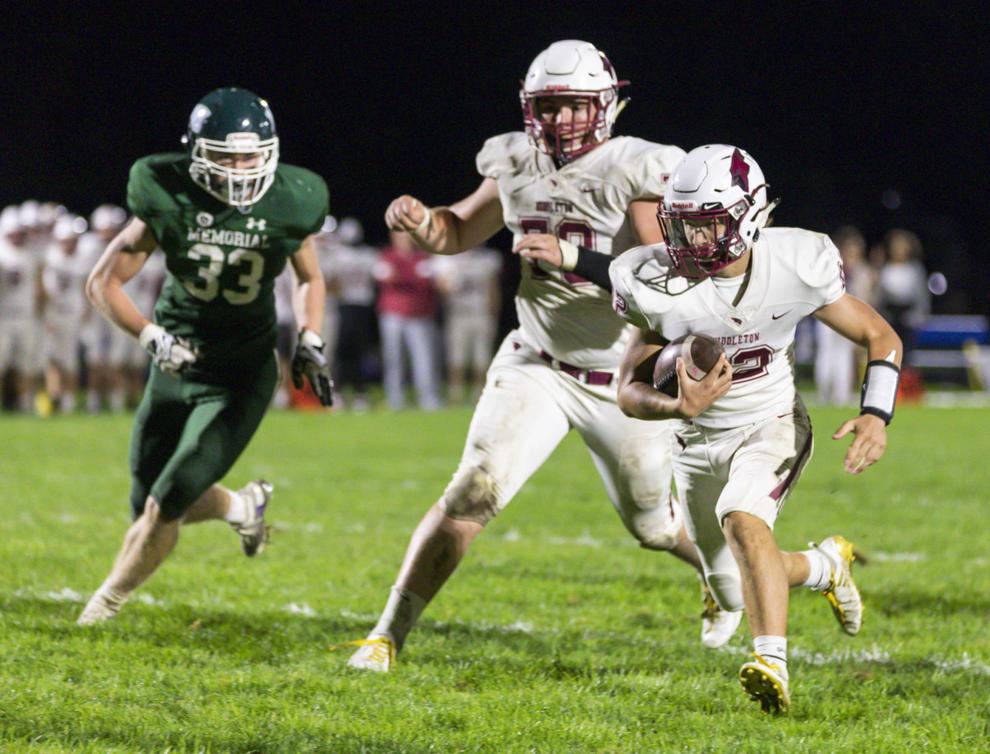 Hendrickson, scheduled to be a captain this season, is expected to be a leader on and off the field for the Spartans, who didn't play either season in 2020-21. He's ranked among the senior defensive linemen to watch by WisSports.net.
Elijah Gray, sr., RB, Middleton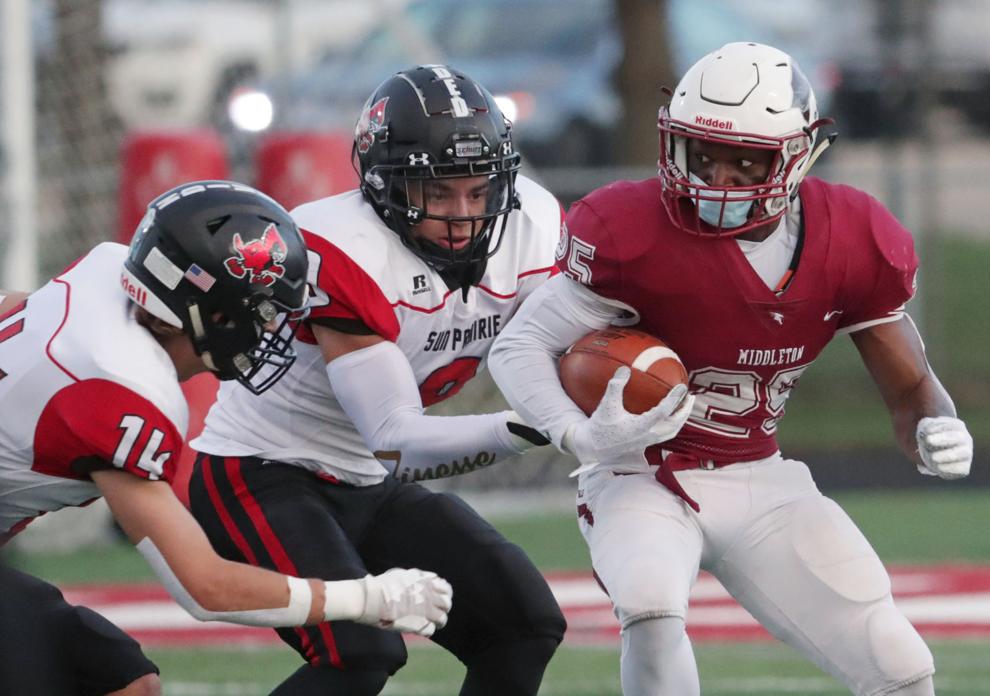 The 5-11, 175-pound Gray gained 468 yards rushing and scored four touchdowns during the spring season, despite battling injuries. He was rated as the No. 9 senior running back in the state by WisSports.net.
Jack Alexander, sr., OT/Guard, Middleton
The 6-4, 290-pound Alexander is a leader on the Cardinals' offensive line, which returns four starters. Alexander, receiving college interest, was ranked as the No. 14 senior offensive lineman in the state by WisSports.net.
Mason Armstrong, jr., LB, Verona
The 6-foot, 200-pound Armstrong figures to be a main cog in the Wildcats' defense this season after totaling 47 tackles, three tackles for loss and a sack during the spring campaign. He was listed among the semifinalists for top defensive player in the spring, according to WisSports.net.
Mason Fink, sr., QB, Verona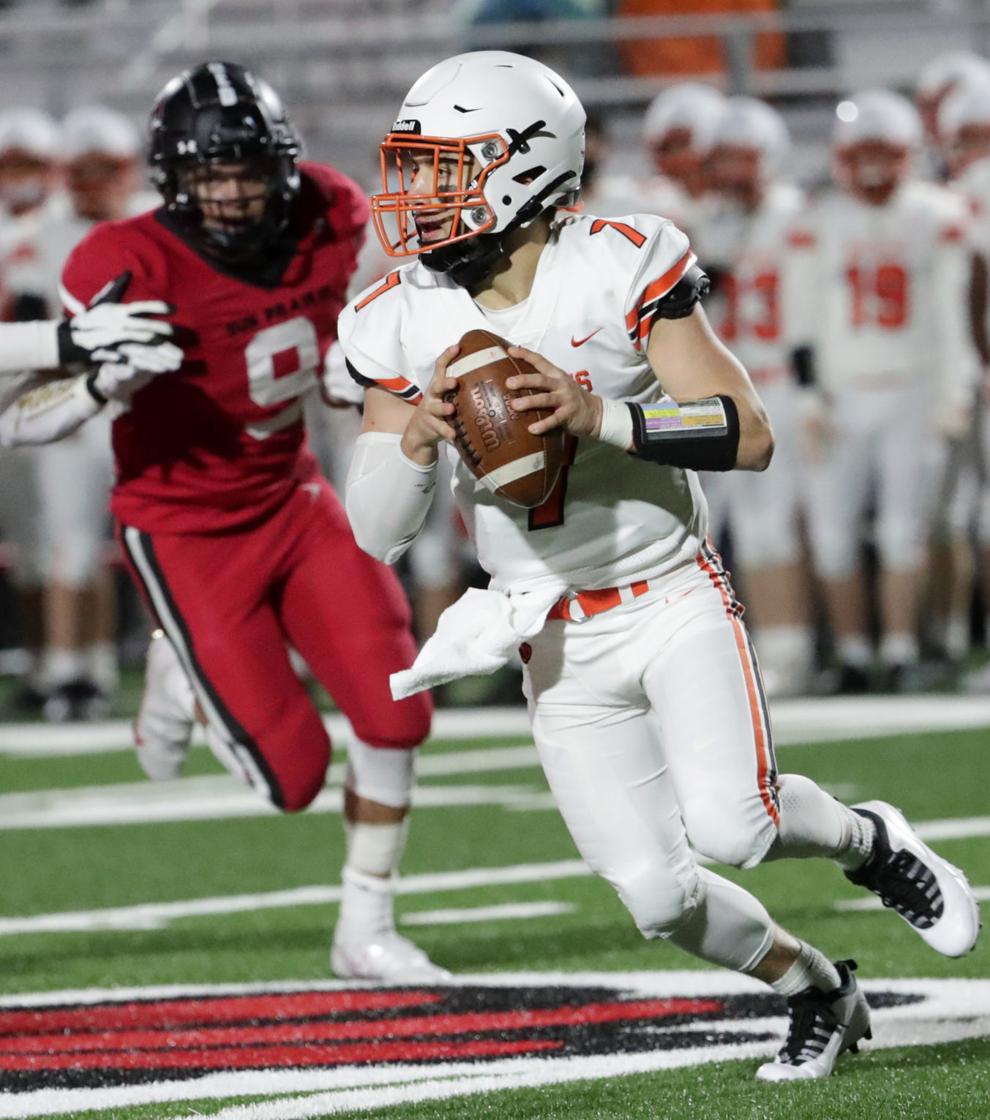 Coach Dave Richardson plans to call on the 5-11, 175-pound Fink to again direct Verona's attack after Fink threw for six touchdowns in the spring season and leads a skill position group that Richardson believes offers numerous run/pass combinations. Fink is among the senior quarterbacks to watch by WisSports.net. His brother, Max Fink, previously was a quarterback for Verona.
Isaac Hamm, sr., DE/TE, Sun Prairie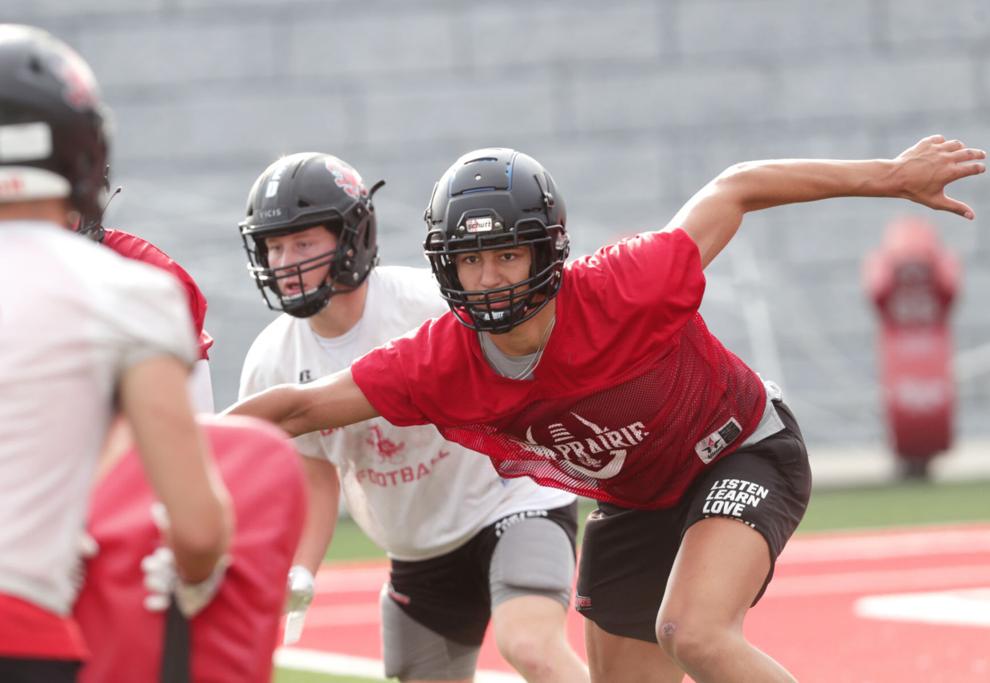 The 6-6, 250-pound Hamm was a first-team selection as a defensive lineman on the Wisconsin Football Coaches Association All-State team and a unanimous first-team choice on The Associated Press All-State team for the alternate fall season in the spring team. Hamm has multiple college offers, with an announced final four of the University of Wisconsin, Penn State, Ohio State and Notre Dame. Hamm had five sacks, nine tackles for loss and five forced fumbles in the spring. He is the top-rated senior defensive player in the state by Rivals.com and was ranked the top senior edge defender and top overall defensive player in the state entering this fall by WisSports.net (and No. 4-ranked senior overall).
Addison Ostrenga, sr., OLB/TE, Sun Prairie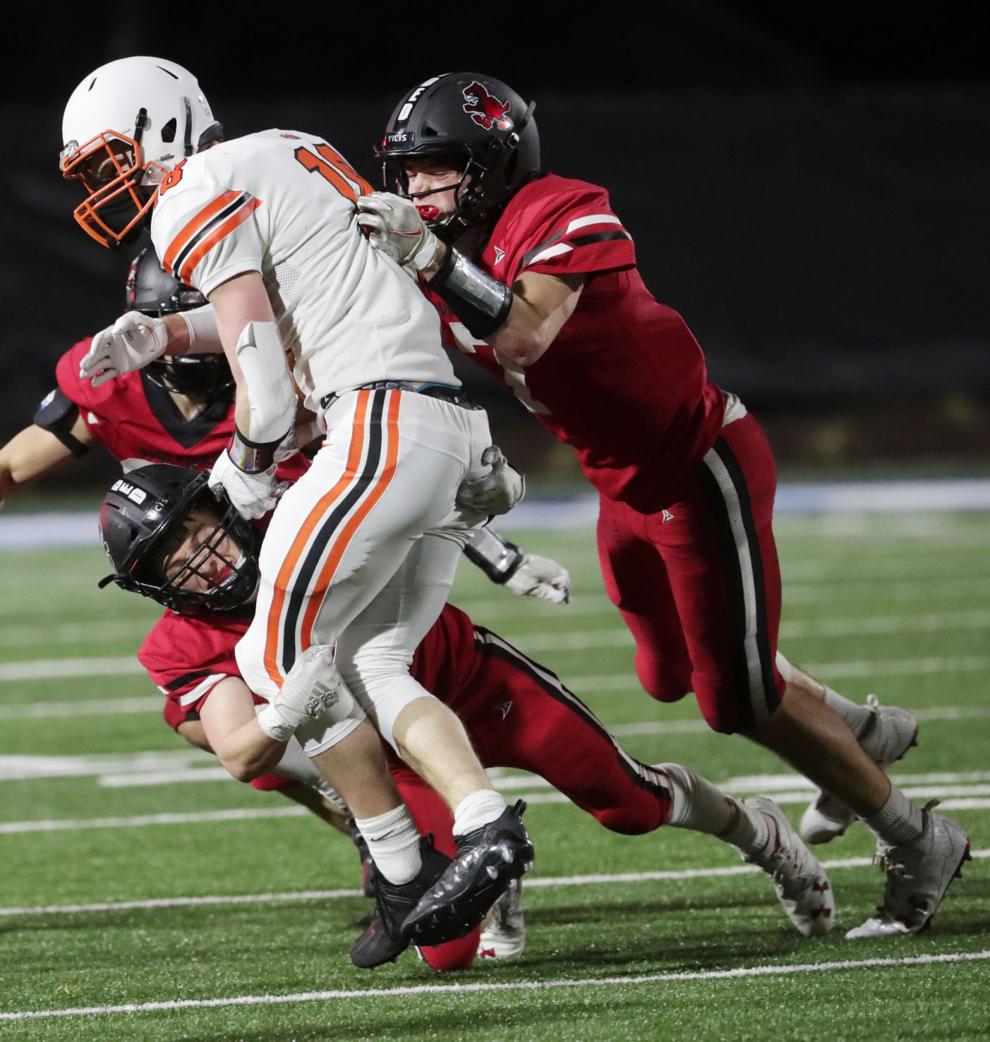 The 6-5, 225-pound Ostrenga, an outside linebacker, was ranked as the No. 2 senior edge defender in the state by WisSports.net (a No. 12 senior overall), giving Sun Prairie a formidable duo alongside Hamm. Ostrenga, who also plays tight end, originally committed to Iowa for baseball but since has committed to the Hawkeyes for football. He was a WFCA honorable mention All-State pick.
Evan Malcore, sr., OT, Sun Prairie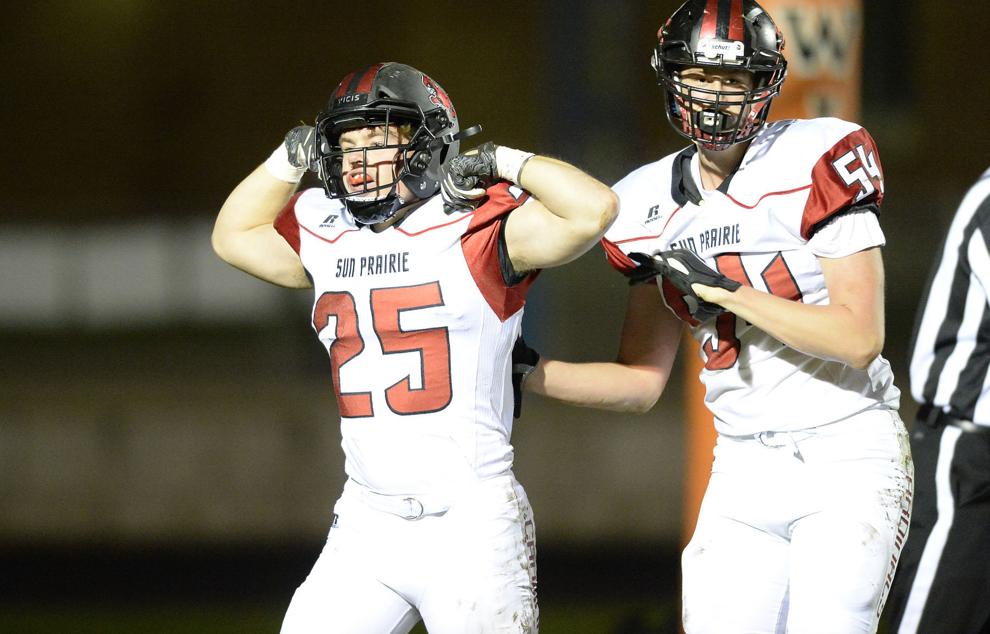 The 6-7, 275-pound Malcore, who plays left offensive tackle, has committed to Northern Illinois. He was selected for the WFCA All-State first team and was an honorable mention choice on the AP All-State team for the spring. He was ranked as the No. 9 senior offensive lineman in the state and No. 20 overall senior by WisSports.net.
Michael McMillan, sr., DB/WR, Sun Prairie
McMillan can play multiple positions, including defensive back and receiver. He is a strong player on the back end of Sun Prairie defensive coordinator Tim Bass' aggressive defense. McMillan was rated as the No. 9 senior defensive back in the state (WisSports.net).