PRAIRIE DU SAC — Luna Larson ran for three touchdowns — his first since injuring his knee Sept. 10 — and the Baraboo High School football team clinched a spot in the postseason by grinding out a win against a winless Sauk Prairie team that came to play Friday.
The Eagles, who got a 20-yard touchdown catch and 93-yard kickoff return from Damian Wright-Rodriguez, Jr., put up a fight on Homecoming night in Prairie du Sac. But they didn't have enough, as Baraboo held on down the stretch to claim a 28-19 Badger Small Conference win, end a two-game losing streak and clinch a spot in the WIAA playoffs.
Two of the biggest plays of the night came on special teams. The first one went Baraboo's way, as Gabe Fitzwilliams ended Sauk Prairie's first offensive possession by blocking Bradley Breunig's punt.
The T-Birds (6-2, 4-2 Badger Small) took over possession at the Sauk Prairie 25-yard line and took the ball right the Eagles (0-8, 0-6). Kane Mahoney ran 6 yards left and 9 yards right, but a delay of game pushed them back briefly. Larson responded with a 12-yard run, then Mahoney took it 5 yards up the middle for a touchdown. Brady Henry added the extra point and Baraboo took a 7-0 lead with 6 minutes, 17 seconds remaining in the first quarter.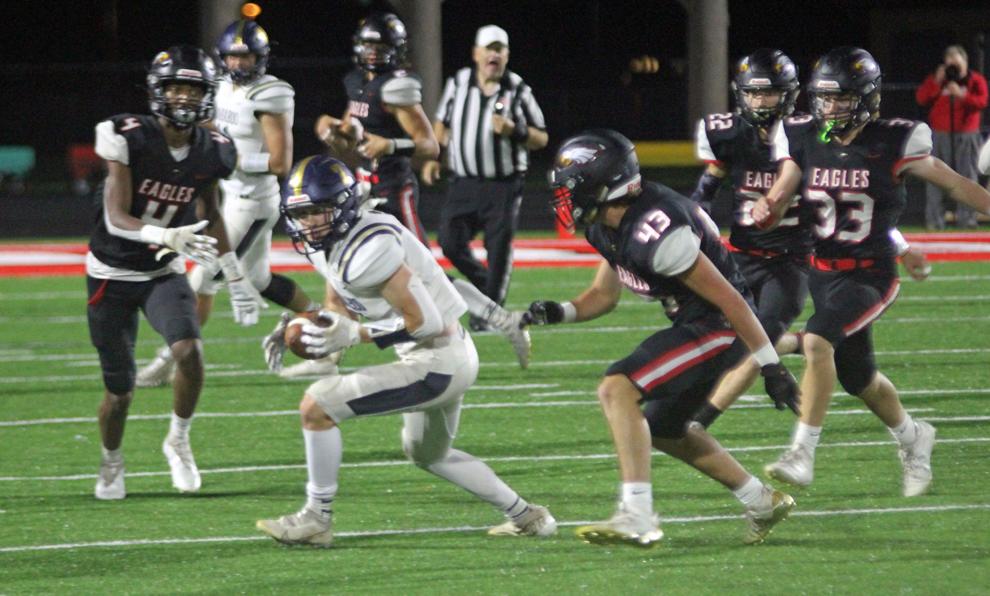 Wright-Rodriguez got his hands on the ball for the first time on the ensuing kickoff, returning it to the Baraboo 40-yard line. Jackson Breunig and Bradley Breunig connected for a nice completion on third-and-4, but the drive stalled and Baraboo took over at its own 26-yard line with 3:22 to go in the first quarter.
The T-Birds took a shot on third-and-7, with Larson finding Henry streaking down the right sideline for a 44-yard completion before he was tripped up at the 1. Larson snuck it in from there, scoring his ninth touchdown of the season to give Baraboo a 14-0 lead on the final play of the first quarter.
Wright-Rodriguez returned the kick to the Sauk Prairie 40-yard line, and Derek Hilden carried the ball twice for a first down. A pair of Baraboo penalties moved the drive along, but the Eagles eventually faced fourth down, and Gabe Fitzwilliams and Ross Liegel forced an incompletion and a turnover on downs.
Larson and Henry connected a couple times on Baraboo's ensuing drive, but Wright-Rodriguez broke up a fourth-down pass in the end zone and the Eagles took over possession at their own 33-yard line with 53 seconds to play in the half.
It was plenty of time, as Jackson Breunig found Brenden Larsen down the right sideline for a 47-yard completion. On fourth-and-10, Wright-Rodriguez caught a 20-yard touchdown pass and Eddie Breunig made the extra point to pull Sauk Prairie within 14-7 at halftime.
The Eagles took nearly six minutes off the clock on the opening drive of the second half, but the drive stalled and they turned it over on downs.
Baraboo marched on a 65-yard touchdown drive. Mahoney got it started with a 30-yard run, then Larson carried it 14 yards down to the 11. The senior, who took every snap under center Friday after splitting time with Luke Vittengl last week, eventually got in the end zone with an 8-yard run with 4:04 to go in the third quarter.
Sauk Prairie's special teams made themselves heard over the next 14 seconds. Henry Watson blocked the extra point, then Wright-Rodriguez returned the kickoff 93 yards for a touchdown. The Eagles' two-point conversion attempt failed, however, and the T-Birds held on to a 20-13 lead.
They quickly added on, with Larson carrying it in from 1 yard out and then running in the two-point conversion to stretch the lead to 28-13 with 9:56 to go.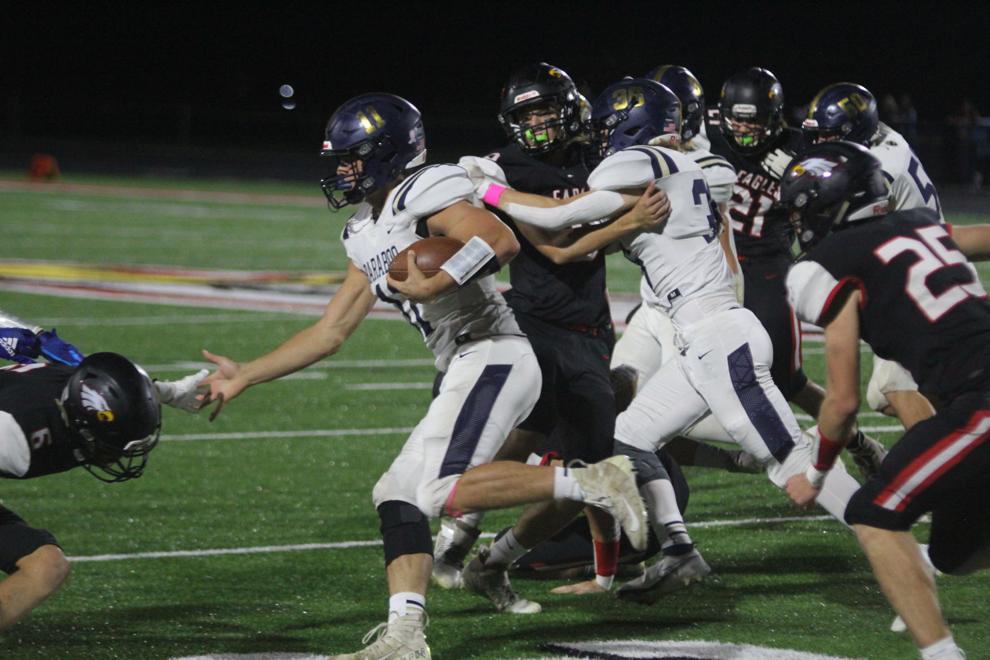 Sauk Prairie answered, and did so on fourth-and-9. Jackson Breunig dropped back and found Bradley Breunig for a 20-yard touchdown with 7:19 remaining, while Baraboo blocked the kick to maintain a 28-19 lead.
The Eagles got to midfield on their next possession, but turned it over on downs to give the T-Birds the ball at their own 46-yard line with 3:24 remaining.
They ran that time off and the clock, clinching a spot in the postseason for the third time in the past three years by ensuring a .500 or better finish in conference play. Their postseason eligibility hasn't been in much doubt all season, as they started the year with five straight wins and were ranked atop Division 3 in the WisSports.net Football Coaches Poll. However, they ran into trouble with back-to-back losses to Fort Atkinson and Reedsburg, and clinched a postseason berth with one regular-season game to play — next Friday at home against Portage.