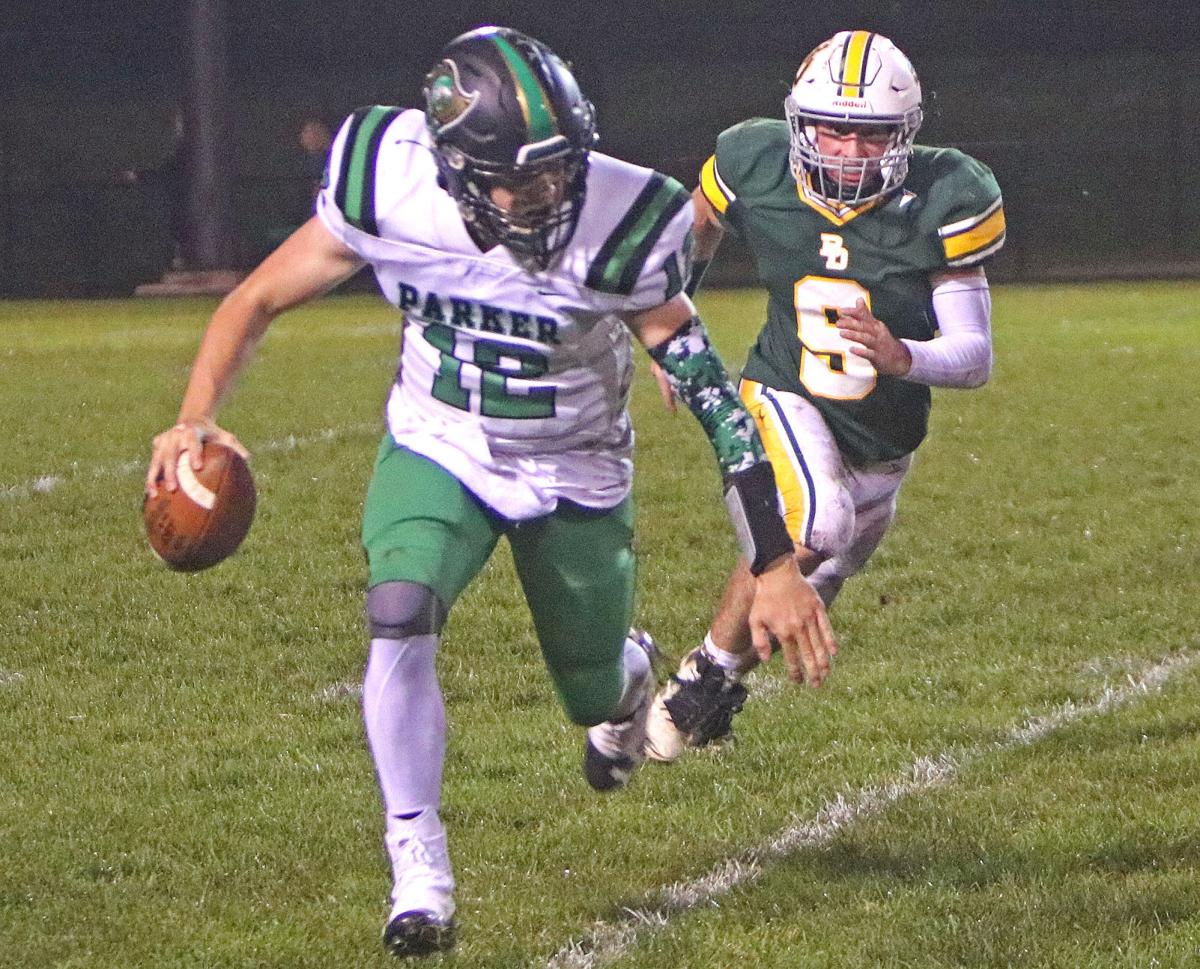 The thrill of victory. The agony of defeat.
With each second that ticked off the clock as the Beaver Dam high school football team marched down the field on a methodical fourth-quarter drive, it became more and more apparent the Golden Beavers were going to experience one of those two emotions in its purest form when time ran out on Friday night.
No gray area. No anticlimactic conclusion.
The thrill of victory or the agony of defeat.
Unfortunately for the Golden Beavers, it was the latter.
Having once already converted on fourth down to keep the drive alive, they couldn't do it a second time as Cameron Mendoza's pass to the sticks for Alex Soto on 4th-and-4 from Janesville Parker's 12-yard-line fell to the wet turf, turning the ball over on downs to the Vikings who would kneel on a 17-14, Badger Large Conference victory — spoiling Beaver Dam's Homecoming.
After back-to-back emotional victories over Oregon in Week 6 and Janesville Craig a week ago, the Golden Beavers couldn't quite make it a trifecta, leaving their playoff hopes in the hands of fate as they now need to pull off a monumental upset over Waunakee — the fourth-ranked team in the largest division of the Associated Press state poll — or sneak in the back door with an under .500 record in conference play, something that could happen if there aren't enough teams with .500 records to fill out the 224-team field.
"Tip your hat to Parker for playing a whole fourth quarter game. I thought our kids battled really tough and that one could have gone either way," Beaver Dam coach Brock Linde said. "Unfortunately, unlike some of the more recent games, this one didn't go our way."
Having given up a 20-yard Preston Nelson-to-Anthony Brooks TD pass on 3rd-and-8 to fall behind 17-14, Beaver Dam (4-4, 3-3 Badger Large) got the ball back starting at its own 34-yard-line with 5 minutes, 9 seconds remaining.
Six yards on the ground by Gabe Klatt to get started. Seven more on 3rd-and-5 to move the chains.
Later, a 20-yard catch by Alex Soto on 4th-and-4 with 2:19 left to once again keep the drive alive and just like that the Golden Beavers were in business.
They would get one more first down on the drive to move the ball into the red zone, but that's when things stalled out and Parker (3-5, 2-4) was able to stiff-arm Beaver Dam's comeback bid.
That sequence capped off what was an entertaining second half following a first half that saw Nico Torres' 31-yard-field goal from the left hash — the Parker junior split the uprights right down the middle — produce the only points of the half.
With nothing going on offense, Linde and his staff made an adjustment to try and jumpstart its normally-dominant ground game.
"They were really overloading the strong side, so we changed some formations around to get back to our quick side," Linde said. "We had a couple misdirection plays that took some players out of the picture for them defensively and opened up some things in the run game."
Mendoza ran for 31 yards on the first play of the third quarter and after all running plays — either by him or Klatt — to get down to Parker's 14-yard-line Mendoza then rolled to his right and found Soto for a TD strike to make it 7-3.
Soto, who made the catch while being well-covered, finished with a pair of receptions on the night for 34 yards.
Parker, however, answered with a long drive, going 74 yards in 13 plays and taking a 10-7 lead with 11:54 left in the game on Griffin Davis' 2-yard TD plunge straight up the middle.
Not to be outdone, Beaver Dam, too, would answer — with Klatt, who had 33 carries for 168 yards a week after breaking the program's single-game rushing record with 398 yards in the 38-27, come-from-behind win over Craig, following his blockers and weaving his way through traffic for a 41-yard TD run to make it 14-10 with 8:01 remaining.
The lead didn't stand, however, as Parker turned to the air on the next drive, getting a 35-yard Nelson-to-J.J. Douglas pass play on 3rd-and-13 to set up Brooks' 20-yard TD catch three plays later.
"We went into it knowing that we didn't think they were going to drive on us on the ground and we needed to take away the big play potential," Linde said. "That was the story of the game tonight — they had three or four big completions. We've got to learn how to lock that down."
Nelson finished 11-of-15 passing for 162 yard, with 116 of those yards going to Douglas on four receptions.
It wasn't just big plays through the air that hurt Beaver Dam on Friday night, though.
"Give Parker a lot of credit, they're a really big, physical team. They've got a lot of kids playing both ways and we didn't capitalize on some opportunities — when some of their better players needed some breaks on the defensive side, we have to be able to move the ball better," Linde said.
And while it wasn't a rainy night, the grass was wet from all the rain the last couple days and that hurt Beaver Dam's ground game a little bit, too.
"It might have impacted a few exchanges and obviously we slipped on a couple plays that we thought could have been big-hitters for us," Linde said. "The weather affects both teams. They're a spread team and you'd probably think the elements would affect them more than us, so we've just got to run behind our pads and make holes.
"We just didn't make enough of them tonight."  
Almost. But in the end Beaver Dam came up a dozen yards shy of clinching an automatic berth to the postseason for the first time since 2017 and only the second time in the last 10 years.
It stings right now, but the Golden Beavers aren't about to fold up shop.
"We wanted to win this game in front of our home crowd for Homecoming and we just fell 12 yards short," Linde said. "We'll get back to the drawing board and watch film and do what we always do in our preparation.
"We understand what our potential is and we love our kids and we know that we're a good football team. Tonight we just fell short, but our kids battled and they competed and we can't say enough positive things about them."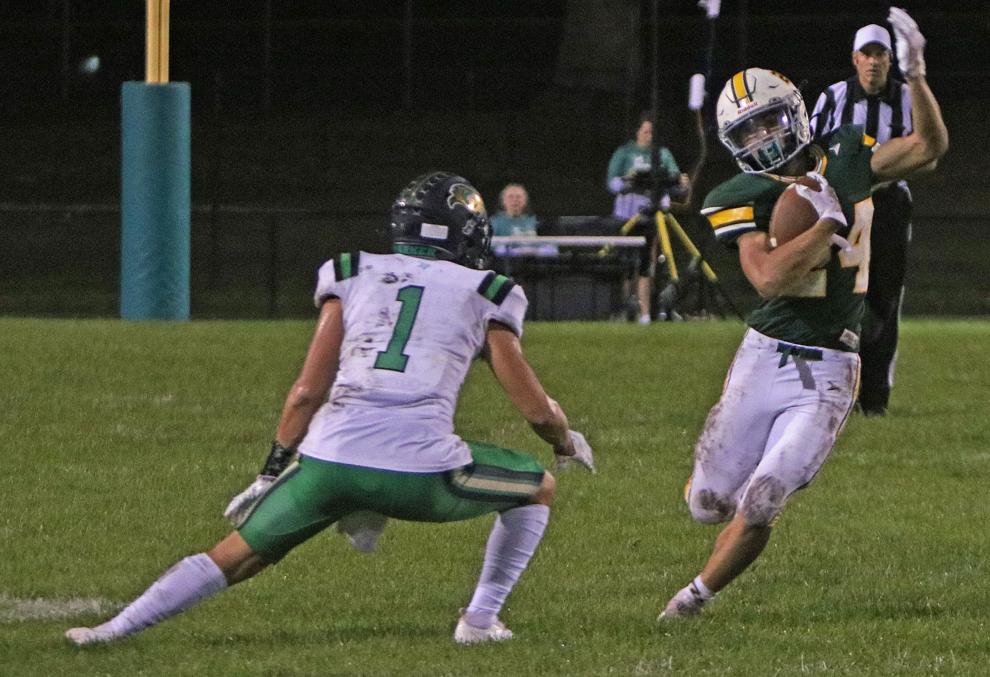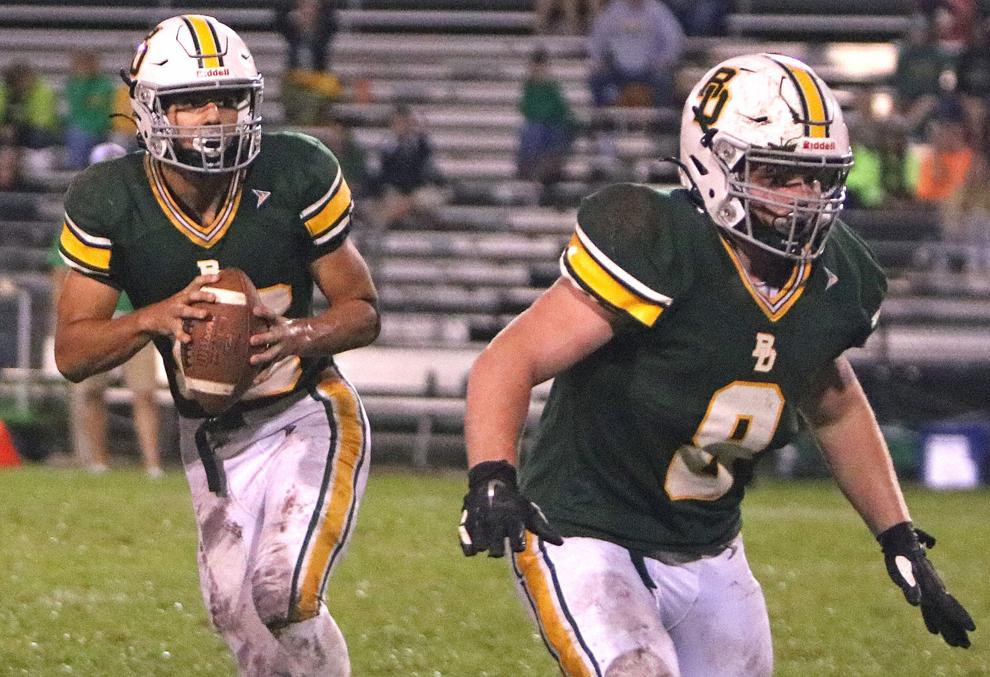 Follow Dan on Twitter @Danny_Larson_8 or contact him at 920-356-6753.