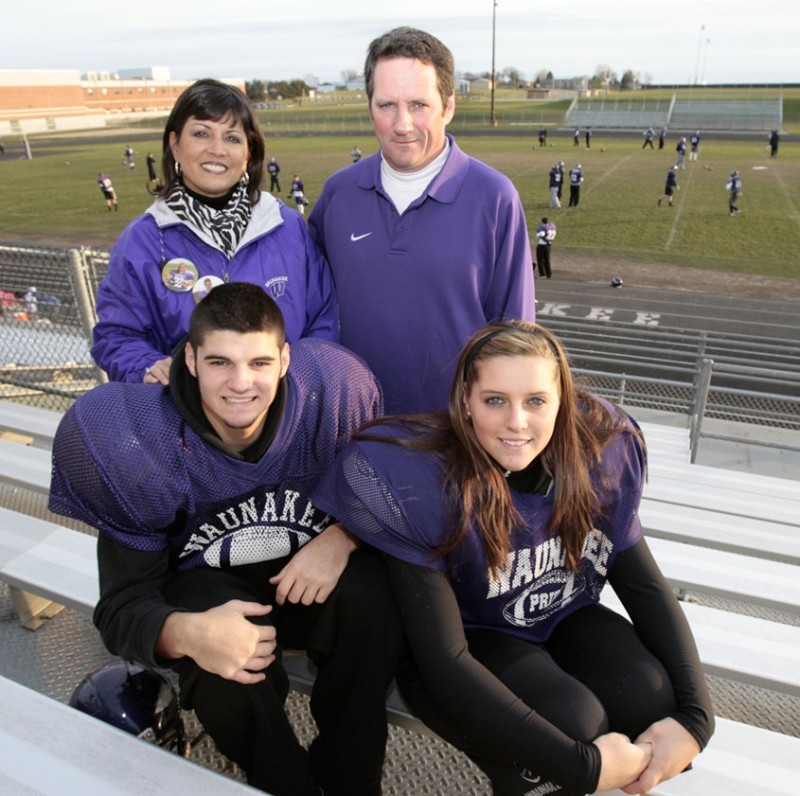 WAUNAKEE — Kristi and Kevin McCarthy can't believe their good fortune.
The Waunakee couple understands how rare it is for a parent to be able to watch one of their children compete for a state championship.
But Kristi and Kevin will have two children — a daughter and a son — in uniform when Waunakee (12-1) plays two-time defending state champion Kimberly (12-1) in the WIAA Division 2 state championship game at 1 p.m. today at Camp Randall Stadium.
"It's awesome. It's a feeling that's kind of hard to explain unless you are experiencing it," said Kristi McCarthy, proudly sporting team buttons of her daughter Kassy, a senior kicker, and Bryan, a junior fullback, in uniform.
"Since the playoffs started, there have been two situations where Bryan has scored and its fun to hear 'Bryan McCarthy in for the touchdown' and then "Kassy McCarthy kicks the extra point.' Then it's 'Kassy McCarthy kicking off for Waunakee.' We just love it."
WIAA communications director Todd Clark was unable to confirm whether a girl has played in a state championship football game in the 33-year history of the playoff system.
"I think there was a girl who played defensive line a few years ago and another girl from up north who played several years ago but we don't keep records of that," he said.
That doesn't matter to the McCarthy family, especially Kassy, who is just happy to be playing with her football family.
"It took a long time to convince my dad but my mom was all for it," said Kassy, who also plays girls soccer for Waunakee. "My brother played youth football and I thought I might like to give it a try."
In a 35-20 victory over Monona Grove in a state quarterfinal game Nov. 7, Bryan scored a touchdown and outscored Kassy, who had five PAT kicks.
Bryan then scored a touchdown in Waunakee's 42-14 victory over Franklin in the semifinals last Saturday, while Kassy matched him with six PATs.
"They get along very well as brother and sister and as football players they support each other very well," said Kevin, a 1977 Waunakee graduate who played football for Hall of Fame coach Gayle Quinn.
Added Kristi: "I have noticed on the field after one of them makes a good play, they always make it a point to come over and give one another a high five or a hit on the shoulder. They've both very supportive of each other. It's a good group of kids that gets along. They treat one another as equals."
Kassy, the kicker
While Kassy grew up playing soccer, her parents weren't aware of their daughter's interest in playing football until the summer before her freshman year, when she attended a soccer tournament in Blaine, Minn.
"There was a large indoor facility there and during the week a radar gun was set up as entertainment for the kids," Kevin McCarthy said. "After a few days, it got to be a show because Kassy was outkicking the 18-year-old boys."
Added Kristi: "It was amazing. As each day went on, she had a huge crowd around her in awe."
After her soccer coach convinced her to try out for the freshman football team, Kassy attended kicking camps and did what she needed to do to make the most of her opportunity.
You have free articles remaining.
It didn't hurt that several incoming freshmen went to football coach Pat Rice with an idea.
"Going into her freshman year, there were some boys who approached Pat Rice and said, 'You know we don't really have a strong kicker in our class. We should consider asking Kassy if she's interested,' " Kristi said.
"So she tried out and the rest was history. It's really phenomenal, the experience she has gotten out of it and how she has grown from it. She has become a big leader on the team where a lot of guys look up to her and very much respect her."
Kevin said Kassy, who is 2-for-3 on field goal attempts, including a 38-yarder, and is 68-for-68 in PATs, has made kicks of more than 50 yards in practice.
"She's got some range. When we go to camps and see others who have gotten scholarships, it makes us think that could be her," he said.
After paying her dues on the freshman, JV and varsity reserve football teams the past three seasons, McCarthy nailed her first varsity field goal attempt Oct. 2 — a 32-yarder at Reedsburg with Waunakee trailing 9-7 with 5 minutes, 18 seconds to go.
Although Waunakee eventually lost 15-10, Kassy proved her mettle with the clutch field goal.
"A few of her former teammates who are playing at Division II schools have talked to their coaches and said 'Boy, can we use you,' " her father said. "If we could find something in her comfort zone, she would be interested."
Don't forget Bryan
Meanwhile, Bryan, who had major shoulder surgery last summer, slowly worked his way into the lineup where he is averaging 9.3 yards per carry.
"Everybody has really supported Kassy over the years and she is getting the accolades she deserves," Kevin said. "But we don't forget Bryan. He's come on slowly now he's starting, too."
The only thing closest to a family squabble could have been over the choice of uniform numbers. Both wore No. 22 until this season when Kassy pulled seniority and got her favorite number or "double deuce" as she calls it.
"That's what we call girl power," Kristi said with a chuckle. "It's fun to see that she is a big part of history."
"She's earned it," he said. "We're all proud of her. She's a Warrior."
That was evident on Senior Signing Night last week when the senior football players signed autographs for the area youth football program and members of the community.
"Kassy's line was the longest," her mother said proudly. "Teachers, moms, dads, kids, all wanted her to sign T-shirts and sweatshirts and everything they brought. It was pretty cool."
One thing for sure is that no girl has every kicked a game-winning field goal at Camp Randall Stadium.
Kassy McCarthy would like to be the first.
"If it comes down to her kicking the winning field goal at Camp Randall, that's who you would want out there. I'd put her in there in a minute," her father said.