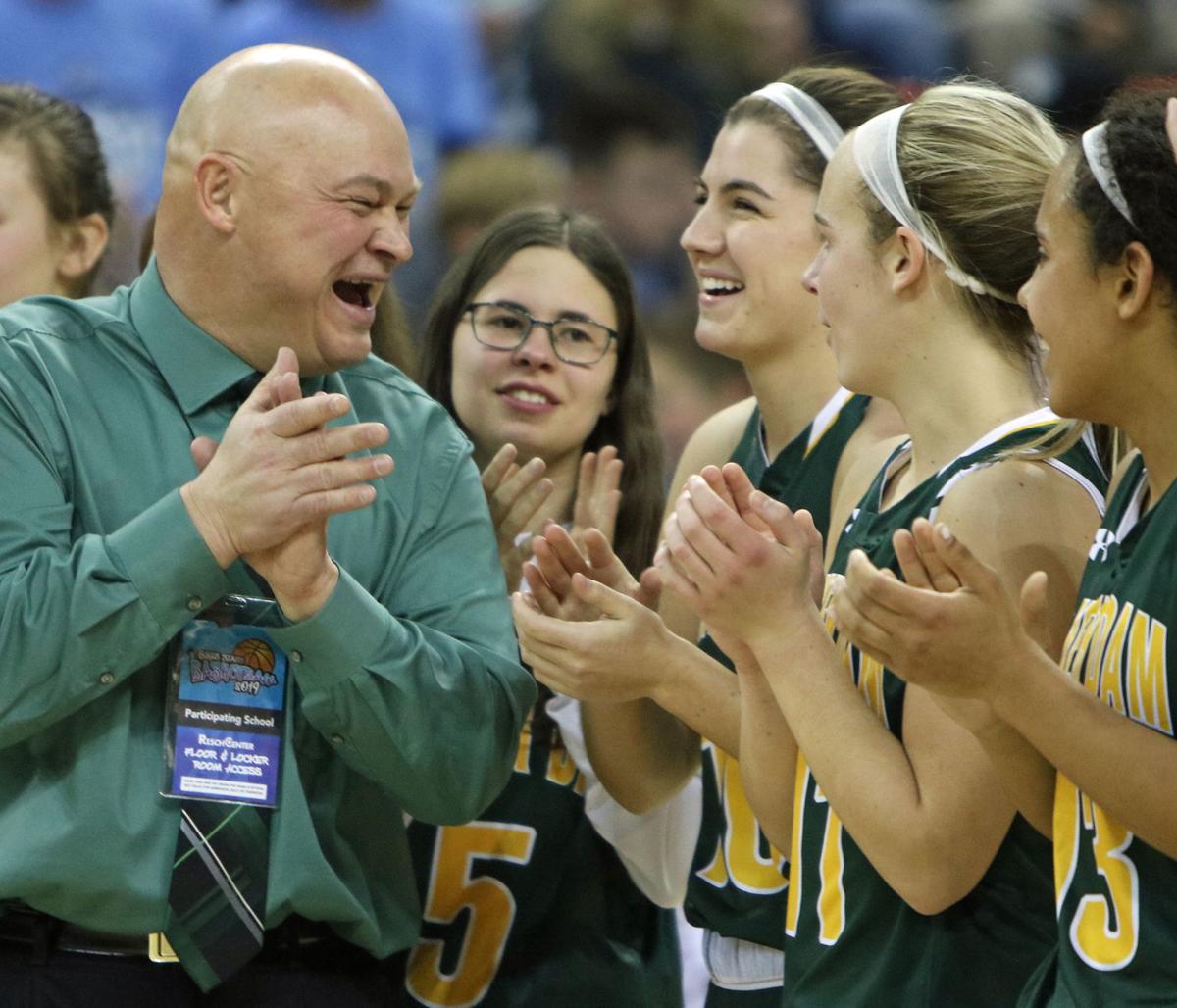 Monday was an unusual day for Beaver Dam girls basketball coach Tim Chase because he wasn't at practice and directing his top-ranked team, which has won the past three Division 2 state girls basketball championships.
And Chase won't be at practice, coaching games or attending games for a while.
Chase, 49, said Monday he's on medical leave from teaching high school mathematics classes (including advanced courses) and coaching the girls basketball team for an indefinite period after receiving a diagnosis that he has a cancerous tumor in his colon.
Chase, in his 15th year as girls basketball coach, said he's preparing for surgery Jan. 30 at UW Hospital in Madison.
In Chase's absence, assistants Dan Hallman and Allyson Wilke are coaching the team, with Hallman serving as the lead coach, said Chase.
"It wasn't something I was expecting," Chase said. "But our kids are prepared. I am confident in Dan and Ally. The team is working to get better every day. Nothing will change in that regard. We keep doing what we do."
Chase remains upbeat about his health situation and the rest of his team's season.
"I'm excited for the kids to play," Chase said. "I'm excited for their opportunities and for the coaches. They will do a great job. I don't expect Beaver Dam to miss a beat at all."
Chase won't be on the bench when the Badger North Conference-leading Golden Beavers (12-2) travel to Portage on Thursday night or when they meet La Crosse Aquinas on Saturday in Wisconsin Dells. Aquinas is Division 4's top-ranked team this season and the two-time defending Division 4 state champion.
"Those are two great teams playing on Saturday," he said. "That will be a tough one for me to be gone."
Chase said his timetable to return is uncertain. He said he hopes he will be cleared medically to coach by the time postseason arrives, but that depends on his recovery and what his doctors decide.
"The prognosis long term is really good," he said. "After going to UW and meeting with the doctors, I'm not expecting any long-term effects."
He had hoped to have the surgery after the season, but was told by doctors the procedure couldn't wait that long.
Chase hadn't been feeling well and had a low energy level in mid-December when he went to an emergency room. After a series of tests, he received the diagnosis of colon cancer last week at UW Hospital. He said he wasn't totally shocked by the test results.
"I knew something wasn't right," Chase said.
Chase said he informed the players and coaches Thursday. He coached during the Beavers' 59-45 victory over Oregon in the Badger Challenge first-place game Saturday night in Beaver Dam. But he said he wasn't feeling particularly well and left the court after the game without conducting normal post-game interviews.
Chase said he likely will study video and help behind the scenes. Despite his cancer diagnosis, Chase said he hopes the focus will remain on the Beaver Dam team the rest of the season. He said the Beavers have continued to have high expectations this season and have played high-caliber basketball.
Chase was The Associated Press coach of the year and Wisconsin State Journal 2019 All-Area girls basketball coach of the year after leading the Beavers to their third consecutive Division 2 state title last season, defeating Monroe in an all-Badger Conference final.
Beaver Dam became only the fifth girls basketball team in state history to win three straight titles.
He also coaches girls golf in the fall. 
Get in the game with our Prep Sports Newsletter
Sent weekly directly to your inbox!