Mac Wrecke is eager to have Cal Klesmit as a college basketball teammate at UW-Green Bay.
On Friday night, they were opponents at the WIAA boys basketball state tournament.
Wrecke, a 6-foot-5 senior guard for Hartland Arrowhead, and Neenah's Klesmit, a 6-2 senior guard, squared off in a Division 1 state semifinal at the Kohl Center.
"It's fun," Wrecke said. "It's a challenge. He's a great player. I can't wait to play alongside him. But in those games, you just want to compete and try to have fun with it because you know they are going to come at you and I came at him. It was a fun game."
Wrecke was 6-for-10 from the field and scored 17 points as second-seeded Arrowhead (27-2) earned a 73-61 victory over third-seeded and defending champion Neenah (18-11).
"He is one of the best passers I have seen in a long time," Arrowhead coach Craig Haase said. "His court vision is phenomenal. Besides his ability to score the basketball, that kid has some great, great court vision. You don't go into a sectional final and put up 20 assists without court vision. So, it's very impressive the way he plays."
Neenah coach Lee Rabas said the Rockets had instances when they didn't have Klesmit available due to injury this season. "You have to have a next-man-up mentality," Rabas said.
However, Klesmit's absence causes Neenah to have one fewer scorer and distributor on the floor.
"The other thing that hurts, Cal can create for other people," Rabas said about Klesmit, who had 21 assists in the Rockets' sectional victory over Superior.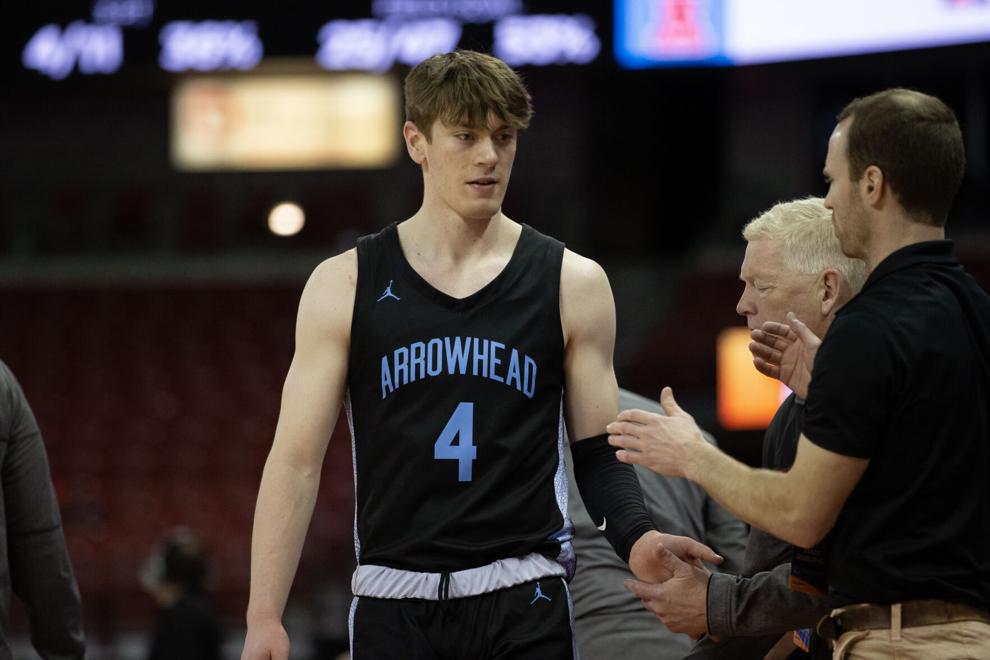 Arrowhead advanced to the Division 1 state title game against top-seeded De Pere (29-0). The Division 1 championship game is scheduled to begin about 8:15 p.m.
Wrecke, the program's all-time leading scorer who surpassed 2,000 points Friday night, said he likes the balance the Warhawks have on offense and what the team has accomplished so far.
"For me, it's awesome," he said. "We have a great team this year. … It's just great. This is what I wanted since I was a little kid – to go to state. We had the team this year that could do it and we did it, and I'm really happy about that."
Four players scored in double figures for Arrowhead, led by junior guard Bennett Basich who scored 17 of his 19 points in the second half.