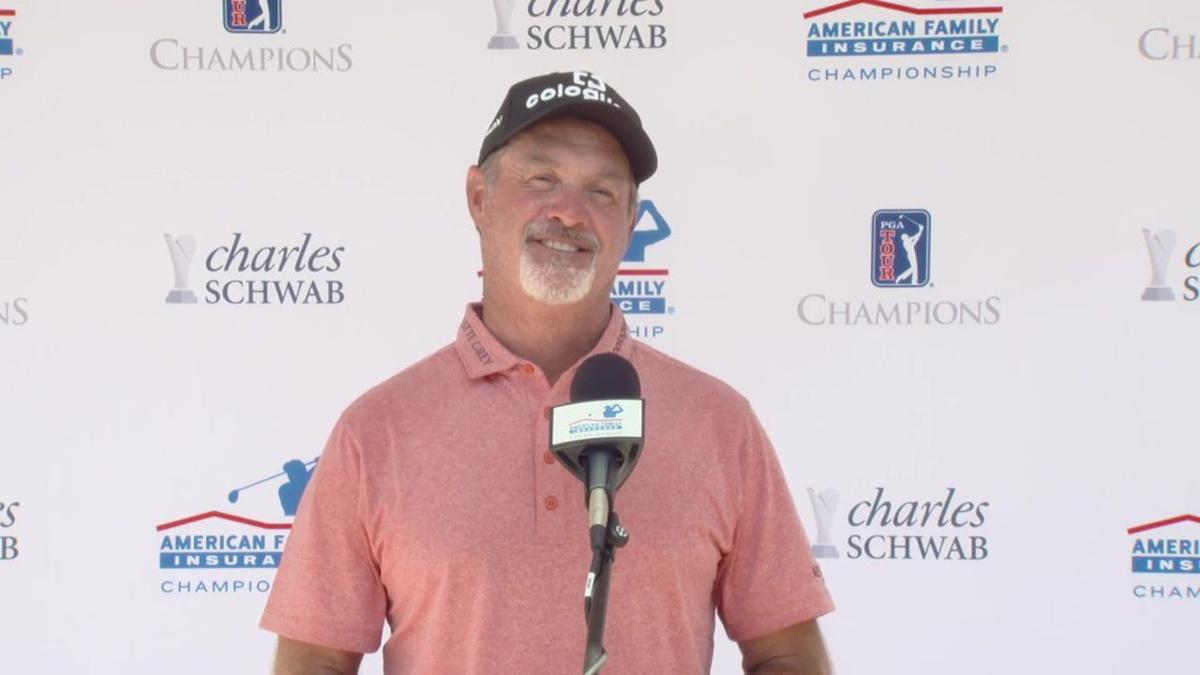 There's been something more in the air than humidity this week at University Ridge.
You can almost smell it … normalcy. Or some semblance of it, at least.
The American Family Insurance Championship is back after being canceled last year due to the COVID-19 pandemic and, I'll be honest, I showed up for a practice round Wednesday not sure what to expect. Covering sporting events hasn't been the same since I walked out of Indiana's Assembly Hall on March 7, 2020, after wrapping up my story on the University of Wisconsin men's basketball team completing an astonishing run to a share of a Big Ten Conference regular-season title.
That day began with me making a wisecrack about hearing a chime as I passed 10,000 feet on my climb up the stairs to a seat in the alternate press row. What a silly complaint, in retrospect.
Another UW season has been completed since that day 15 months ago. In some ways, it feels like a lifetime has passed.
There are far more important things in the world than sports, something even a person who covers them for a living can admit. Yet sports has been a gauge of sorts throughout this ordeal.
When Utah Jazz All-Star center Rudy Gobert tested positive for COVID-19 last March — four days after that aforementioned title-clincher for the Badgers and two days before they were to start postseason play — it was a defining moment. The spread of the virus had been in the news prior to that but it was a speck on a radar for most people, myself included.
Sports — and so much else — went on pause not long after Gobert's positive test. It was a wake-up call that this was something we should take seriously.
Likewise, sports have been an indicator of progress during the pandemic. When fans spilled onto the No. 18 fairway after Phil Mickelson hit what was essentially a title-clinching approach shot into the final green at the PGA Championship last month, those pictures told a story: After months upon months of cabin fever, people were ecstatic to be back at live sporting events.
AmFam Championship tournament host and player Steve Stricker couldn't help but notice a tweet that circulated that Sunday afternoon: Phil ended the pandemic.
"When he won there at South Carolina and the crowd rushed down the middle of the fairway, nobody's wearing masks, they were all elbow to elbow and tightly together. It seemed like that was normal, right?" Stricker said. "It's a little bit different every place we go, but for the most part it seems like it's moving forward."
Stricker went on to note the Milwaukee Brewers are returning to full capacity for home games later this month, another encouraging sign to him that big crowds will be present when he serves as U.S. captain for the Ryder Cup in late September.
We're not home free, of course. Attendance is capped at 7,500 each day for the AmFam Championship, which officially gets underway at 9:10 a.m. Friday with a featured group that includes Stricker, Jim Furyk and Fred Couples.
There were still tickets remaining as of Thursday afternoon, which could signal reluctance on some fans' part to return to venues with large gatherings. The scorching temperatures in the forecast probably aren't helping matters.
"It's going to be hot," Stricker said. "A lot of beer and water I'm sure will be drank, but all good stuff."
For players, any crowd is better than nothing. They count on fan reaction at times to verify how good — or bad — a shot was on blind approaches. They feed off those cheers when they're playing well, and hearing them elsewhere on the course can give hints about how other players are doing. Such was the case at the PGA Tour Champions event last week in Iowa, where Furyk heard a roar coming from No. 15 on Sunday and surmised eventual winner Stephen Ames had made birdie.
Furyk described playing in silence last summer as an "awkward environment." Now, fans are back and so is the atmosphere.
"It's great having fans back," Madison's Jerry Kelly said. "We were happy to put on a show and do our job. But now it feels like our job again."
At the risk of sounding like a whiner, it's been a challenging stretch for reporters to do their jobs as well.
I went an entire UW football and men's basketball season without having an in-person conversation with Paul Chryst, Greg Gard or any of their players.
Zoom news conferences became the norm out of necessity. Phone calls are a decent substitute because they're not nearly as impersonal, but the best interviews are the ones where you can look someone in the eye and they can do the same to you.
When players such as Stricker, Furyk and Ernie Els answered our questions and follow-ups on Wednesday, it felt like an actual dialogue. Even nearly getting hit by a cart driven by John Daly — my fault, not his — was notable if for no reason than I've spent most of the past 15 months far, far away from athletes.
It'll be even better Friday when the scores start counting and local favorites Stricker, Kelly and Andy North help kick off an event that was dearly missed last year.
"I don't know if we all can just relax and rest, but we're getting back to normal and that's really cool to see," Furyk said. "I think everyone needed it."
---