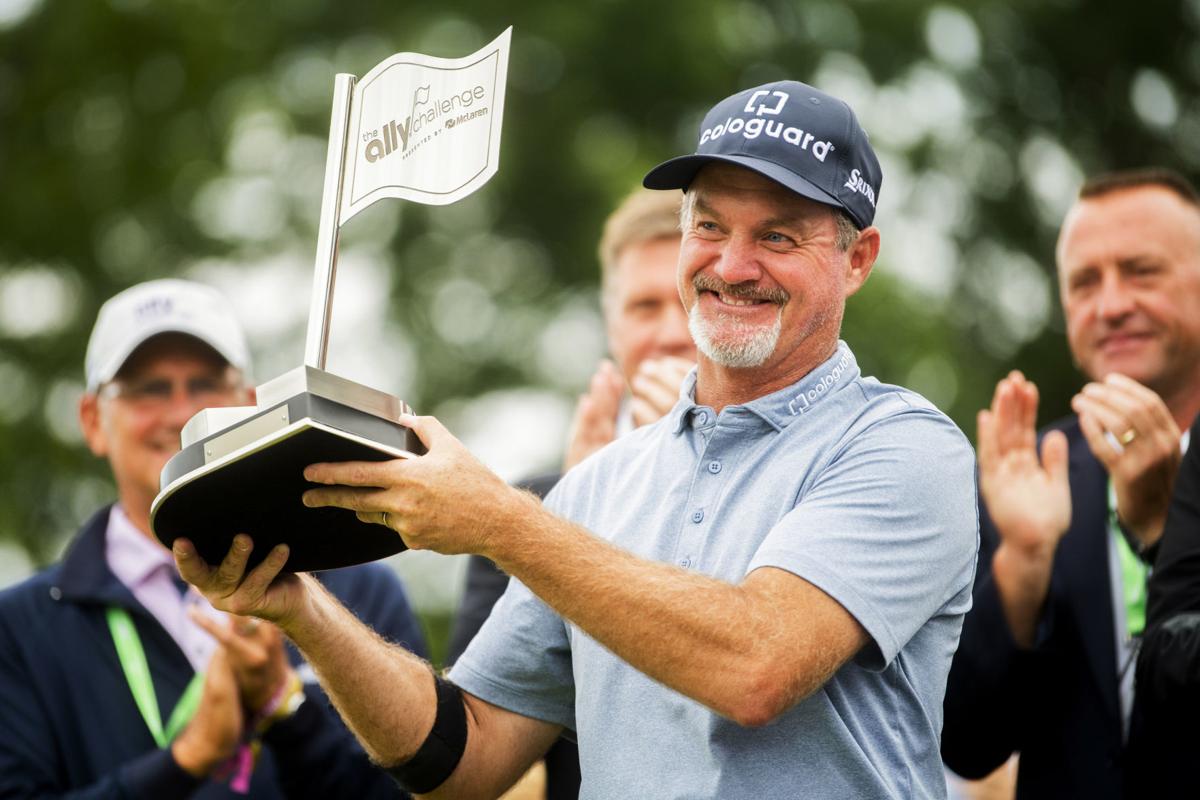 Jeff Maggert used a hot new putter to take the first-round lead in the Charles Schwab Cup Championship, and Bernhard Langer, Jerry Kelly, Retief Goosen and Colin Montgomerie made moves to catch Scott McCarron in the PGA Tour Champions' season standings.
Maggert shot an 8-under 63 on Thursday in perfect conditions at Phoenix Country Club to take a one-stroke lead over Langer, with Miguel Angel Jimenez, Paul Goydos and Steve Flesch another shot back, and Kelly and Goosen at 66 with Lee Janzen and Scott Parel.
Maggert entered the season finale 34th in the standings, just three spots from failing to qualify.
"I have no idea what happened today," Maggert said. "I liked the course last year, felt like I could play well here. To be honest, I got a new putter at the Ping factory on Monday and as soon as I saw it, I says, 'Wow, this looks good, I think I can make some putts with this.' Lo and behold, I made a lot of good putts today."
Kelly needs a victory or help from McCarron to take the season title.
"I'm feeling pretty good right now," Kelly said. "It's just a matter of staying solid. I got a little tired at the end, things got a little loose and I've got to get stronger as the week goes on."
McCarron, the points leader the last 20 weeks, was tied for 22nd in the 34-man field after a 69.
"Means nothing right now," McCarron said. "I don't know if I'm leading or Jerry's leading, doesn't even matter. All I know is I've got to go out there and play a little bit better the next three days."
McCarron has not won since June and has only two top 10s in his last six tournaments.
Coming off a playoff loss to Montgomerie on Sunday in California, Langer closed his bogey-free round with a birdie on the par-5 18th. Langer is third in the standings, putting the 62-year-old German star in position to win his sixth Charles Schwab Cup title — with help from McCarron and Kelly.
"You can't win it the first day, but you can lose it," Langer said. "So, I'm happy with where I am."
Montgomerie, fourth in the standings, had a 67.
Goosen, at fifth in the standings, is the last player with a chance to take the season title with a victory.
Vijay Singh, the tournament winner last year, failed to qualify.
Tiger Woods picks himself for Presidents Cup
Tiger Woods will have an ear piece, a radio and his golf clubs at the Presidents Cup.
Woods created his own slice of history Thursday night by becoming the first Presidents Cup captain to use one of his wild-card selections on himself.
You have free articles remaining.
He is the second playing captain in the Presidents Cup. Hale Irwin played in the inaugural matches in 1994 when he qualified for the team. He had Paul Azinger, who was recovering from cancer, as one of his assistants.
Woods was introduced as captain in March 2018, when he was just returning from a fourth surgery on his lower back. He has won three times since then, including his 15th major when he won the Masters in April.
"It's going to be a lot of work, but something I've been looking forward to for a long time," Woods said.
The decision was hardly a surprise. Woods not only is the Masters champion, just two weeks ago he tied the PGA Tour record with his 82nd career victory at the Zozo Championship in Japan. Woods said it was that trip — not just the victory, but the travel — that convinced him he was fully healed from minor knee surgery in August and capable of contributing in Australia.
The Presidents Cup is Dec. 12-15 at Royal Melbourne.
Woods also selected Tony Finau, who finished just outside the top eight who qualified; U.S. Open champion Gary Woodland, who is playing on his first U.S. team; and Patrick Reed.
Missing from the American team is Phil Mickelson, who had played in every Presidents Cup since the matches began in 1994. Woods also left off Rickie Fowler, who got married and has not played since the Tour Championship; and Kevin Kisner, who is 16-5-3 in match play, including a victory and runner-up in the last two Dell Match Play events.
And still to be determined is whether PGA champion Brooks Koepka, the No. 1 player in the world, will be ready to go. Koepka had stem cell treatment in his left knee after the Tour Championship, and that injured the knee while bracing himself after he slipped on a wet piece of cement in the CJ Cup.
Woods said Koepka told him he was rehabbing the knee and that the focus now was on the 12 players who will try to win the Presidents Cup for the eighth straight time.
Woods did not say what kind of contingency plan he had if Koepka couldn't make it. He also left open the option of adding an assistant captain now that he'll be playing. He currently has Fred Couples, Steve Stricker and Zach Johnson.
Woods said those three had strong thoughts on him playing, especially Couples.
"Freddie was pretty ardent. 'You're on the team, quit being stupid.' At the time, I haven't even swung a club," Woods said. "I got back to him after Japan."
Everyone is required to play in at least one match ahead of the Sunday singles, meaning Woods only has to play twice. He said he could play more depending on what the team needs.
The rest of the U.S. team is Dustin Johnson, Xander Schauffele, Bryson DeChambeau, Justin Thomas, Matt Kuchar, Patrick Cantlay and Webb Simpson. Cantlay, Schauffele and Woodland are the only players who have never competed in a Presidents Cup or Ryder Cup.
International captain Ernie Els filled out his team Wednesday, adding two rookies (Sungjae Im and Joaquin Niemann) to a team that already had four Presidents Cup newcomers.
Royal Melbourne is where the International team had its only victory in 1998. The Americans won in 2011 at Royal Melbourne with Woods — a captain's pick — delivering the winning point.
Woods announced himself with his fourth and final pick.
"As captain, I'm going to choose Tiger Woods as the last player on the team," he said. "He's made ... nine Cups and he's played in Australia twice in the Presidents Cup, so this will be his third appearance as a player. And I find it interesting talking in the third person."
Even more interesting will be his week in Australia — at times in a cart, at times standing over a key putt, all the while thinking about pairings and what it takes to win.