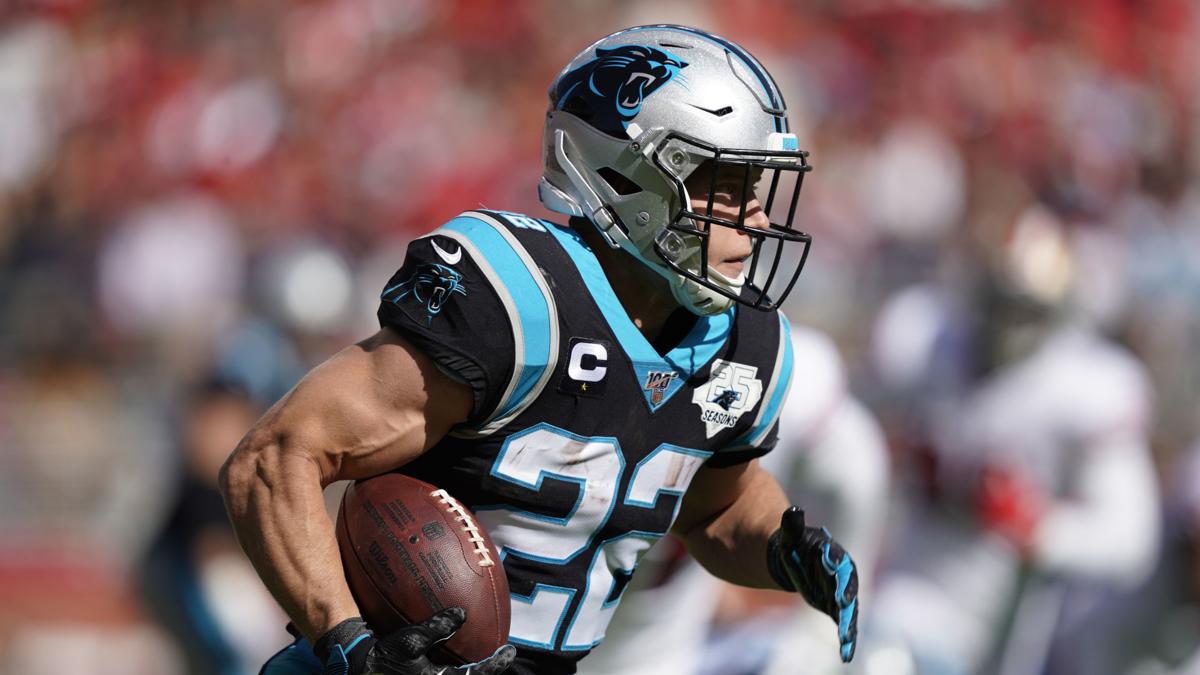 GREEN BAY — In the 1990s, Dan Patrick popularized the line, "You can't stop him, you can only hope to contain him" on ESPN's SportsCenter. Although the saying actually dates back to at least 1958, Patrick's use of it was on the leading edge of the trend of sports anchors needing a signature catchphrase.
If Patrick ever wanted to bring it out of conversational mothballs, the Green Bay Packers' meeting Sunday with Carolina Panthers running back Christian McCaffrey at Lambeau Field would be the perfect time. Because it's hard to imagine the Packers' 24th-ranked run defense finding a way to hold the NFL's leading rusher in check.
"He's a complete back. He can do it as a rusher. He can do it as a receiver. He does a great job in protection," Packers coach Matt LaFleur said. "Total package."
And he could totally wreck the Packers' hopes of improving to 8-2 and entering their bye week on a winning note. Not only is McCaffrey second in the NFL with 881 rushing yards in eight games — Minnesota's Dalvin Cook has more yards (894) but has played one more game — but McCaffrey has also caught 42 passes for 363 yards. With 13 combined touchdowns and 1,244 total yards from scrimmage, he's on pace for a whopping 2,488 yards and 26 touchdowns.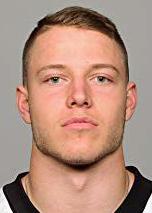 Throughout the week of practice, defensive coordinator Mike Pettine tried his best to simulate what the 5-foot-11, 205-pound McCaffrey can do. The problem? He didn't have any one player who could do a passable imitation of all the things McCaffrey can do.
"We have different ones coming in on every play and they all have No. 22 jerseys," said Packers inside linebacker Blake Martinez, who played college ball with McCaffrey at Stanford. "We'd keep refreshing backs every single play, making sure they're 100 percent. He's an explosive player all across the board. He's an extremely smart player as well. He knows where he's supposed to hit the run play and where he's supposed to be patient. He can do anything."
Including carrying an offense and making a strong case for NFL MVP consideration. With star quarterback Cam Newton out for the year — the closest the 2015 NFL MVP came to playing in Sunday's game was a visit to renowned foot and ankle specialist Dr. Robert Anderson, who is a Packers team doctor and has his practice across from Lambeau Field at Bellin's Titletown Sports Medicine clinic — and unproven Kyle Allen starting in Newton's place, McCaffrey has been vexing opposing defenses for the 5-3 Panthers all season.
"We've seen a lot of different coverages, a lot of different personnel groupings, trying to match with him," Panthers coach Ron Rivera said. "The truth of the matter is, and the nice thing is, when we're distributing the ball as far as the passing game, it's hard to zero in on just him. Running, obviously, is a little bit different, but as long as we keep distributing the ball, we'll be OK."
You have free articles remaining.
And therein lies the challenge for the Packers defense. The unit has struggled to stop the run all season, and because Pettine prefers to use his sub packages, which generally use at least one extra defensive back in place of a second inside linebacker, McCaffrey's ability to catch the ball out of the backfield creates a troubling conundrum: If Pettine decides to play inside linebacker B.J. Goodson alongside Martinez to bolster the run defense, it leaves the Packers susceptible to McCaffrey exploiting them in the passing game. If he opts for lighter linebacker Oren Burks or recently activated safety/linebacker hybrid Ibraheim Campbell, Pettine won't have another thumper to stuff the run.
"You typically don't want a linebacker on him (in pass coverage) unless he has help. It's certainly something you don't want to make a living doing. He gets open on a lot of DBs, let alone linebackers," Pettine said. "If you have an extra safety out there playing, you're leaning more towards coverage, as opposed to (playing with a second inside linebacker), so you have the middle of the field closed and another gap accounted for."
Asked if he's concerned about his run defense, Pettine replied, "At times, at stretches. I could make a 30-play cut-up of us playing great run defense and a handful of ones where we're not (and) we're giving up chunk plays. That's been a frustrating thing, and it's had a ripple effect through our play. When we can't get teams behind the sticks and get them in adverse third-down situations, then you're constantly having to play more honest defense."
McCaffrey's varied skill set has him on pace to challenge the NFL single-season records for total yards from scrimmage (2,509, set by Tennessee Titans running back Chris Johnson in 2009) and for total touchdowns (23, set by New England Patriots wide receiver Randy Moss in 2007). And this is nothing new; last year, McCaffrey set the NFL record for receptions by a running back (107) and he had 1,965 total scrimmage yards (1,098 rushing, 867 receiving).
The only team this season that seems to have unlocked the secret to neutralizing McCaffrey has been the Tampa Bay Buccaneers. In a 20-14 loss to the Buccaneers in Week 2, McCaffrey carried 16 times for just 37 yards and caught two of the six passes thrown his way for just 16 yards. In the Panthers' 37-26 Week 6 win over the Bucs, McCaffrey carried 22 times for 31 yards and caught four passes for 26 yards, although he did have one rushing touchdown and one receiving touchdown.
As he put together his game plan for the week, Pettine said it all started with conjuring up ideas for how the Packers could match up with McCaffrey in both the run and the pass. Those answers did not come easily.
"When you're building a game plan against a back like this, that's usually the very first thing you look at," Pettine said. "How much of a threat is he outside of the backfield? How well does he catch? Do they use him like a wideout? That factors into a lot of decisions. There are a lot of defenses that just don't even get brought up because it puts us in a bad situation. And they do such a good job of getting the ball to him in a variety of ways. They're very creative whether it's through screens and sweeps and just the misdirection run game they do.
"There's been stretches of games where he's been OK, and just been the typical running back. And then all of a sudden, you turn around and it's a 60-yarder, an 80-yarder. That's what you have to guard against. And most of the teams they've played this year haven't been able to do that."
<&rdpStrong>Packers vs. Panthers: Three things to watch</&rdpStrong>
1. BOUNCING BACK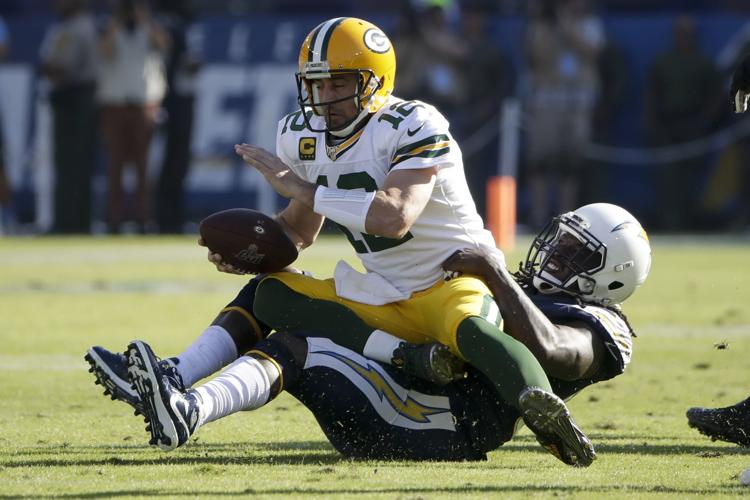 On Monday, in the wake of their pathetic performance against the Los Angeles Chargers, Aaron Rodgers (above) called up every Green Bay Packers player into a post-workout. Following the team's 26-11 loss to the Chargers, Rodgers had sharply criticized the team's readiness and focus entering the game, which he felt contributed to the poor showing.
"It was important for us to be very critical. I don't think it helps to just brush it under the rug," Rodgers explained. "I think it's important to correct the correctable things and then move forward positively and learn from the mistakes and set your eyes on the next performance."
In an effort to move forward "positively," as Rodgers put it, the quarterback gathered everyone together with a message: "Let's get back to being us." Translation? Going forward, and starting with Sunday's game against the Carolina Panthers, play the way you did during that 7-1 start, not the way you did against the Chargers. How the Packers come out of the home tunnel and perform early on in this game will show whether that message got through.
"(As) '12' talked about, it's about us coming back and being us. The energy wasn't there, just the whole vibe wasn't been there," defensive captain Za'Darius Smith said. "(He said), 'We just need to continue to do what we do, have fun, we can't let this loss get to us.' It was a loss for us that a lot of people outside of football felt like we needed because we went 7-1. I'm glad that happened then instead of on down the road when they really count.
"We came in Wednesday and we had a new mindset of, just be us, continue to have fun and continue to know the person beside you has got your back."
Added veteran tight end Jimmy Graham: "You can tell a lot about the character of a team obviously by the way they respond to a loss. Obviously last week was pretty disappointing, but guys seemed really locked in this week and really about the game plan and playing with everything they've got. We're going to find out just what kind of team we have in this game."
2. CHECKMATE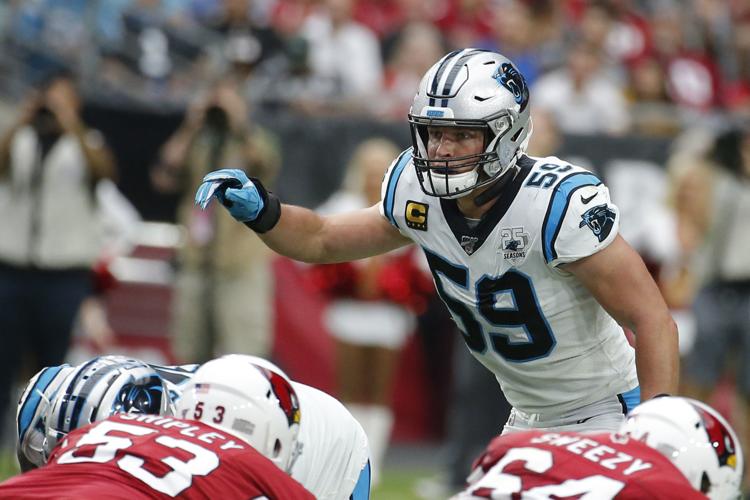 Early in his career, Rodgers loved the chess match he and Chicago Bears middle linebacker Brian Urlacher would engage in before the ball was snapped. Rodgers would read the defensive alignment, make an adjustment to the offensive play call, Urlacher would recognize Rodgers' check and make a defensive adjustment, and 'round and 'round they went.
Expect a similar matching of wits between Rodgers and Panthers inside linebacker Luke Kuechly (above) in this game.
"Just going back to my experience going against Luke when we were in Atlanta twice a year, he is on top of everything," said Packers coach Matt LaFleur, who was the quarterbacks coach for one of the Panthers' NFC South rivals, the Atlanta Falcons, in 2015 and '16. "He's got a pretty good feel in terms of when you check to a play, what's coming. And so that is a chess match, and when you get two of the best at their positions that are able to do that, it's fun to watch. It's not always fun to play against, but it is fun for the fans and for everybody else to watch and see how that works itself out during the course of the game."
According to Rodgers, it's clear Kuechly takes note of all the little details other defensive players might miss when watching film of opponents.
"He's a talented player, and I'm sure he studies the TV copies for calls and checks and audibles," Rodgers said. "You've got to be smart about what colors are live, what colors are dummy colors and same with your calls and your code words. He's been doing it for a while at a high level and been an all-pro. He's an impact player in both the run game and covering guys. He can do it all. And he does remind you of Brian and the way that he can be so versatile against the run and against the pass."
Added Packers offensive coordinator Nathaniel Hackett: "The more that he plays, the more knowledge he gains, and knowledge is power. I remember when he was at Boston College when we were at Syracuse. He was doing a lot of the same stuff. He's just continually gotten better."
3. SLIP SLIDIN' AWAY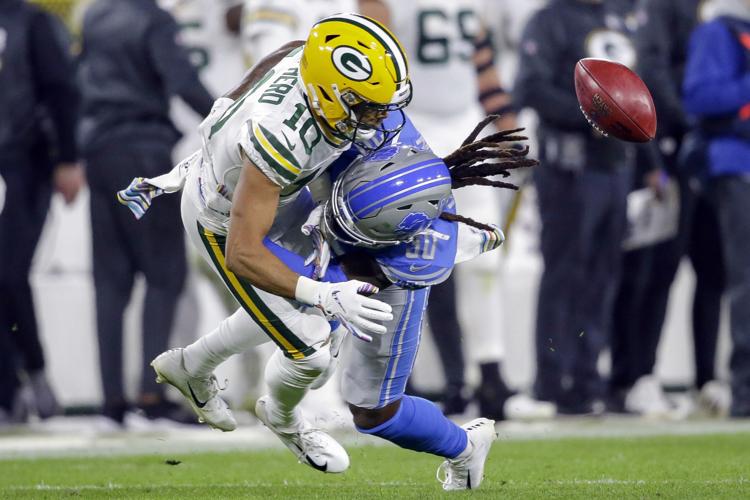 After back-to-back road games at Kansas City and Los Angeles, it might've slipped — pun very much intended — some folks' minds how many issues the Packers and their opponents had with the apparently slippery track that Lambeau Field was for the team's Oct. 14 prime-time win over Detroit and the team's Oct. 20 win over Oakland in a game that started at noon. Considering each game was played at a different time of day, there was no rhyme or reason to why slipping was such an issue in both games.
Presumably, the Packers should be at an advantage since it's their home field, but they slipped as much as the Lions and Raiders players did — most notably, rookie wide receiver Darrius Shepherd (above) having his feet go out from under him on an out route near the goal line, causing Rodgers' pass to hit him in the facemask and carom into the hands of a Lions defender for an interception.
Asked after those two games what was amiss, LaFleur replied, "The grass has been slick out here, but we'll just keep continuing to try to get the right shoes on. Our guys have to be mindful of that as well. That's why when they go out there in warmups, they have to see how their footing is. Sometimes you have to alter the way you play the game. Some of it is adjusting and trying on different cleats and some of it's just understanding that, sometimes you've got to adjust your game a little bit in terms of if you've got a slick surface."
On Friday, LaFleur said it'll still be a trial-and-error process before the game, with the weather forecast calling for cloudy skies and a 20 percent chance of precipitation with a high of 35 degrees and a low of 20.
"It's not like we're practicing in Lambeau," LaFleur said of testing various cleats during the week. "... So that's something that the guys are going to have to adjust to in the pregame and get a feel for."
---
Jason Wilde covers the Packers for ESPN Wisconsin. Listen to him with former Packers and Badgers offensive lineman Mark Tauscher weekdays from 9 a.m. until noon on "Wilde & Tausch" on 100.5 FM ESPN Madison.