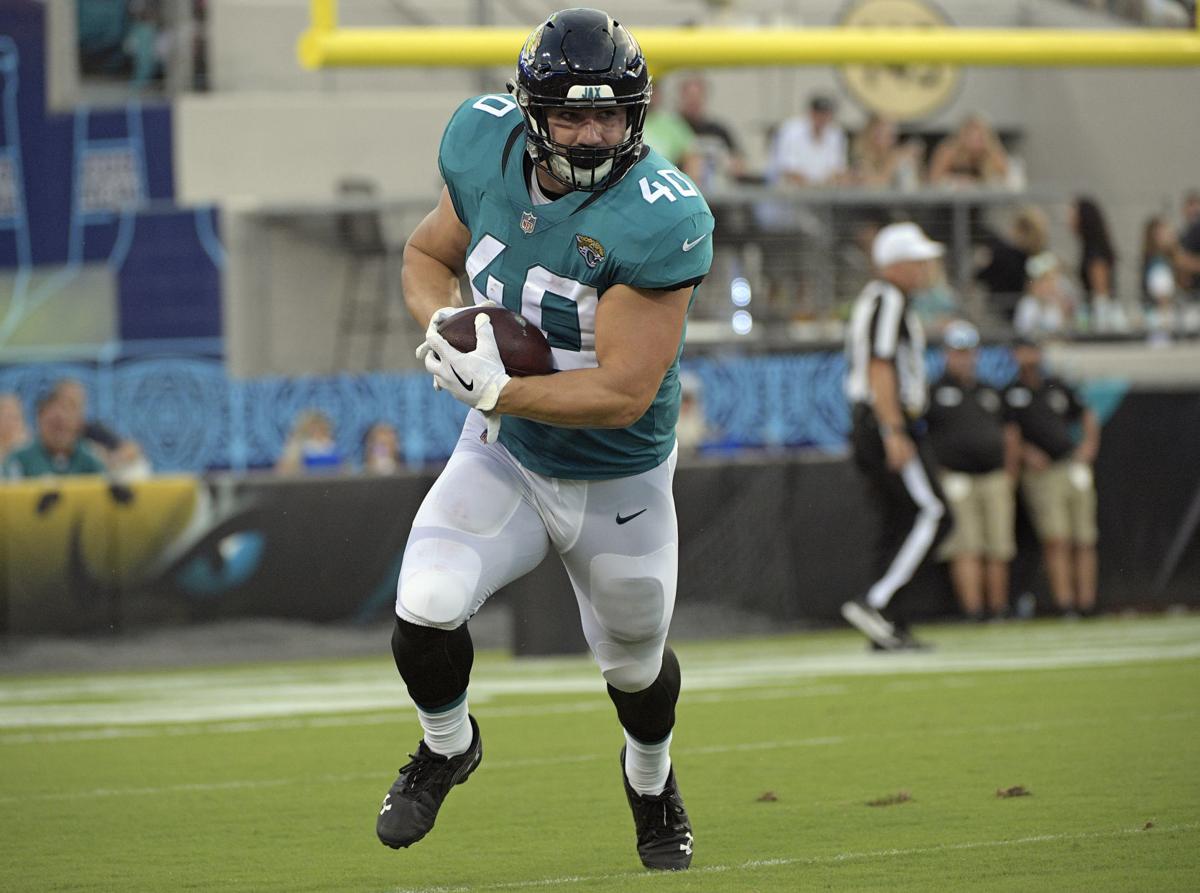 GREEN BAY — If it wasn't abundantly clear already from the cult-hero status Danny Vitale had reached just a few days into camp, it should be now: The Green Bay Packers are serious about the fullback position.
Given its importance in new coach Matt LaFleur's offensive system, the Packers couldn't go another day with their two fullbacks — Vitale (calf) and Malcolm Johnson (groin) — both sidelined with injuries. So they added veteran Tommy Bohanon on Monday, and during Tuesday's practice, he was already running with the No. 1 offense.
LaFleur likes to use "21" personnel — two running backs, one tight end, two receivers — and prefers to change personnel groupings extensively, so not having a fullback available was problematic for him as a play-caller. And with the uncertainty with Vitale and Johnson's injuries, Bohanon said he realizes he has a chance to be more than just a camp body.
"I think there's definitely an opportunity here. I'm very confident in my abilities," Bohanon said after practice. "At the end of the day, they're going to make the decision they make, but I'm going to go out there and do everything I can to make this 53-man roster."
The 6-foot-1, 246-pound Bohanon, 28, is entering his sixth NFL season. In 68 career games (30 starts) with the New York Jets and Jacksonville Jaguars, he's caught 29 passes for 239 yards and one touchdown, and carried 26 times for 72 yards and two TDs. He played for Packers offensive coordinator Nathaniel Hackett during his time with the Jaguars.
Bohanon said he and his wife were actually moving out of their rental home in Jacksonville when the Packers called him on Sunday offering him a contract. He was driving the moving truck when he got the call, so he took his father-in-law's truck to the Orlando airport, his wife drove Bohanon's truck to their offseason home in Fort Myers and his father-in-law drove the moving truck with all the couple's belongings inside.
"I was in a 26-foot U-Haul an hour away from Jacksonville. I had just left," Bohanon said. "I got (to the airport) with about 45 minutes to spare with my flight and got there right as they were boarding. It was definitely an interesting Sunday."
Asked what he liked about Bohanon, general manager Brian Gutekunst replied, "Obviously, (he) has had some experience, and there's not a lot of those guys. A lot of teams don't have any fullbacks in their camps at all, and the other ones may have one. Tommy has played a lot and he was out there, which you usually don't find this time of year."
"There wasn't multiple, experienced options (available). We had some younger guys that we were going to look at it. But as much spread as is being run in college now, there's not many (fullbacks) that have a lot of experience playing the position."
Gutekunst didn't rule out keeping two fullbacks on the roster, something the Packers haven't done since the early days of former coach Mike McCarthy's tenure.
"When it comes down, you want to keep the 53-best guys, right?" Gutekunst said. "But certainly, if there's a style of play we're going to play, we're going to need a fullback."
Gutekunst struck a hopeful chord that inside linebacker Oren Burks' chest injury will not be season-ending.
With the NFL having altered its injured reserve list rules in recent years, the Packers could carry Burks on their initial 53-man roster after the final cutdown, then put him on IR with the possibility of bringing him back later in the year. Or, if he's able to come back in less than eight weeks, they could opt to carry him on the roster and just deactivate him each week until he's ready to go.
Burks suffered a left pectoral injury against the Texans, going down on Houston's first series. He has been seen at practice and has been attending meetings but the team hasn't given any information on the severity of his injury. With Burks out, rookie seventh-round pick Ty Summers, undrafted rookie Curtis Bolton and special-teams ace James Crawford are all in the mix alongside starter Blake Martinez at inside linebacker.
"We're still kind of working through the exact timeline with Oren," Gutekunst said. "But I feel pretty good (about the young inside linebackers). I mean, there's a lot to prove. We've had one preseason game and had a few scrimmages against the Texans. But obviously, Ty Summers stepped up in a big way that first preseason game. So it will be very interesting to see how he does in this second one. And Bolton has done a nice job for us when he's been out there.
"But hopefully, this will be a short-term thing with Oren and we'll get him back in the fold soon."
Asked later if Burks injury might be season-ending, Gutekunst replied, "Again, I'm really hoping that Oren's thing is going to be short-term. We'll get him back here quicker than that, I think."
Inside the helmet
An interesting revelation in last week's NFL Network story about Oakland Raiders wide receiver Antonio Brown threatening to retire if the NFL wouldn't allow him to wear his old helmet was that Packers quarterback Aaron Rodgers was among the players who needs to move to a new helmet this season. He said Tuesday he's narrowed it down to two models that are both legal and is working through which one he likes better.
"There's a connection to a helmet, for sure. I loved my helmet — every one that I've worn," Rodgers said. "(But) I don't know that I would want to retire if I couldn't wear my helmet. I obviously didn't because I'm here today. I'm sure he can find one that he really likes."
Rodgers, who has invested in helmet company VICIS and purchased helmets for the three high schools in his hometown of Chico, California, said he's switched helmets a few times in his career after wearing the same model as his predecessor, Brett Favre, when he first broke into the NFL in 2005.
"It's not difficult at all," he said of switching helmets. "I've worn very similar helmets my entire career. I changed after '10 — when I had two concussions — to a safer one. I was wearing the one like 'Favrey' was wearing for so long. That was a little outdated probably, and then I think around that time when the CBA got signed (in 2011), they had some better regulations about the safety quality of the helmets. And I've just kind of been up to date for years.
"Last year, my helmet — because there's been such advancements in helmet safety — my helmet was in the not-as-safe category. But anybody wearing that one got one more year to find a new helmet. I knew coming in I was going to have to change (this year)."
Extra points
Running back Aaron Jones, sidelined for more than a week earlier in camp by what he termed "hamstring tightness," finally got to do 11-on-11 work during Tuesday's practice. He had been limited to only individual drills on Saturday and Sunday. He will not play against the Ravens, however. … Safety Josh Jones attended practice but did not participate because of illness. … Still sidelined by injuries were running back Jamaal Williams (hamstring), cornerback Kevin King (hamstring), wide receiver/returner Trevor Davis (stinger), tight end Jace Sternberger (jaw) and cornerback Kabion Ento (hamstring). Safety Ibraheim Campbell (knee) and linebacker Greg Roberts (core muscle injury) remain on the physically unable to perform list.
Be the first to know
Get local news delivered to your inbox!