Who's in? Who's out?: Packers GM Brian Gutekunst faces challenging calls as final cuts loom
GREEN BAY — While last year was his first end-of-training-camp roster reduction as a general manager, Brian Gutekunst has been part of the Green Bay Packers' scouting staff for two decades. So he knows that the old cliché about it being the worst part of the job is true.
"Cutting guys is never easy," Gutekunst said last week. "It's always painful, regardless. I've been here the whole time. So, they're all ours."
Gutekunst was responding to a question about whether the dynamic changes for him when it comes to cutting one of predecessor Ted Thompson's draft picks as opposed to one of his own from the 2018 or '19 drafts. For instance, among Gutekunst's final cuts last year was ex-University of Wisconsin outside linebacker Vince Biegel, who'd been a fourth-round pick in 2017 and spent most of his rookie season battling foot injuries. Biegel caught on with the New Orleans Saints, played in 14 games last season and is expected to make their roster again this year.
This year, though, Gutekunst faces the prospect of cutting some of his own picks. He's already moved on from 2018 seventh-round pick Kendall Donnerson, and several other members of that draft class (fourth-rounder J'Mon Moore, fifth-rounder Cole Madison, sixth-rounder Equanimeous St. Brown and seventh-rounder James Looney) went into last Thursday night's Canadian preseason game against the Oakland Raiders in Winnipeg, Manitoba on the roster bubble.
"You do have to earn your keep," Gutekunst explained. "At the same time, to me, there's a short term and a long-term thought process to it, that sometimes can pull at each other. But, you've got to earn your right to be in that locker room. And if you haven't done that, it's hard to keep you around.
"Obviously, past history is probably the thing we study the most for future success. So, what guys have done in the past does factor in. But this is a changing league and it changes fast. So, it's really where those players stand now that matters. But there's guys that have played a long time in this league and have done some good things, and just because they had a bad week or a bad practice, you're not going to write them off."
As the NFL's mandatory cutdown to 53 players looms on Aug. 31 at 3 p.m. Wisconsin time, Gutekunst and his staff will have to weigh all those things, along with new head coach Matt LaFleur's new offensive scheme, which utilizes some offensive position groups that his predecessor, Mike McCarthy, didn't use as much. For instance, how many tight ends or fullbacks LaFleur requires might mean keeping fewer wide receivers or only two quarterbacks instead of three.
"It's a lot of communication between Matt and I," Gutekunst replied when asked how LaFleur's needs will influence his decisions. "I think the beauty of his vision and his offense is that he can kind of do anything. So he can kind of tailor it to the personnel that we have. And I think that's really important. Wherever our best players lie, I think he can kind of move in that direction. And those are some of the conversations we've had and will continue to have as we get down to this final cut.
"Because, you'd always like to keep the best 53 that you have, and not feel like you're locked into something just because of a number."
With that in mind, here's a look at where the Packers' 88-man roster stands entering the preseason finale Thursday against the Kansas City Chiefs at Lambeau Field:
QUARTERBACK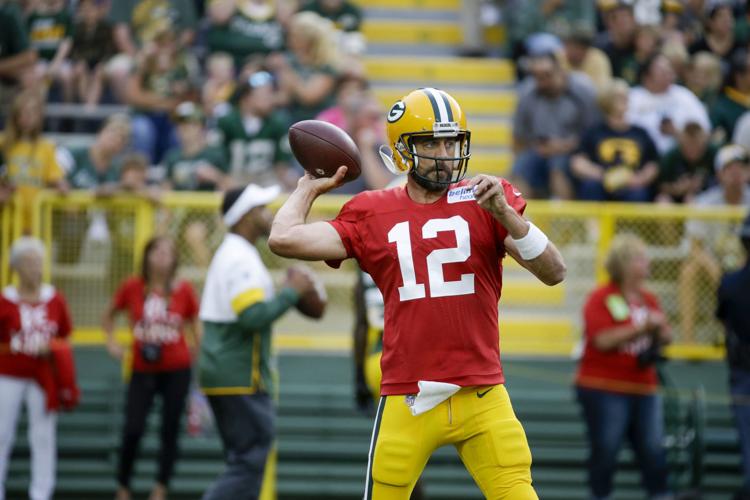 Locked in: Aaron Rodgers (above).
On the bubble: DeShone Kizer, Tim Boyle.
Not happenin', Cap'n: Manny Wilkins.
Number of roster spots: 2 or 3
With the other spots on the team where Gutekunst may need extra numbers, it's possible he'll only keep two — Rodgers, and his backup. Boyle started in Winnipeg and played very well. Kizer hasn't had a bad camp but he's still inconsistent. Would the Packers give up on a 23-year-old former second-round pick they acquired from Cleveland — and gave up a former first-round pick to get — who's in his fourth offensive system in four years? The guess here is no, and they keep both Kizer and Boyle. But they could opt for just one and carry their No. 3 on the practice squad.
RUNNING BACK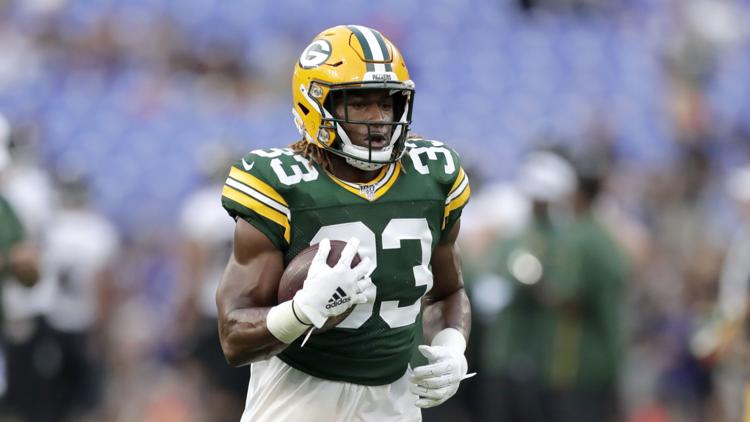 Locked in: Aaron Jones (above), Jamaal Williams, Danny Vitale.
On the bubble: Tra Carson, Dexter Williams, Malcolm Johnson, Tommy Bohanon.
Not happenin', Cap'n: Keith Ford.
Number of roster spots: 4 or 5
Dexter Williams is a sixth-round pick and has flashed potential in LaFleur's zone-blocking scheme but he's struggled in pass protection and catching the ball out of the backfield. He seemed to be destined for the No. 3 halfback job but Carson has had a strong camp. Vitale, meanwhile, is expected back from a calf injury and figures to have a prominent spot in the fullback-friendly offense. If Carson gets the No. 3 job, does Gutekunst keep a second fullback, and does he try to get his draft pick back on the practice squad? That might be the way to go.
RECEIVER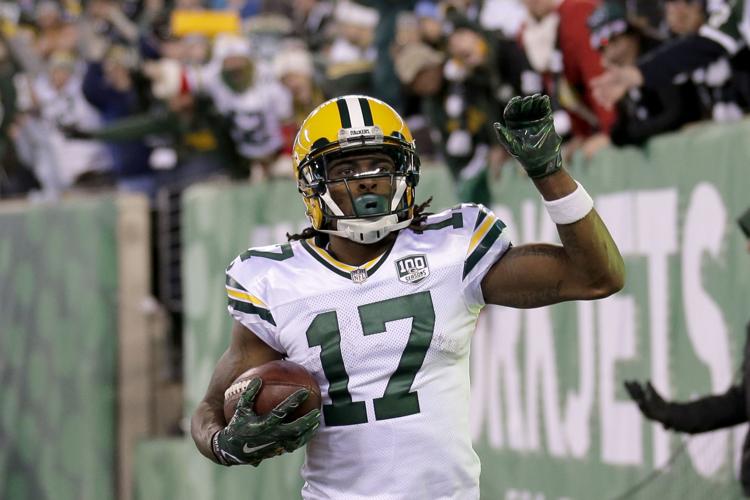 Locked in: Davante Adams (above), Marquez Valdes-Scantling, Geronimo Allison, Jake Kumerow.
On the bubble: Equanimeous St. Brown, Allen Lazard, Trevor Davis, Darrius Shepherd.
Not happenin', Cap'n: J'Mon Moore, Malik Taylor, Teo Redding.
Number of roster spots: 6 or 7
What a challenge Gutekunst faces here. Davis, with a boffo showing against the Raiders, looks like he probably has the No. 5 spot locked down, especially with his return skills. That leaves the rest of the receivers likely battling for one spot, since needs elsewhere likely preclude keeping a seventh. St. Brown left the Raiders game with what looked like a serious left ankle injury and might be headed to injured reserve. That would clear the way for Lazard, who has won over Rodgers in a big way, or Shepherd, perhaps the biggest surprise of camp. Moore, a fourth-round pick a year ago, likely would be best served with a fresh start with another team.
TIGHT END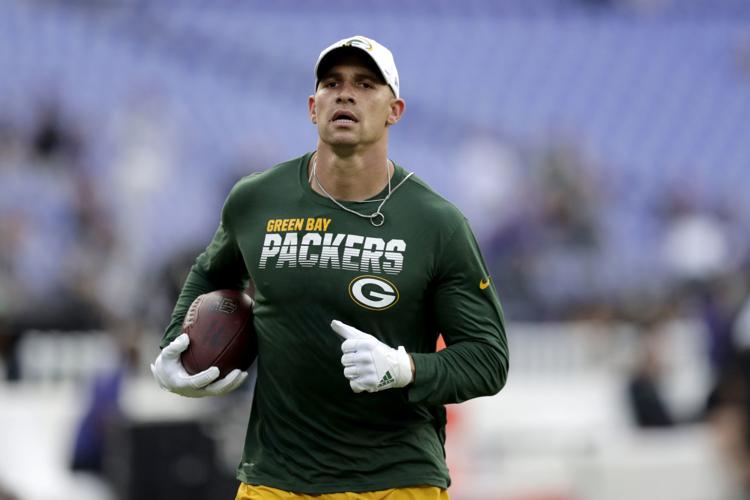 Locked in: Jimmy Graham (above), Robert Tonyan, Jace Sternberger.
On the bubble: Marcedes Lewis.
Not happenin', Cap'n: Evan Baylis, Pharoah McKever.
Number of roster spots: 4
It's hard to imagine the team would move on from Lewis given Tonyan and Sternberger's inexperience, but he is 35 years old and one-dimensional. Clearly the Packers are counting on Graham to regain his previous form and for Tonyan to make a huge leap in his second full season. Sternberger missed most of camp with a concussion sustained during joint practices with the Houston Texans, and he basically has one year of true college experience. How can he be expected to have an impact as a rookie? This could be a spot where the No. 4 tight end will be found on the waiver wire.
OFFENSIVE LINE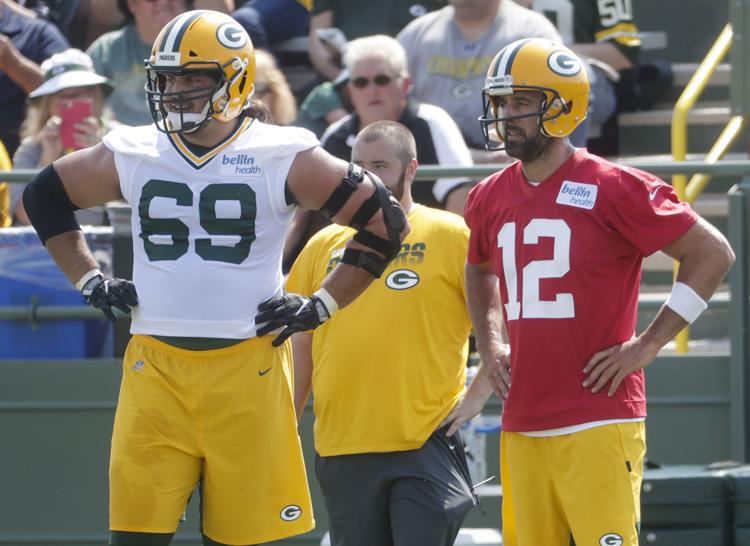 Locked in: David Bakhtiari (above left), Elgton Jenkins, Corey Linsley, Billy Turner, Bryan Bulaga, Alex Light.
On the bubble: Lane Taylor, Justin McCray, Lucas Patrick, Cole Madison.
Not happenin', Cap'n: Anthony Coyle, Gerhard de Beer, Adam Pankey, Yosh Nijman.
Number of roster spots: 8 or 9
The Taylor-against-Jenkins battle for the starting left guard job was put on hold in Winnipeg, as neither player was active. How the team decides to move forward will create a domino effect. If they trade or release Taylor, who still is an NFL starter, that likely means keeping both McCray and Patrick. If they keep Taylor, perhaps only one of those two sticks. Madison looks like he needs a year on the practice squad after a year away from the game. Light looked good against the Raiders but still constitutes a risk as the No. 3 tackle.
DEFENSIVE LINE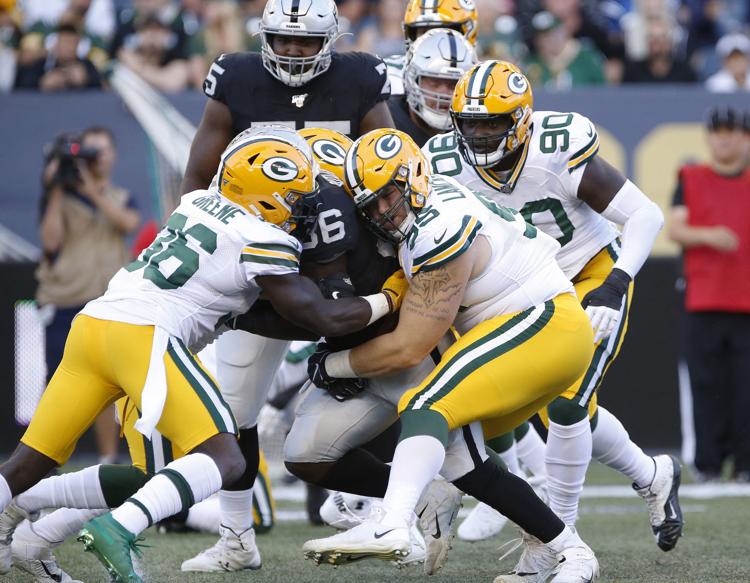 Locked in: Kenny Clark, Dean Lowry, Montravius Adams.
On the bubble: Tyler Lancaster (above right), Kingsley Keke, Fadol Brown, James Looney.
Not happenin', Cap'n: Deon Simon, Olive Sagapolu.
Number of roster spots: 5
The safe bet here is that Keke, a rookie fifth-round pick, and Lancaster, who came on strong late last season in five starts, are the fourth and fifth linemen. Brown, sidelined for much of camp with a calf injury, could also be a keeper. Looney still could be a practice-squad option, as could Sagapolu, the former Badger who joined camp late and is still healing from a shoulder injury he suffered as a senior.
OUTSIDE LINEBACKER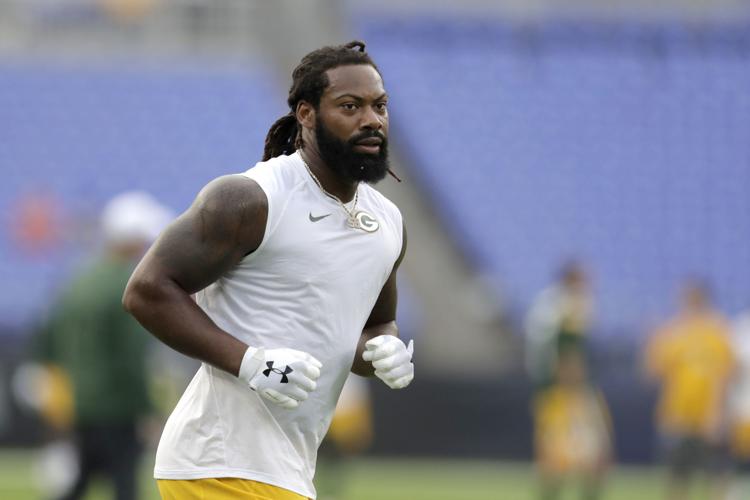 Locked in: Za'Darius Smith (above), Preston Smith, Rashan Gary, Kyler Fackrell.
On the bubble: Reggie Gilbert, Randy Ramsey, Markus Jones.
Not happenin', Cap'n: Greg Roberts.
Number of roster spots: 5 or 6
Gilbert is the logical pick as the No. 5 here, but Ramsey and Jones have flashed in camp, too. Roberts is on the physically unable to perform list and has yet to practice, so he figures to stay there when the regular season begins. The Packers' major investment in the two Smiths and their first-round selection of Gary, who has had a quiet camp after a strong start, make them the cornerstones of this group. Fackrell, coming off a 10.5-sack season and in a contract year, will have to prove last year wasn't a fluke, but he's a legit special-teams leader and a valuable part of the rotation.
INSIDE LINEBACKER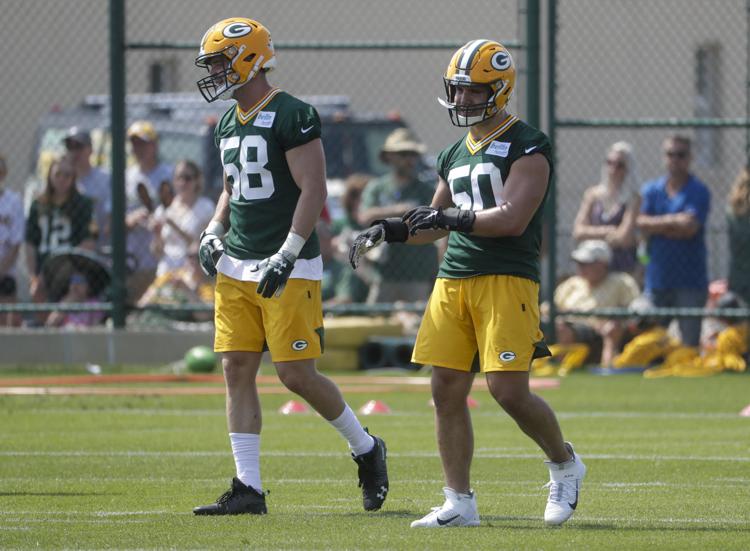 Locked in: Blake Martinez (above right), James Crawford.
On the bubble: Oren Burks, Curtis Bolton, Ty Summers, Brady Sheldon (above left).
Number of roster spots: 3 or 4
Burks said last week that his pectoral muscle injury will not require surgery, but that he still isn't sure what the timeline is for his return. Bolton replaced him in the starting lineup, but now his status is uncertain after what appeared to be a serious knee injury suffered in Winnipeg. That leaves the position wide open — and a spot where Gutekunst might be in the trade market. Crawford's spot is secure because he's such a vital special-teamer, but how ready he is to play on defense alongside Martinez in base and nickel defenses is uncertain. Sheldon and Summers, a seventh-round pick, have both had good moments and could be in a mano-a-mano battle for a roster spot against the Chiefs.
CORNERBACK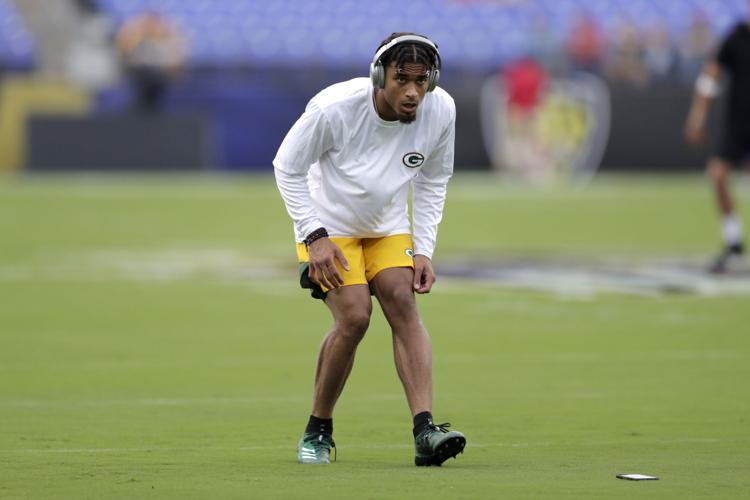 Locked in: Jaire Alexander (above), Kevin King, Josh Jackson, Tony Brown, Tramon Williams, Ka'Dar Hollman.
On the bubble: Chandon Sullivan, Kabion Ento, Nydair Rouse.
Number of roster spots: 6
King's troublesome hamstring has derailed what had been a strong camp, and his injury history means keeping an extra corner could be wise. Jackson missed the first 2/3 of camp with a foot injury but is finally back in the mix, and Brown has stepped in with Jackson and King out and earned his keep. Hollman, a sixth-round pick, has shown more than enough to merit a roster spot. Sullivan, meanwhile, has shown a ton of potential and would be a practice-squad keeper if he gets through waivers — or could stick on the roster if King's hamstring injury or Hollman's stinger linger.
SAFETY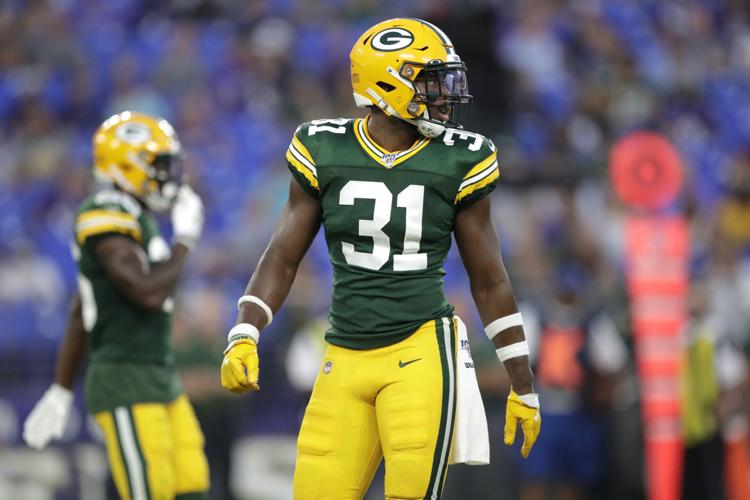 Locked in: Adrian Amos (above), Darnell Savage, Raven Greene.
On the bubble: Josh Jones, Natrell Jamerson, Will Redmond, Ibraheim Campbell.
Not happenin', Cap'n: Mike Tyson, Tray Matthews.
Number of roster spots: 4
Greene got extended work to start camp while Savage was out following a dental issue, and he locked up a roster spot with his play and versatility. He's been the sixth man in the dime defense, serving as the safety/linebacker hybrid instead of Jones. Bringing back Campbell, who is coming off a torn ACL, meant the return of a player the Packers liked a lot last season before his injury. He's on PUP and probably will stay there to start the year — but should be a contributor once eligible to return. For now, Jamerson and Redmond are both options for the fourth spot, and both have the versatility to play cornerback, too. The wildcard here is Jones, who has been sitting out practices with what the team has said is an illness. After his offseason of discontent and request for a trade, it's hard to see the point in keeping the 2017 second-round pick who clearly needs a fresh start elsewhere.
SPECIALISTS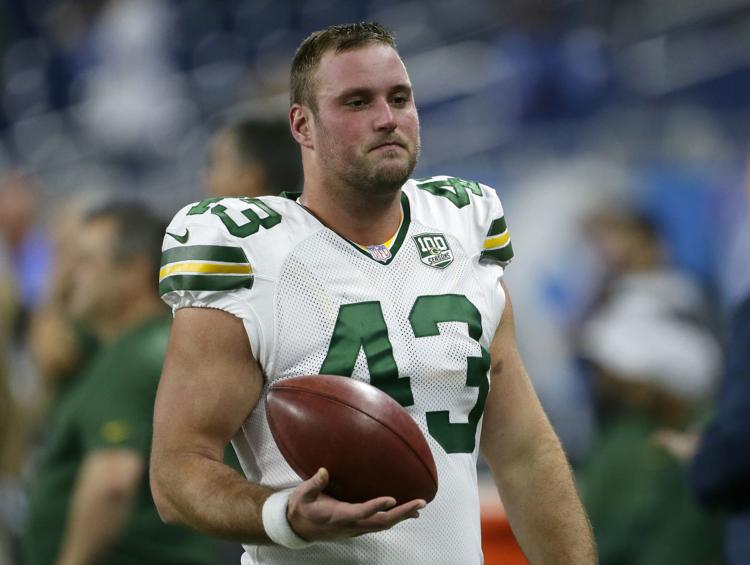 Locked in: JK Scott, Hunter Bradley (above).
On the bubble: Mason Crosby, Sam Ficken.
Number of roster spots: 3
Scott has punted very well in preseason and special-teams coordinator Shawn Mennenga has been thrilled with Bradley's improvement as the long-snapper. Keeping Crosby, even with the most expensive kicker contract in the NFL, is the prudent thing to do. That's no slight on Ficken, who has an NFL-caliber leg, but too many other teams — including two in the Packers' own division in the Chicago Bears and Minnesota Vikings — have endured unrest with their kickers and paid the price. Would Gutekunst take the same risk on the unproven Ficken? It would be dangerous, to be sure.
---
Jason Wilde covers the Packers for ESPN Wisconsin. Listen to him with former Packers and Badgers offensive lineman Mark Tauscher weekdays from 9 a.m. until noon on "Wilde & Tausch" on 100.5 FM ESPN Madison.