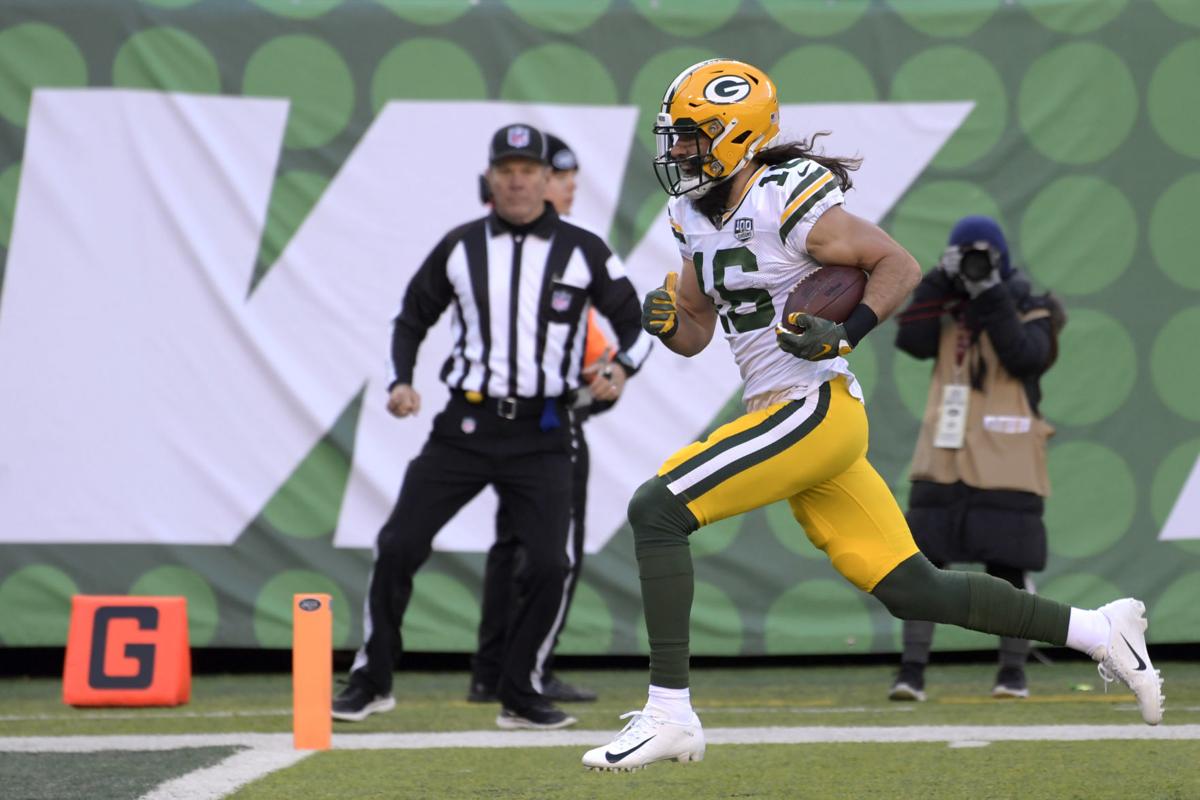 GREEN BAY — Jaire Alexander's guilty smile said it all.
The Green Bay Packers ultra-confident second-year cornerback sat atop a locker-room table earlier this week, making proclamations — about how good his defense is going to be ("Defense wins championships — I've always said that!"); about how his guys dominated the Houston Texans offense during their joint practices ("We smashed 'em … We killed 'em); about how he expects defensive coordinator Mike Pettine's crew to dominate in late-game situations ("We want to hold the standard that we own 2-minute").
Keep in mind, of course, that Alexander is the same cocky fellow who during the offseason who predicted he'd be an All-Pro and Pro Bowl pick this season.
But then the conversation turned to Jake Kumerow, the second-year wide receiver who has impressed throughout training camp — just as he did last year — entering Thursday night's preseason opener against the Houston Texans at Lambeau Field. Quarterback Aaron Rodgers had posited that defenders frequently underestimated the former UW-Whitewater star, and Alexander was asked if he'd ever done so.
"For sure. Yeah. He comes out here with that long hair, that nice smile — nobody's taking that stuff seriously," Alexander confessed. "And then he goes deep on you and you're like, 'Oh, all right, OK, I've got to put some respect on him.' For sure."
Alexander wanted to make clear that he hadn't underestimated Kumerow during last Friday's Family Night practice, when Kumerow beat him up the right sideline and made a terrific one-armed 37-yard catch on a Rodgers throw, even with Alexander clinging to Kumerow's left arm.
"Jake Kumerow, he's a beast," Alexander continued. "Cool. Cool guy, a competitor, I really like his hands, his routes. He's real good. He's one of those sleeper kind of receivers, (where) you don't really expect it. Shoot. He's definitely good."
The first week of training camp, Rodgers acknowledged he was running out of superlatives for Kumerow — "I don't need to say anything else about Jake; you guys know how I feel about him," he said — but when asked in what ways he'd seen Kumerow develop from last year's camp to this year's, he had plenty to say.
"He just looks even more comfortable. He's always been a very smooth route runner; he's just even more comfortable," Rodgers said. "The thing I look for, (like) the throw I hit him on in Family Night against Jaire, was his 'late hands.' That's just something that's hard to teach. The trust to wait 'til the last second to put your hands out there against a great defender who's basically playing his hands and not seeing the football, you can't teach that.
"The best guys we've had here over the years — from Greg (Jennings) to James (Jones) to Jordy (Nelson) to Randall (Cobb) — all could do that: To run full speed and at last second put their hands up. He's just a very mature route runner. And I think he's faster than a lot of guys who line up over him give him credit for, until they get beat on top."
Rodgers then brought up a play that happened during the joint practices, when Kumerow whipped Texans' two-time Pro Bowl cornerback Johnathan Joseph off the line of scrimmage but Rodgers threw the ball to the other side of the field.
"He's just a very smart guy, cerebral guy," Rodgers said. "And you guys know I love playing with those kind of guys."
For his part, even after all that Rodgers has said and after coach Matt LaFleur's effusive praise following Family Night — "It speaks to just what we've been saying all along: 'You can always count on Jake,'" LaFleur had said – Kumerow continues to insist that nothing has changed for him.
"I'm trying to make the team this year," Kumerow said. "That's my plan, trying to make the team like I always do every year."
Kumerow did just that last summer, when he worked his way into first-team reps with Rodgers early in camp and caught six passes for 190 yards and two touchdowns in preseason play, including an 82-yarder against Pittsburgh at the end of which he dove into the end zone, injuring his shoulder. That sidelined him for the first three months of the season, but he was activated off injured reserve in time to catch eight passes for 103 yards (including a 49-yard touchdown from Rodgers in the Packers' comeback win over the New York Jets on Dec. 23) in the final five games.
The 27-year-old Kumerow appears to be solidly at the No. 4 spot in the receiver pecking order, behind Davante Adams, Geronimo Allison and Marquez Valdes-Scantling, although that could chance over the next four games.
Kumerow, who suffered an injury to his left pinkie finger during Family Night and was wearing a metal splint afterward, was on the No. 1 kickoff coverage unit in addition to his receiver duties. Continuing to improve on special teams would certain help solidify his roster spot — the one he refuses to take for granted.
"I don't think my approach has changed. You always need big plays out there in situations that are when the lights are on and the crowd's out there," Kumerow said. "Before, I'd be getting in the huddle with Rodgers and with some of the 1s and I'd be excited, but (in awe). Now, I'm excited still, to get in there with them, but now it's feeling more normal because I'm doing it more and more. Getting more reps with them, I feel like I've grown in that part. Because I hop in the huddle and it's just, 'OK, here we go.'"
"I just try to do me every time, try not to be any different. I don't think anything's changed. Maybe I'm getting more reps here with the 1s than I have in the past, but the rep count is the same. It just depends on who you're getting them with. It's not like I'm getting more plays than previous camps, they just might be with different quarterbacks. So my mentality's the same – trying to make the team."
Be the first to know
Get local news delivered to your inbox!