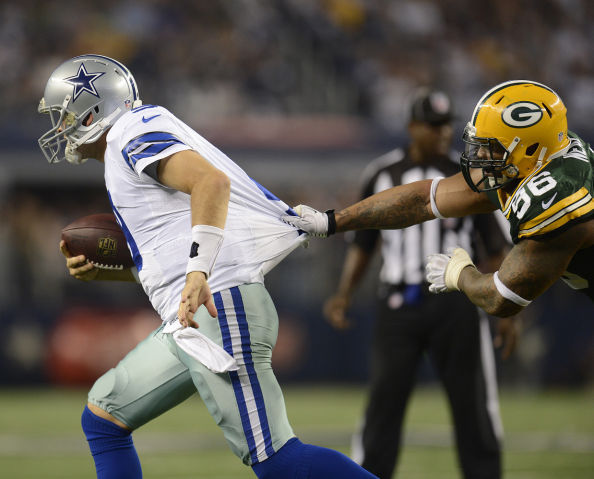 ARLINGTON, Texas — The Green Bay Packers did the impossible in the first half Sunday.
They made the Dallas Cowboys defense look good.
Then, in the second half, the Packers performed an even greater feat.
It took a comeback of historic proportions to do it, but the Packers' 37-36 victory over the Cowboys at AT&T Stadium was so improbable not even they seemed to believe it had actually occurred.
"What a feeling," quarterback Matt Flynn said. "We were all just sitting around at the end taking knees and we were like, 'Is this real? Is this happening?' "
Oh, it happened all right. Trailing 26-3 at halftime after giving up 332 yards while managing just 132 against the NFL's 32nd-ranked defense, the Packers looked like a team that had finally wilted under the weight of too many games without injured quarterback Aaron Rodgers, too many injuries in general and a defense that had forgotten how to force turnovers.
But on the first play of the second half, dynamic rookie running back Eddie Lacy burst off the left side for 60 yards and, just like that, the Packers became a different team. With Flynn looking like the quarterback who had once torched Detroit for six touchdown passes in a meaningless, end-of-the-season game, they exploded for 301 yards and scored touchdowns on their first five possessions of the second half. And their beleaguered defense came up with interceptions on the Cowboys' final two possessions to seal the deal.
"It took me everything not to cry," coach Mike McCarthy said of the Packers' emotional postgame gathering.
That's funny, because Packers' fans had every right to be in tears after the first half, when Green Bay looked just as bad as it had in a dismal loss at Detroit on Thanksgiving Day. Instead, the Packers tied a 31-year-old franchise record by rallying from 23 down and remain within striking distance of Chicago and Detroit in the NFC North Division race.
None of that looked even remotely possible after the first half. Then again, no one should ever underestimate the heart the Packers have developed under McCarthy.
"I think all of us probably thought (it was over)," Flynn said. "We were pretty frustrated. We knew that there was a chance that we could do it, but I think more of the conversation at halftime was, 'Let's be men. Let's show what we're made of, show our pride, go out there and execute the way we know how to.' Something was said about winning, but we told each other that we had to look down deep and dig ourselves out of the hole from that first half of playing so bad. That says a lot about our guys."
One thing that never entered the Packers' halftime locker room was panic. They might not be NFL's most talented team right now, but they always stay the course. They've now rallied behind Flynn in the second half for back-to-back victories after going 0-4-1 in their first five games without Rodgers.
"Most guys would have packed it in, 'OK guys, it's not our season. Let's just go home and get ready for next year,' " cornerback Tramon Williams said of the halftime locker room. "Not that vibe here. We came in, got a great vibe from the coaches, everyone. No yelling, everyone trying to get on the same page. We came in and made the adjustments that we needed to. We had the sense of urgency that we needed. The offense went out and scored right away. That was big. That's a confidence booster. We knew those guys can do that, and they did it. We knew we needed to make stops then, and we kept making stops. ... We saw things going our way, and it was, 'OK, we're here. We're going to keep fighting, keep punching.' And eventually, we kicked the door down."
The Packers had help with that, of course. Cowboys quarterback Tony Romo threw the two late interceptions, one on an audible from a running play. The Cowboys also helped by inexplicably continuing to throw the ball instead of running it to shorten the game. And, of course, the Packers couldn't have done it had not the Cowboys' horrid defense finally returned to form in the second half.
But this rally wasn't about the Cowboys, it was about the Packers. It was about a team that has seen every form of adversity and remains alive in the playoff race. Even Sunday, the Packers seemed doomed after an apparent interception by Williams deep in Dallas territory was overturned on review.
But nothing could deter the Packers, who haven't played here since winning the Super Bowl three years ago. That victory over Pittsburgh was one of the more memorable games in franchise history. You can put Sunday's game on that list as well.
"I haven't felt this way in a long time," linebacker Clay Matthews said. "I feel like we won the Super Bowl. ... With all the adversity we've been through, the injuries, just everything, for us to come down here and get this victory, and in the fashion in which we did, it really speaks volumes for this team and hopefully where we're headed."
The Packers still have hills to climb, but after Sunday, nothing seems impossible.