A segment of University of Wisconsin fans might not understand or appreciate UW's reputation as one of college football's leading developmental programs, but one group out there is thoroughly impressed.
We're talking about NFL scouts.
UW has been taking 3-star recruits and turning them into 4- and 5-star players for more than two decades, a pattern that is reflected not only in the Badgers' winning record but in the number of players they've had picked in the NFL draft and the success those players have had once they reached the league.
NFL scouts have enormous respect for how UW develops recruits into the best players they can be. Whether it's weight training, technique work, football IQ or general accountability, the Badgers get high marks from NFL personnel departments. Teams that select UW players know they're getting NFL-ready performers.
The proof is in the drafting.
Running back Jonathan Taylor, linebacker Zack Baun and center Tyler Biadasz are expected to go in the first three rounds of the 2020 draft, which starts next Thursday. Wide receiver Quintez Cephus and linebacker Chris Orr also could hear their names called in the later rounds and wide receiver A.J. Taylor and guard Jason Erdmann should land in NFL camps as undrafted rookies.
That's a typical draft for UW over the past 20 years. The Badgers may not recruit off the 5-star lists like Alabama, Ohio State, Clemson, Southern Cal and a handful of other schools do and they may not have the overall speed and athleticism that those schools have, but they usually make a noticeable impact in the draft.
We already know they make an impact on the scoreboard. Despite recruiting classes that, until the past two years anyway, consistently ranked in the 30s and 40s nationally, UW competes fairly evenly on the field against even the top programs.
UW's past two recruiting classes under coach Paul Chryst ranked in the 20s, but even that pales in comparison with the teams that are fixtures in the top 10 on the recruiting lists every year. Yet, UW somehow keeps winning on the field, a trend that has withstood the test of time.
The Badgers have 188 victories in the past 20 years, which ties them with Southern Cal and Oregon for eighth nationally behind the usual suspects — Ohio State, Oklahoma, Boise State, Alabama, LSU, Georgia and Clemson — and puts them ahead of traditional powers such as Michigan, Penn State, Florida, Florida State, Miami (Fla.) and Texas.
But while college football has changed dramatically in the past 10 years, things haven't changed much for the Badgers. Since 2010, UW has 102 wins, which puts it seventh nationally. It has finished the season ranked in the top 13 six times in 10 years.
UW's performance in the NFL draft reflects both those win totals and how well it is developing players.
In the 20 drafts since the turn of the century, UW had 81 players drafted, which ranks 12th. As for first-round draft picks, UW has 15 in the past 20 years, which ties it with Tennessee for 11th-best. Among Big Ten Conference teams, only Ohio State (131 picks, 31 first-rounders) and Michigan (83 picks) rank ahead of the Badgers in those categories.
UW hasn't dropped off in the past 10 drafts, either. Its 37 picks overall were tied for 14th and its seven first-round picks were tied for 11th. Only Ohio State (62 picks, 15 first-rounders) and Penn State (38 picks) rank ahead of UW in those categories among Big Ten teams.
Moreover, UW's drafted players generally have made an impact in the NFL, especially the offensive linemen, linebackers, tight ends and running backs. Of UW's seven first-round picks since 2010, only offensive tackle Gabe Carimi didn't have a long career.
The other six hit in a big way. Defensive end J.J. Watt, center Travis Frederick, offensive tackle Ryan Ramczyk and outside linebacker T.J. Watt have been named first-team All-Pro, the NFL's most prestigious postseason team. Running back Melvin Gordon has been to two Pro Bowls and guard Kevin Zeitler was named to the all-rookie team and should have been to the Pro Bowl by now.
Among other early round picks, quarterback Russell Wilson and linebacker Joe Schobert have been to Pro Bowls, offensive tackle Rob Havenstein and linebacker Chris Borland were named to all-rookie teams and running back James White has three Super Bowl rings.
Of the 37 Badgers drafted in the past 10 years, every one played in the NFL. Only five didn't start at least one game and one of those was punter Brad Nortmann. All four of last year's draft picks — guard Michael Deiter, linebacker Ryan Connelly, linebacker Andrew Van Ginkel and offensive tackle David Edwards — started games, as did undrafted rookie linebacker T.J. Edwards.
There are reasons for that level of success from a program that has recruited only one 5-star player (offensive tackle Logan Brown) and 29 4-star players in the past 12 years. The Badgers' offensive and defensive systems have plenty of NFL influences in them. UW players are disciplined, physically developed and very well-coached. They also play in the Big Ten, which means they're prepared to make an immediate impact in the NFL.
Indeed, UW's development process just keeps churning out low-risk, high-reward draft picks, something NFL scouts have come to appreciate.
---
Here's how NFL draft analysts see Wisconsin Badgers' prospects
Here's how NFL draft analysts see Wisconsin Badgers' prospects
JONATHAN TAYLOR, RB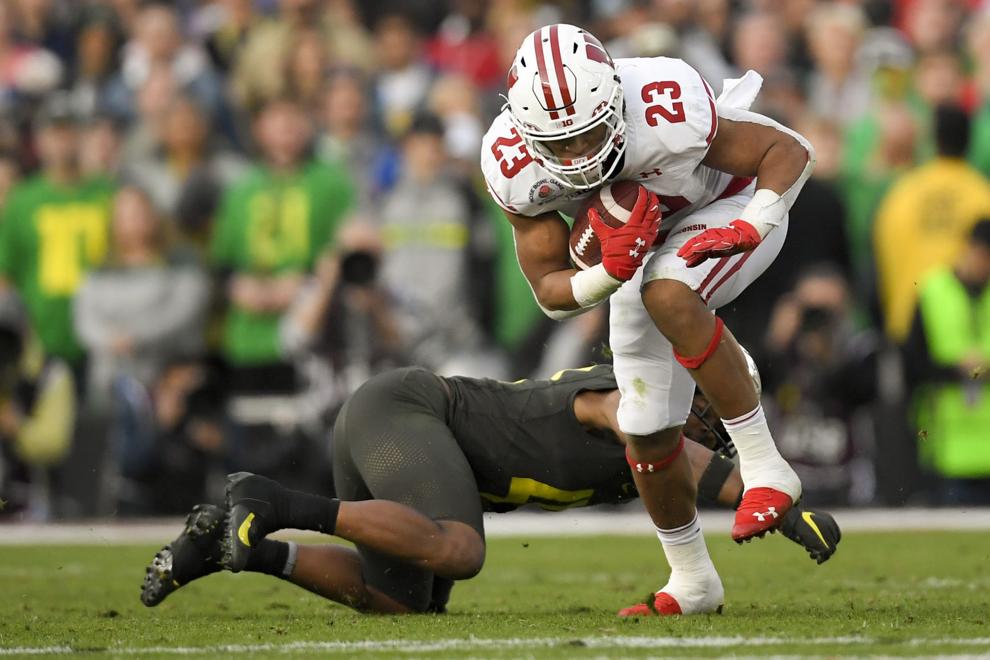 No running back in college football history had the production Taylor had in his three years with the Badgers. His 6,174 career rushing yards are the most in Football Bowl Subdivision history in three seasons, and he accounted for 55 career touchdowns.
Taylor's best skills, per Kyle Crabbs of The Draft Network, are his patience and vision as a runner. It's difficult to teach running backs to press the line of scrimmage and then explode through a hole once it's created, but Taylor has been doing that since he was a freshman for the Badgers. Crabbs also noted Taylor's balance and ability to continue moving forward through contact as strengths.
According to Matt Miller, Bleacher Report's NFL draft analyst, the biggest concerns attached to Taylor are durability and fumbling. Taylor never missed a game through three seasons at UW, but 926 career carries to go with 42 catches amount to a lot of wear-and-tear on a body. He had 18 fumbles in his UW career, including six this season.
Taylor eliminated all doubt about his speed by running a 4.39-second 40-yard dash at the Combine, and by multiple accounts was impressive in his interviews. Taylor can't shake any concerns teams may have regarding his college workload, but he showed his physical capabilities and likely moved himself up teams' draft boards.
Combine measurements: 5 feet, 10¼ inches; 226 pounds; 9½-inch hands; 31⅛-inch arm length; 75⅜-inch wingspan
Combine testing: Bench, 17 reps; 4.39-second 40-yard dash (first among RBs at Combine, fastest by UW RB ever, fourth-fastest time by UW player ever); 36-inch vertical jump; 123-inch broad jump (10 feet, 3 inches); 7.01-second three-cone drill; 4.24-second 20-yard shuttle.
ESPN: No. 3 running back, No. 28 overall.
The Draft Network: No. 3 running back, No. 33 overall. 
CBS: No. 1 running back, No. 24 overall.
Bleacher Report: No. 3 running back
Pick range: Late first round to mid-second.
TYLER BIADASZ, C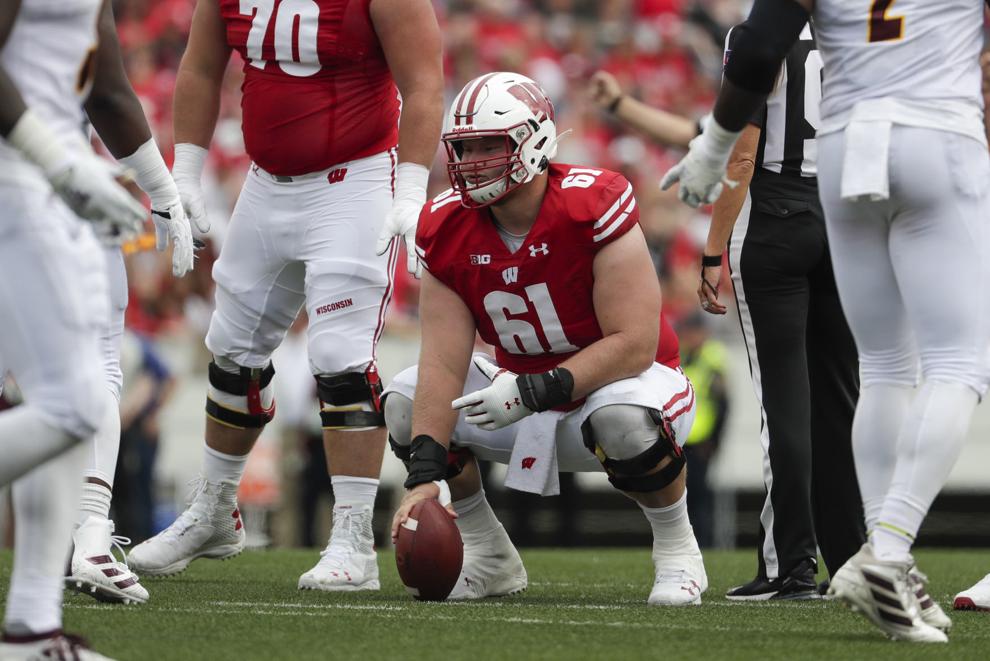 Biadasz may have taken a risk last year when he decided to return for his redshirt junior season — many draft evaluators thought he could've been a second- or third-round pick if he declared for the 2019 draft. That risk paid off, as Biadasz stayed healthy, became a consensus All-American, and UW's first Rimington Award winner as the nation's best center.
He put together a strong season individually while also making all the line calls for UW's pro-style offense, a skill that directly applies to what NFL centers are asked to do. ESPN's draft guru Mel Kiper wrote last month that Biadasz's quickness and ability to pull set him apart, and that he improved each season he was at UW.
However, offseason hip surgery before his final season at UW affected his play, according to The Draft Network's Kyle Crabbs. He wrote last month that Biadadz showed regression this season. "He's going to have to recapture his functional mobility and technique of his early days at Wisconsin if he is to reach his potential," Crabbs wrote. 
Biadasz couldn't compete in drills at the Combine due to a shoulder surgery. He is expecting to be ready for April OTAs with whichever NFL team drafts him. That may hurt his standings in the eyes of NFL teams due to his injury history, but he showed "impressive" knowledge in interviews, according to ESPN's Mel Kiper. 
He may have to wait longer to hear his name called than he originally expected, but if Biadasz can get healthy, he still projects as a Day 1 starter in the NFL. 
Combine measurements: 6 feet, 3⅝ inches; 314 pounds; 10-inch hands; 32¼-inch arms; 79⅞-inch wingspan.
Combine testing: Did not participate in drills
ESPN: No. 2 center, No. 58 overall.
The Draft Network: No. 10 interior offensive lineman, No. 121 overall. 
CBS: No. 14 offensive lineman, No. 70 overall.
Bleacher Report: No. 8 interior offensive lineman.
Pick range: Third-fourth round
ZACK BAUN, OLB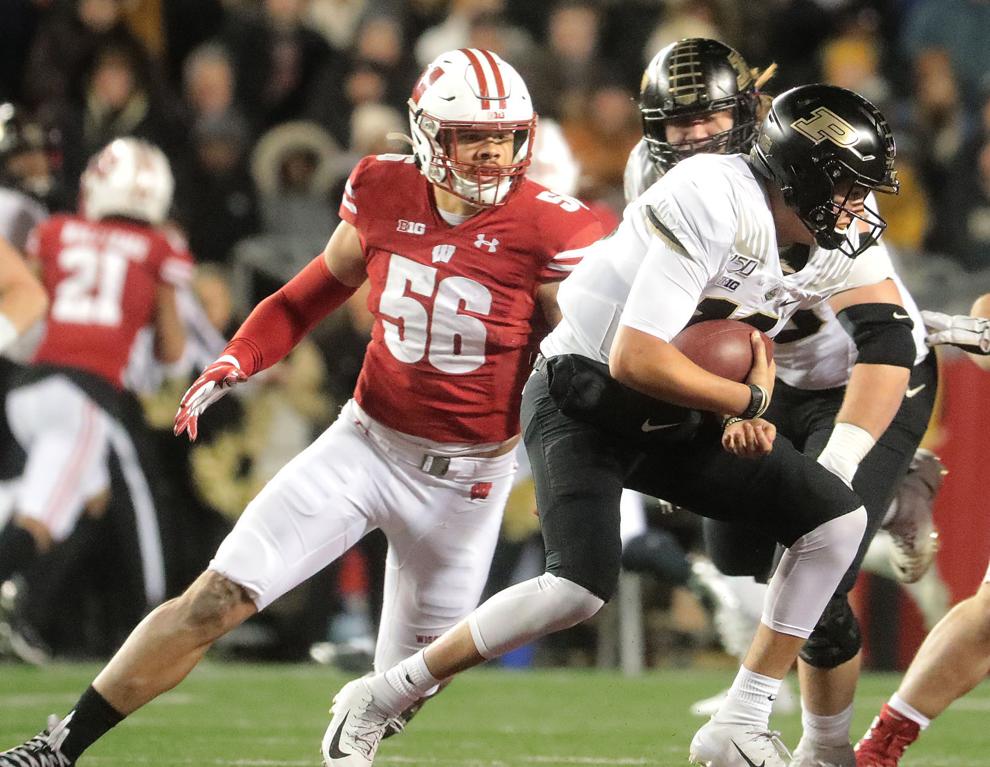 No UW player's draft stock rose more this season than Baun's, as his second season as a starter was outstanding. Baun earned All-American honors after tallying 76 total tackles, 19½ for loss, and 12½ sacks.
"I really love Baun's versatility and motor. He plays with great effort and has some shock in his hands coming off the edge," ESPN's Todd McShay wrote in late January. "Injuries have limited him over his college career, but NFL evaluators are starting to see his upside, especially after a strong Senior Bowl week. He is instinctive and has some quickness to his game."
The Draft Network's Benjamin Solak wrote that Baun's strengths include a quick first step, snap anticipation, rush moves and high motor.
Baun needs those attributes to compensate for his lack of size — at 6-foot-3 and 235 pounds, Baun will need to add weight to his frame without losing his speed in the NFL. Solak wrote that Baun needs to improve his bend around the edge to be an effective NFL rusher. 
Baun showed his quickness at the Combine with top-five performances in the three-cone drill and 20-yard shuttle, and was able to discuss his versatility with teams. Many mock drafts have Baun drafted late in the first round.
Combine measurements: 6 feet, 2⅜ inches; 238 pounds; 9⅝-inch hands; 32¾-inch arm length; 78¼-inch wingspan
Combine testing: Bench, 24 reps (third-most for LB at Combine); 4.65-second 40-yard dash; 32.5-inch vertical jump; 115-inch broad jump (9 feet, 7 inches); 7.0-second 3-cone drill; 4.31-second 20-yard shuttle
ESPN: No. 2 outside linebacker, No. 37 overall.
The Draft Network: No. 4 edge player, No. 27 overall. 
CBS: No. 4 linebacker, No. 35 overall.
Bleacher Report: No. 4 linebacker
Pick range: Late first to early second
QUINTEZ CEPHUS, WR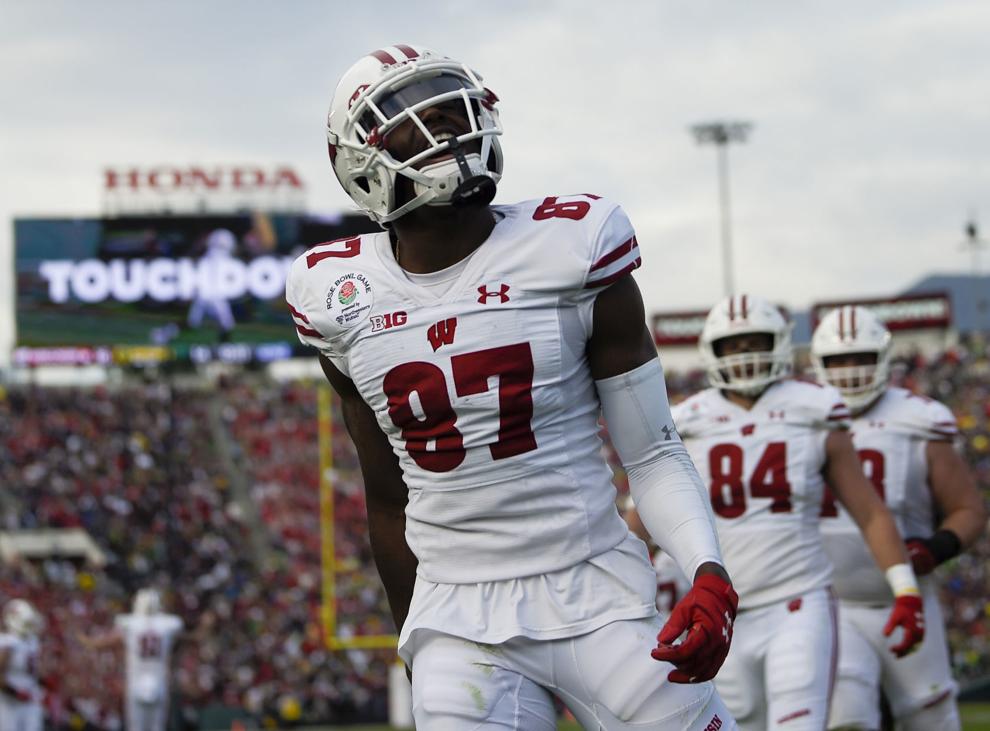 Cephus declaring for the draft was somewhat of a surprise, but he had a strong season as UW's No. 1 receiver. His 59 catches for 901 yards and seven touchdowns were all team-highs. Cephus is part of a loaded class at wide receiver, one that could produce as many as seven first-round picks.
Writing early in the season, Crabbs noted Cephus' ability to adjust to balls in the air and shield defenders while making a catch. Cephus also ran a wide range of routes from the outside and in the slot — versatility that will help him at the next level.
Cephus ran a 4.73-second 40-yard dash at the Combine, which was in the bottom third of receivers, but he posted the most reps on bench and was in the top 10 in the vertical leap and three-cone drill. Cephus made up for his slow 40 time with a 4.56-second run at UW's pro day, but his college tape will need to be his biggest sell.
Combine measurements: 6 feet, ⅞ inch; 202 pounds; 8¾-inch hands; 32⅛-inch arm length; 77-inch wingspan.
Combine testing: Bench, 23 reps (first among receivers, UW WR record); 4.73-second 40-yard dash; 38½-inch vertical jump; 124-inch broad jump (10 feet, 4 inches); 7.2-second 3-cone drill; 4.33-second 20-yard shuttle
ESPN: No. 29 wide receiver, No. 176 overall
The Draft Network: No. 15 wide receiver, No. 127 overall.
CBS: No. 30 wide receiver, No. 197 overall
Bleacher Report: No. 27 wide receiver
Pick range: Day 3 (rounds 4-7), with late round 3 a possibility
CHRIS ORR, ILB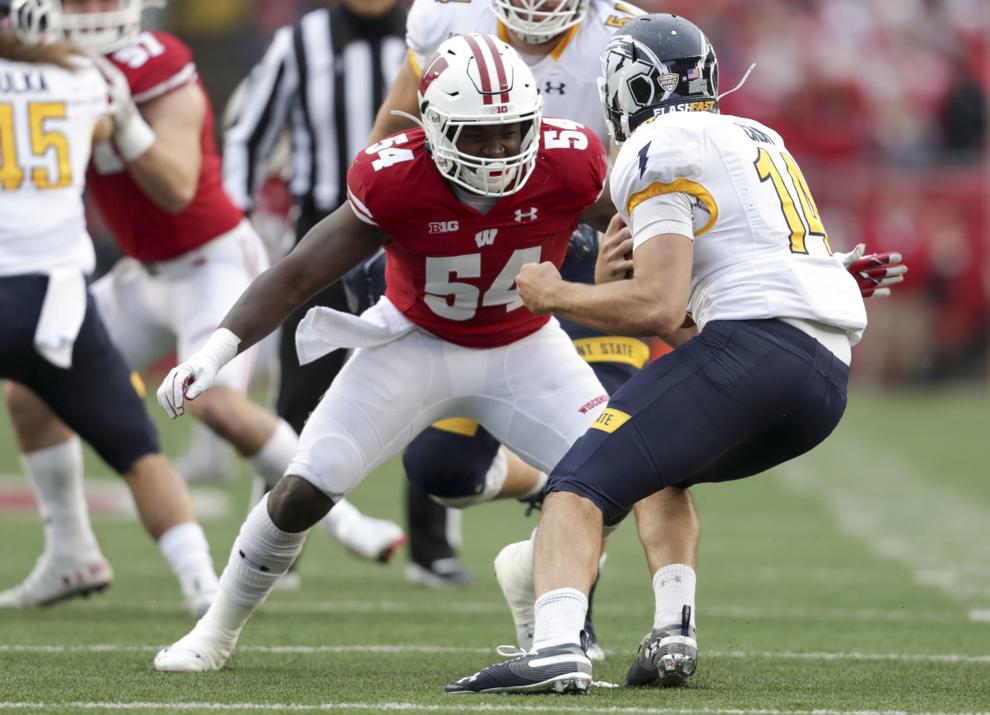 In his first full season as a starter, Orr showed what he could do as a pass rusher and as a leader for UW. He had 78 total tackles and 11½ sacks to go with five pass breakups, eight quarterback hurries and two forced fumbles.
In a midseason evaluation, Crabb wrote that Orr has a knack for delivering explosive hits and his dense frame helps get ball-carriers to the ground. He also has shown a high motor and pursues well to the ball.
Orr rarely showed his pass coverage abilities in UW's scheme and is undersized for an NFL inside linebacker. He had a tremendous showing at the Badgers' pro day, one of the few that was complete before the COVID-19 pandemic forced many to cancel. 
Orr could get taken with a late-round pick, or be a sought-after undrafted free agent immediately after the draft.
UW pro day testing: 4.65-second 40-yard dash, 4.08-second 20-yard shuttle, 6.99-second three-cone drill; 9-foot, 2-inch broad jump; 36½-inch veritcal; 20 reps on bench
ESPN: N/A.
The Draft Network: No. 33 linebacker, No. 346 overall
CBS: N/A.
Bleacher Report: No. 48 overall linebacker
Pick range: Sixth-seventh.
JASON ERDMANN, OL
Erdmann showed versatility throughout his UW career, playing multiple positions. He showed he could play both guard spots and at center.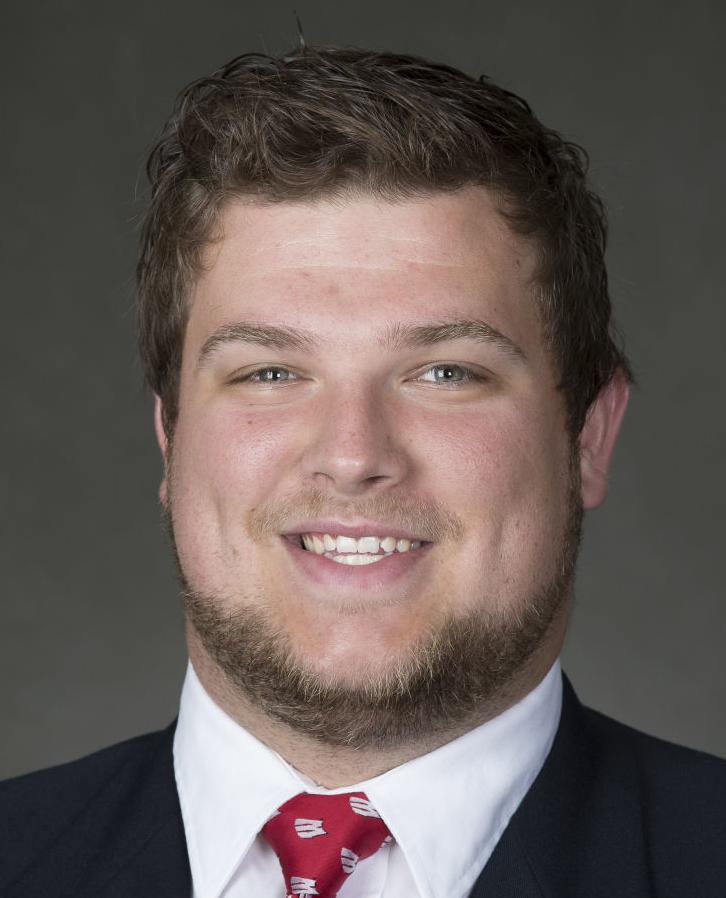 At UW's pro day, Erdmann ran a 5.5-second 40-yard dash on his first attempt, but pulled up with an apparent leg muscle injury on his second try. He completed 21 bench reps, but didn't participate in other drills. 
Erdmann's pro chances are as an undrafted free agent.
ESPN: N/A.
The Draft Network: N/A.
CBS: N/A.
Bleacher Report: N/A.
Pick range: Undrafted.
Video: Ultimate Jonathan Taylor Highlights
Video: Ultimate Quintez Cephus Highlights