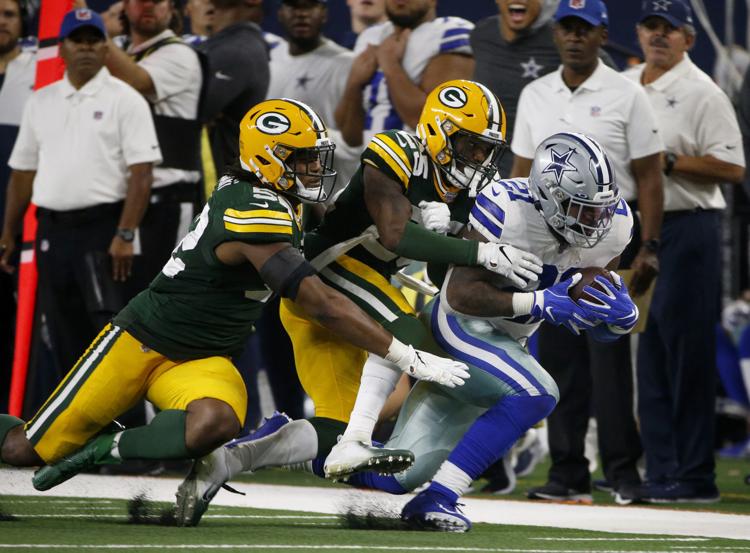 Packers defensive coordinator Mike Pettine was asked a host of questions last week about his unit's run defense, after the Philadelphia Eagles hung 176 yards on Green Bay and dominated the line of scrimmage during the Packers' first loss of the season. Pettine vowed that the defense wasn't far off from limiting the issues against the run, but the Dallas Cowboys still managed 122 yards on 21 overall attempts (5.8-yard average) and running back Ezekiel Elliott (above) was productive (12 carries, 62 yards, 5.2-yard average) before the Packers built an enormous lead and the Cowboys started throwing almost non-stop.
Nevertheless, Pettine felt there was marked improvement against the Cowboys, if you looked closely enough. Of Elliott's 62 yards, for example, 24 came on back-to-back 12-yard runs on his first two carries of the game. And another 21 yards came on 7- and 14-yard carries in the final 13 seconds of the first half during garbage time. With 45 yards on those four runs, Elliott managed just 17 yards on his other eight carries, an average of just 2.1 yards per attempt.
"When we watched the film, we felt really good about where we were from an execution standpoint in the run game. We felt we gave up a couple of those runs early and made some corrections," Pettine said. "There were some yards they gained before the half that were meaningless to us. And then the score obviously got them out of running the ball.
"We improved from the standpoint of how we were attacking blocks, understanding the call, being where we were supposed to be, and then triggering when it was time to trigger and violently releasing off a block and making a tackle. Still a work in progress, and this week's going to be another big challenge for us."
Head coach Matt LaFleur felt similarly about the run defense, but he admitted there's still work to do.
"It's so week to week, right?" LaFleur said. "Yeah, I do (see improvement), but talk's cheap. You've got to go out and do it."