Jason Wilde offers three keys for the Green Bay Packers when they host the Denver Broncos in Week 3 on Sunday at Lambeau Field in Green Bay.
1. Z REAL DEAL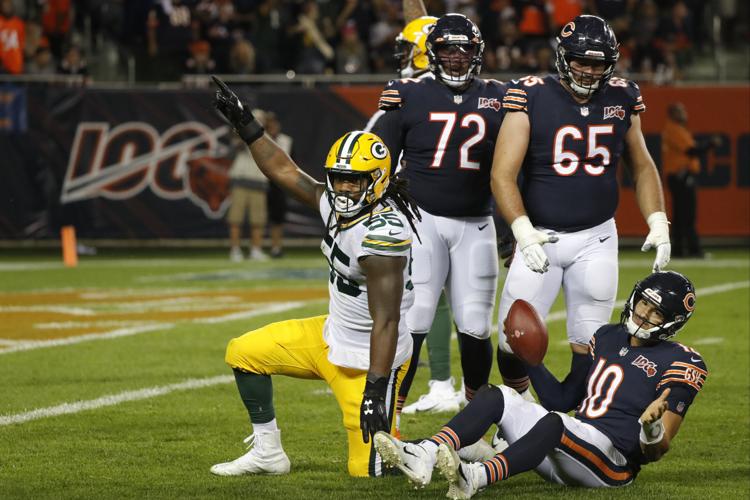 Through two games, Packers linebacker Za'Darius Smith (above) has impressed coaches and teammates with his play and his leadership — and that was before he treated the entire defense to dinner on Thursday night at Republic Chophouse, a steak joint in downtown Green Bay. Smith, elected as a team captain despite being in his first year with the Packers, wanted to celebrate the team's 2-0 start and the defense being ranked second in scoring defense (9.5 points per game).
But, even after spending roughly $5,000 on his guys, Smith cautioned everyone that the defense can't get complacent — a statement that doesn't surprise head coach Matt LaFleur or defensive coordinator Mike Pettine.
"I said, 'Guys we're 2-0 but we haven't arrived,'" Smith said. "To do little things like that (dinner), I feel like it's good to bring the team together as far as the defense and we just get to know each other outside of football. I feel like one reason coach wanted me to be a captain and some of my teammates because they voted for me. I'm going to keep going with it and keep striving to be this leader and this captain for this team."
Smith has led with his play, recording a sack, eight quarterback hits and 12 tackles in two games, stuffing the run and generating pressure on quarterbacks. But his leadership style has also been a welcome change.
"It's as real as it gets. I mean, he's just (gotten) instant respect," Pettine said. "I think one of the reasons he is as respected as he is, is watching practice. He and (safety) Adrian (Amos) are probably two of the best practice players that I've been around.
"'Z' is a big, explosive athlete. That's hard for offensive linemen. His fastball is a lot for offensive linemen to handle."
2. LIVIN' ON THE EDGE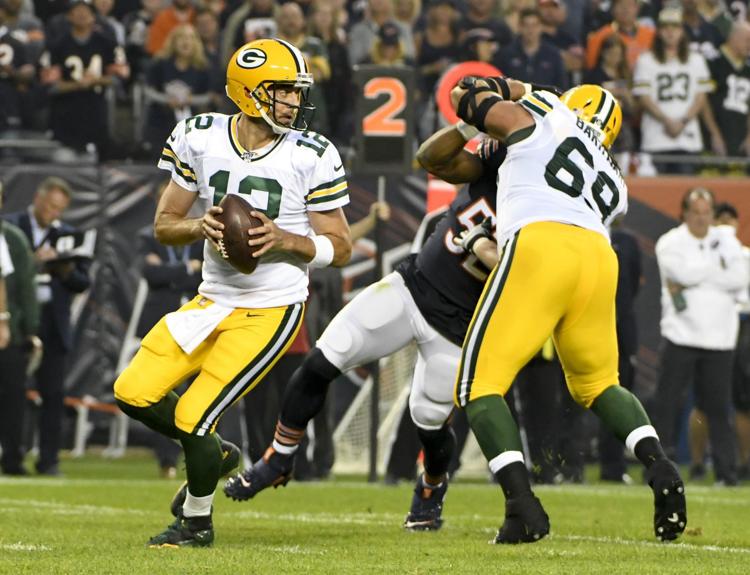 When LaFleur took the head-coaching job in January and broke down existing film of all the players he was inheriting, he was especially impressed by the cornerstone tackles he had on offense — right tackle Bryan Bulaga and left tackle David Bakhtiari (above right). And the duo has not disappointed.
"I love those two guys," LaFleur said. "If you're picking your roster, you're picking those two guys."
Especially in an era where many NFL teams have two formidable pass rushers, something Bulaga and Bakhtiari faced in Week 1 at Chicago (Khalil Mack and Leonard Floyd), in Week 2 against Minnesota (Everson Griffen and Danielle Hunter) and will again this week in Denver's Bradley Chubb and Von Miller.
"Everything that they bring from not only their ability on the field but from a leadership standpoint, they're great locker room guys," LaFleur said. "That whole offensive line room is just a great room and those guys stick together and they like each other and they're a lot of fun to be around. We're excited to have such a great, cohesive room."
"They really have done a nice job," offensive coordinator Nathaniel Hackett said. "It's funny, you get ready all year for the Bears, and then in come the Vikings, and now Denver. It's like you can't even take a breath.
"But those guys have done a really nice job. They've stepped up to the challenge. It's no secret who they're going to have to go against each week."
Bulaga and Bakhtiari acknowledged that their matchup with Chubb and Miller will be a major factor in the outcome of the game, especially with the offense wanting to gain more consistency after a strong initial three possessions last week against the Vikings.
"We faced some tough ones the last two weeks," quarterback Aaron Rodgers (above left) said. "Obviously, the first week with a couple great ones, and last week with a couple great ones, and this week with a couple great ones as well. So the stress is definitely on our tackles every week. It seems like with these matchups, these guys will play more right and left with their outside rushers. So it's going to be Bryan on Von a lot, and Dave on Chubb. Both really great players and something those guys will be ready for."
3. LITTLE HELP?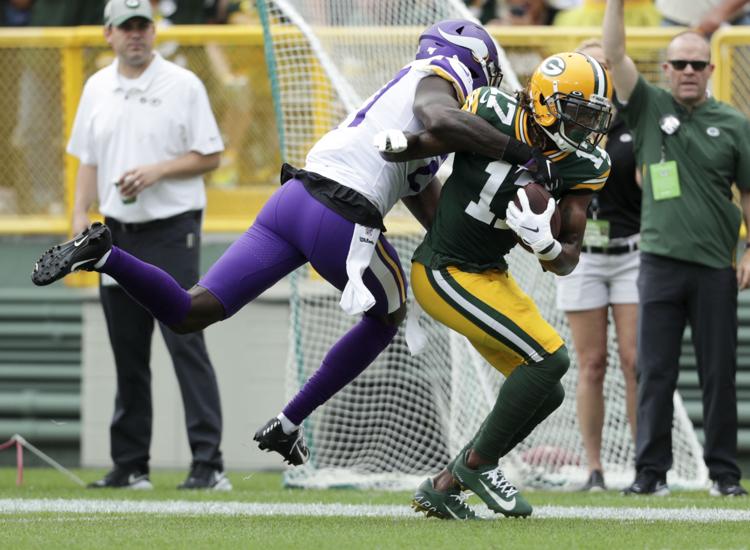 LaFleur is a smart guy. He knows his No. 1 wide receiver, Davante Adams (above), is one of the league's top pass-catchers and needs to be a primary focus of the offense. He also knows that it's a long season, and he probably can't have Adams playing 127 of the team's first 132 snaps (96.2%) like he has the first two games.
"We've got to do a better job of rotating those guys in, just to keep the starters fresh," LaFleur admitted. "I think it's hard to play 60-plus plays at receiver with what we expect in terms of the effort on each and every play. Because we're coaching them to come off the ball in the run game and block for their teammates as well. That's just a requirement and the expectation and the standard that we have for that position."
So far, the Packers have gotten 11 receptions for 142 yards from Adams and 13 receptions for 136 yards from the rest of the wide receivers on the roster, led by Marquez Valdes-Scantling (seven receptions, 71 yards, 47 of which came on one catch) and Geronimo Allison (four catches, 25 yards). With defenses surely keying on Adams — the Broncos figure to match their No. 1 cornerback, Chris Harris, on him but also give Harris safety help — someone must emerge to complement him.
"I think we want to get everybody more involved. I think it's been a little heavy towards a couple guys," Hackett confessed. "We need to lighten that load a little bit for them, so we need to just get more guys in there. It's obviously a long season and you don't want to wear anybody out, so we're going to have a lot of guys that are hopefully going to get an opportunity and we'll see who steps up."
---
Jason Wilde covers the Packers for ESPN Wisconsin. Listen to him with former Packers and Badgers offensive lineman Mark Tauscher weekdays from 9 a.m. until noon on "Wilde & Tausch" on 100.5 FM ESPN Madison.