GREEN BAY — No change has been made on the official roster. At least, not yet.
But make no mistake about it, Robert Tonyan is no longer Robert Tonyan around 1265 Lombardi Avenue.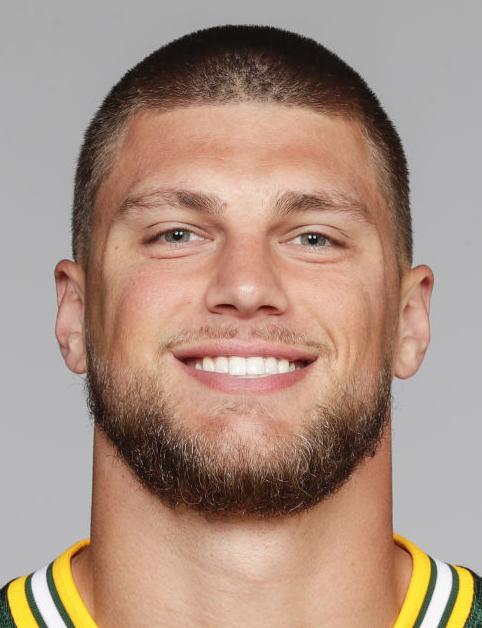 The Green Bay Packers' second-year tight end was in the midst of a heated group-text debate with a few buddies back home — all of whom call him "Bobby," too, for the record — about LeBron James after practice earlier this week when the name change came up in locker-room conversation. Even Tonyan had been taken by surprise when general manager Brian Gutekunst referred to him as "Bobby" during a news briefing.
"Bobby Tonyan, he has a chance and some opportunity in front of him," Gutekunst had said.
The main reason for the "Bobby" madness? Quarterback Aaron Rodgers, who took a shine to Tonyan last season and evidently found "Robert" to be too formal.
"I'm actually 'Bobby' back home, but I didn't ever tell people that here, because my dad is Bob, my grandpa is Bob," Tonyan explained. "But then Aaron started calling me Bobby. And it's funny, because I never even told anyone. So he just started calling me Bobby, and when the new coaching staff came, since I was 'Bobby' to him last year, that's what the new coaching staff thought my name was because of Aaron.
"I was Bobby way back in the day, so it's kind of funny that it's coming back."
Call him whatever you want, but if Tonyan upward trend continues, Packers fans should get used to hearing his name. A lot.
"I'm excited about him," Packers coach Matt LaFleur said after Wednesday's practice. "I think he gets better each and every day — not only in the pass game, but in the run game. He's a valuable piece. Again, another young player. It'll be fun to watch him in those preseason situations."
Among the greatest mysteries of last season was why Tonyan didn't play more. Veteran Jimmy Graham wasn't himself, especially after breaking his thumb in November; veteran Marcedes Lewis' opportunities in the old offense were largely restricted to blocking in the run game; and ex-University of Wisconsin tight end Lance Kendricks' contributions were inconsistent. And en route to a 6-9-1 finish, it would have made sense to give a young player like Tonyan more opportunities — especially after his 54-yard touchdown catch from Rodgers at Seattle on Nov. 15.
Instead, Tonyan didn't see his playing time go up at all after that play, and he finished the year having played only 67 snaps all season — fewest among tight ends. He wound up with four catches for 77 yards and that one TD.
But Tonyan, a converted quarterback who played wide receiver in college at Indiana State and left as the school's all-time leader in touchdown receptions (20) and second all-time in receiving yards (2,047), didn't see the limited opportunities as a snub. Rather, having never played tight end before and having spent just four weeks on the Packers' practice squad at the end of the 2017 season, Tonyan said he needed the time to develop — and learn from the veterans who were mentoring him.
"It was frustrating for some people that didn't understand it from the outside perspective, but I think it was still good for me to sit behind those guys and learn," Tonyan explained. "I feel like I am so much more confident that I did do that last year and wasn't put in bad situations.
"Did I want to play? Yeah. But at the end of the day, I do understand the situation and what was going on. I'm still trying to learn the tight end position. I'm not going to complain about playing time or where I'm at. I think sitting behind and growing behind Jimmy, Marcedes and Lance, I think just getting that extra teaching and now having another offseason with Jimmy and Marcedes has made me so much more comfortable out there and so much more confident."
Of course, that didn't do Bobby's buddies back home — all of whom have him on their fantasy football teams — much good.
"Some of them took me in the first round last year. That is friendship," Tonyan said. "But that is also being bad at being a fantasy manager."
Even with Graham and Lewis back this year, Tonyan's friends should get more statistical production from him this season, especially as he grows as a run-blocker since LaFleur's scheme relies heavily on running a host of different plays from the same formation to leave defenses guessing.
"He's always been pretty good in the pass game," offensive coordinator Nathaniel Hackett said of the 6-foot-5, 237-pound Tonyan. "I think one thing (he's) learning and embracing (is) the run game. When you have a guy that's a pass threat down the field and he also has the ability to run block, that really helps that. I think that's something Bobby's done a nice job at, and he's going to continually get better."
For his part, Tonyan seems to understand he is a work in progress. And while gaining Rodgers' trust has accelerated it slightly — "Building a relationship with '12,' that's progressively helping me a lot," he said — Tonyan is well aware that still has a long way to go.
"I told my parents, they're used to me at Indiana State being 'The Man,' and I'm like, 'You guys have to realize this is going to be a couple-year process for me to learn the way, show what I can do, and just keep getting better," Tonyan said. "When my name is called, I want to go out there and — not even make a name for myself — just do what I'm asked to do. I'm not going out there and trying to do too much, I'm just doing what's asked of me. And if the plays come to me, I've got to make them."