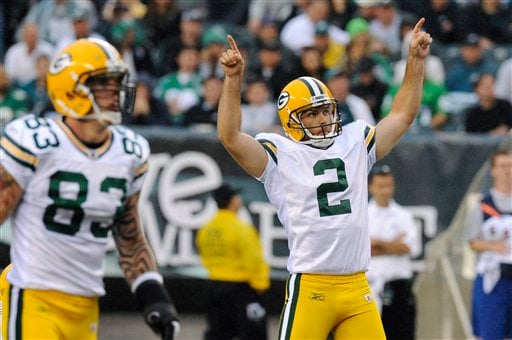 PHILADELPHIA -- On paper, it was a mismatch.
The Philadelphia Eagles' special teams, with their explosive return men and strong-legged specialists, figured to dominate the Green Bay Packers special teams, which finished next-to-last in the NFL in 2009. Worse, the Eagles added respected special teams coach Bobby April to their staff this season.
But the Packers' off-season emphasis on improving their special teams must have done some good because they outplayed the Eagles special teams in Green Bay's 27-20 victory Sunday. Better yet, the units didn't have a penalty.
"I thought our special teams played excellent," Packers coach Mike McCarthy said. "That was a major emphasis going into the game. We have a lot of respect for Bobby April and the job he does over there on special teams."
Yet, it was the Packers who performed the best on special teams.
Mason Crosby, who was mired in a slump last season, was 2-for-2 on field goals, including a team-record 56-yarder on the final play of the first half. That eclipsed the previous mark of 54 yards held by Chris Jacke, Ryan Longwell and Dave Raynor.
McCarthy said Crosby "nailed" his 56-yarder but probably had a range of 59 after a strong warm-up session. Crosby said the kick might have been tipped by the Eagles.
"Everyone says they heard a second hit," he said. "It jumped a little left after I heard that tip. Saying that, hitting it from 56 if it was a tipped ball, I'll be happy for that. It might've gone (through) from 60-plus."
Another element that was missing last year was the return game, but Jordy Nelson, who was partially responsible for last year's failures, finally had some success Sunday. Every time the Eagles scored in the second half, he gave the offense good field position, returning kickoffs for 51, 40 and 28 yards.
McCarthy said Nelson did a good job trusting his blockers.
"It went real well," Nelson said. "The guys up front did an extremely good job. I think 99 percent of kickoff returns are blocking. We just run where we're supposed to run. If there's a hole, we run through it. If not, then we usually get tackled."
The third area of improvement was the punting. Tim Masthay, who won the job after a training camp battle with Chris Bryan, was playing in his first NFL game, but he did exactly what the coaches wanted by pinning feared punt returner DeSean Jackson near the sideline on three of his four punts. Jackson finished with 14 yards on two returns.
"He probably wishes he had the last one back, the one he kicked down the middle of the field," McCarthy said. "That was not the plan. I thought he did a good job putting the ball on the sideline and I thought our coveage units were excellent."
All in all, it was a good day for the special teams. Just as the Packers got their first win, the special teams got theirs.
"We identified as a football team (the things) we needed to do to improve ... and one of them is playing good special teams," said special teams coach Shawn Slocum. "Our challenge is to play consistent week-to-week and help our team win. I thought we were very solid."