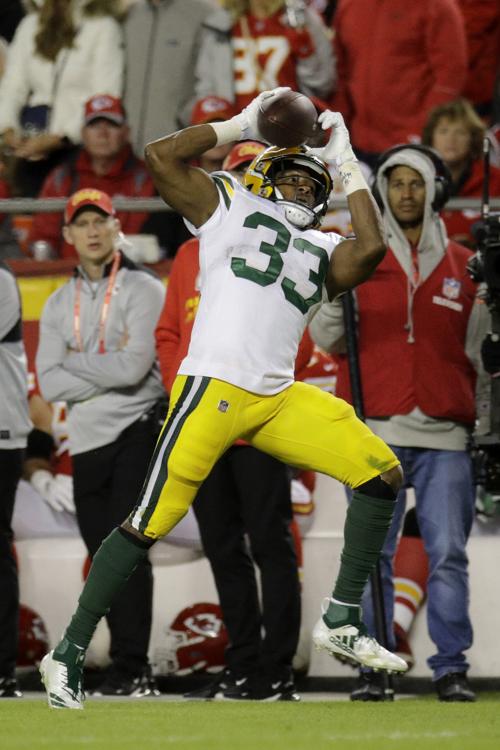 GREEN BAY — Matt LaFleur said nothing about it in his first few days in front of the team this spring, and he didn't pin a laminated copy of a typical game plan to the door of the Green Bay Packers' running backs meeting room at Lambeau Field to get his message across.
But make no mistake: Aaron Jones and Jamaal Williams — as well as their non-running back teammates — knew enough about their new coach's offensive scheme to know the backs were going to be heavily involved in the passing game. Which is why Jones spent his free time this past offseason catching thousands — thousands! — of passes while working out on his own in Texas.
"I just worked on it all offseason. Continued to catch balls — bad balls, good balls, high balls, low balls," Jones said as the Packers prepared for Sunday's game against the Los Angeles Chargers at Dignity Health Sports Park in Carson, California. "My mom always tells me if you it touches your hand, you better catch it. I take her advice and anything that touches my hands, I try to come down with."
Although Jones hasn't been thrown thousands of passes halfway through this season, he's certainly seen more than he did during his first two years in the league, and his and Williams' abilities to make plays in the passing game are a primary reason why the Packers are 7-1 — and managed to win four straight games without No. 1 wide receiver Davante Adams, who is expected to return to the lineup against the Chargers after missing all of October.
Jones enters Sunday's game having caught 34 passes for 355 yards and three touchdowns — putting him on pace for 68 receptions for 710 yards and six touchdowns. Williams has caught 19 passes for 127 yards and four touchdowns, which extrapolates to 38 receptions for 254 yards and eight TDs.
In last Sunday night's 31-24 win over the Chiefs, Jones caught seven passes for 159 yards and two touchdowns, including a he-made-it-look-so-easy third-and-5 catch with 2 minutes to play that clinched the victory and came after LaFleur and quarterback Aaron Rodgers agreed to be aggressive and try to close out the game with a risky pass call. Williams, meanwhile, caught three passes for 14 yards, including a spectacular 3-yard touchdown in the back of the end zone on a ball many thought Rodgers was simply trying to throw away.
"I wouldn't say that was a point of emphasis," LaFleur replied when asked if he told the running backs at the start of the offseason program in April to be ready to be heavily involved in the passing game. "I just think that kind of naturally happens as you're installing the offense and they see these plays. Ultimately you've got to be able to have the people to do some of the stuff that we're doing with those guys — and thankfully we have players that are capable of performing and catching the ball out of the backfield. They're pretty versatile guys."
Combined with fullback Danny Vitale (six receptions, 94 yards) and halfback Tra Carson (four receptions, 18 yards before being released last month), 63 of Rodgers' 185 completions this season (34.1 percent) have gone to guys who normally line up in the backfield.
"I think all three of those guys have really good hands," LaFleur said of Jones, Williams and Vitale. "They've all done such a great job in our pass game, whether it's being a primary target out of the backfield or being the checkdown and getting yards after the catch and yards after contact. I think they've done an excellent job. And they do a great job in pass protection, too. I'm really pleased with all three of those guys."
Jones' 68-reception pace puts him well on his way to catching the most passes as a running back in a single season since Ahman Green caught a team-leading 73 passes for 559 yards and three touchdowns in 2000. That season was the start of four straight years in which Green had at least 50 receptions out of the backfield, catching 62 in 2001, 57 in 2002 and 50 in 2003, when he also had 355 rushing attempts and set the franchise single-season record for most yards from scrimmage (2,250).
Last season, Williams finished with 27 catches for 210 yards, while Jones caught 26 passes for 206 yards and one touchdown.
You have free articles remaining.
But in both Green's case and in ex-head coach Mike McCarthy's system, virtually all of those running back receptions came on screen passes, dump-offs or the occasional wheel route up the sideline.
With LaFleur's offense, it's not just the number of passes the backs have caught; it's also the types of routes they're running and the down-the-field explosive plays they're creating as a result.
While Jones' 67-yard touchdown last week against Kansas City came on a well-blocked, relatively traditional screen pass, his 50-yard catch-and-run came on a slant-and-go route on which he blew by Chiefs linebacker Anthony Hitchens.
On both the 50-yard gain and the third-down conversion that sealed the win, Jones lined up split out wide, like a wide receiver.
"I think it's trending around the league, some of the stuff that you've seen us hit to Aaron. It's stressing matchups," Rodgers said. "If teams want to play match coverage or man coverage, we like the matchup — whether it's Jonesy, Vitale or Jamaal. They're all very talented guys out of the backfield.
"It starts with the preparation. I know I've highlighted (running backs coach) Ben Sirmans before, but I think Ben does a great job of getting those guys ready to play, and they are dialed in from a preparation standpoint. I think that frees them up to play loose and confident and very reactive."
Asked why downfield throws to backs are so difficult for opponents to defend, Rodgers replied: "I would say simply that the expectation is usually for a route that doesn't go past 5 yards. I think most linebackers are expecting an in-cut, an out-cut or a stop on those type of routes. And we've been able to get on top."
Jones has been especially effective. Before the big play against the Chiefs, Jones had a 21-yard touchdown catch on which he adjusted to a ball Rodgers threw inside. He was also wide open for what should have been a 33-yard touchdown down the right seam in the Packers' 23-22 win over the Detroit Lions on Oct. 14 but dropped the ball when he was all alone near the goal line.
"That was on me. It doesn't get any easier than that," Jones said of the drop. "I told him I'd make up for it."
Jones has done far more than that – he's also made the offense more multi-dimensional by maximizing opportunities that simply weren't there in McCarthy's system. Now, he must continue to do so – even with Adams primed to return.
"We've had to make some things work without Davante and a lot of it has been involving not just Aaron, but Jamaal in the passing game and using their strengths," Rodgers said. "I like the contributions we've gotten from them and from Danny and Big Dog (tight end Marcedes Lewis) and (tight end) Jimmy (Graham). Those have been really important to our success in the run and the passing game.
"I think (Jones) has always been a good receiver hands-wise. He just has maybe a bigger route tree now," Rodger said. "Like I said, it's a different skill-set we're utilizing with those guys. It's fun to watch."