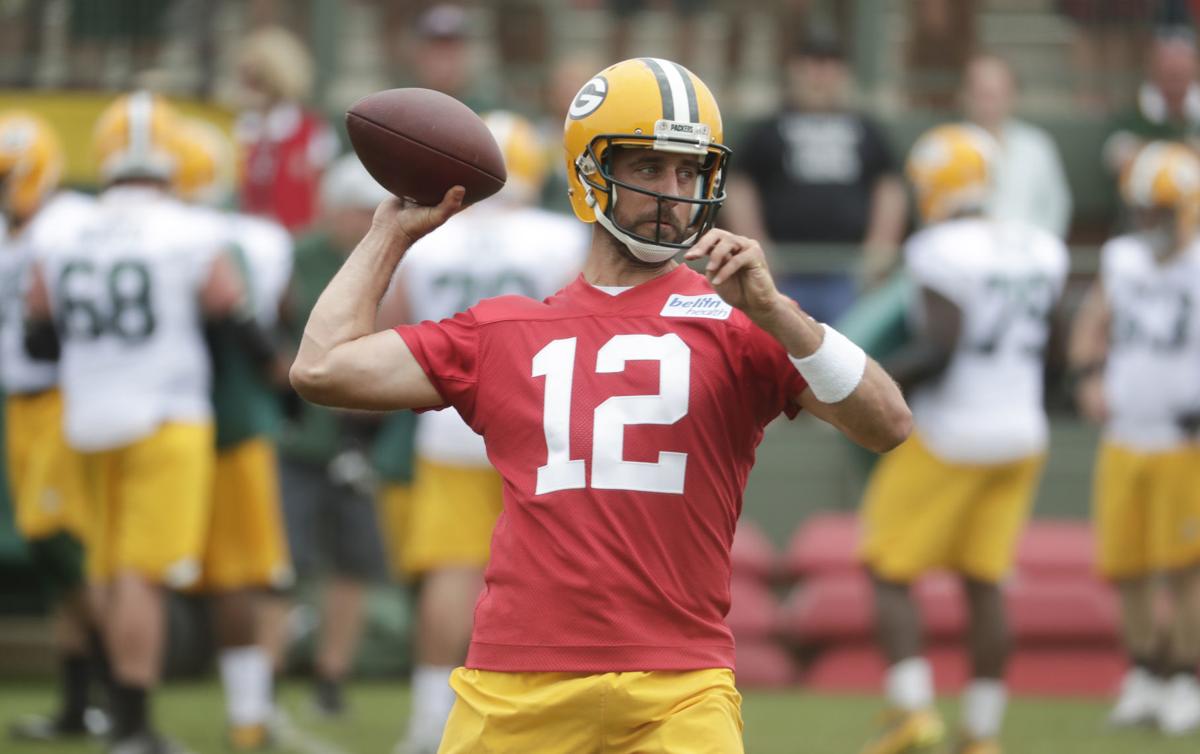 GREEN BAY — Aaron Rodgers spent the back half of Tuesday's practice running the scout-team offense — a sign that the Green Bay Packers star quarterback almost certainly won't play in Thursday night's preseason opener against Tennessee.
It also meant that the guys on the scout team — specifically the young wide receivers — were lining up with a two-time NFL MVP and running the Titans' plays. And it did not go particularly well, much to Rodgers' chagrin.
Rodgers was clearly irritated that the young receivers — most importantly fourth-round pick J'Mon Moore, fifth-round pick Marquez Valdes-Scantling and sixth-round pick Equanimeous St. Brown, who as draft picks are expected to be competing for roster spots and playing time — couldn't handle executing their pass routes that were explicitly drawn on a card and shown to the players in the huddle before the play.
"The kind of effort we had today, it was one of the worst cards sessions we've had," Rodgers said, singling out three other receivers with limited experience — DeAngelo Yancey, Geronimo Allison and Jake Kumerow — who were not targets of his frustrations. "I don't know how you can make it any simpler. You literally have what the play would be in our terminology on the card, and the effort level was very low. Especially with what I'm accustomed to. I've been running that period for a number of years (during training camp). So, it's not a good start for us on the card period for the young guys.
"I think Yancey has really progressed, (as has) G-Mo. Obviously, 16 (Kumerow). But everybody else was piss poor."
Rodgers, who intentionally sailed the final pass of practice into the sideline in frustration, was just getting warmed up. He theorized that players were tired and it was affecting their focus and mental sharpness, which in turn led to lackadaisical play. He then singled out Kumerow, the former UW-Whitewater standout who has been the story of training camp so far and earned a ton of snaps with Rodgers with his smart and sharp play.
"That's the thing. You look at the guys that are out there playing with me, that's the opportunities for the young guys to show what they can do. I'm pretty specific with the people I highlight (publicly), and it's for a reason," said Rodgers, who has not played in a preseason opener since 2015 and ran the look team in practice before sitting those games out.
"Jake has done a great job and had a great camp. You start to think about guys you can trust on the field, how else can you see it, especially if I'm not playing a whole lot in the preseason, than in those practice reps against our defense? That's where the ball's going, that's the guys making the plays right now and that's the guys that I want out there with me."
Rodgers then ticked off the players by number who are doing things the right way: 17 (Davante Adams); 18 (Randall Cobb); 81 (Allison); 80 (Jimmy Graham); 84 (Lance Kendricks); and 89 (Marcedes Lewis). Noticeably not on the list: 19 (St. Brown), 82 (Moore) or 83 (Valdes-Scantling).
While Rodgers' irritation might've boiled over because some of the young receivers didn't follow the directives on the scout-team play cards, No. 1 wideout Davante Adams suggested that the quarterback's frustration likely has more to do with them making the same mistakes repeatedly.
"I don't think it was necessarily today that made him to where he wanted to say that. I think it's an accumulation over time — people having to be told the same thing more than once. That could have definitely factored in," Adams said. "If you were in the meetings and you knew the things we talk about the most and the things we stress around here, the things that are important to the coaching staff and the way this program is run, it'd be obvious to you.
"When you hear the same thing every day, it becomes evident to the people around you who are doing it the right way, it frustrates a lot of other people because you want to make sure everyone's on the same wavelength. And when you're not, that's when the discipline comes in."
Asked if he, as the leader of the receivers, must now play the "good cop" after Rodgers' "bad cop" routine, Adams replied, "My role is to make sure people understand what it is they're supposed to do, and then it is their job to apply whatever it was. It's the old saying – 'You can lead a horse to water, but you can't make him drink. "People get uncomfortable when something is generally brought up in front of a group, a lot of people. People get uncomfortable. Because they know (they're who's being talked about)."
Rodgers also tried to make light of some of his frustration, acknowledging, "I'm getting older and grumpier. I've been at this for a long time. I'm tired too, we're all a little tired. When you get a little tired, the fuse gets a little shorter."
Asked about Rodgers' comments later Tuesday, offensive coordinator Joe Philbin, offensive passing-game coordinator Jim Hostler and wide receivers coach David Raih all acknowledged the obvious: That the young receivers have been inconsistent, which has been noticeable throughout camp.
"Certainly Aaron — his comments, his example, his leadership — that has a profound effect on the ball club, the offense in particular and the whole team in general. His words are meaningful," Philbin said. "I think us in coaching, (Hall of Fame) coach (Don) Shula had the great quote, 'Uncorrected errors will multiply.'
"Between you, me and the four walls, we know there's going to be mistakes, we doubt that it's going to be perfect, but I do think — as I said to the offense — it is problematic if the same mistakes keep showing up over and over and over again. And that's not a good trend for a player to be associated with."
Mack interest?
If the Oakland Raiders are indeed serious about trading three-time Pro Bowl edge rusher Khalil Mack, who is holding out of training camp to demonstrate his desire for a long-term, big-money extension, then the Packers would certainly have the wherewithal to make such a deal for the 27-year-old all-pro.
With two 2019 first-round picks they could use in a trade and several expiring contracts that would allow them to fit an expensive Mack extension under the salary cap — Clay Matthews, Ha Ha Clinton-Dix and Randall Cobb are all in the final years of their contracts — even with a long-term extension for Rodgers looming.
Whether the Packers would actually make an offer on the 6-foot-3, 247-pound Mack, who has registered 36.5 sacks the past three seasons, is hard to predict. But Packers general manager Brian Gutekunst and Raiders GM Reggie McKenzie worked together under previous Packers GMs Ron Wolf and Ted Thompson and remain good friends, so the line of communication is open.
Asked specifically about a deal for Mack, Gutekunst replied, "I would give Reggie a call anyways, whether (Mack) was or wasn't (available). We're going to kind of have conversations about everything. There's some things that maybe don't make sense for us as a team-building thing, but we're going to have conversations, especially with a player of that ability. But those players on other teams, I guess we're not really supposed to talk about those guys."
Extra points
The team's two big offseason acquisitions — Jimmy Graham (knee) and defensive end Muhammad Wilkerson (groin) — did not practice. Neither injury is a major concern but Graham banged his knee during a collision with Josh Jones in practice Monday and was held out as a precaution. It may mean neither player will see action against the Titans. … Gutekunst acknowledged that it's "slim pickings" right now for adding players who could make the 53-man roster when injuries strike. … Gutekunst said he'll watch Thursday night's game from the sideline, as Thompson used to do in preseason. … Defensive coordinator Mike Pettine will work games from the coaches box upstairs rather than the sideline, he said. … Gutekunst said he had no update on Cole Madison, the fifth-round pick from Washington State who remains on the reserve/did not report list. … Coach Mike McCarthy said outside linebacker Nick Perry is "getting close" to being activated from the physically unable to perform list. … Wide receiver Randall Cobb (ankle), cornerbacks Kevin King (shoulder) and Jaire Alexander (groin), and defensive end Mike Daniels (quadriceps) are still among the players sidelined by injury.
Be the first to know
Get local news delivered to your inbox!