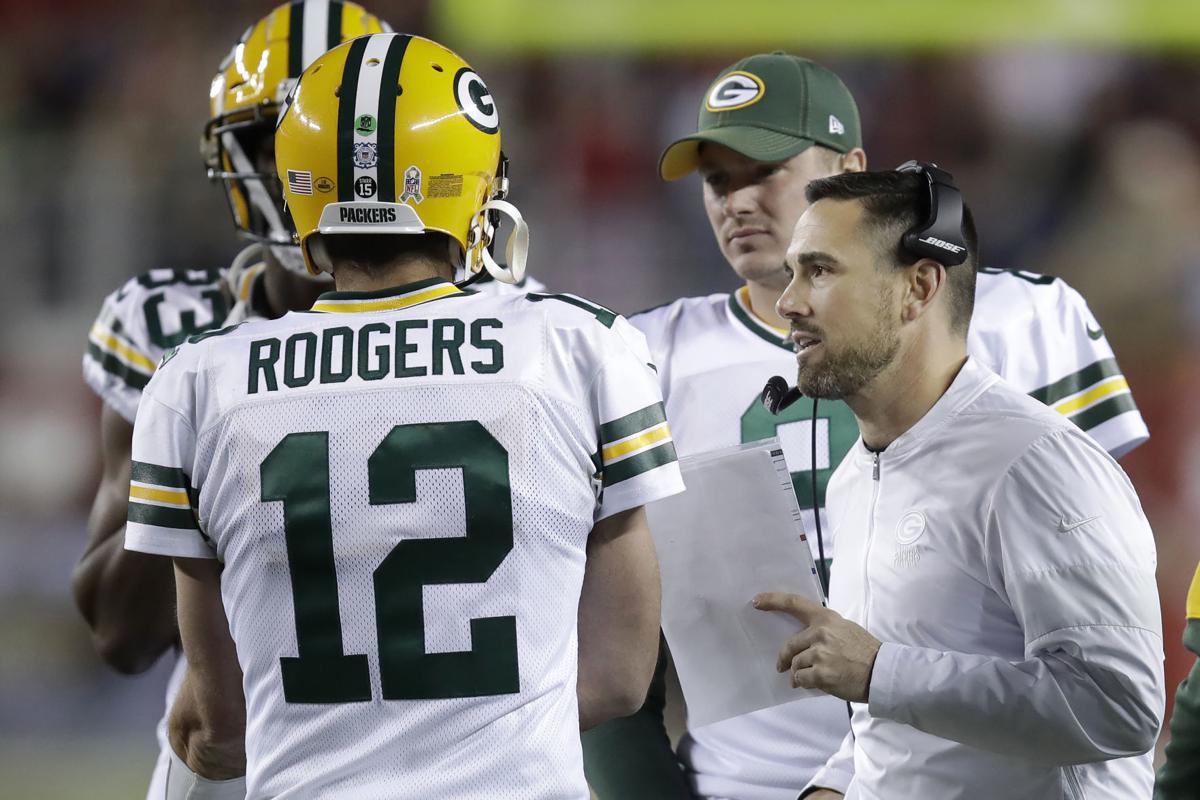 GREEN BAY — Matt LaFleur gave his players Monday and Tuesday essentially off after their charter flight back landed at 4 a.m. The Green Bay Packers first-year head coach felt it was more important for them to get rest than spend their day reliving their awful showing in Sunday night's 37-8 loss to the San Francisco 49ers.
But LaFleur went right to work, knowing another lackluster effort wouldn't be enough to beat the struggling New York Giants next Sunday at MetLife Stadium.
"Anytime you get embarrassed like that, you find out what you're made of," LaFleur said Monday afternoon, having spent much of his day at his Lambeau Field office despite the team's overnight flight touching down at Austin Straubel International Airport in the wee hours of the morning.
"You find out a lot about people in times of adversity. I think this will be a good test for our football team. Hopefully, we'll become better for it. Certainly, there's a lot of work to be done. We've got to use every moment from today until we play the Giants to get it done."
For the second time in three games, the Packers offense was a no-show, managing a measly 198 yards of total offense and going a pathetic 1-for-15 on third-down situations.
"It was nowhere near good enough," LaFleur said. "We got schemed up and they did a much better job coaching than we did. We had way too many mistakes. Even when we had chances, we had too many mistakes. All around it was just a bad effort."
You have free articles remaining.
Asked if it was particularly disappointing to have been outcoached by two of his closest friends in football — 49ers head coach Kyle Shanahan and defensive coordinator Robert Saleh — LaFleur replied, "I've got to be better, bottom line. And it doesn't matter if you are going against somebody you know or not. Bottom line is, it's got to be better."
While thoroughly displeased with the Packers' showing, LaFleur decided that with a West Coast Sunday night game followed by an East Coast early Sunday afternoon game, it would be more beneficial to give his players two days to recuperate. Only injured players, who had to come to the stadium for medical treatment, were required to come in Monday. The rest of the players' lone responsibility in advance of Wednesday's practice is one weightlifting session.
LaFleur explained Monday that not only did he enter the game with an effective offensive game plan or make the proper adjustments during the game — including after losing veteran right tackle Bryan Bulaga to a first-quarter knee injury — but that the team had an unacceptably high number of mental mistakes against the 49ers.
Quarterback Aaron Rodgers, meanwhile, was under pressure all night long and completed 20 of 33 passes for just 104 yards against the NFL's top pass defense. And with the five sacks he absorbed, the Packers finished with only 81 net passing yards.
"We were terrible on third down. We didn't do a good job of establishing the run," Rodgers said. "The games we've gone out and played well on offense, we've had a good run game. They shut us down for a good part of the night running the ball and we couldn't really throw it worth a you-know-what, either."
Extra points
LaFleur intimated that the decision to play veteran Tramon Williams at cornerback in the base defense late in the game instead of Kevin King was performance based. Asked if King was injured, LaFleur replied, "No, that was just more or less we felt like that was the best thing to do in that situation." King was at fault on tight end George Kittle's 61-yard touchdown catch which was the knockout blow for the 49ers. … LaFleur indicated he felt Marquez Valdes-Scantling should have been able to stay in bounds on what would have been a 36-yard touchdown had he not run out of the back of the end zone. "You'd like to have some awareness right there," LaFleur said. "You've got to try to drag your feet as best as you can." … LaFleur said the Packers' inept punt return game, which stands at minus-11 net yards on the season, isn't solely the fault of returner Tremon Smith. "I think we've got to do a better job of holding up on the outside and making sure to allow our returner to get going," he said. "We've got to block better for him."