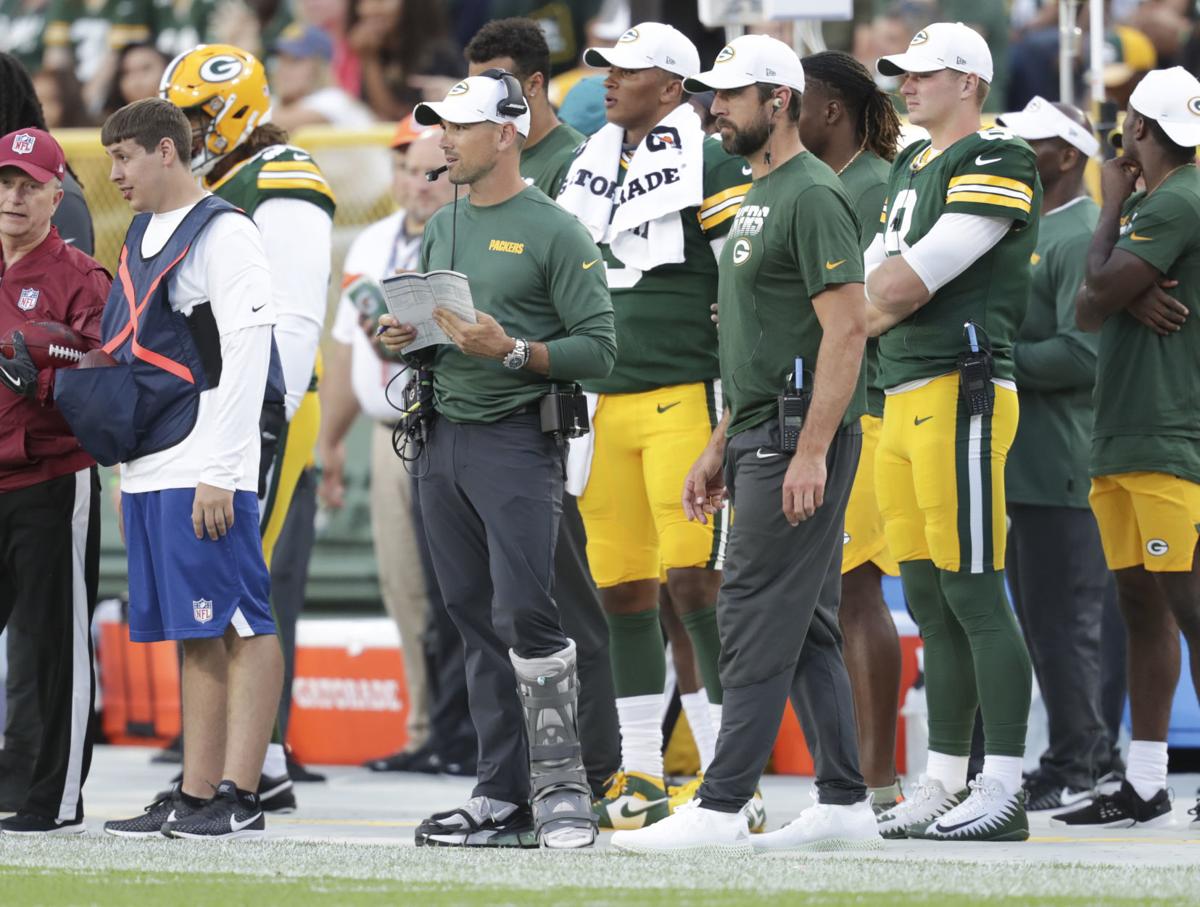 GREEN BAY — While Aaron Rodgers already knew earlier in the week that he wasn't going to be playing in Thursday night's preseason opener against the Houston Texans, the Green Bay Packers quarterback was looking forward to a few things as a sideline observer.
Among them: Watching undrafted rookie free agent wide receiver Darrius Shepherd.
"The key with him is he's been really good mentally. He's not having any mistakes or repeat mistakes with plays as far as alignment," Rodgers said. "He's fine in his feel, running routes. I think he's a very shifty guy. I think he can play in the slot, be effective. I look forward to seeing what he can do Thursday night and throughout the preseason."
Rodgers had to like what he saw from Shepherd in the Packers' 28-26 victory over the Texans — especially Shepherd's terrific 14-yard touchdown catch late in the first half that gave the Packers a 14-7 lead. The touchdown was Shepherd's lone reception of the night.
The catch came on a third-and-4 play, with No. 2 quarterback DeShone Kizer's high throw requiring Shepherd to not only go up for the ball but twist his body in the air and absorb a hard hit by Houston cornerback Johnson Bademosi in the head and left shoulder. Shepherd held on, however, even though he initially appeared shaken up on the play.
It was just the latest in a string of nice plays Shepherd has had this summer, which is why Rodgers was keeping an eye on him in the first place.
"I really like 'Shep,'" Rodgers said. "I think he's done a great job. We've been featuring him mostly in the slot. He's got some really good short-area quickness, he can separate, he can double-up on guys, run some of those choice routes, and you don't see a lot of mental mistakes from him. For such a young player, I think that's pretty impressive.
"He comes in each and every day ready to work, he's attentive in the meetings and he's got the answers. I think he's done a nice job."
Undrafted out of North Dakota State, the 5-foot-11, 186-pound Shepherd went unsigned initially and came to Green Bay as a tryout player at the team's post-draft rookie camp. The Packers signed him after the camp, and he might be the team's only true slot-style receiver on the roster at the moment.
Veteran Geronimo Allison has lined up in the slot most often with the No. 1 offense this summer, but at 6-foot-3 and 202 pounds, the rangy Allison doesn't fit the slot prototype.
You have free articles remaining.
"Going into that tryout, I just wanted to make a first impression and be consistent and show my skill-set, and hope for the best," Shepherd said. "I was lucky enough to get signed here and am thankful for the opportunity."
As a senior last season, Shepherd lined up almost exclusively in the slot for the Bison and caught 62 passes for 1,065 yards and nine touchdowns. Now he's in a receivers room with Davante Adams, and catching the eye of the two-time NFL MVP quarterback.
"There's a lot of great receivers in our room and I'm trying to take pieces and bits of their game and add it to mine," he said. "It's really cool to be around elite receivers. For me, it's coming in each day, knowing the playbook and making a big play every day. Like I said, I keep using the same word, but it's being consistent and taking it one rep at a time and trying to win every time I'm out there on the field."
Roster moves
Two weeks ago, the Packers gave Corey Grant a $60,000 signing bonus. Apparently, they decided it was not money well spent.
Despite injuries in the backfield that have kept their top two running backs — Jamaal Williams and Aaron Jones — on the sideline for much of camp and for Thursday night's game, the Packers decided to move on from Grant Thursday — even though he was the most experienced of the three backs they'd added since camp began. Grant became expendable when Tra Carson, who missed Tuesday's practice with neck spasms, was cleared to play and started at running back with Williams and Jones in street clothes.
As the Green Bay Packers mark the 100th anniversary of the August 1919 meeting in Green Bay where the team was first organized, Lee-Wisconsin …
The Packers used Grant's roster spot to bring back safety Ibraheim Campbell, who played in three games (with one start) last season before suffering a torn ACL in his knee during the team's Dec. 2 loss to the Arizona Cardinals at Lambeau Field. Campbell is still coming back from that injury and was placed on the physically unable to perform list.
The Packers also waived/injured outside linebacker Kendall Donnerson, a seventh-round pick last year who spent the 2018 season on the practice squad. Donnerson had been sidelined with a hamstring injury for much of the first two weeks of camp. If he clears waivers, he'll revert to the Packers' injured reserve list, just as backup tackle Jason Spriggs did earlier in the week after being waived/injured.
Extra points
The Packers were penalized an astonishing seven times in the first quarter, and the flags flew in each phase — offense, defense and special teams. On their first possession of the game, they had a penalty on special teams (an illegal block in the back by Raven Greene), a holding penalty by right tackle Gerhard de Beer to start the drive and a holding penalty on left tackle Alex Light near the end of the drive, which ended in a punt. … One of the six preferred starters who did play, inside linebacker Oren Burks, left the game with a left shoulder injury on the Texans' opening series. … Packers head coach Matt LaFleur challenged his first pass interference call under the new NFL rule early in the third quarter, challenging whether wide receiver Allen Lazard was interfered with by Bademosi. The on-the-field call of no pass interference stood as called, and on fourth down Bademosi was flagged for illegal contact, giving the Packers new life after J'Mon Moore dropped what should have been a touchdown. Moore caught a 1-yard TD three plays later.
Jason Wilde breaks down the Green Bay Packers' roster by position in a nine-part series, looking at the team's depth, competitions for playing…
Jason Wilde covers the Packers for ESPN Wisconsin. Listen to him with former Packers and Badgers offensive lineman Mark Tauscher weekdays from 9 a.m. until noon on "Wilde & Tausch" on 100.5 FM ESPN Madison.