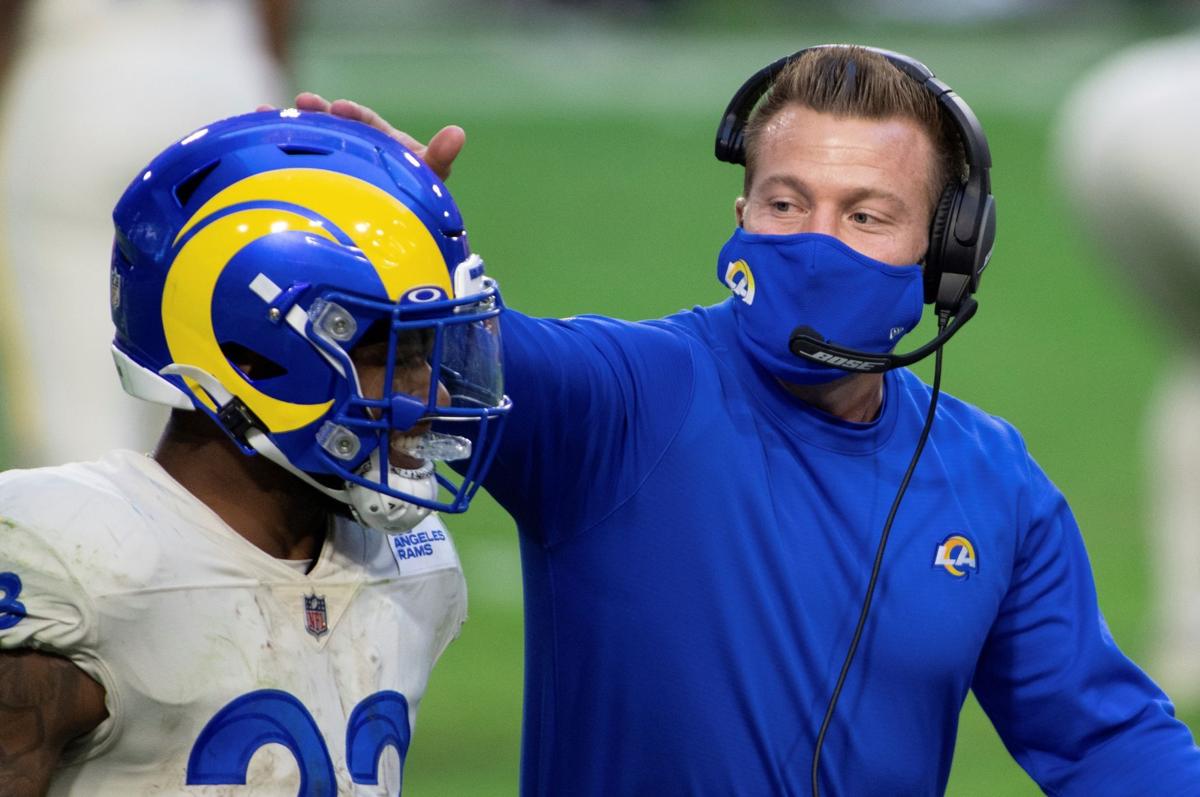 GREEN BAY — There's something about brothers, right? You love 'em, you hate 'em. You fight with 'em, you pull for 'em. There's no one you want to see succeed more than your brother, and when you're competing, there's no one you want to beat more than him, either.
And so, looking back, Matt LaFleur can now admit he didn't handle his brotherly battles last season — with his blood brother, Mike, as well as his football coaching brothers on the San Francisco 49ers staff — as well as he needed to.
Which is why, as the Green Bay Packers coach prepares for his team's NFC Divisional Playoff game Saturday against the Los Angeles Rams and coach Sean McVay, LaFleur is making sure — both emotionally and strategically — that he doesn't make the same mistakes as he did last season in his team's two losses to 49ers coach Kyle Shanahan and defensive coordinator Robert Saleh. (Not to mention to Mike, the 49ers' offensive passing-game coordinator.)
"I probably maybe thought about it more last year," said LaFleur, who did exact a small measure of revenge in the Packers' 34-17 win over the 49ers on Nov. 5. "You learn that you don't even think about it. It's not something that even comes to my mind once throughout the game-planning process (this week). You're focused on what you're seeing on tape and trying to focus on some of the things you do well — and maybe trying to implement some new things. The sole focus has got to be on the opposition; 100% of your effort has got to be on the opposition and less about who you have personal relationships with."
McVay knows the feeling. In 2017, he got the Rams head-coaching job and Shanahan got the 49ers job 25 days apart. With Shanahan, McVay and LaFleur all having worked together with the Washington Redskins from 2010 through 2013 and becoming close friends during that time, the idea of matching wits with each other is both exciting and challenging.
"I don't think you want to be naive to the fact that they know a couple things that you want to make sure that you're aware of, but I also think you've got to be careful of not overthinking it," said McVay, who hired LaFleur as his offensive coordinator for that 2017 season. "The amount of close friends that you have, it's a cool reflection of guys doing well, and then you're also seeing (those) close friends of yours and you know how they think. But you don't know when they're going to activate certain plays (when you face each other).
"I think it can be a little bit blown out of proportion, but you don't want to be blind to the fact that they do know a couple of foundational things about you that you don't want to ignore."
There is no ignoring the friendship between LaFleur and McVay, though. McVay called LaFleur "one of my closest friends in life" and "my big brother." When they worked together in Washington, McVay, who was single, was living across the street from LaFleur and his wife, BreAnne, and would come over for dinner frequently.
"I'd third wheel it with them a lot," McVay said. "They kind of took me under their wing."
But at work, like real brothers, the two would butt heads often in meetings about various game-planning and play-calling ideas. This past summer, McVay told a story of LaFleur telling McVay to just go ahead and fire him after one disagreement, with McVay responding by threatening to quit as the Rams coach before cooler heads prevailed.
"Us getting a chance to work here together my first year (was great)," McVay said. "But, I think sometimes you end up being harder (to work with) or having that comfort level with the people that you're closest with. I think as we were both getting comfortable in the roles and trying to do a great job as we got here, I always appreciated his ability to say, 'I don't care what you are.' He always has the right approach as far as being honest.
"It wasn't one of those, 'I'll tell you what you want to hear.' He told me what I needed to hear, and it was good, even though sometimes we wanted to choke each other out. But I love him."
LaFleur has faced two other former bosses this season, beating now ex-Atlanta Falcons coach Dan Quinn and beating Tennessee's Mike Vrabel. But the dynamics of those matchups were different. Quinn and LaFleur are good friends but didn't come up together like LaFleur, Shanahan and McVay did, while LaFleur and Vrabel's one year together with the Titans was a bit of an arranged coaching marriage.
With McVay, it's different. The two still talk "pretty regularly," LaFleur said, quickly adding that "I don't know how much I'll talk to him this week." And their friendship has endured.
"It's a blessing and a curse at the same time (to coach against each other). That's one of my closest friends in life. I love him like a brother," LaFleur said. "We got pretty tight in our time in Washington. He's a great friend of mine, but the gloves will be off on Saturday."
But if LaFleur thinks he'll be able to totally set aside those feeling at kickoff, there's one person who knows it's impossible: His quarterback, Aaron Rodgers.
"Look, it doesn't matter who you're playing. If there's a connection back to that team there's always a little something extra," said Rodgers, who knows firsthand from his many games against the 49ers, the team that passed on him at the top of the 2005 NFL Draft. "It's a motivation or an inspiration you can pull from. Whatever slights or former places of residence or employment, there's always those things involved at some level.
"I feel like Matt does a good job being consistent each week. It doesn't mean he doesn't want to beat this guy or that guy maybe a tad bit more, but I feel like that's kind of human nature."
Extra points
The Packers listed three players on their injury report as not having practiced Wednesday: Veldheer, tight end Marcedes Lewis (knee) and defensive tackle Kingsley Keke (concussion). … Offensive lineman Rick Wagner (knee), cornerback Kevin King (Achilles'), outside linebacker Za'Darius Smith (ankle/thumb) and wide receivers Allen Lazard (core/wrist) and Equanimeous St. Brown (knee/ankle) were listed as limited participants. … For the Rams, All-Pro defensive tackle Aaron Donald (ribs) did not practice but proclaimed himself ready to go. "The way I'm feeling right now, I'm not too worried about it," he said. "I feel good, I feel strong, and I'll be ready come Saturday."
---
Photos: Packers' 2020 season so far in pictures
Photos: Packers' 2020 season in pictures
Check out photo galleries from every game of 2020 through the end of the regular season and the playoffs.