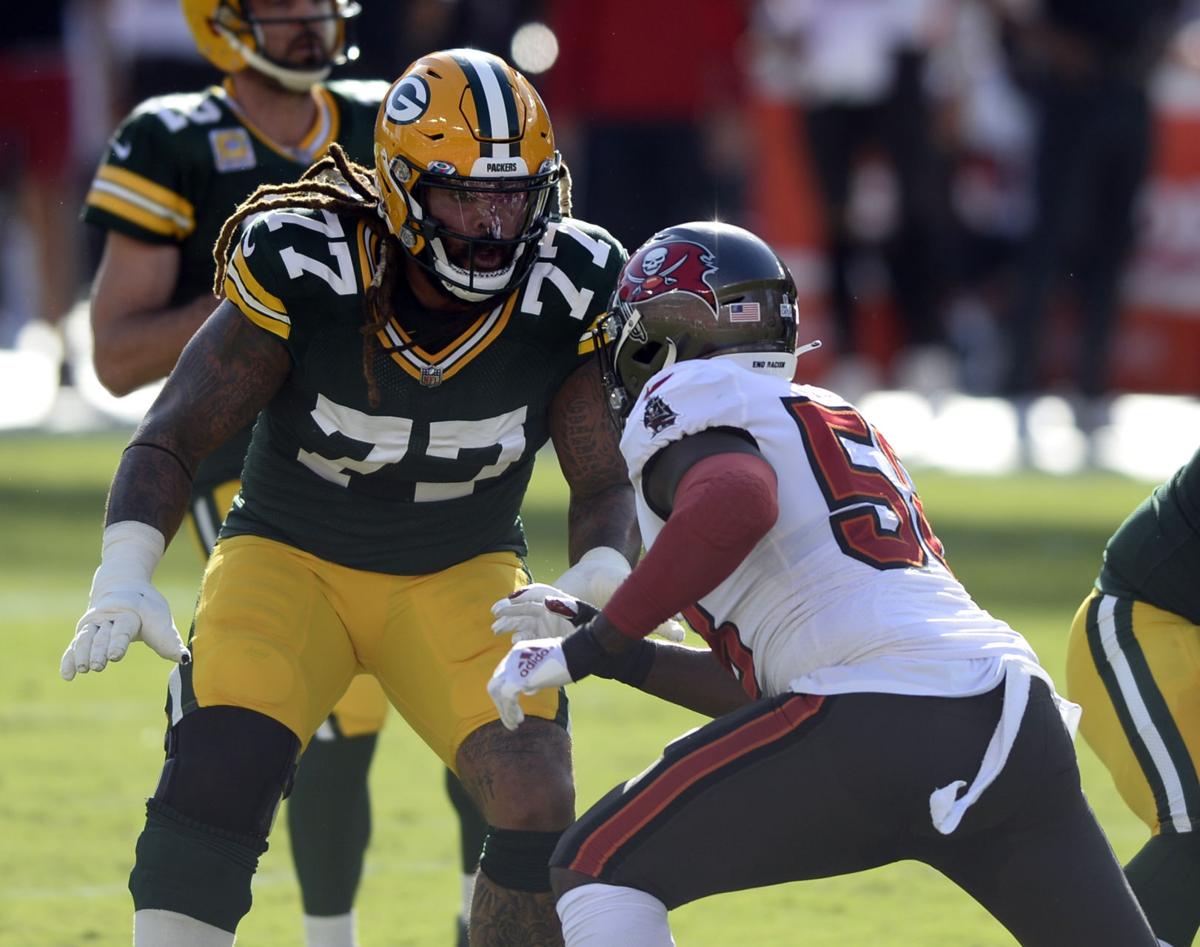 GREEN BAY — The Green Bay Packers will likely have to face one of the NFL's best defensive lines without Elgton Jenkins, but head coach Matt LaFleur isn't giving up hope just yet of his left guard-turned-left tackle being able to play despite an ankle injury.
"There's definitely an outside chance," LaFleur said after Friday's practice, which Jenkins again sat out with the ankle injury he suffered and played through during Monday night's 35-17 victory over Detroit. "We'll list him as doubtful. If he can come around in the next 48 hours or whatever before we kick off, then we'd let him go."
LaFleur didn't want to tip the San Francisco 49ers off as to his plan to replace Jenkins, but the Packers can basically go one of two ways.
They can shift right tackle Billy Turner to left tackle and start Dennis Kelly in Turner's spot on the right side, or they can leave Turner where he is and start Yosh Nijman, who is listed on the depth chart as the backup left tackle and is coming off a strong preseason in which he played extensively and showed significant growth.
But making your first NFL regular-season start against Nick Bosa & Co. is less than ideal, so it's a virtual certainty that Turner, who started six games (including playoffs) at left tackle last season, will be on the move.
Turner started four regular-season games at left tackle, including the Packers' 34-17 win at San Francisco last Nov. 5, although he moved to right tackle in the second half after injuries struck and Jenkins took over at left tackle for the remainder of that game. Turner also started both playoff games at left tackle after David Bakhtiari's season-ending knee injury during a New Year's Eve afternoon practice, and while he played well against the Los Angeles Rams in the NFC divisional round, he struggled against the Tampa Bay Buccaneers' strong front in the NFC Championship Game.
"Line play at every level throughout any part of the history of this game is all about cohesion and playing with one another. You need to have confidence in the guy next to you and you guys need to be on the same page," Turner said earlier this month. "You almost need to be thinking for each other. You need to be in sync. It's almost like a one-brain mentality."
Asked how he handles moving around the line so often, having also started six games at right tackle and four at right guard last season, Turner replied, "I learned a long time ago that I cannot approach any season with expectations of playing any position. It's the same year in and year out. I approach the season, wherever I'm at Day 1 of training camp might not be where I'm at Day 2 and it might not be where I'm at the end of training camp, the middle of the season or the end of the year. You just never know. You're always going to be ready to switch positions. And to be honest with you, that's just who I am as a player. It's honestly helped me in my career a lot."
The Packers are also having veteran Lucas Patrick and second-year guard Jon Runyan compete weekly for the starting left guard spot, meaning the only certain starters for Sunday night are rookies Josh Myers at center and Royce Newman at right guard.
"Our line, we're pretty close," Newman said Friday. "Our whole line is ready to play. We've been working a lot of different combinations throughout practice this week, so I mean, really, anybody could play."
Adding an additional challenge to Jenkins' absence is the fact that this will mark the Packers' first true road game with fans after the opener against the New Orleans Saints was moved out of the Caesar's Superdome to Jacksonville's TIAA Bank Field in the wake of Hurricane Ida.
"It's a collective effort across not only the offensive line, but everybody's got to be on point," LaFleur said. "Whether it's in the run or the pass — but especially in the passing game when you're talking about disruptive edge rushers — everybody else has a responsibility to be where they need to be within the timing of the play. The quarterback has a responsibility in terms of making sure he's working through his progressions and the rhythm and timing with what the play is meant to be. So, it puts a little extra on everybody.
"We feel like we've got the people to go in there and get the job done. Certainly, it's going to take our best effort because this is an elite defense. They've got All-Pros really on every level. So, we're going to have to be on point."
Tight end Dominique Dafney, who is questionable with a hip injury, is the only other player to remain on the Packers' injury report.
Dafney was added to the report on Thursday after being limited in practice, and he didn't take part in Friday's practice. His versatility as a blocking tight end, pass catcher and fullback was something the Packers coaches had raved about following the win over Detroit.
"He's been really good," offensive coordinator Nathaniel Hackett said. "It's not too big for him, he's aggressive. He understands what to do, he understands angles and has some good ability.
"Football's about, you never know when that opportunity's going to happen. And it goes across everybody in the organization — once you get that chance, what are you going to do with that chance? And a guy like Dafney has really made a lot of it. And it's been great to see."
Photos: Packers' 2021 season in pictures
Check out photo galleries from every game of 2021 from the preseason through the end of the regular season and the playoffs.