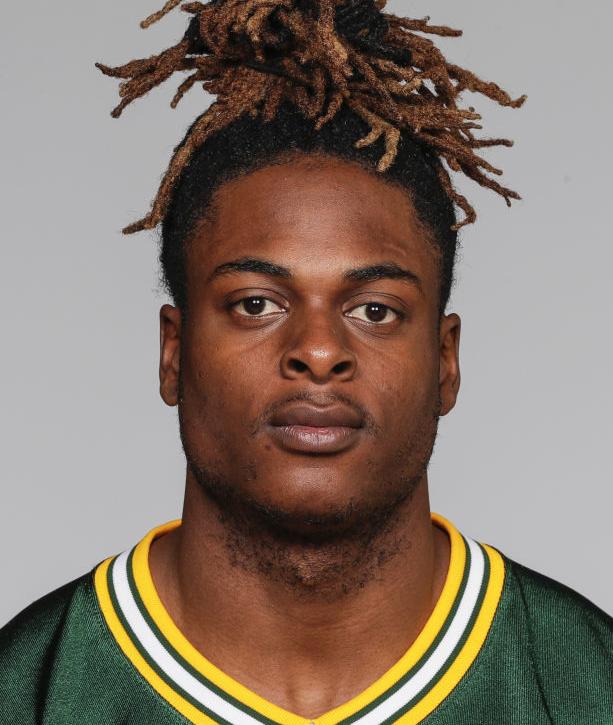 SANTA CLARA, Calif. — Davante Adams pulled his army green hoodie over his head and smiled.
"You know," the Green Bay Packers star wide receiver said to a bystander near a laundry hamper inside the team's Lambeau Field locker room, "I've never been to the podium before."
It was the middle of the week, with the media attention and hype ramping up for Sunday's NFC Championship Game between the Packers and San Francisco 49ers. With the winner headed to Super Bowl LIV in Miami to face the winner of the AFC Championship Game between the Tennessee Titans and Kansas City Chiefs, the NFL likes to have key players do press conferences during the week — instead of their usual locker-room interviews — to feed their NFL Network programming and various online outlets.
Quarterback Aaron Rodgers, who intentionally does his midweek interview sessions at his locker, was even required to do two such press briefings, including a rare Friday Q&A session.
Now, to be clear, Adams wasn't nervous. When you've made a living catching game-winning touchdown passes — or, in the case of last week's NFC Divisional playoff win over Seattle, two touchdown passes and an enormous 32-yard over-the-shoulder grab on third down with 2 minutes left in the game and the Packers trying to close out their victory — a few questions in front of a couple dozen reporters and television cameras in the media auditorium isn't anything to worry about.
What was interesting is how Adams carried himself. He self-deprecatingly mentioned his recruiting ranking coming out of high school in Palo Alto, Calif. ("Is one-star a thing?") He spoke excitedly about how many of his friends and family will be at the game — he was at 18 tickets and counting — and called the trip back to the Bay Area a "dream come true" for him. ("Obviously, it's not playing in the Super Bowl in the Bay Area, but it's the next best thing.") He even apologized to a reporter who began to ask him a question while Adams was still answering the previous one. ("Sorry to interrupt you.") And he even reveled in retelling stories of opponents from football-factory schools who poked fun at his alma mater, Fresno State. ("They want to disrespect the school I went to and I'm like, 'It clearly don't mean nothing, because look where we are.'")
"It's not hard to recognize his talent," coach Matt LaFleur replied when asked at midweek what he knew about Adams when he took the Packers job last January. "Whenever you put on the tape, whether you're studying an opponent and you're watching film of him, he flashes all over the screen.
"But what's really cool is when you get to dig down and get to know these guys as people and see what he's about as a person. He's a great human being. He's a great person. He's a great dad, great husband, great teammate and he's a really smart football player. And any time you have a good person and you add the intelligence that he has, that's why you get players that are of his caliber. He's super intelligent and he's got all the physical traits. He's wired the right way."
Nevertheless, Adams' open, loose demeanor seemed slightly out of character for a player who, while frequently unguard-able on the field, can be quite guarded with the media and even skeptical of unfamiliar reporters' intentions in interviews. While clearly confident from the moment he arrived as a 2014 second-round pick — a self-assuredness that immediately caught Rodgers' eye and didn't waver even after a disappointing, injury-impacted second season in 2015 — Adams has long eschewed the look-and-me, stereotypical wide receiver/diva persona.
Apparently with one small exception.
"He posts a lot on social media, so you should get a little insight," Rodgers said with a wry smile late in the week. "That's what all the young, millennials do these days."
Instagram and Snapchat notwithstanding, this could be Adams' go-viral moment. Coming off a Packers franchise single-game playoff record 160 receiving yards that included clutch catch after clutch catch and facing a 49ers defense that surely will be hell-bent on stopping him, if Adams can lead the Packers' otherwise unproven wide receiving corps to victory and a Super Bowl berth, the rest of the football world might finally pay more attention to him.
A two-time Pro Bowl selection, Adams put up gigantic numbers last season, catching 111 passes for 1,386 yards and 13 touchdowns in only 15 games. But the Packers finished 6-9-1 and missed the playoffs for the second straight year. This year, he missed four games in the middle of the season with a painful turf toe injury and wound up with 83 receptions for 997 yards and five touchdowns.
Sunday's matchup with the 49ers marks the third time Adams has played in an NFC Championship Game in his career, but the Packers lost both of his first two chances. As a rookie in 2014, Adams helped the Packers get to the NFC title game by catching seven passes for 117 yards, including a 46-yard touchdown, in an NFC Divisional win over Dallas. But he caught just one pass for 7 yards the following week in Seattle amid the Packers' epic late collapse against the Seahawks.
In the 2016 NFC Championship, while Atlanta's Julio Jones was catching nine passes for 180 yards and two touchdowns to spearhead the Falcons' 44-21 blowout victory, Adams caught three passes for 16 yards.
A breakout performance against a future Pro Football Hall of Famer cornerback in Richard Sherman would certainly alter the narrative.
"I'm not trying to be a superhero. I go into the game and run my routes, catch the ball and try to do something with it," Adams said. "I'm not going into it freaking out, telling Matt we need to install this play for me or that play. I let them take care of what they've got to do, and I'll go out and try to win my routes.
"The heroics is what can set back teams. We've experienced that in the past, where somebody tries to step up and do too much where you just do your job and trust the process, trust that all your teammates are going to handle their 1/11th and we'll be good."
As they game-planned during the week, the Packers did so expecting Sherman to do what he's done for most of his career — line up at left cornerback and stay there whether he's facing Adams or not. But with their opposite cornerback spot having been an issue late in the season, Sherman could match up mano-a-mano on Adams wherever he goes.
"That's what we're anticipating. But we'll have a plan in place if that does happen," LaFleur said of Sherman staying on the left side. "I'm sure they'll have a plan for Davante, whether it's having somebody travel with him or clouding him. They'll have a plan for him, there's no doubt.
"(But) we move him around quite a bit. So, he's going to end up all over the place."
Added Adams: "Obviously, I'm not going into it expecting to be singled up."
What Adams does expect is to get the ball as often as the offense allows. After Adams' performance against Seattle last week, Rodgers paid him the highest compliment by comparing the mental telepathy he and Adams now share to the connection Rodgers had with Jordy Nelson for so many years.
Now, with a Super Bowl berth on the line, Rodgers knows Adams needs to tilt the field in the Packers' favor to get them there.
"I think the most important thing at this point is you are who you are. You have to understand what they're going to try and do to us. And obviously taking away '17' has got to be right near the top of the list because he's so talented," Rodgers said. "We're going to have to find ways to get him the football still. The best offenses that we've watched over the years, you still find a way to get the football to your go-to guy. So we've got to find a way to get him the ball and we have to have contributions from other guys on the perimeters as well because you would expect that would be a focal point of their defense."
And if they succeed and advance to Super Bowl LIV? Will Adams show even more of who he is — beyond social media?
"I think for him, it's kind of what the whole team has gone through this year, and that's feeling comfortable being themselves and being a bigger version of themselves — allowing the personality to come out," Rodgers replied. "(LaFleur) wanted it to be a player-led team, and a player-led team has to be led by guys who are authentically themselves and who know who they are.
"We added guys who I think feel really comfortable being themselves. They know who they are. And Tae is one of those guys. As his production continues to grow year after year, people are going to find out a lot more about him."
---
Packers vs. 49ers: Three things to watch in NFC championship
NFC Championship preview: 3 things to watch when Green Bay Packers battle San Francisco 49ers
1. MAN WITH A PLAN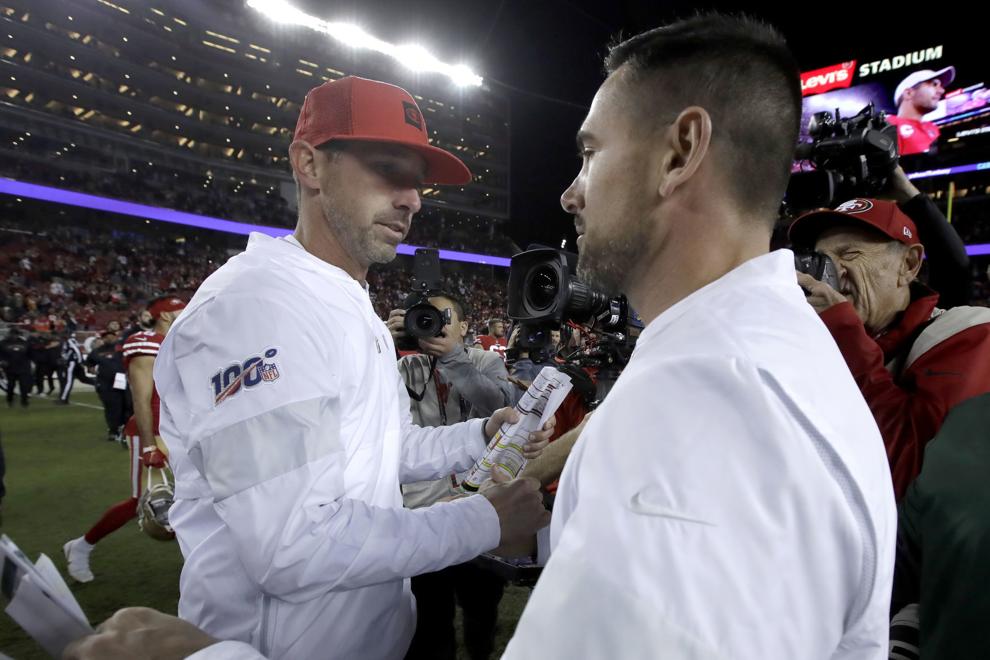 There was plenty of discussion about the teams' first meeting this season on Nov. 24, when the 49ers' walloped the Packers, 37-8, at Levi's Stadium. While the Packers players and coaches were repeating the mantra that the game was a long time ago and didn't matter at this point — presumably because they were so soundly beaten — the 49ers and head coach Kyle Shanahan (above left) were doing their best to downplay the game's significance, too. Why? To prevent overconfidence, for one.
But the game does mean something to Packers head coach Matt LaFleur (above right): It serves as a lesson on what not to do this time around. And according to LaFleur, who went back over the film of that game with a fine-tooth comb earlier in the week to extract any lessons he could, that starts with a smarter offensive game plan than the one he used the first time. Certainly his players have noticed.
"We're definitely going into this game with a much better plan than we did the last time we played them," star wide receiver Davante Adams observed.
Asked why he thought Adams might feel that way, LaFleur replied, "I think that's a product of these guys having been in the system longer. So, I hope they're more comfortable and more confident. I don't think you ever design a game plan feeling bad about it. You always want to feel great about your game plan. But certainly, obviously, it wasn't good enough last time. There's no doubt about it. When you get beat by 29 points like that, it wasn't a good plan.
"Certainly we feel confident about it (for this game), but ultimately, we've got to go out there and execute it against a really good defense."
What might that plan look like? Against a dominant front four, LaFleur likely will want quarterback Aaron Rodgers to get the ball out of his hand quickly. It would also stand to reason that he'd want to move the pocket so Rodgers has a better chance of eluding the rush and getting the ball to Adams, who set a Packers single-game postseason franchise record with 160 receiving yards in last week's NFC Divisional playoff win over Seattle.
Also, as good as the 49ers were this season (No. 2 in total defense, No. 8 in scoring defense), they still had games where opponents put up points; New Orleans' 46-point effort in a Dec. 8 loss to the 49ers surely caught the Packers coaches' attention.
"Obviously if we left the game with eight points and lost by 29, obviously the plan wasn't good enough. That's not a knock on Matt or anybody. The execution obviously wasn't good enough, either," Adams said. "The plan, so far what I've seen, I really like, and I think it's a better way to attack this defense. And yeah, we're all jacked up for it."
2. KITTLE TO BITS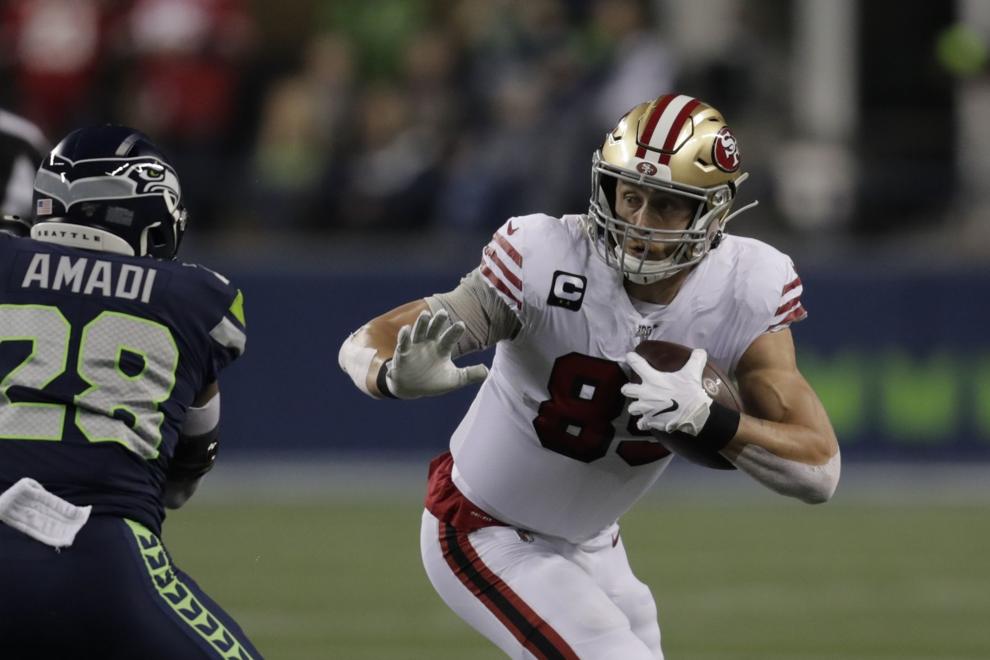 With a bevy of talent on both sides of the ball, it's hard to pick just one 49ers player who should worry the Packers the most. But a vote for tight end George Kittle (above), who finished the season with team-high numbers in receptions (85), receiving yards (1,053) and touchdown catches (five) is probably a smart one. And the Packers will have to be smart about defending him, because the 49ers have seen opponents try a variety of techniques — and then taken advantage by getting the ball to other players when need be.
"I feel like we've seen almost everything on how to stop Kittle — different stuff to do for our run game, a lot of things," Shanahan said. "Kittle always makes it tough because he's not just a one-dimensional player. You've got to find a way to stop him in the pass game but sometimes when you do that it'll hurt you in the run game, as good of a blocker as he is. Sometimes when people do too much to stop Kittle, it makes things a lot easier in another way.
"There's not really a spot on the field that he can't be effective for the offense and help the offense. It's hard to say that about many tight ends."
Kittle caught six passes for 129 yards, including a 61-yard touchdown, in the teams' first meeting, and while he only had three catches for 16 yards against Minnesota in last Sunday's NFC Divisional round, the Packers know better than to underestimate him.
"He's a great player. He makes plays all over the place," LaFleur said. "I think he's the most complete tight end in the National Football League. I love watching this guy play, just the emotion he plays with, the energy. He's a big part of that offense, a big part of that football team, and we've got to make sure that we do our best to try to contain him as best as we can.
"He's going to get his touches, he's going to get his yards, but what we can't get beat on is like the big play when they ran the keeper-corner-post on us the last time we played them for a touchdown. Just got to do our best to eliminate those types of plays."
The Packers might be inclined to be physical with Kittle at the line of scrimmage to disrupt his routes, but defensive coordinator Mike Pettine cautioned that doing that on every down could backfire. Instead, he'll likely use a mixture of coverages and assign Kittle to various defenders.
"There's a bunch of different things, whether it's having multiple guys cover him, have certain people in zones lock on him," inside linebacker Blake Martinez said. "Whatever it ends up being, it's just having more than one set of eyes on him at all times."
3. THIRD DOWN IS FIRST PRIORITY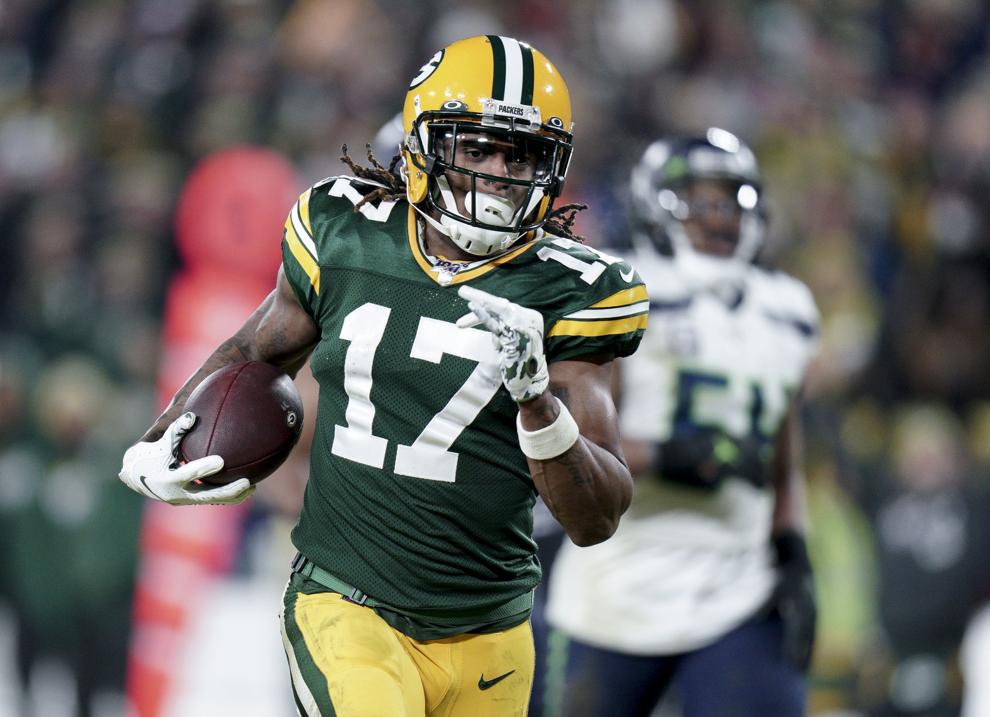 In a season in which the Packers constantly struggled in third-down situations — only nine teams in the 32-team league were worse than the Packers, who converted 36% of their third downs — it was never uglier than it was against the 49ers in Week 12, when they finished the game 1 for 15 (6.7 percent) and were actually skunked while Rodgers was still in the game. Their only conversion came with backup quarterback Tim Boyle playing in garbage time.
Adams (above) called the performance "terrible," and that might've been generous. They'll have to find a way against the second-best third-down defense in the NFL, a unit that allowed a 32.4% conversion rate during the regular season and held Minnesota to just seven total first downs and a 2 for 12 conversion rate on third downs.
"I think it's critical. You've got to stay on the grass," LaFleur said of third-down success. "When you look at this style of defense, it's hard to get those explosive plays. So in order to string together drives, you've got to convert on third down. And this is as good as defense as there is out there. And really, they were missing a lot of key players for a good portion of the year. So it's going to be a great challenge for us. But that is going to be absolutely critical to our success is just being able to have some of those long drives in order to generate points."
The good news? The Packers had their best game of the season in third-down situations in beating Seattle last week, converting 9 of 14 situations, including two clutch conversions on their final possession with Rodgers hitting Adams (32 yards) and Jimmy Graham (9 yards) to run out the remaining clock. Could it carry over?
"I think it's game to game," LaFleur replied. "I think a lot of our success is going to be dependent upon how we do on those first and second downs, getting in those third-and-manageables, trying to get them into certain looks. Ultimately, it's going to be about our guys winning those one-on-one battles. You always think about receivers and tight ends, but it's going to come up front as well. They're going to be putting us in some situations where it's going to be man-versus-man and our guys are going to have to win those in order for us to have success."
---
Jason Wilde covers the Packers for ESPN Wisconsin. Listen to him with former Packers and Badgers offensive lineman Mark Tauscher weekdays from 9 a.m. until noon on "Wilde & Tausch" on 100.5 FM ESPN Madison.