GREEN BAY — At his offseason home in California, Davante Adams keeps all of his awards in a trophy case — one that becomes more crowded with every passing year.
On Tuesday, the Green Bay Packers two-time first-team All-Pro wide receiver added the 2021 Tom Mulhern Stand-Up Guy Award, and at some point this offseason, a friend or family member will see that Adams now has three of them — and have no idea what they're for.
"You can't tell what it is. To everybody else, they just see another accolade," Adams explained after accepting the award from reporters via Zoom Tuesday afternoon as the Packers prepared for Saturday night's NFC divisional playoff matchup with the San Francisco 49ers. "It means a lot coming from you guys, but this could be an ESPY for all they know. They just see it sitting on the shelf. It looks pretty official. It looks really good."
Really good doesn't quite cover just how committed Adams has been to fulfilling his media obligations, especially over the past two COVID-19 impacted seasons but really throughout his eight-year career in Green Bay. He spoke Tuesday of understanding how the media is an important conduit between players and fans, and how he appreciated beat writers' sometimes tough-but-fair questions before he became the NFL's best wideout.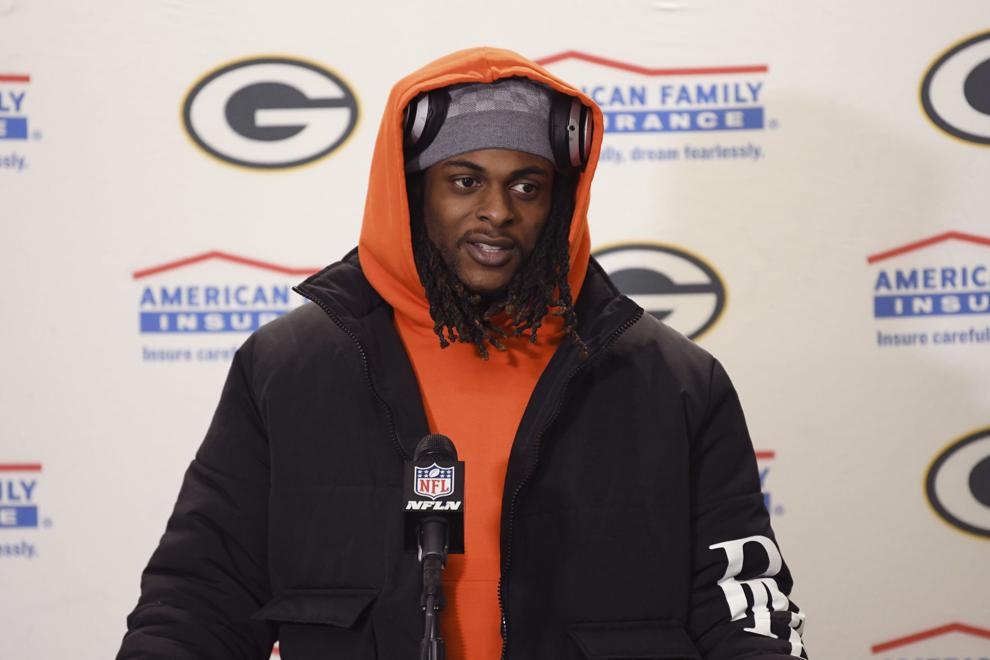 The award, presented by the Green Bay chapter of the Professional Football Writers of America and given annually to the player or players voted to have shown "exemplary professionalism in helping pro football writers covering the Green Bay Packers do their jobs," is named for the late Tom Mulhern, the former Wisconsin State Journal writer who covered the Packers (1986-1998) for the Green Bay Press-Gazette, Milwaukee Sentinel, Appleton Post-Crescent and State Journal before covering University of Wisconsin football for the State Journal from 1999 through 2014. Mulhern died in October 2014 from complications caused by Creutzfeldt-Jakob Disease at age 56.
The award began in 2014 but was first presented in Mulhern's honor in 2016, when guard T.J. Lang and safety Micah Hyde were selected. In 2017, Adams and veteran left tackle David Bakhtiari shared the award. Defensive tackle Kenny Clark was chosen in 2018, while three players — right tackle Bryan Bulaga, cornerback Tramon Williams and kicker Mason Crosby — finished tied in 2019. Last year, Adams and quarterback Aaron Rodgers were the honorees.
Adams became the award's first three-time winner and first unanimous selection.
While standard NFL contracts require players to reasonably cooperate with the media — and threaten fines for non-compliance — Adams has done more than just meet the requirements since entering the league in 2014 as a second-round pick from Fresno State.
"If you watch the clock at school, it's going to be a long day. So, I try to get the most out of everything that I do," Adams explained. "That was something I was taught by my parents, especially my dad. That's something he was on me about, 'Don't just go through the motions. Commit to it, whatever you're doing. If you're at football practice, get the most out of everything you do.'"
Adams said he was especially appreciative of how beat writers treated him fairly while also asking hard questions about his struggles in 2015, when No. 1 wide receiver Jordy Nelson suffered a knee injury in preseason and was lost for the year, forcing the inexperienced Adams to be Rodgers' primary target. Dealing with an ankle injury himself, Adams couldn't adequately fill the void left by Nelson, and some impulsive fans wanted little-used Jeff Janis to get more opportunities at Adams' expense.
"Obviously, I went through a tough part of my career in 2015. There were times I didn't want to (talk) or maybe I even tried to slip out of the locker room quicker, just because of some of the stuff that I was going through," Adams said. "When I look back on it, I didn't love every single question I was asked, but I never felt any type of particular way negatively about any of you guys throughout that whole process.
"Even when you have to ask some of the tougher questions that you've got to ask, I feel like you all treat me like a human being. It feels good to feel that, and it makes it a lot more fun to come in here and chat with you all and give you the real me. I just try to me be. I like to think that's what it is."
Extra points
With Adams set to become a free agent, Rodgers' future uncertain and two of his top assistants — offensive coordinator Nathaniel Hackett and quarterbacks coach Luke Getsy — having interviewed for multiple head-coaching jobs, coach Matt LaFleur acknowledged it's "natural" to have a feeling of finality about the team's playoff run, however long it lasts. His solution? "I think you've really got to keep everything in perspective and really just focus on what you have right in front of you," LaFleur said. "Whether it's the meeting, whether it's the walkthrough, whether it's the practice, just making sure you're dialed in, you're locked in, you're doing everything you can to stay in the moment. You've got to try and compartmentalize that as best you can and try to keep it as normal as possible." … The Packers protected four players on their practice squad: receiver/returner David Moore, kicker J.J. Molson and defensive linemen R.J. McIntosh and Abdullah Anderson. … According to longtime NFL columnist Rick Gosselin, the officiating crew Saturday will be an all-star crew led by referee Ron Torbert. Torbert's regular crew finished 14th of the NFL's 17 crews in penalties called this season. Home teams went 10-7 in those games, and the Packers are 6-2 all-time with Torbert as the referee. The 49ers are 3-5.