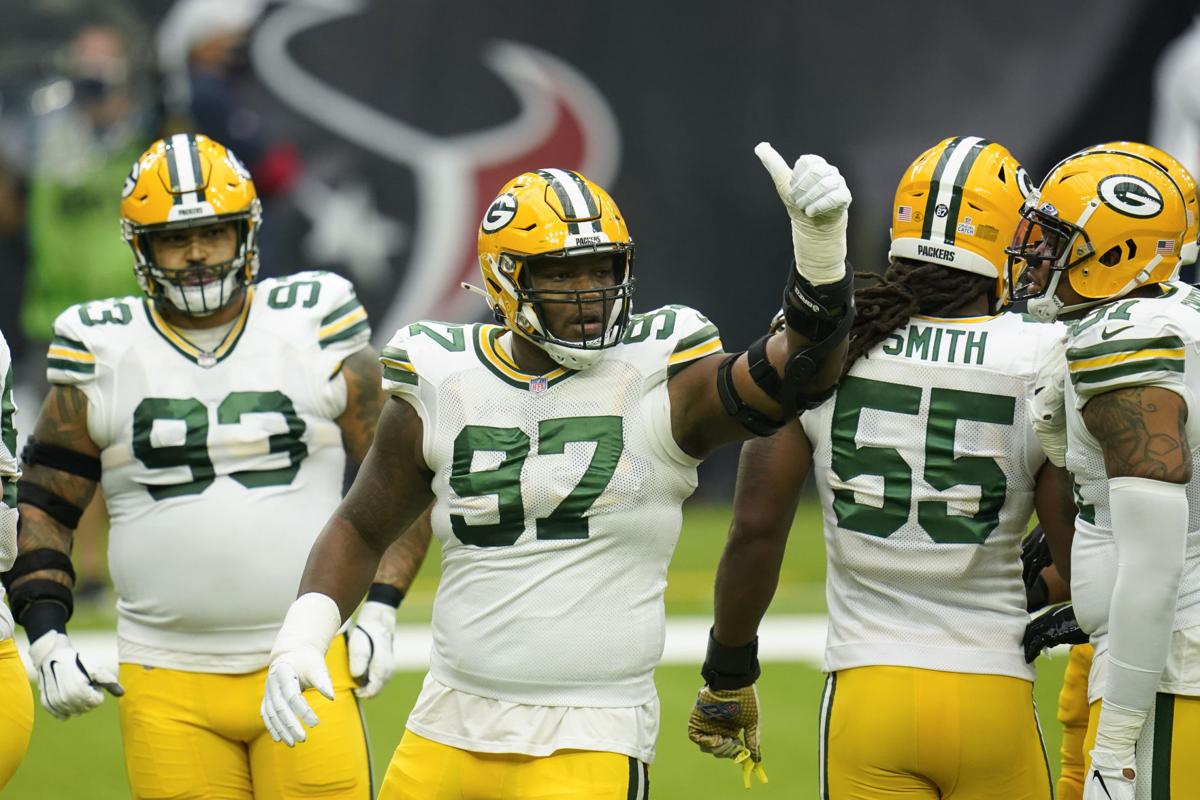 GREEN BAY — Still just 25 years old, Kenny Clark is entering his sixth NFL season. And for as good as he's been at times throughout his Green Bay Packers career, he has not — in large part due to ill-timed injuries — reached the elite level that he or his coaches believe he's capable of.
Could this be the year that finally changes?
Clark made his first Pro Bowl as an alternate replacement two years ago, but last year didn't go as he'd hoped — by Clark's own admission. He suffered a groin injury during the regular-season opener at Minnesota, forcing him out of that game and sidelining him for the next three games before finally returning after the bye week.
When he did, he was rusty and not nearly as disruptive as he needs to be for the defense to be effective — and, having signed a four-year, $70 million extension as training camp began, the conscientious Clark seemed to press.
He was just rounding into form late in the season, and he wound up with more sacks (2.5) in two playoff games than he had in 13 regular-season games (2.0)
"One thing about Kenny is he's driven in all the right ways. He's a self-starter. So, he's going to get to where he needs to be," defensive line coach Jerry Montgomery replied when asked if 2021 will be the year his prized pupil reaches that elite level. "The first couple of games, I think across the board, we started somewhat slow. But towards the end of the year, he just each week got better and better and better.
"But to answer your question, I think for him to do what he needs to do to take that next step is to keep doing what he's been doing. Because he's played at a high level. He's productive. He affects the quarterback and in the run game. If anything is around him, he's usually on it. So, just continue to grow."
The other goal for Montgomery is to find a suitable running mate for Clark. The team repeatedly gave 2017 third-round pick Montravius Adams opportunities to be that player, but he never developed and departed for New England in free agency.
General manager Brian Gutekunst tried to acquire New York Giants defensive tackle Dalvin Tomlinson at last year's trade deadline, then tried to sign him in free agency in March before Tomlinson signed a two-year, $22 million free agent deal with the Minnesota Vikings.
That leaves third-year man Kingsley Keke, who was inconsistent even before a concussion robbed him of the final weeks of the season, as the most likely player to emerge. Montgomery also hopes veterans Dean Lowry and Tyler Lancaster can rebound from pedestrian seasons.
Then there's rookie T.J. Slaton, who caught Clark's eye during offseason practices.
"He can play a lot of different positions for us. A guy that's eager to learn," Clark said. "That's what you want to see. You want to see a guy that really cares about his job and what his role is going to be on this team."
Here's a closer look at the defensive line as the Packers prepare for training camp, which is scheduled to begin with veteran players reporting on Tuesday before Wednesday's first full-squad practice:
Depth chart
95 Tyler Lancaster: 6-foot-3, 313 pounds, 26 years old, fourth year from Northwestern.
97 Kenny Clark: 6-3, 314, 25, sixth year from UCLA.
94 Dean Lowry: 6-6, 296, 27, sixth year from Northwestern.
96 Kingsley Keke: 6-3, 288, 24, third year from Texas A&M.
93 T.J. Slaton: 6-4, 330, 23, rookie from Florida.
99 Willington Previlon: 6-5, 287, 23, first year from Rutgers.
90 Jack Heflin: 6-3, 304, 23, rookie from Iowa.
Burning question
What will a new system mean up front?
Mike Pettine is out and Joe Barry is in as the defensive coordinator. While Pettine's initial defenses had trouble stopping the run — most notably in the 2019 NFC Championship Game loss at San Francisco — the group was appreciably better last year, going from allowing 120.1 yards per game (23rd in the NFL) and 4.67 yards per attempt (24th) to 112.8 yards per game (tied for 13th) and 4.55 yards per attempt (21st). While practices in helmets and shorts don't mean much for defensive linemen and their ability to stave off blocks and make plays on ball carriers, the feeling among the defensive linemen was that not much will change for them in the new system.
With one important wrinkle: more opportunities to attack, according to Montgomery.
"Things are going to be very similar. We won't change a whole lot, to be real honest with you," Montgomery said. "But we'll definitely be a lot more aggressive at times. But for the most part, we're going to be very, very similar to what you guys have seen for the last five to six years from a technique standpoint."
On the rise
Keke was on the rise a year ago, too, but a late-season concussion — even Keke himself wasn't entirely sure when or how it happened — forced him to miss the regular-season finale at Chicago and both the team's playoff games.
Before the concussion — which he thinks he actually sustained during a Dec. 13 game at Detroit, even though he played through it that week and for two more games — Keke was starting to heat up. He registered two sacks and four total tackles in a Dec. 6 win over Philadelphia, giving him four sacks on the season. But after that, he was a non-factor.
"Year 1 to Year 2 was a huge step. Year 3 should be another drastic step for him," Montgomery said. "Obviously affecting the quarterback, being more consistent in the run game and just building his brand. That comes with all the hard work that he's put in during the offseason. He's trending in the right direction. But definitely, I expect him to take a drastic step again this year."
Player to watch
It's been awhile since the Packers have had such a mountain of a man in the mix the likes of Slaton, who is listed at 330 pounds but played much heavier during his career at Florida. A freakish athlete who admitted during the offseason he needed to alter his diet significantly to make sure the weight he was carrying was good weight, Slaton could give the Packers an option to play at nose tackle which would let Clark move around more.
"Pretty big fella," Montgomery said with a laugh. "The body fat is down. Ultimately, we've got to get him to buy in and learn how we learn do things around here. As he does that, he'll continue to develop into a good football player. But, from a size standpoint, yeah — big, massive body. He moves extremely well for his size. I look forward to him growing each day and each practice."