GREEN BAY — Bob Harlan isn't the hyperbolic type. So when the highly respected retired Green Bay Packers president/CEO looks back on some of the defining moments of the organization and says that the franchise might've crumbled or ceased to exist had those events not occurred, he is not saying it for effect.
During his roughly 19-year run as team president — and 37-year tenure with the team, which began in public relations in 1971 — Harlan saw many of the crucial moments the franchise has faced during the past half-century. He was instrumental in getting Lambeau Field renovated in the early 2000s and poured so much of his heart and soul into it that at least four times a day, he would walk out into the bowl of the stadium and survey the progress being made from the stands. Then, before he went home every night, he drove his SUV first to the east parking lot and then to the west, just sitting there and taking it all in.
"I think the workers almost got tired of seeing me," he joked.
In truth, the dangers that faced the Packers were no laughing matter. Not all of them came on Harlan's watch, but he did preside over many of them. It started with his hiring of Ron Wolf as general manager in 1991 and continued with the trade for quarterback Brett Favre in 1992. The culture- and perception-changing free-agent signing of Reggie White came in 1993. In 1994, the team decided to pull out of Milwaukee County Stadium and play all its games in Green Bay. The 1997 stock sale and, later, the Lambeau Field redevelopment project defined his tenure.
But the rebuilding of the team's fabled stadium was only one crucial moment in the team's storied history. Here's a look at five pivotal events that, had they not happened, the Packers may never have made it to their 100th anniversary on Aug. 11.
The Milwaukee Packers?
From 1933 to 1994, the Packers played selected home games in Milwaukee, in four different stadiums, although they primarily used two: State Fair Park in the Milwaukee suburb of West Allis, where they played games from 1934 to 1951 and hosted the 1939 NFL Championship Game, and Milwaukee County Stadium, where they played a handful of games each year from 1953 until 1994.
But the team's decision to move portions of its schedule to Milwaukee was about more than just expanding the fan base. In the 1930s, the team's financial troubles became so problematic that the franchise spent 17 months in receivership. Milwaukee's larger population base gave the team greater ticket sales and likely saved the franchise.
"They were on the verge of bankruptcy, so it was an economic necessity then," Packers team historian Cliff Christl said. "And then it became part of the Packers' territory. (Team president) Lee Johannes was the one who really pushed for that, and the NFL voted on it and passed it. And that, too, was critical to the Packers' survival."
Later, the construction of County Stadium paid other dividends for the Packers, as its arrival pressed Green Bay into action in the 1950s, leading to a new City Stadium — later renamed Lambeau Field — in 1957.
Then, in 1965, several groups from Milwaukee, including one led by Realtor Marvin L. Fishman, made pitches for having an AFL franchise in Milwaukee. In response, then-Packers coach Vince Lombardi traveled to Milwaukee and signed a new seven-year lease for the Packers to continue playing games at County Stadium, giving the club exclusive pro football rights in Milwaukee through 1976, or until after the threat of an upstart team had passed.
Harlan made the decision to move all games to Lambeau Field starting in 1994, with Milwaukee-area ticket-holders receiving a season-ticket package of two regular-season and one preseason game.
"When I started covering the team in the '70s and '80s, a lot of players preferred playing in Milwaukee," Christl said. "The Packers actually played better in Milwaukee, and a lot of people thought the fan support down there was more rabid. But things change."
Vince Lombardi's hiring
In 1958 — with, as it would turn out, five future Pro Football Hall of Fame players on their roster — the Packers went a pathetic 1-10-1 under the forgettable Ray "Scooter" McLean. It marked the 11th straight non-winning season for the franchise — 6-6 finishes in 1952 and 1955 had been the only "successes" during those years — and the once-proud, dominant franchise was a decade and a half removed from its last championship, in 1944.
Legendary Curly Lambeau's final five seasons had been disappointments, and the coaches that followed — Gene Ronzani, Lisle Blackbourn and McLean — went a combined 33-74-2 over the next nine years.
Then, on Jan. 28, 1959, the Packers hired Vincent T. Lombardi.
"And everything changed," Pro Football of Fame guard Jerry Kramer recalled in an interview.
Lombardi, who had been the New York Giants' offensive coordinator, was 45 years old at the time. He had been a guard on Fordham University's famed "Seven Blocks of Granite" offensive line in the mid-1930s, but he had never been head coach above the high school level. He signed a five-year contract to serve as coach and general manager and made his expectations clear from the day he was hired.
"My word will be final," Lombardi said at a press conference in New York. "I've never been connected with a losing team, and I hope to instill a winning spirit in the Packers in a lot less than five years."
He delivered, of course. With many of the same players, the Packers went 7-5 in 1959 — a six-victory improvement — but missed the playoffs. The next year, they went 8-4 and lost in the NFL championship game. In the next seven years, they won five titles, including the first two Super Bowls.
"Coach Lombardi was the difference," Kramer, a rookie on the 1958 team, said. "That emotional attitude, that burn, that fire, that spirit, that hunger is the difference in the game.
"(Chicago Bears) coach (George) Halas said one time after a loss, 'We knew what they were going to do. We knew where they were going to do it and we knew when they were going to do it. We just couldn't do anything about it.' We executed, we had the tight rein on our emotions and we didn't hold, we didn't do silly things and make mistakes. Coach Lombardi was right on top of that all the time."
Had they not hired Lombardi, Kramer believes another coach wouldn't have maximized the talent Lombardi inherited. Who knows where that would have led?
"He was just a constant presence," Kramer said. "Sometimes, he wouldn't know exactly what to say. So, he'd say, 'What the hell's going on out there!' 'Is it me? Is it me?' Everybody kind of checked their hole card a little bit and upped their performance a little bit, just in case it happened to be you. He was incredibly bright, emotional, wonderful, religious, intolerant of any prejudice whatsoever. Just a very special human. Very special guy."
The Brett Favre trade
Brett Favre knew he was in trouble in Atlanta immediately. He didn't know all the particulars: That Falcons GM Ken Herock had wanted to draft him — and did, with the 33rd overall pick in the 1991 NFL Draft — and coach Jerry Glanville had not. But his initial introduction to Glanville made it crystal clear.
"The first meeting I ever had with him, I was late for the first practice of minicamp because there were two flights out of Gulfport, Mississippi, to Atlanta, and the first one was delayed, so when I got there they were halfway through practice," Favre recalled during an ESPN Wisconsin interview this summer. "And Jerry's first words to me were, 'What school you from, Mississippi?' And I said, 'Southern Miss, Coach.' And he said, 'Well, gosh dang it, we drafted the wrong guy. We wanted the guy from Mississippi State.' That was kind of the beginning of the end — and it never got better."
Favre rode the bench in Atlanta as a rookie — he threw four passes that season, with two being intercepted and two incomplete — not knowing that Wolf was already scheming to acquire him. Wolf had been in charge of the New York Jets' draft in 1991 and had been ready to take Favre at No. 34 when the Falcons swooped in. Now, having been hired by the Packers in November 1992, Wolf was four days into the job when the Packers played at Atlanta.
"So I'm up in the press box in Atlanta, about an hour and a half before the ballgame, just sitting there," Harlan said. "Ron comes up, puts his briefcase in the chair next to me and says, 'I'm going down to the field to look at Atlanta's backup quarterback. If his arm is still as strong as it was in college,' he said, 'we're going to go after him.' Just like that.
"So Ron goes downstairs, and 45 minutes later he comes back and says, 'I'm going to trade for Brett Favre. Are you OK with that?' I said, 'Sure.'"
Harlan paused, and smiled.
"I didn't know who Brett Favre was."
After two months of haggling with Herock, Wolf agreed to give up the second of the Packers' two 1992 first-round picks, No. 17 overall, for Favre.
"I don't think anybody thought I knew what I was doing. I mean, (Favre) had thrown (four) passes, two were intercepted and (two) were incomplete. You don't trade a first-round draft choice for a guy like that," Wolf said. "It's just that, I had such a belief in him as a player, and it's nice when that happens."
Favre, of course, went on to a Pro Football Hall of Fame career, led the Packers to the Super Bowl XXXI title to end the franchise's 29-year championship drought and won three NFL MVP awards. Without him, the Packers may have continued their losing ways from the 1970s and '80s and never been relevant again.
And Packers fans are eternally grateful to Glanville for not seeing what Herock and Wolf saw in ol' No. 4.
"I think Glanville's plan was, 'I'm going to make life miserable for the guy that Ken drafted in the place of someone else I wanted.' He knew he wasn't going to play me unless he absolutely had to, so he was going to make life miserable on me — and he did," Favre said. "And I'm very thankful that he did now, after the fact. But at the time, I really felt like I was stuck with nowhere to go.
"So it kind of made me (lazy). Yeah, I missed the team picture. I put on 25 pounds. I drank a lot of beer, I ate a lot of hot wings. Because if they didn't care about me, I didn't care about them. That was the mentality. Poor way to handle things, but it did work out. Almost like my plan hatched to perfection. I don't want anyone to go, 'You know, I think I'm going to do that.' Because that's not the way to handle it."
2000 Lambeau Field stadium referendum
When the Packers unveiled their proposed Lambeau Field renovation plan on Jan. 22, 2000, Harlan didn't necessarily think the process of convincing the state legislature and Brown County voters to foot part of the bill for the $295 million project would be easy. But he didn't realize how difficult it was going to be.
"I had no idea — no idea — going in what it was going to be like,'' Harlan said. "I figured, 'It's going to be tough, but it can't be that tough. These people love us.' But there were a lot of people against us, and there were many, many days driving back from Madison or driving home from work thinking, `You know, I'm not sure we're going to win this thing.'"
By the time the Sept. 12 referendum arrived, asking voters to levy a 0.5% sales tax in Brown County to raise $160 million in public funds for the stadium, the battle had taken its toll on Harlan. He had been criticized constantly in letters to the editor of the local papers, and he struggled in the political realm. His doctor warned him during his annual physical that summer that the stress was affecting his health.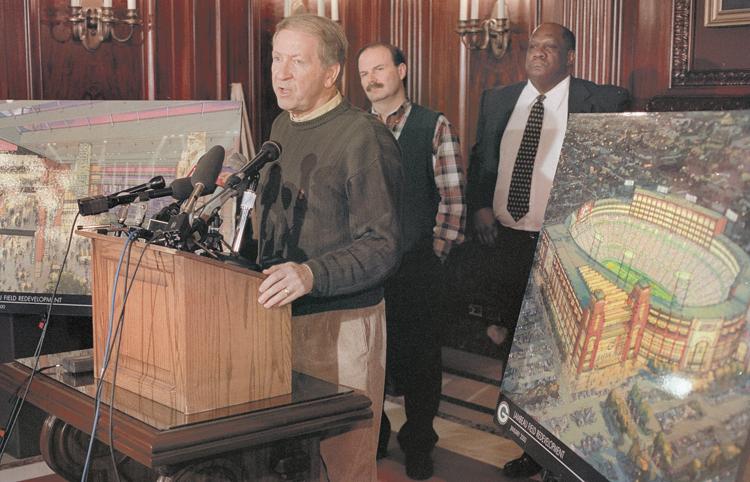 "A lawyer friend of mine, I spoke to his group that summer. He said he went home that night, and he told his wife, 'That man's going to die of a heart attack,'" Harlan said. "I know I didn't sleep very well. I just kept thinking, `What do we do if we lose?'"
That's why Harlan campaigned constantly, going to local factories before dawn to greet workers as they arrived, answering his office phone himself (as he had always done) whenever someone had a question about the project. The weekend before the vote, with the team playing in Buffalo, Harlan got up early Saturday morning and went table-to-table in local restaurants in one final push. He spent an hour shaking hands outside of Walmart, another hour outside of Sam's Club, then drove to De Pere and went door to door.
The measure passed, gaining 53% of the vote. On Sept. 7, 2003, two days before Harlan's 67th birthday, the rededicated stadium officially opened with the Packers' game vs. Minnesota. And what if it had failed?
"The worst thing I ever heard was after we won the referendum. Paul Jadin, who was the mayor at the time, called me and he said, 'I felt that if you lost that referendum, the Packers wouldn't be here by 2015,'" Harlan said. "I'm not sure how we could have competed in that old stadium. You figure, we were making $2 (million)-$3 million a year in the old Lambeau. The first year in the new Lambeau, we made $25 million.
"We were actually talking in the late 1990s about having to borrow money in a few years to fund our operation, as we looked at where player costs were going and what kind of money we were going to make from the old stadium. The stadium just produces so much revenue. And we were just dropping like a rock behind everybody moving into a new stadium."
Aaron Rodgers' draft fall
Having grown up as a San Francisco 49ers fan in Northern California, attended nearby Cal-Berkeley and been given the impression in the weeks leading up to the draft that the 49ers were going to take him with No. 1 overall pick in 2005, Aaron Rodgers thought he was on the verge of having his childhood dream come true.
Instead, the 49ers took another quarterback — Utah's Alex Smith — with the first pick, and Rodgers spent the next 4½ hours trapped in the Jacob Javits Center green room, TV cameras documenting every excruciating minute of his wait to be drafted.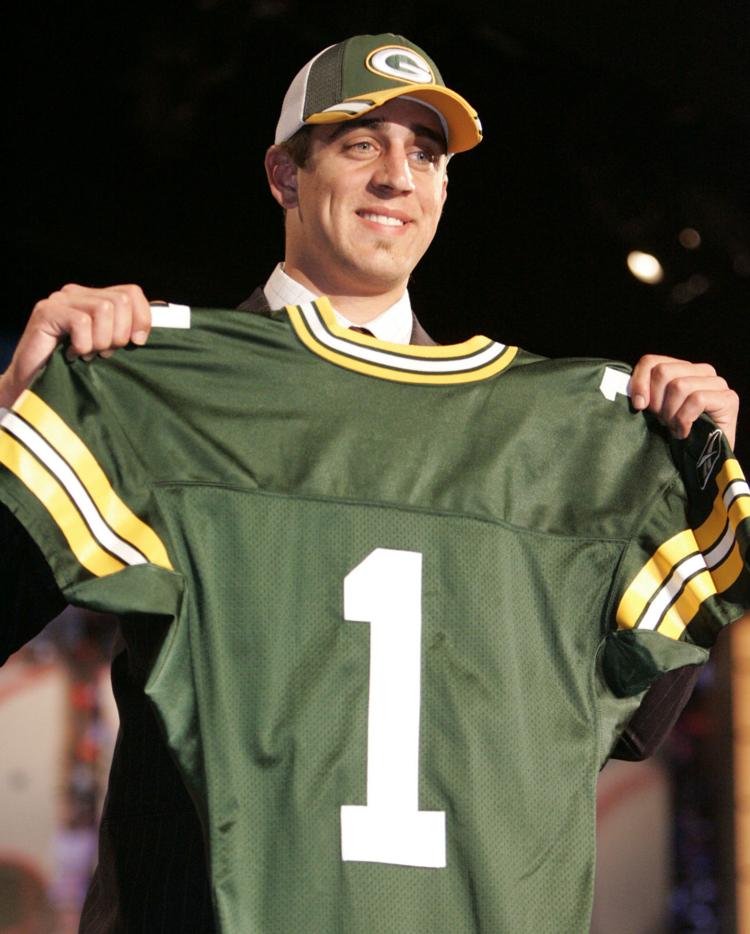 When he finally was, by the Packers at No. 24, Rodgers said all the right things during his post-pick news conference. He spoke respectfully about Brett Favre and waiting his turn behind a legend. He spoke of needing to prove himself and appreciating the opportunity ahead of him.
After that, however, came a brief 1-on-1 interview with KPIX-TV in San Francisco. In it, CBS5's Dennis O'Donnell asked Rodgers a simple, 11-word question: "How disappointed are you that you will not be a 49er?"
Rodgers' answer was similarly brief: "Not as disappointed as the 49ers will be that they didn't draft me."
Asked about his reply years later, Rodgers smiled. "That interview was right after I did my interview at the podium, back behind the green room. I'd been picked probably 20 minutes earlier. It was an emotional day, a long day," he said. "At the time, I wanted to play right away that day and prove the other 22 teams that passed on me that they'd made a mistake.
"I look at it differently now. This is where I would have wanted to be had I known then what I know now — about the kind of working environment that this is, the opportunities I would be given, the coaching staff that was going to be here. I mean, I interviewed with Mike McCarthy. He was in San Francisco."
Yes, McCarthy, the Packers head coach from 2006 through 2018, was then the 49ers offensive coordinator under then-head coach Mike Nolan, who ultimately made the call to take Smith over Rodgers. Given how Rodgers played for him — leading the team to the Super Bowl XLV title, winning a pair of NFL MVPs — and how McCarthy helped Rodgers' development early in his career, both men were fortunate fate played out as it did.
And so was the Packers organization.
"If they pick me, both our lives are changed," Rodgers said of McCarthy, who replaced Mike Sherman as Packers coach in 2006. "What would have happened had (the 49ers) picked me and things been different? I don't like doing the whole what-if game. I just know I'm really glad that I fell into God's Country here in Wisconsin and had the opportunity to spend my early years the way I did and now gotten the opportunity to be the starter and play for this team."