As the Green Bay Packers prepare to mark the 100th anniversary of the franchise's founding on Sunday, Jason Wilde ranks the five best quarterbacks in Packers history. 
5. Lynn Dickey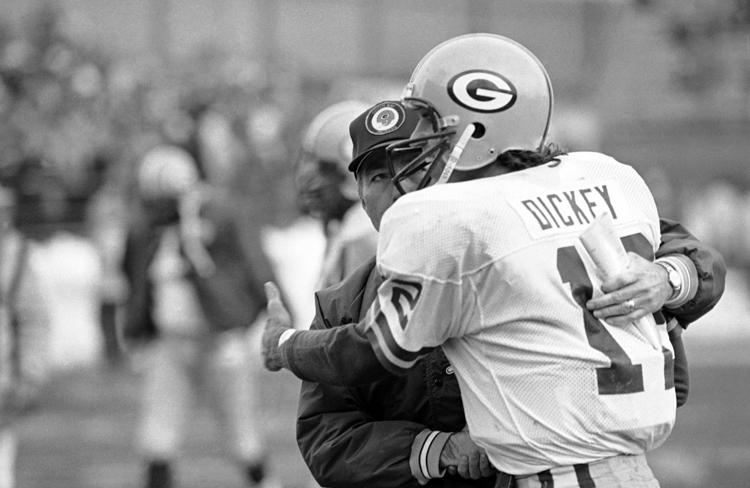 Lynn Dickey knows the player he was and could have been, if not for the injuries he had to battle during his career and the less-than-stellar defense he also had to overcome. And if the Packers ever acquire a time machine and hold a three-way tryout for the starting job among him, Brett Favre and Aaron Rodgers, Dickey is up for it.
"I'm in. I would have no problem with that. I think I could have played with anybody," Dickey said. "There's lots of guys who had pretty good careers but never really won a championship, and I felt pretty lucky that I got to play. Didn't get to do everything I wanted to, but that's OK. I had a wonderful time, a wonderful career.
"I can't tell you how many times I stepped in the huddle, looked at my guys and said, 'Can you believe they're paying us to do this? This is great. I love this.' And that's the way I played the game. I got hurt a lot, had some injuries, but boy, I really loved what I got to do. I looked at it like, if you gave me $100 a game, I'd take it. And I'd be here every week. I loved it."
From 1980 through '85, Dickey was one of the NFL's top passers. In Packers history, only Favre (61,655), Rodgers (42,944) and Starr (24,718) threw for more yards than Dickey (21,369), even though Dickey played in just 105 games with the team, fewer than Rodgers (165), Starr (196) and Favre (255).
He was at his absolute best in 1983, when he led the NFL in passing yards (4,458), touchdown passes (32), yards per attempt (9.2) and yards per completion (15.4). He also led the Packers to three fourth-quarter comebacks and on four game-winning drives — the most memorable of which was the team's unforgettable 48-47 victory over the defending Super Bowl champion Washington Redskins on "Monday Night Football" — that year. But he also threw an NFL-worst 29 interceptions, taking risks because of the Packers' porous defense.
"Whenever people ask me the best quarterback I've ever played with, it's always a leading question because they're thinking Jim Kelly will be my answer," said Pro Football Hall of Fame wide receiver James Lofton, who played nine seasons with the Packers (1978-86) and spent four years with Kelly and the Buffalo Bills (1989-92). "But every receiver has 'his' quarterback. And my quarterback was Lynn Dickey.
"There's a chemistry, a mind-link that you have with a quarterback that you can only have with one guy. You can't have two guys. I'm coming up on 40 years in pro football as a player, coach and analyst, and the longer I'm in it, the more I appreciate how good Lynn Dickey was.
"If he were playing in today's game — and that's one of those scenarios that as an analyst you don't normally talk about — but if he was in today's game, where you can't hit a quarterback except above the knees and below the shoulders, he would carve up the NFL. Yes, Jim Kelly's in the Hall of Fame, but those two guys are close to the same level."
4. Arnie Herber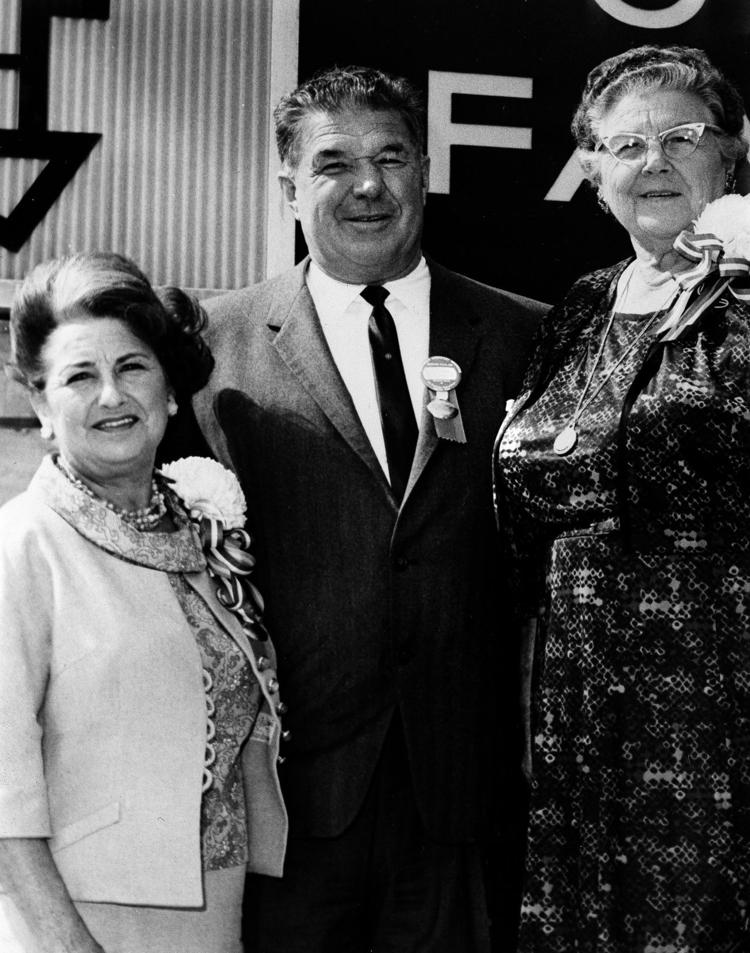 While he played in a vastly different era — although he threw the ball often, he was technically a halfback, not a quarterback — Herber threw his way to the Pro Football Hall of Fame and is widely regarded as the NFL's first premier long-ball thrower.
The league didn't start keeping official statistics until 1932 — three years into his career — but Herber led the NFL in passing in three of the first five years that statistics were kept, and he and his favorite target, receiver Don Hutson, revolutionized the game.
A Green Bay native who played freshman football at the University of Wisconsin, Herber played as a sophomore at Regis College in Denver, then returned home to Green Bay and was working in the Packers' clubhouse when then-coach Curly Lambeau gave him a tryout. The 20-year-old Herber joined the defending champs, who'd gone 12-0-1 the previous year, and led the Packers to their third straight title.
It was the first of four the Packers would win with Herber, who later in his career was joined in the backfield by another great passer in Packers history, Cecil Isbell. But remarkably, according to Packers team historian Cliff Christl, Herber was released by the Packers after playing in the first three games of the 1931 season, with the team concerned about incurring a hefty fine for exceeding the league's 22-man player limit. The team then brought him back in 1932.
When Herber was released by the Packers after the 1940 season, he held the NFL record for most passing yards (6,741), even though his yardage from his first two seasons wasn't included. Four years after his retirement, the New York Giants convinced him to play for them for two seasons during World War II, and he finished his playing career having thrown for 8,041 yards, with 81 touchdowns, and 106 interceptions. He was inducted into the Pro Football Hall of Fame in 1966.
"When you get old and past your prime, to have a good day — any kind of a good day — is a memorable thing in a player's life," Herber once said. "What you do in your prime (is what) you expect of yourself, but days that come at the end of the trail provide unexpected thrills whenever you think of them."
3. Aaron Rodgers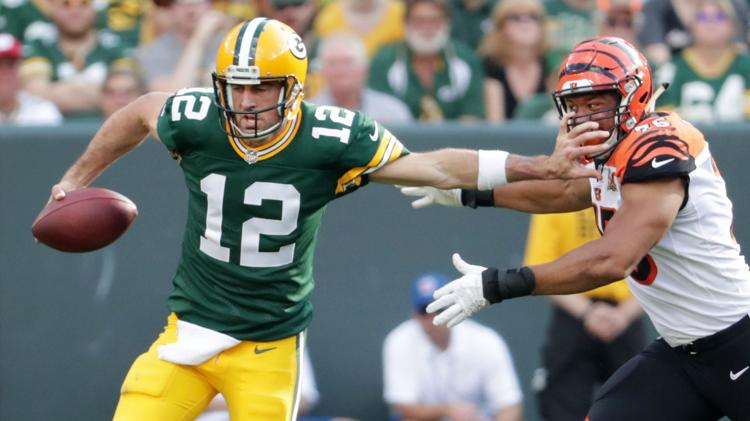 If the debate is about the best or greatest or most talented quarterback the 100-year-old franchise has ever known, there's a compelling case to be made for Rodgers, who enters the 2019 season — his 12th as the team's starting quarterback — still leading the NFL in career quarterback passer rating (103.1) despite an injury-plagued down year in 2018.
This could also prove to be Rodgers' most challenging year, as he'll be playing in a new offensive system and for a new head coach for the first time since 2006, when Mike McCarthy replaced Mike Sherman as head coach following Rodgers' ride-the-bench rookie season of 2005. While there figure to be offensive growing pains early in the season as Rodgers gets his bearings in new coach Matt LaFleur's scheme — and the coach and quarterback work to get on the same play-calling page — Rodgers seemed more energized during the offseason by the fresh perspective and new ideas than concerned about adapting to change.
"It's exciting right now because it's different," Rodgers said. "I've been in the same system for 14 years and knew that inside and out, and now I have a new challenge learning this system and becoming an expert in it and trying to find ways to make it work with the guys we've got."
Rodgers is one NFL MVP award behind his predecessor, Brett Favre, but perhaps the new scheme will allow him to replicate his 2011 and 2014 award-winning performances. While he may be five years removed from his last MVP season, he made a strong case for the award in 2016, when he rallied the team from a poor start by backing up his run-the-table proclamation with some of the best quarterbacking of his career.
He's also made one fewer Super Bowl appearance than Favre, and while the two have become pals in recent years, you can be sure that Rodgers would love to have a second title — and the prestige that comes with it. After back-to-back losing seasons, is leading the team back to the Super Bowl realistic with a rookie head coach?
"This is Titletown. We should expect us to bounce back," Rodgers replied. "There's going to be no excuses this year. We don't need a grace period. There's 32 teams that think they can win it. We're one of them. But I think we all know there's only eight to 10 every year who have that something special, and I hope we're one of those eight to 10 when it comes to September."
As for his personal accomplishments, Rodgers has long said that Bart Starr is the measuring stick. Interestingly, Starr himself once said that Rodgers was far more talented than he ever was.
"I didn't have any of the qualities that he has. He's far superior to the qualities that I possessed. He's a very, very special player," Starr said in 2013. "He's always in control of the system that he's operating. You can see the confidence factor, I think, and the way he conducts himself. I believe that it's just a great example of leadership."
2. Brett Favre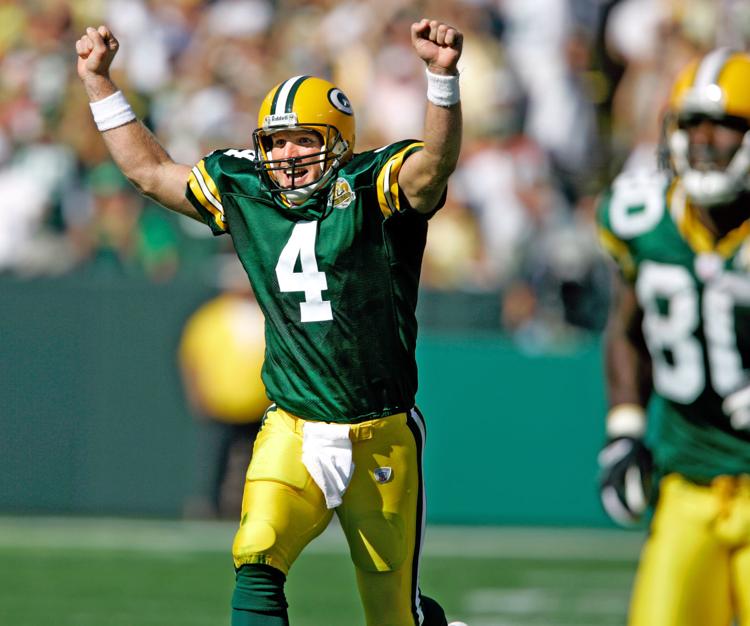 The three-time NFL MVP says he doesn't have much interest in a debate about which Packers quarterback is the greatest of all-time. He will say this: In his (somewhat biased) opinion, Rodgers is the best player in the game today.
"He stands alone in the league today as the best player in my opinion," Favre said in an ESPN Wisconsin interview in June, before his visit to Madison for the annual American Family Insurance Championship celebrity foursome at University Ridge Golf Course. "And I'm OK with that. Honestly, I know people want to (ask), 'Who's the best player in Packers history?' People want to pick sides. I'm not picking sides. I could care less what people say, either way. I think Aaron is a great quarterback presently, one of the all-time greats in the league itself and will be remembered as that. And I'm really proud of him."
Is that Favre suppressing his competitive nature? Or is he just speaking fondly about his successor because of the friendship the two have forged now that they're no longer rivals? That's hard to say.
But one could argue that had Ron Wolf not acquired Favre in a February 1992 trade with the Atlanta Falcons, the Packers may never have awoken from their nearly three-decade run of ineptitude following the Vince Lombardi-led glory years. Sure, he tossed some soul-crushing playoff interceptions that prevented him from returning to the Super Bowl after leading the 1996 team to the Super Bowl XXXI title and the 1997 team to a berth in Super Bowl XXXII (which the Packers lost, as 12½-point favorites, to John Elway and the Denver Broncos). But during his 16 seasons in Green Bay, the Packers were always competitive (save for that 4-12 debacle in 2005) and always interesting.
And now, more than a decade removed from his acrimonious departure from Green Bay during the surreal summer of 2008, Favre's greatness is once again fully appreciated among Packers fans.
"I wasn't wild about what went on with the final years of Brett's career," retired Packers president/CEO Bob Harlan said. "But on the other hand, I'll always be thankful to him for what he did for this organization in the 1990s. Because as Ron Wolf always says, 'If you don't have a quarterback, you're never going to win in the NFL.' And Brett Favre came in and played the toughest position in pro sports, and he was always there. I loved his competitiveness. You'd see him sometimes in the locker room in the middle of the week and he could hardly walk, and yet on Sunday, he'd run out of that tunnel and he was ready to go. He loved to compete.
"I just think you have to understand the desire of the man and his desire to compete and make this a great franchise. He always thought he could win the game by himself, and if he didn't have somebody like a Mike Holmgren to pull him aside and say, 'Don't do that,' he'd try anything to win a ballgame."
1. Bart Starr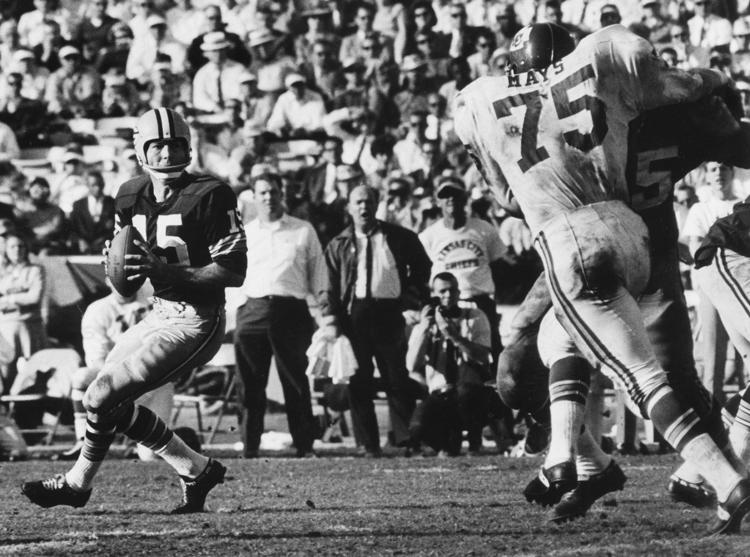 The fact that Starr led the Packers to five championships in seven years — something not even the modern-day Starr, New England's Tom Brady, can boast among his six Super Bowl championships — is astonishing.
So is the fact that despite years and years of the game trending toward the benefit of quarterbacks, with passer ratings inflating with the help of pro-offense rules, Starr still holds the record for the best career postseason passer rating in league history (104.1) to go along with the Packers' 9-1 record in the playoffs with him under center. His longtime friend and blocker, fellow Pro Football Hall of Famer Jerry Kramer, likes to say that Starr wasn't just the greatest player on those legendary Lombardi-coached teams of the 1960s, but the greatest person.
"He's been my model, my idol — a sensational human being," Kramer said recently. "And if I can be half the guy that Bart was by the time we hear the final bell, I'll be a happy guy."
Starr also went out of his way to mentor Favre and Rodgers, and was unfailingly complimentary of both players, until his death in May at age 85.
Many of the stories from Starr's playing career have been told thousands of times, but for all he accomplished as a player and as a philanthropist, perhaps Starr's most remarkable quality was his self-awareness. Driven by loyalty to the franchise he'd come to embody, he not only admitted he played too long ("I should have retired three years earlier — I had a bad shoulder, and my performance just went downhill those last three years") but also that he was ill prepared to take over as the team's head coach in 1975, with only one year of coaching experience (as quarterbacks coach in 1972 under Dan Devine).
"The greatest mistake I made in my life was to coach," Starr, who went 52-76-3 with one playoff appearance in nine seasons, said in an ESPN Wisconsin interview in 2013. "It's a great lesson that could apply to any of us. Because I didn't plan to, I hadn't prepared to. And I didn't have the guts to say to the Green Bay Packers, 'Thank you, but no thank you. I'm not going to do it.' I wasn't prepared, and it showed over the first few years. I felt very, very badly about that.
"I think we can all learn lessons from others if we listen closely to why they did or didn't do something. That would be the biggest error of my life."
---
Jason Wilde covers the Packers for ESPN Wisconsin. Listen to him with former Packers and Badgers offensive lineman Mark Tauscher weekdays from 9 a.m. until noon on "Wilde & Tausch" on 100.5 FM ESPN Madison.